How Jalen Williams kept the pedal down on his way to the Thunder.
By Nick Gallo | Broadcast Reporter and Digital Editor | okcthunder.com
Jalen Williams had plenty of time to himself on his nearly 400-mile drive back to Santa Clara from Los Angeles.
The then-sophomore guard was in a scoring slump in the middle of a rhythm-less, COVID-disrupted season. After a tough personal performance in a big loss against USC, he navigated the traffic-jammed eight-hour drive from behind the wheel of a team van.
In late December of 2020, with COVID rearing its head once again, Santa Clara was desperate to play any basketball it could and scheduled a game with the Trojans down in Los Angeles on just a couple days' notice. Unable to charter a flight, the team drove down the California coast in a mixture of busses and team vans on December 28 and played in the game on the 29. The squad had to traverse back piecemeal after that, cancelling another game in the Los Angeles area because of what turned out to be false positive COVID test on the team, the reason for Williams' isolated drive.
Shortly after that lonely trip, Williams started to surge on the floor as he scored in double figures in nine of the final 10 games of the season to set up an outstanding junior season that put him on the NBA Draft map.
This past year Williams often found himself alone on the opposition's scouting report – not because he controlled everything, but how he leveraged his diverse talents in a team context. That's been his story according to those who have seen him up close – after intense focus on his own game, he comes back in ways that help his teammates, and ultimately his team, thrive. After an offseason of diligent work heading into his junior year, finally free of COVID restrictions, Williams scored in double figures in 31 of his 33 total games in the 2021-22 season when he averaged an efficient 18 points on 51.3 percent shooting and 39.6 percent from three, along with 4.4 rebounds and 4.2 assists.
The savvy 6-foot-6 guard has the skills to beat his man in a variety of ways – to drive and pass to a teammate or to score at all three levels of the floor, including dunks that sneak up on opponents and observers alike. Look to attack against him one-on-one and you might not even get a shot off thanks to his shocking 7-foot-2 wingspan. Williams' former rival and current Thunder teammate Chet Holmgren, whose Gonzaga Bulldogs played Santa Clara twice a season in the West Coast Conference, recalled those showdowns recently on the Thunder Basketball Universe podcast.
"'J-Dub was probably 75 percent of the scouting report," Holmgren grinned, noting the way Williams put his teammates in positions to succeed. "We spent a few days on just Jalen getting ready to play them."
—
It was unlikely that Williams would even make it on a Division I scouting report in the first place. Though he got into basketball at age four under the tutelage of his dad and grew up watching Kobe Bryant religiously, Williams entered high school at 5-foot-7 and was just 6-feet tall as a 17-year-old senior. He was lightly recruited by colleges as a point guard, but he was wearing size 15 shoes, creating mounting evidence that a late growth spurt was imminent.
"I wasn't really worried about if I was gonna grow. That was kind of out of my control," said Williams, who noted that despite growing six inches in college that he maintained his coordination and guard skills. "If I didn't, I wouldn't be here."
Santa Clara was one of just three schools to recruit Williams alongside Hofstra and Nevada, so he was used to being out there just playing – alone mentally in competition rather than thinking about who was in the stands. Eventually though, Williams began noticing Santa Clara Head Coach Herb Sendek and assistant coach Jason Ludwig in attendance at his AAU games.
In a gym in a giant warehouse in Southern California, with 20 AAU games going at once, Ludwig nearly missed seeing Santa Clara's future all-conference performer. Williams' AAU coach literally jumped out in front of Ludwig and begged him to watch Williams play. Eventually, Williams' body caught up to his skills, the athleticism followed and after reviewing some senior year tape, Ludwig turned to Sendek on a Santa Clara team flight and said, "we've got to take him." The consistency of the Santa Clara presence was loud, and that commitment was the genesis of a wonderful link between player and coaching staff, one that is becoming rarer in college basketball in the era of one-and-dones and on-demand transfers.
"It's actually hard to remember an AAU game they weren't at," said Williams, who grew up outside of Phoenix, went to Perry High School and played for the I-10 Celtics and Blue Chip Nation. "That went a long way. Just a rare bond with them."
"What really struck me was his skill level," said Sendek. "His shot mechanics were flawless. But more than that, he just demonstrated a very high basketball IQ. He showcased a real feel for the game. He played the right way. He was exceedingly unselfish."
Williams said that Ludwig believed in him from the start, creating an immediate rapport that only grew. According to Sendek and Ludwig, Williams got himself on the court at Santa Clara with his defense, with just 10 games into his freshman year he was asked nightly to guard the opponent's best perimeter player. As the years went on, Williams' offensive game ascended, causing Sendek to marvel at the guard's "amazing improvement trajectory" they shared together. The celebrations of Santa Clara's one-point road victory over St. Mary's in 2020 and Sendek's 500th career win in January of 2022 were special moments that only deepened the connection.
"The way Herb spoke about Jalen and that relationship, it blew me away," said Thunder General Manager and Executive Vice President Sam Presti, who eventually selected Williams with the number 12 overall pick in the 2022 NBA Draft. "The authenticity that those two had created, in combination with going back and watching the film again, it was kind of staring us in the face."
After demonstrating his defensive chops as a freshman, Williams' sophomore season was completely disrupted, with no home games for two months as the Broncos played at the Santa Cruz Warriors' G-league facility instead. Santa Clara County got shut down during the season, meaning the Broncos played just 20 total games while they were sequestered away in hotel rooms for Christmas, New Year's and birthdays rather than with their families or in the cream stucco and maroon-roofed Mission Revival-style buildings on campus.
It shouldn't be a surprise then that Williams wasn't on NBA radars until late in his junior year, when he helped push Santa Clara up to third in the conference and a 21-12 overall record. Williams was often the best player on the floor every night but always played within the offense.
"He could have imposed his will even more than he did," said Ludwig. "He never forced anything."
Williams popped for evaluators at the NBA Draft Combine in Chicago in mid-May when he showed that 7-foot-2 wingspan, the longest for any guard who participated. He also came in second in standing vertical leap (33.5 inches), fourth in max vertical leap (40 inches) and fourth in the three-quarter sprint (3.11 seconds). While those physical gifts were certainly factors, the Thunder was also impressed during Williams' interview.
"The truth on Jalen is our eyes really opened to him later in this process," said Presti. "I wish I could tell you that last year at Santa Clara we were like, 'This guy is going to be a lottery pick.' That wasn't the case. But he just beat the door down with the way he approaches the game."
"There is a positive chip on his shoulder and a mindset that we think fits well with our program," added Thunder Vice President of Basketball Operations Will Dawkins.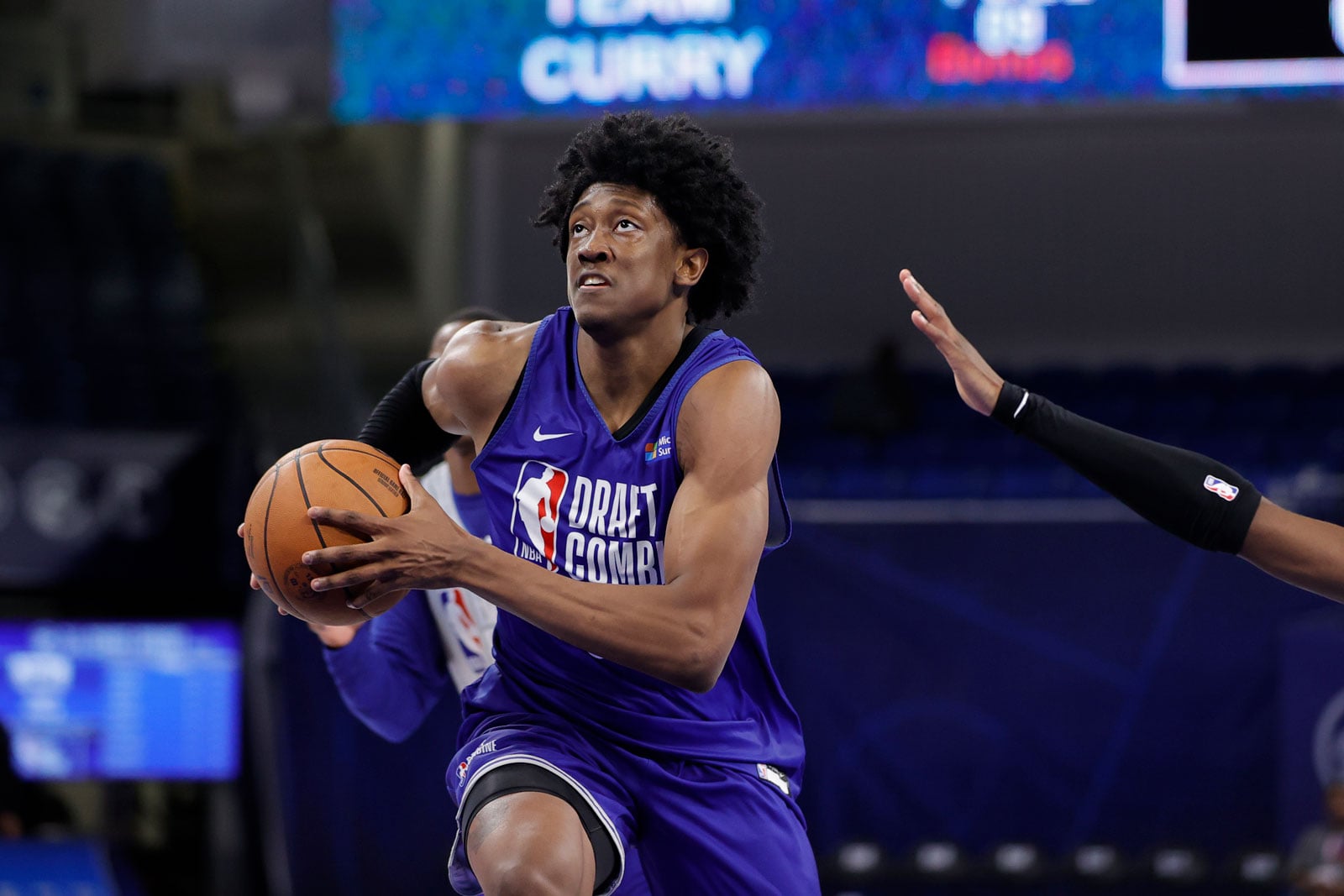 —
Less than two weeks after being selected by the Thunder, when he became the first Santa Clara player drafted since Steve Nash, Williams suited up at Summer League in Salt Lake City wearing the number 8, honoring his childhood hero Bryant. For many Thunder fans, it was the first time to see Williams in live action, given that Santa Clara didn't make the NCAA Tournament and mostly played in late tip-offs on the west coast.
Quickly, he showed the dynamic, Swiss Army knife style that helped him ascend from three-star recruit to lottery pick in a matter of 36 months. Williams averaged 13.3 points on 55.6 percent shooting, including a ridiculous 80 percent from 3 in those three games in Utah. He followed it up with solid two-way play in Las Vegas, showing his tenacious streak on defense by using his length to disrupt passing lanes and would-be layups.
"What's not to like?" Holmgren quipped.
As much as Williams has meshed quickly on the court, he has also had no trouble fitting in with the Thunder right away off the floor. Williams beats to his own drum, described as "eclectic" and a "free spirit" with his dangling cross earring, unique fashion sense and playful personality, and comes to an organization in Oklahoma City where he can pour all of himself into the group.
Even though they were once rivals, he and Holmgren's connection has grown quickly in Oklahoma City. Williams, who goes by "J-Dub", was even prepared for his budding friendship with Jaylin Williams ("J-Will"), the Thunder's second round pick in 2022, because of his friend group at home that includes two other Jalens, who go by J-Money and J-Hop. That Thunder culture was top of mind for Williams as early as draft night, when he gushed about how excited he was to be headed to Oklahoma City.
"It's a competitor's paradise," said Williams inside Barclays Center minutes after he was drafted. "(The Thunder) has a historic background. They've had a lot of good players come in on a lot of good teams. I'm excited to be a part of this upbringing that they have going on."
The "positive chip" on Williams' shoulder that Dawkins described is a unique one in the NBA world. The key to it all has been Williams' ability to stay within himself both when the noise around him has been silent like it was in high school and at a fever pitch like it was in the run up to the draft. Before training camp begins he'll be relying on that same steadiness to make strides to improve, taking the fruit of all that work done alone and applying it to the Thunder's team goals.
"The biggest thing that kind of took me to where I am is just not allowing outside noise and what everybody else is doing affect what I'm doing," said Williams. "The thing that's been expected for me is just playing hard, and that's something that's just in my control."
That's why this week, Williams was back at Perry High School. In early August with the season still weeks away, Williams was knocking on the gym door at 5:30 a.m., ready to get shots up.