Women of the Thunder
The Thunder organization proudly recognizes and supports the 83 full-time female staff members who are driving our organization to new heights.
EMPLOYMENT OPPORTUNITIES
Established in 2008, the Oklahoma City Thunder's mission as a leader both on and off the court is to provide meaningful connection with its partners, fans and community alike. At the center of an evolving, downtown skyline, the organization serves as a pillar for the surrounding area with the goal to inspire, empower and unite through stewardship and team pride. By joining our team, you will be part of a first-class organization that value professionalism, mutual respect and kindness as well as the talent you contribute.
INTERNSHIPS
Click below to visit the internship page.
ARENA AND TEAM SHOP AFFILIATE JOBS
Looking for a position you don't see listed with the Thunder? Check for opportunities with our business affiliates below.
ASM Global career page for arena positions.
Legends career page for team shop positions.
Levy career page for arena restaurant positions.
EMPLOYEE SPOTLIGHT
"Coming to the Thunder fresh out of college I was not familiar with working in an office setting let alone with coworkers who were at very I really fell in love with sports in high school when I knew I wanted a career working with math and numbers and I found out just how much information and statistics go into sports. From then on I knew I wanted to work for a professional team someday. Now with the Thunder, I absolutely love my job because there's an abundance of variety in what we do. There's never a true "day-to-day" template, and I wouldn't have it any other way. Our environment is so fun and collaborative and everyone genuinely cares about one another. I legitimately love coming in to work and seeing everybody!"
"I always played and watched sports growing up, but didn't realize that I could work in sports until I reached college. When the staff at games would throw t-shirts to fans in the stands, I didn't want the t-shirt; I wanted to be the person throwing them! I reached out to the athletic department to find out how and thus started my sports career. I instantly knew this was my passion. I went to graduate school to continue to learn more about the business and have been doing it ever since! In my role every day is different, but the people here are the constant and best thing about working for the Thunder. We have some of the friendliest, nicest, and just genuinely fun people that work here and make every day enjoyable."
"As long as I can remember I have been in love with the unmatched atmosphere that only a sporting event can create. An atmosphere full of passion, energy, and a buzz that's indescribable. I always wanted to be part of creating that experience for others. That's my true passion - creating moments that will last a lifetime in someone else's memory or story and we get to do that here every game night. Every game night we create something special. "
The Women of Basketball Ops
Listen to the voices from within the Thunder on realizing dreams for African-American women in sports.
Watch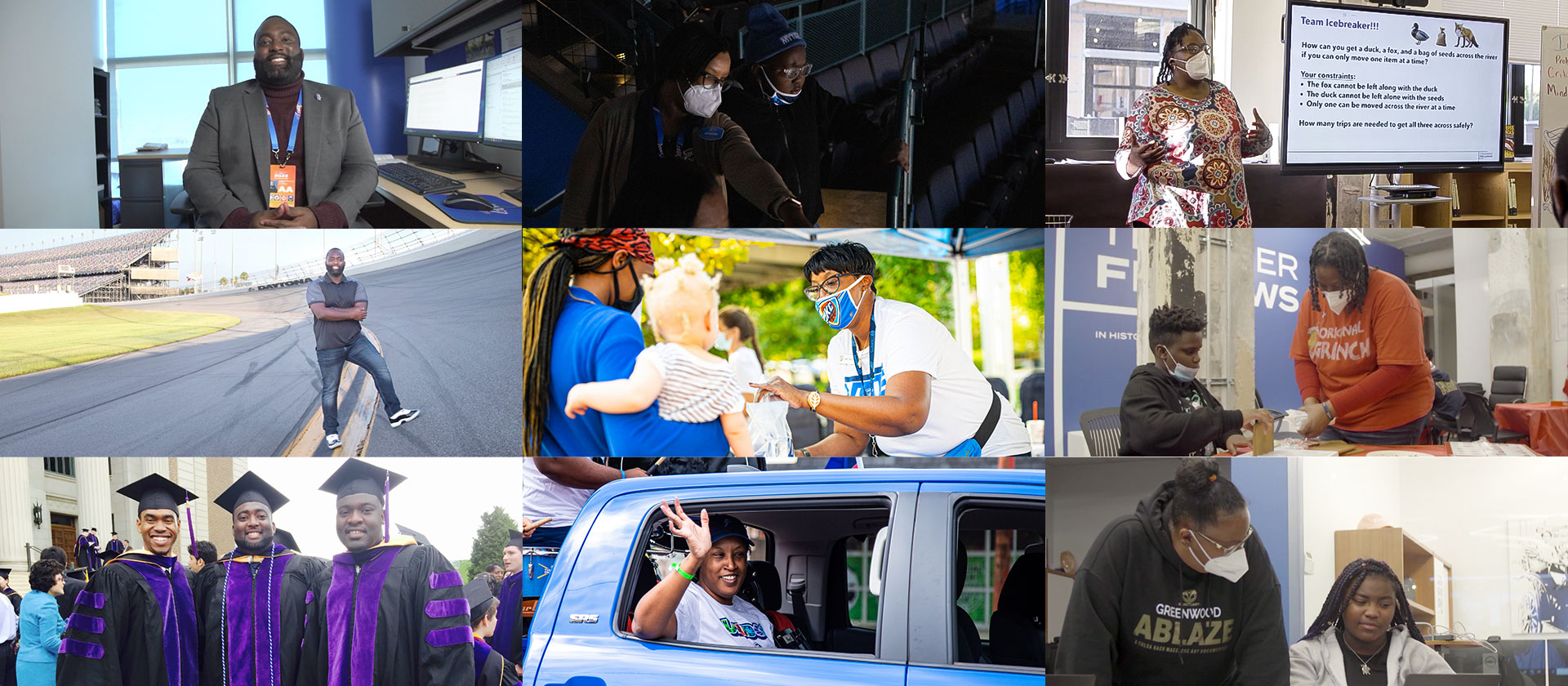 Black History Month
Black History Month shows lessons and experiences never end. Listen to the voices from within the Thunder.
Watch
OUR CITY
CONTACT US
Monday-Friday: 8:30 a.m. to 5:30 p.m.