An NBA Hall of Famer and one of the greatest players to ever wear a Utah Jazz uniform, Adrian Dantley can add another accolade to his already impressive list.
Dantley was inducted into the Maryland State Athletic Hall of Fame on Wednesday night.
"We're so excited about having Adrian in the Hall of Fame. … We've been trying to get him for years," said Steven Doherty, Chairperson of Maryland State Athletic Hall of Fame. "He's a legend, and we are thrilled that he's accepted our honor to be inducted."
Playing 15 years in the NBA, Dantley averaged 24.3 points, 5.7 rebounds, and 3.0 assists per game. A prolific scorer, he shot 54% from the field throughout his career, made more remarkable because he's listed at 6-foot-5 but played the game like a power forward for doing his damage near the rim.
He's Utah's all-time scoring leader, averaging 29.6 points per game throughout his seven seasons with the Jazz. He led the league in scoring in 1981 and 1984, averaging over 30 points per game each year while being named the 1984 NBA Comeback Player of the Year. He made all six of his all-star appearances while playing in Salt Lake City.
"I think I've always persevered," Dantley said. "The odds have always been against me since I've been thinking about playing sports. I wasn't tall enough, I wasn't quick enough, I wasn't fast enough. … So I used to always hear this from all the critics at every level. I defeated all the odds and persevered. ... That's what I'm known for."
Dantley took his first steps towards stardom when he suited up for DeMatha Catholic High School in Hyattsville, Maryland. Before becoming a national power in multiple sports, DeMatha was fighting for respect back then. But after ending Lew Alcindor (Kareem Abdul-Jabbar) and Power Memorial High School's 71-game winning streak in 1965, the school found new life.
While Dantley wasn't on that team that took down Lew Alcindor, he came a few years later and helped continue the legacy left behind by that team and took DeMatha to new heights.
"That's how he made his name locally. … That's how he became a legend," Doherty said.
Dantley suited up for Notre Dame, becoming a two-time consensus first-team All-American. He ranks second on Notre Dame's career scoring list with 2,223 points, and holds the school record for free throws made (615) and free throws attempted (769).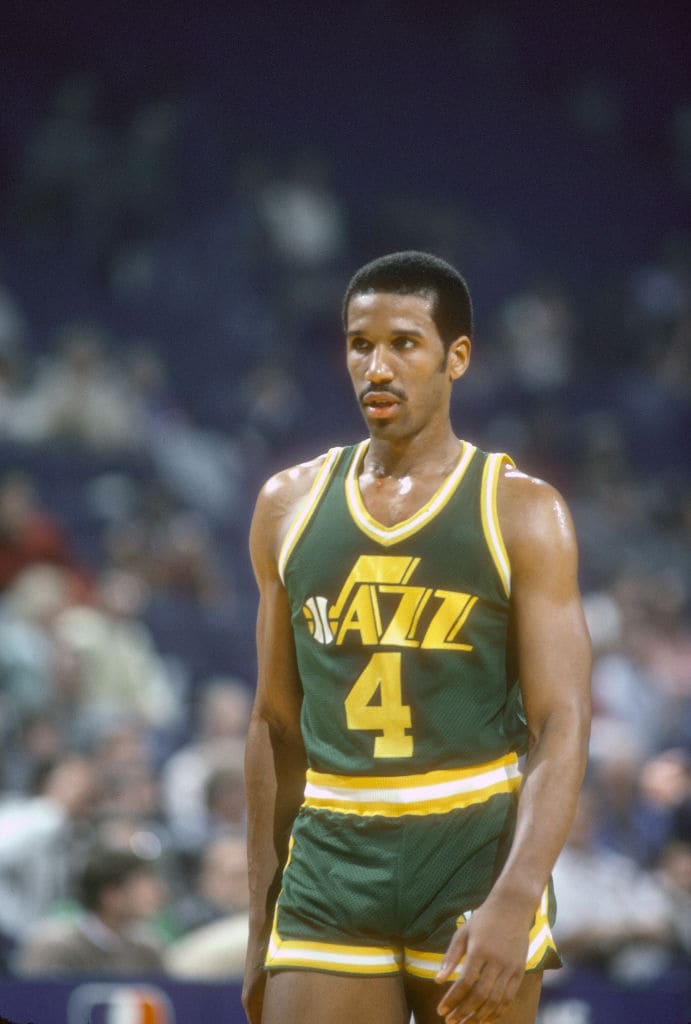 With his playing days behind him, Dantley stays busy while serving as a crossing guard, coach, and referee in Maryland. It's that same work ethic that allowed him to thrive in the league for so long — so it makes perfect sense that he's continued that level of commitment in his everyday life.
"What makes him so special is that he's a part of the community, a prominent person in the local area," Doherty said. "For someone who is a legendary basketball hall of famer, to be a part of the community is very special to us. People see him out in the community, they see him doing some great things for the community. … It means a lot to us."
CAREER STATS
College (3 years | Notre Dame)
- Points: 25.8
- Rebounds: 9.8
- Assists: 1.6
NBA (15 years)
- Points: 24.3
- Rebounds: 5.7
- Assists: 3.0
ACCOLADES
- 6x NBA All-Star
- 2x All-NBA
- NBA Rookie of the Year (1977)
- NBA Comeback Player of the Year (1984)
- 2x NBA Scoring Champion
- No. 4 retired by the Utah Jazz
- 2x All-American
- Mr. Basketball USA (1973)
- Olympic Gold Medal (1976)