I remember how Johnny Kerr used to say about the Naismith Basketball Hall of Fame. If they wait until after he's dead, well, he'd show them by not attending the enshrinement ceremony.
Johnny Kerr made everyone smile.
It's about time the Hall of Fame rectifies one of its most blatant omissions and adds a smile to Kerr's memory.
The Naismith Basketball Hall of Fame hosts its annual enshrinement ceremony Friday in what will be a celebrated class featuring, among others, Steve Nash, Jason Kidd, Ray Allen, Grant Hill and Chicago's Maurice Cheeks. The Bulls get a mention with the induction of onetime general manager Rod Thorn, who famously drafted Michael Jordan in 1984 before a long career in the league office and as an executive with the New Jersey Nets.
Thorn will be inducted in the contributor to basketball category along with fellow league official and now Golden State Warriors president Rick Welts.
Which again leads me to wonder, hello, where's Johnny Kerr?
It's an annual exercise with the announcement of the newest Hall of Famers to consider the most overlooked.
I have Johnny Kerr at the top of my list as someone who could also have been considered as a player for a career that included a collegiate Final Four, multiple NBA All-Star appearances, an NBA championship and being the original iron man of the NBA with a streak of 844 consecutive games played, ended only in his final playing season when his coach decided it was a distraction even though Kerr wasn't injured.
Kerr went on to set standards in NBA coaching, as an ABA executive and eminently as a Bulls broadcaster and the league's unofficial toastmaster. Kerr was honored by the Hall of Fame with the John Bunn lifetime achievement award just before Kerr's death from cancer in February 2009.
Here's my top 10 list of those who should be in the Naismith Basketball Hall of Fame.
1. Johnny Kerr
He was regarded as one of the best passing big men ever. One of the greatest Chicago winners, Kerr led Tilden High School to a city championship, the U. of Illinois to the Final Four and the Syracuse Nationals to the NBA title in his rookie season. He was a three-time All-Star at center despite playing in the same conference with Bill Russell and Wilt Chamberlain. Kerr went on to become the coach of the expansion Bulls and remains the only coach in NBA history to take an expansion team to the playoffs. He was instrumental with the ABA Virginia Squires in signing little known collegians Julius Erving and George Gervin. Kerr then was the face of Bulls broadcasting for more than 30 years and a longtime NBA goodwill ambassador and speaker. He checks every box as the ultimate contributor to the game.
2. Rudy Tomjanovich
The U. of Michigan forward was one of the prototypes of the modern NBA power forward with shooting range and speed. He set university rebounding records and went on to be one of the leading scorers in Houston Rockets history with a seven-year stretch averaging more than 20 points and playing in five All-Star games. His career was limited by the infamous Kermit Washington punch, but then he went on to coach the Rockets to two NBA titles and more than 500 wins. He also was the gold medal Olympic coach in 2000.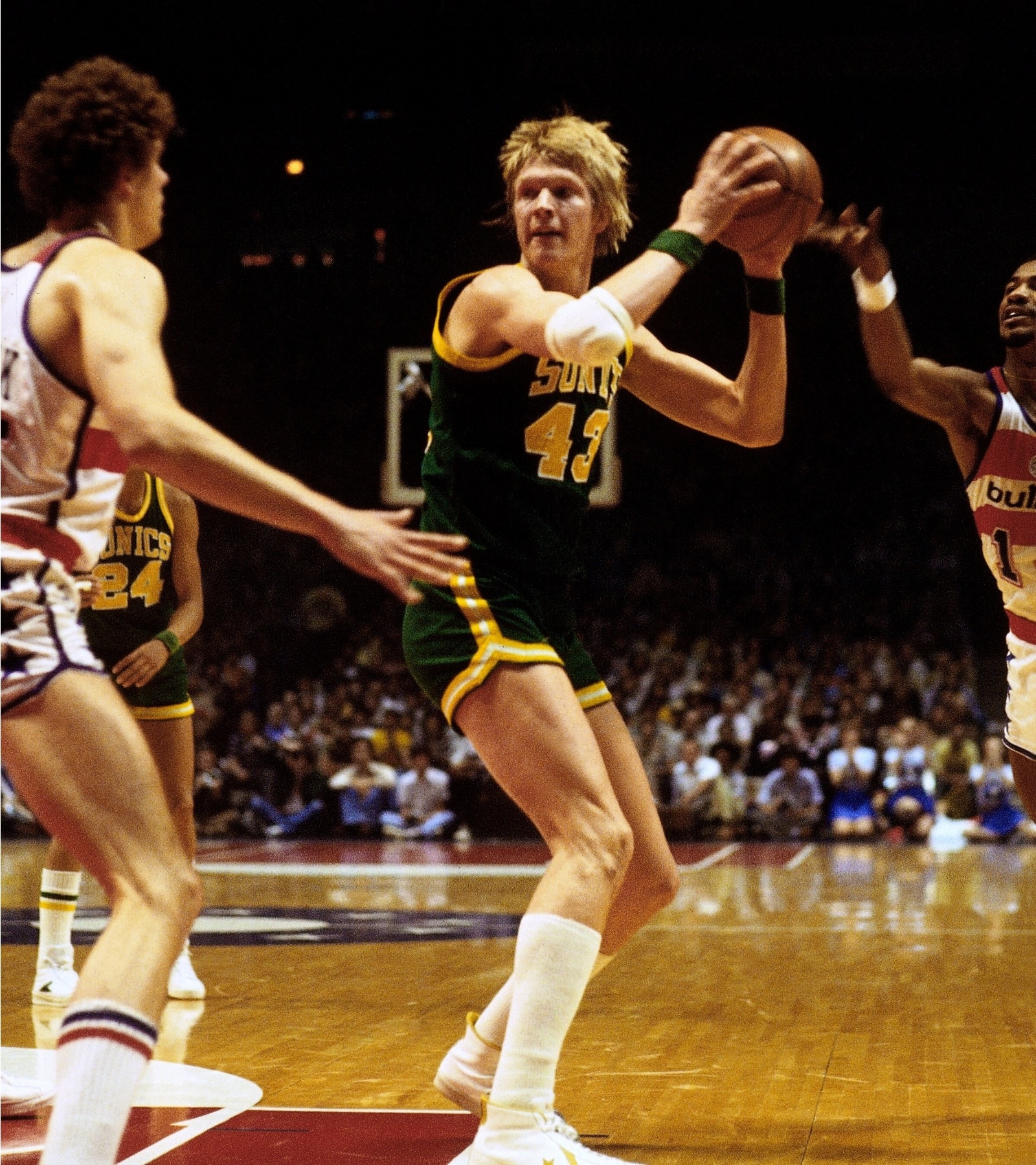 3. Jack Sikma
The seven footer from Kankakee and Illinois Wesleyan was one of the most accurate shooting big men ever who even led the league in free throw shooting one season. He made seven All-Star teams and averaged 16.2 points and 14.8 rebounds in the 1979 Finals for victorious Seattle, just barely missing averaging a double/double for his career. He played 14 seasons and was an elite three-point shooter in an era when even guards didn't shoot many.
4. Bobby Dandridge
Perhaps the winner of the unofficial most underrated ever. The slashing forward was a pivotal player on championship teams for the Washington Bullets and Milwaukee Bucks and in nine straight seasons in the 1970s averaged between 18.4 and 21.5 points while always defending the opponent's top scorer and an all-defensive player. He played in four Finals in the 1970s and was the leading Finals scorer for the decade. He averaged more than 20 points in 98 playoff games and 18.5 in his 13-year career.
5. Leroy "Cowboy" Edwards
It's surprising he's been overlooked being the best player of his 1930s era before the NBA was formed. At 6-5, he was the dominant big man of his pre-George Mikan era with his hook shot and scoring that led to the three-second rule in the lane. He set scoring records at the U. of Kentucky and for Oshkosh of the National Basketball League (which merged with the Basketball Association of America in 1949 to form the modern NBA), was three-time league MVP and led his team to six titles. He was the leading scorer in 33 games against the famed New York Rens in which Oshkosh won 17, becoming the historic and Hall of Fame Reds toughest rival.
Really, these guys are not in the Basketball Hall of Fame?
6. Bobby Jones
Jones can make the case as a four-time All-Star, eight times first team all-defense, a championship with the Philadelphia 76ers and playing in three NBA Finals and one in the ABA. The lanky, 6-9 Jones was arguably the best fundamental big man defender in league history, an unselfish teammate who went on to win the league's first Sixth Man award and a versatile defender who was annually among the league leaders in blocks and steals and still scoring in double figures. Perhaps more than anyone, Jones symbolized the ultimate team player, defending, doing all the so called little things and blue collar work that leads to success. None of his teams ever missed the playoffs.
7. Bob Love
Another inspirational player, though in a different way. Love was one of the premier scorers of his era, averaging more than 20 points in a seven-year run with the Bulls from 1969-70 through 1975-76. In a three-year stretch, he averaged just under 25 points while making three All-Star teams and was named all-defense three times. He was often overlooked in his era because of a severe stuttering problem that limited media contact. Love overcome that and went on to become a motivational speaker.
8. Mark Aguirre
His candidacy appears generally to be a victim of his unpopularity with media combined with his colorful emotional outbursts. The Naismith Hall of Fame considers achievements beyond just professional basketball, and Aguirre was one of the greatest college players ever, leading DePaul to the Final Four as a freshman and then twice the national player of the year. He was selected for the 1980 Olympic team when the U.S. boycotted that Olympics in a dispute with Russia. Aguirre averaged 20 points over 13 NBA seasons with a six-year run early in his career with the Dallas Mavericks when he averaged more than 25 points per game. He started for two NBA champions with the Detroit Pistons and led Dallas to a seven game conference finals against the champion Lakers. He averaged 23 points in 45 playoff games for Dallas.
9. Maurice Lucas
He was the epitome of the physical power forward of his era, but who still averaged almost a double/double in a 14-year career in the ABA and NBA. He led Marquette to the NCAA title game and was drafted by the Bulls, but signed instead with the ABA. He was a prime player for the 1977 champion Portland Trailblazers. He was a five-time All-Star and all-defensive team player.
10. Toni Kukoc
I also had Paul Westphal, Sidney Moncrief, Gus Williams, Terry Cummings and Austin Carr on my list for the NBA. They deserve to be added eventually, I defer for women's basketball, also holding a prominent and deserved place in the Hall of Fame, since I have not watched enough. But for international play, the most obvious omission has been the former Bull, Kukoc. His NBA statistics are modest but sturdy, averaging 11.6 points in a 13-year career. He played for three Bulls championship teams and was a Sixth Man winner who started 17 playoff games for the Bulls in their 1998 title season. But it was in international play where Kukoc was a pioneer and one of the founding elites who legitimized European play in the NBA along with Hall of Famers Drazen Petrovic and Sarunas Marciulionis. Kukoc's international resume exceeds all as a three-time Euroleague champion, five-time player of the year, three-time final four MVP, Euroleague finals top scorer, Italian league champion and four-time Yogoslav league champion. He also has multiple Olympic and World Championship medals, including two silvers in the Olympics and a gold in the 1990 FIBA World Cup where he was MVP.