Just in time with the season teetering, the Bulls finally pulled off that big trade.
Yes, they got Coby, yeah Coby White. That Coby White.
And just in time to be the hero of the Bulls biggest win of the season Wednesday to start a six-game road trip, 118—113 over the Milwaukee Bucks.
"The one thing I love about him is there is a resilience there," said Bulls coach Billy Donovan. "He doesn't get too down on himself. He stays engaged and just believes in himself. Him and Vooch (Nikola Vučević) both made some big threes late to give us a little cushion. I give Coby a lot of credit coming off a lot of games off and the injury; it was great to see."
That was White reentering the game with 3:45 left and the Bulls trailing the Milwaukee Bucks 105-104, a wonderful Bulls all around effort seemingly about to slip away to the superior Bucks.
This was, mind you, the Coby White in full struggle for a second-consecutive season, averaging 7.3 points on 36 percent overall shooting, mostly out of the regular playing rotation and just back from missing eight games with a calf injury. But Donovan calculated that the Bucks would smother DeMar DeRozan, coming off a brilliant 18 points in the third quarter among his team high 36, and the floor would open for shooters.
Calling shooters; any Bulls? Go ahead and step up. Hey, what do you know, there's one.
The lack of perimeter threats in an era when that defines the NBA game has been an issue for the Bulls. The 6-5 White fits the profile, but not the picture on this Bulls team playing behind Ayo Dosunmu and Alex Caruso. And now new addition Goran Dragić. But with Dragić out with a shoulder injury, White got the call, and maybe the Bulls got an answer.
With the Bucks about to take the game leading 109-106 with just over a minute left, White gobbled up a pass from Alex Caruso and stuffed a three to tie the game. Then Caruso got in front of Giannis Antetokounmpo for a charge, if not for a change. DeRozan smothered with a gravy sauce of Bucks defenders as Donovan guessed correctly found White in the right corner. White coolly carted up the Bucks, dropping in the big game breaking three for a 112-109 Bulls lead with 46.1 seconds left.
The Bucks called time. But then in another of so many crucial defensive plays, the Bulls cut off Antetokounmpo trying for the inbounds pass. It went out of bounds from Jrue Holiday for a turnover. Vučević closed out the Bucks with his fourth three pointer of the game.
But it was White with his 14 points, four of seven threes and even an Olympic swimming long dive or two for loose balls and three steals that helped inspire the Bulls to outshoot the three-point heavy Bucks with 18 of 42 threes. More significantly, it was a glimpse of the scorer that White was promised to be and perhaps is not too late to make a difference for the Bulls.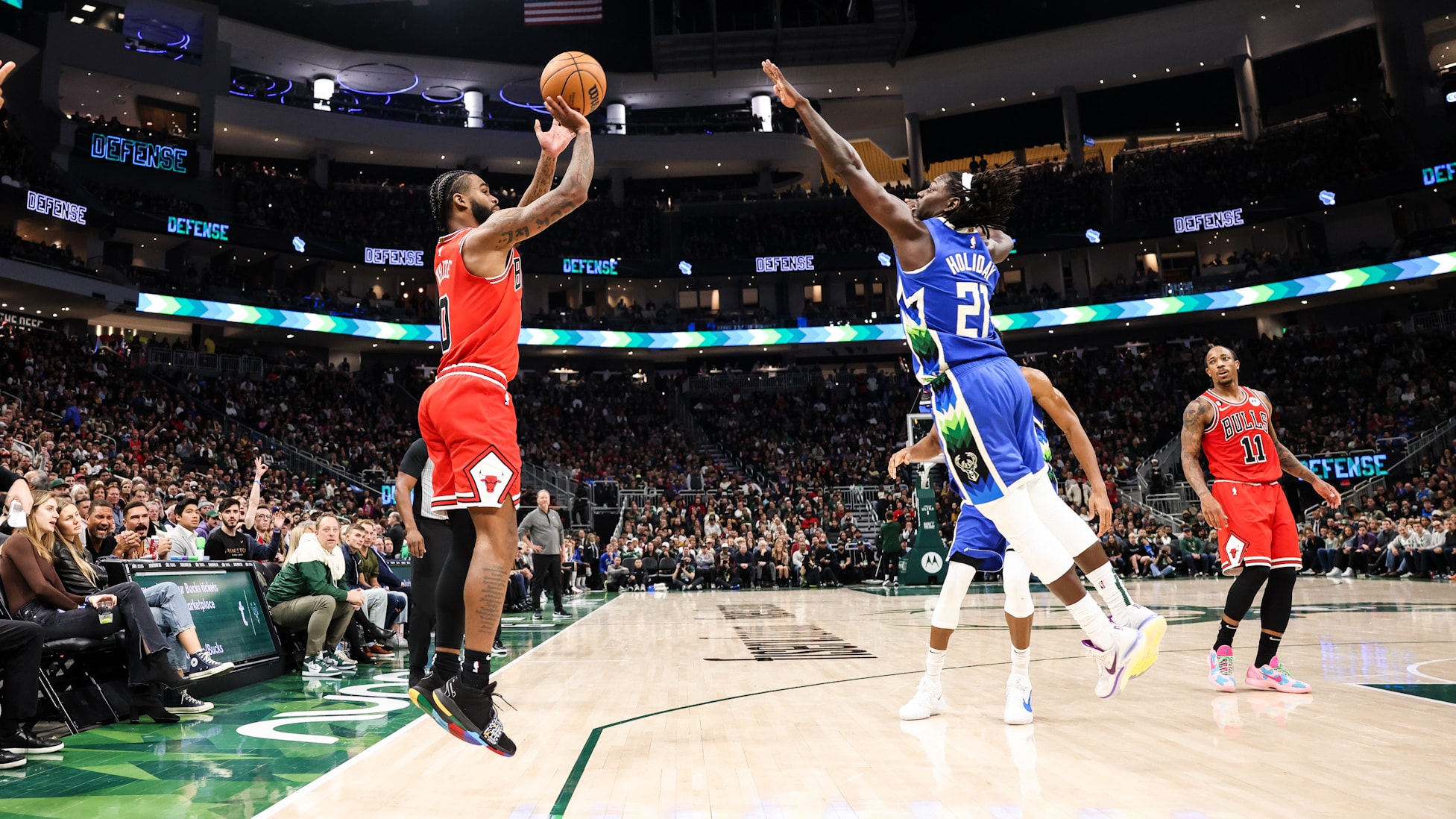 "Same way I approach every other game," said White, who maintains an impressive conviction despite his many setbacks since being the No. 7 overall pick in the 2019 draft. "(I've) been in and out of the rotation, got hurt, which didn't help me. Each game I approach the same way. I'm not really an intense guy, kind of chill, laid back. Just get locked in. That's how I approached it, how I normally approach it.
"My teammates made the right plays (on those threes)," said White. "I was open; they found me. It wasn't anything special, and I was open and finally knocked down some shots. I was just trying to get lost in the game, the competition of the game. I feel like this year I'm taking steps on that (defensive) end.
"It hasn't been the ideal start to the season for me, being hurt, being out of the rotation," White acknowledged. "I got an opportunity tonight and I was just trying to leave an imprint on the game whether that was defensively or offensively."
White did for certain, just his fourth game in the 10 he's played this season scoring in double figures for a player who averaged double figures in each of his three seasons with the Bulls. But he seemed to be falling out of favor on the team with trade speculation and the failure to get the rookie eligible contract extension going into his fourth season. The top five picks in that draft all signed huge contract extensions.
White was slowed last season after shoulder surgery, and then this season seemed to lose his role with the addition of Dragić. He played in late game "garbage time" twice and was scoreless, though he showed some signs of emerging in Monday's win over Boston.
With what White showed Wednesday in Milwaukee and down the stretch in stretching the court and being able to make the missing big threes, he may be making a good problem for Donovan: How's he going to get White in there more often? Because no one else on the team has the sixth-man instant offense capabilities that White does when he's in form.
"I was pleased my teammates trusted me," said White, laughing as locker neighbor Dalen Terry yelled over that he was just pleased with Coby. "Like I said, I was just trying to go in at the end and help us win."
And he did in a very Coby way.
The contents of this page have not been reviewed or endorsed by the Chicago Bulls. All opinions expressed by Sam Smith are solely his own and do not reflect the opinions of the Chicago Bulls or its Basketball Operations staff, parent company, partners, or sponsors. His sources are not known to the Bulls and he has no special access to information beyond the access and privileges that go along with being an NBA accredited member of the media.