- The newest Bull, Goran Dragić, was going to have to deal with it sometime, so may as well get it over with on media opening day, The Dunk!
Sorry, Michael, but it probably was the most powerful in Bulls history, Derrick Rose's 2010 two-hand, double pump throwdown on Dragić in Phoenix. If Darryl Dawkins were around, you know he would have named it the, "Pooh flyin', Dragon cryin', rim bendin', game endin', cactus dyin', I-ain't-lyin, never-seen-anything-like-that jam.
It wasn't a glorious Bulls season, a .500 second year for Rose who, nevertheless, was shocking the NBA. The play in the eventual 115-104 Bulls win led with a Kirk Hinrich steal. Tyrus Thomas gathered the ball, dribbled twice and threw ahead to Rose, who rose and rose and rose and made the 6-3 Dragić look about 5-9.
"I was young, when was that?" Dragić asked smiling through the interrogation. "That was my second year in the league. "First year I didn't play much, so my second year I started to play a little bit. So I had to go for that play."
Bad idea. He might have noticed there were no Suns teammates within five feet of him. Rose's reputation was getting around.
When the subject was first raised at the end of Dragić's session, Dragić immediately laughed and said, "Yes, this is my nightmare. The funny thing is this was the only time somebody dunked on me in my whole NBA career. It's fine. I even talked to Derrick. We were together in Zagreb when we had an Adidas campaign and I came to him and I said 'You had to do it like that?' Of course, if I know now I would never go (for it).
"At least," Dragić said with a laugh, "I'm on TV all the time."
-Never to be confused with Bill Russell, Alex Caruso says he'll probably switch from his jersey No. 6 after this season.
The NBA following the death of icon Russell July 31 announced players this season will wear a round No. 6 patch on their jerseys to honor Russell and his No. 6 will be retired permanently around the league like No 42 in baseball for Jackie Robinson. Players currently wearing No. 6 can retain it. Caruso at his Monday Media Day conference said he considered a change for this season, but the NBA barred him under its rule that a player with a top 75 selling jersey is not allowed to switch numbers without a one-year notice.
I know: who knew Alex Caruso had a best selling jersey.
So, yes, Alex Caruso is among the top 75.
The Bulls don't have any players in the top 15, but Bulls team merchandise ranks No. 4 in sales behind the Lakers, 76ers and Warriors.
"I did give some thought to changing it this year," Caruso said. "The NBA told me I couldn't because I was in the top 75 of jersey sales (Caruso jokingly pats himself on the back). I want to honor him and his legacy and what he stood for. He's one of the pioneers, a racial advocate for the game of basketball in general and just an all around great person. Probably next year I'll look into getting another number.
"The No. 6 was chosen by me because I couldn't be No. 4 because it's retired here, obviously (for Jerry Sloan)," Caruso explained. "(No. 6) was just the best looking number in the single digits that was left. So that's why I chose it. But I did give some thought to changing it this year."
-No, they're not trading him for Rudy Gobert.
Nikola Vučević continued to have fun with the summer rumors, reports and speculation, apparently specious, that the Bulls were trying to trade him for Utah center Rudy Gobert. When asked about it at the start of his media session Monday, Vučević cracked, "I was on Zillow every day for Salt Lake.
"I didn't pay attention to it too much," Vučević said. "I spoke to AK and Billy (Donovan) and knew what they were thinking. When Gobert got traded I made a little joke about it, having some good fun on Twitter. (on another topic, so you can have fun on Twitter?)"
When the Gobert trade to Minnesota was announced, Vučević sent a tweet which read: "Glad my offer for the house I found in Salt Lake got rejected."
On to basketball matters, Vučević was asked about playing a "stretch four" position with free agent center addition Andre Drummond at center since Vučević despite some down numbers last season is a high level three-point shooter.
"I'm open to see how it works," Vučević said referencing playing some with Tristan Thompson late last season. Though coach Billy Donovan never discloses lineup plans, he appeared to wince in pain when the possibility was suggested.
The unusually candid Vučević also offered one of the best responses, honest and most realistic I've heard from a player entering the last year of his contract.
"It (contract year) doesn't weigh on me at all," said Vučević. "It's not my first contract. I've been in the NBA for 12 years. I've established a very good life for even post career, so I don't think about that too much." According to Basketball Reference, Vučević has grossed $134 million in NBA contract salary going into this season.
-In the still-got-that-chip-on-his-shoulder department, DeMar DeRozan quickly dug into his familiar bag of sometimes esoteric metaphors when he was asked about the latest narrative that now at 33 no way he can do what he did last year at 32.
"At this point, I always find humor in it," said DeRozan. "You always try to find reasons to be motivated. At this point, I have so many other motivational factors that it becomes laughable. It's kind of like free energy. I indulge in it and just let them eat their words whenever they eat it. But it's never my main focal point on driving me. But it do irk me here and there. It's like, "Damn, what did I do to you all? Who comes up with that theory? I always wondered that. It ain't like I'm 48. As long as I got wheels on this car, I'm going to ride it until these wheels don't work anymore. While I'm driving this thing, I'm going to figure out how to be the most effective and efficient driving machine that I can be. I never put those thoughts in my mind, saying, 'Oh, I'm going into my 14th year. Maybe I'm slowing down or can't do this.' I have a lot of conversations with a lot of guys that are older than me in this league, like Chris Paul. Being this motivation factor of this whole age thing that people love to put on people, it's like why? As long as you take care of yourself, as long as you work, technology is completely different. It's not like I'm Kevin Willis out here or anything like that. Shoutout Kevin Willis. I love getting older just to show people you still can get better the older you get."
Tony LaRussa would agree.
Willis, by the way, was a rugged center known for his angry stare and the shortest arms for a seven footer who played 22 years with nine teams, mostly in Atlanta, and retired in 2007 after a few games in Dallas. "Shout out to Kevin Willis," DeRozan added.
So who went to Europe on vacation this summer? Billy Donovan, raise your hand. It seems Donovan took a side trip to Slovenia to meet with new free agent Dragić just before the European national tournament began. Recalled Dragić: "Billy came to visit me in Slovenia. At that time, I had my basketball camp for my kids. He came just to see and try to talk in person a little bit. I was surprised and grateful that he came so far; we were just talking about life, about basketball, about how he thinks we're going to play and what he thinks I can bring; was a really positive conversation and that's why I'm really glad and happy I can be here and work with him."
Dragić said the Bulls did not ask him to skip the grueling EuroBasket tournament earlier this month, though Dragić admitted he had doubts. But he said it's not something you do at home.
"Arturas asked me if I'm gonna play and I said yes and was no more discussion," Dragić revealed. "Of course, I understand every organization is afraid of their players (being injured) when they sign a deal and it's a long summer. But as an international player when you don't play for your national team it's really tough to go back home. When you walk on the street and the fans are yelling at you, 'Why you don't play? You got enough money," and this and that; it's tough. I was always that guy I didn't only play for my country and my national team only because I have to but because this was a great opportunity to prepare myself for the NBA season."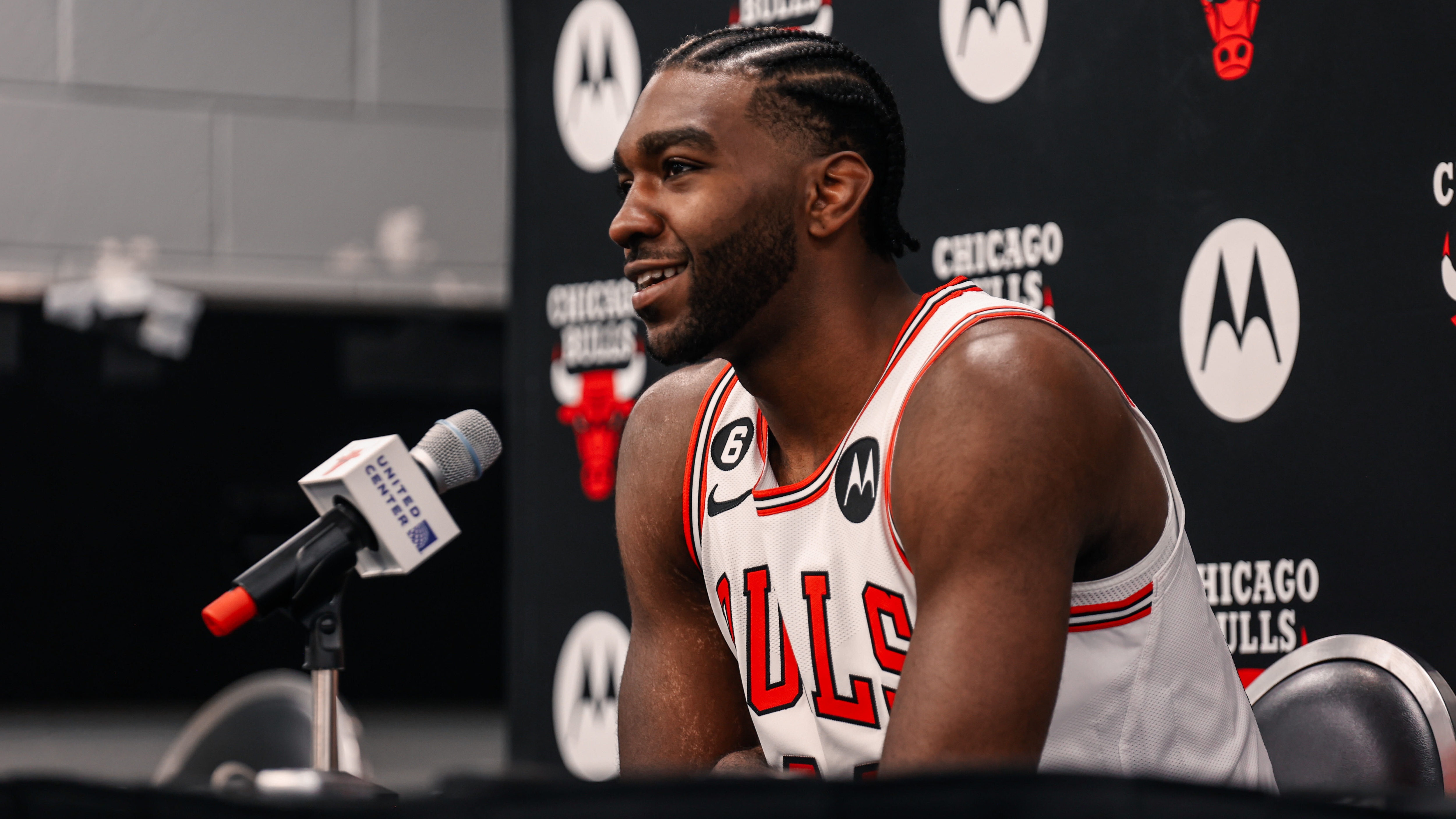 -Patrick Williams attended DeRozan's workout boot camp, an apparently similar offseason program like Jimmy Butler did with some Bulls players. Williams didn't want to get into specific detail so not to reveal DeRozan's aging secrets, but he did offer the timing. Said Williams, who seemed a bit slimmer: "The workout starts at 5 a.m. Starts at 5 on the dot, not 5:01, not 4:59 – 5 a.m. You can't be pulling in the parking lot at 5 a.m.; we probably got there at 4:30. I was still sleepy when he came to pick me up, so I don't know exactly what time. But we definitely got there around like 4:30. Started to work out, the lift at 5. It's a tough lift, for sure. It's mostly like core, pushing yourself to exhaustion and then seeing what you can do after that. Then after that, it's on to the court. Do court workout. He puts himself through every situation he can possibly be in the game, every double-team, triple-team. It's different. One on one, one-on-three; it's just different. Then of course he has a family. He goes home and tends to them, be with them, still be a father. Kind of seeing he gets his work done early and now he has the rest of the day to be a dad, a family member, a brother or whatever. Then we go back in the afternoon for more.
"The fun part for me was the workout," Williams said. "I didn't really get introduced to celebrities. Meeting celebrities to me isn't really fun. I guess the basketball part is."
-Zach LaVine on the upcoming season expectations: "If they're not high then what are we doing here? Obviously, we're a team that held a top seeded record in the East all the way until a little bit after All-Star break. Made our first playoff berth, got our feet wet. But our expectations have to be really high. So if we're not thinking we can compete for championships then we're selling ourselves short.''
-DeRozan on the scary East now a Beast: "This is the toughest the East has been since I've been in the league. That makes it exciting. I can't wait to get to practice tomorrow. That's what it's all about. You want to compete at the highest level against the best. That's fun. There are no nights off. That's how you want it. You don't want to go to the movies and watch 10 movies and they all crappy movies. I want to see all blockbuster thrillers."
The contents of this page have not been reviewed or endorsed by the Chicago Bulls. All opinions expressed by Sam Smith are solely his own and do not reflect the opinions of the Chicago Bulls or its Basketball Operations staff, parent company, partners, or sponsors. His sources are not known to the Bulls and he has no special access to information beyond the access and privileges that go along with being an NBA accredited member of the media.