The Bulls were thinking they'd get fat on Tuesday, that it was time to laissez les bon temps roulez, yes, let the good times roll with perhaps a fifth consecutive win and finally a time to celebrate and the beginning of perhaps a sustained stretch of success.
But with a pancake flat second half, the Bulls saw an eight-point third quarter lead disappear like a plate of beignets and it was the Bulls taking a powder in a 125-107 loss to the Denver Nuggets.
Sounds like someone did a little too much drinking before writing that one. But in any case, it was no party for the Bulls as they saw their four-game winning streak broken like a string of cheap beads in giving up more than 120 points for the second time in the last three games and falling back to .500 at 30-30.
They will play the league leading Golden State Warriors in the United Center Thursday.
"They're a really good team, as everyone knows, with a lot of really good players," agreed Jimmy Butler of those Warriors. "But if we go out there and do what we are supposed to do, guard, rebound, make some shots, we'll be in a good position to win."
Well, as long as they get Butler doing those things as the Bulls star has been in something of a funk since his New Orleans weekend.
Yes, Butler had 22 points in last Friday's win over Phoenix. But he is shooting 18 for 53 (34 percent) since the All-Star break, averaging 16 points after shooting three of 13 for eight points Tuesday.
He'll have to be or the Bulls are going to be in for some difficult times.
The Bulls Tuesday got 19 points from Dwyane Wade—he is shooting 25 of 49 and averaging 20.7 points since the All-Star week of rest—and a season high 19 points from Rajon Rondo. Bobby Portis added 12 points as he and Butler each had three steals. The Bulls had a reasonable 26 assists and made 10 three pointers, their third straight game with double figure threes.
But the Nuggets with center Nikola Jokic's triple double with 19 points, 16 rebounds and 10 assists and 22 points from Danilo Gallinari outrebounded the Bulls 45-35, made 13 threes and shot 56.3 percent overall. The Bulls in a curiosity had 16 more shots and lost by 18 points.
"Defensively we weren't as good as we needed to be," said Wade. "The ball stopped moving and we couldn't put the ball in the basket. We were up 79-78 (with three minutes left in the third quarter) and they kind of went from there. They got hot and it was over (32-10 over the next 10 minutes). Some of it was our defense; some of it was their shooting. If you don't play well on offense, it hurts you on the defensive end. The ball was moving and then it stops. We've got to get back to continue to move the ball like we have the last few games when we had 30-plus assists. That's how we're successful. We didn't do enough of that, especially when they started making their run. The only thing you can do is take the hits, keep it rolling. We won four, played well. Tonight we didn't play well enough; we took the smack in the face and we'll get ready for Golden State."
And hope it's not a punch in the gut.
Kevin Durant went out with a sprained MCL in the Warriors Tuesday loss in Washington, so he will be out for at least 4 weeks. But it's been about 15 years since the Warriors lost back to back games. OK, maybe somewhat less, but a long time.
The Bulls for the most part since the All-Star break have shown an alacrity of movement and purpose, and the promise continued for much of Tuesday's game. The Bulls led 25-22 after the first quarter with Rondo first off the bench and looking as energized as he has all season.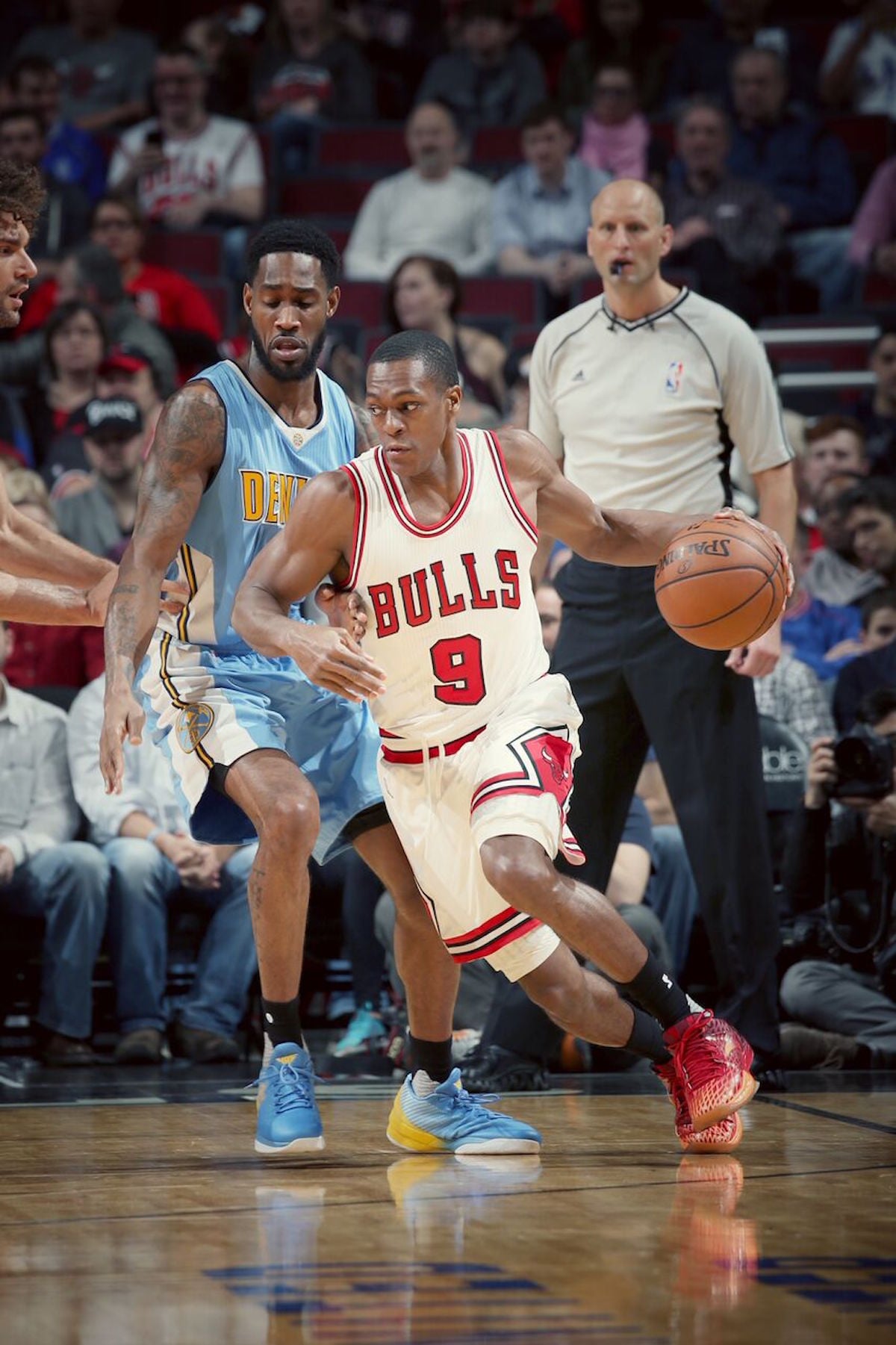 Rondo was excellent pushing the ball, but also finishing with three late scores in the first quarter and then a big sequence with Cristiano Felicio finishing on pick and roll and lobs and running the court with Rondo and the second unit. That group left with a 47-38 second quarter lead. The Bulls led 59-56 at halftime with the starters scoring 32 points and the bench 27 led by Rondo's 10.
"I thought Rondo was great for us," said Bulls coach Fred Hoiberg. "When he's in the game our pace just goes up a notch. He's getting guys shots. He's throwing the ball ahead down the floor. It was a real good stretch of basketball that we played. We scored 34 points in that second quarter. And finishing the first quarter well when he was in the game. You have to try to sustain that and do the things that got us the lead; have to continue those things and when you miss shots you can't let it affect you on the other end and it did tonight."
The Bulls began the second half well with a 72-66 lead, continuing to play in transition and get open shots. But the pattern they've fallen into all season is to then begin to pull up for those threes and long jump shots to apply the putative closing punch. Instead, as it often has happened, it leads to a cold stretch, missed jumpers and long rebounds for runouts. The Bulls missed six of eight shots with a turnover and suddenly the Nuggets were within a point.
Denver players beat the Bulls off the dribble for six straight free throws late in the third and suddenly they led 91-83 after three. Denver began the fourth with eight straight points on a pair of Gallinari threes as the Bulls admired his form from under screens and the game was about lost. Five minutes later Hoiberg emptied the bench.
"We got very stagnant with the ball; we have to keep moving, keep doing the things that are making us successful," said Hoiberg. "We had a nice run sharing the basketball the last four games and we went away from that tonight; have to work on movement. We are a much better team when we do that."
The Bulls aren't going anywhere with an average Butler, and Denver did have one of the best strategies to play him. It helped that they are big and physical and kept him off the free throw line. Butler only attempted two free throws and the Bulls, who usually dominate at the foul line, attempted 10 free throws to 24 for the Nuggets.
"One of the keys to guarding a guy like Jimmy Butler is to not foul," noted Nuggets coach Mike Malone. "He only went to the foul line two times; that is such a big part of containing Jimmy Butler. We went into him, we were physical, we made him work for everything. We stayed down on all his shot fakes. It was a great job."
Butler also hasn't looked as energized since his return from New Orleans. But it was hardly just him.
"We just took the energy away from them," said Nuggets guard Gary Harris.
The Bulls were outrebounded in the second half 25-12 and had just one offensive rebound. The Nuggets shot 59 percent in the second half on the road and coming off a home loss to Memphis in which they got badly outrebounded. The Nuggets also were nine of 18 on threes in the second half while the Bulls attempted just three second half free throws, a sign of limited aggression.
But it's also an adjustment period for the defense with Taj Gibson gone, Portis starting at power forward and Cameron Payne playing about 17 minutes at point guard. After two of three shooting his first game as a Bull in Cleveland, Payne was two of 10. But he showed good quickness and adept ball handling. Though with new players in different positions and the team unable to practice much since the trades, it was not surprising to see defensive breakdowns. The Bulls were to be back at practice Wednesday.
"Jimmy will be fine, he'll bounce back," said Hoiberg. "We'll practice (Wednesday) and hopefully play great on Thursday."
And get back to sacrificing. Passing more, sharing the ball, helping on defense, another new beginning.