Talk about a guy who knows the score.

"I've only missed two Bulls games since they began in 1966," Bob Rosenberg, the Bulls official scorer was saying as matter-of-factly as a layup the other day while he contemplated his closing notation with the end of this Bulls season. "It was the Cubs and Mets when they played in Tokyo in 2000. Major League Baseball asked me to be the official scorer.

"Maybe," the balding Rosenberg with his wire rim glasses and wry smile added with a laugh, "if they were winning more that season maybe I wouldn't have gone. Let's see, probably more than 2,000 Bulls games, maybe another 2,000 with Major League Baseball. Did the White Sox and Cubs between 1988 and 2019. Probably 350 with the Blackhawks, 200 for the Bears. Did Northwestern football in the late 1970s when they were getting beat by like 55 every game. The Sting (Chicago soccer), the Bruisers (Arena football), the Cougars (World Hockey Association), the Hustle (women's basketball), college basketball doubleheaders, the Packers and Zephyrs, the NBA franchise now known as the Wizards that started in Chicago in 1961, when I started, the Globetrotters..."

OK, I had to stop him there.

I hate to ruin it for anyone, but that's the wrestling of basketball. It's rehearsed. Bob, the Globetrotters?

"The Globetrotters used to play before Bulls games," Rosenberg recalled (and sadly at the time were more popular with about half the fans leaving after the Globetrotters game) and I'd get a signal from the coach (Abe Saperstein) if he wanted me to put up a basket or not. I had a book for that, too."

Yes, the books.

The Library of Congress hasn't called yet, but that may be because they don't have room.

"I write down everything," reports Rosenberg. "I have books that list every sporting event I've worked or gone to, the statistics, the results, what happened so I can look back knowing I was there. I like having a record. I also get a program from every game I go to and work. I get the newspaper clippings from the next day (Rosenberg kept at Michael Jordan's request a scrap book of stories from every game Jordan played for the Bulls and says Michael rewarded him well); even the concerts I've gone to all my life as a fan, Tina Turner, Neil Diamond. I probably went to more than 50 Ringling Brothers circuses. Have those programs. The fans hate it now because there aren't any, but I had all the ticket stubs from every Bulls game.

"I think I sold one for $15,000 or $20,000 and then saw this guy got like $250,000," Rosenberg said. "When I saw that I thought, 'Oh geez.' Who thought it would be worth that? Who thought any of it would be worth that? I just liked to have the memory of the game. I've got every Bulls program through this week. All-Star games, playoffs, exhibitions. The college All-Star games, baseball. All in my basement. The Super Bowl. Got some tickets from the first one in 1967. I sold one to a guy in Minnesota about 15 years back. I didn't go or work it. Back then you could just buy them by mail. I figured why not get a ticket? Paid 10 bucks. I was just a fan, also. I liked sports and would buy season tickets, to the White Sox, the Bears, the Blackhawks. I liked math and I liked sports. And you get a heck of a seat."
And now after more than 60 years, the last member of the Bulls organization from the franchise's founding in 1966 is taking his seat back home in his living room.

"It's been great," says Rosenberg, "the championships, of course, being at the game, talking to the people, the players, the coaches, the games; something new every day."
But a few years ago during Covid when anyone involved in the game had to be tested daily, Rosenberg was taking his 50-mile drive in from home early one morning (before having to ride back in the evening for the game) and got broadsided by a driver with no insurance. Rosenberg went to the hospital with serious back issues requiring surgery. "The doctor told me I was lucky to be alive," Rosenberg recalled. "They literally had to reconnect parts of my back. The White Sox have called about coming back to do some games. But I'm 82. I've been lucky with the snowstorms driving 100 miles back and forth. It's time."

But oh what a time it's been for the West Side sports nut who grew up near Humboldt Park, went to Lowell elementary, attended Evanston High School and then went on to the University of Illinois with a plan to be a physical education teacher. Which would mean plenty of time for going to games. Rosenberg was devoted to the Bulls, White Sox, Bears, and Blackhawks – and the Bulls championships in the '90s finally erased his depression over the '59 Sox World Series loss.

Like my Chicago Tribune colleague Bob Verdi once wrote about Chicago, the City of Broad Shoulders and Narrow Trophy Cases. Rosenberg has endured plenty of pain; probably more for having witnessed it firsthand.

He still says those '59 Sox had the better team, though the Bears winning in '63 was a big lift, he says, that carried him until the '85 Bears and the Bulls.

Delayed on his teaching path, Rosenberg got a job out of college, instead, working in an American Photocopy plant as a line supervisor. He'd already bought White Sox season tickets, the business world more conducive to sports ticket purchases than a teacher's salary.

It happened that day the Sox game was rained out as he was on the way. So he decided to stop by the offices of the new NBA team in Chicago, the Packers, then playing at the old International Amphitheatre near the Stockyards at 42nd and Halsted. It was one of Chicago's most famous buildings. It hosted five presidential nominating conventions, including the infamous 1968 Democratic convention noted for the anti-war protests and police actions ordered by Chicago's malaprop Mayor Richard J. Daley, who at the time famously declared, "the police are not here to create disorder, they're here to preserve disorder."

Bob didn't go to the political conventions. But he would witness protests among the sparse to attend the Packers games, an arena at the time much better for launching balloons than jump shots. Rosenberg was pricing Packers tickets that day stopping by the office when he happened to mention he did some scoring at high school games.

Hey, how about keeping score for us? Things were somewhat more informal in those days. And so the Packers had an official scorer. And Bob was picking up a cool $35 per game.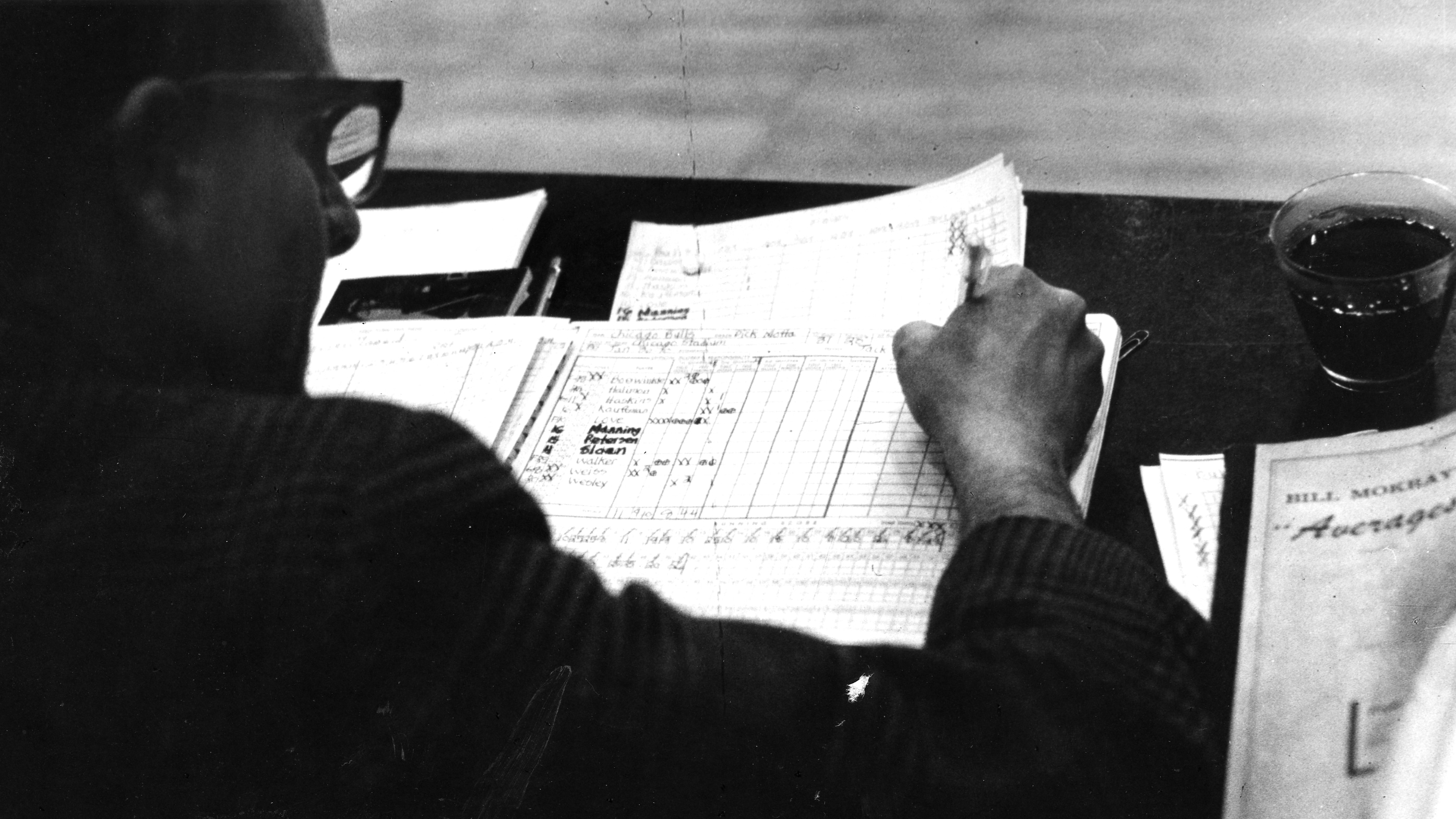 There wasn't as many statistics as there is these days, blocks and steals, for example, not considered. And certainly no three-point shooting. Just the facts, man, as Jack Webb might have said, rebounds, assists, fouls and points.

It wasn't a good sign after one season the Packers changed their name to the Zephrys and moved to the Chicago Coliseum on Wabash a little closer to the Loop, an even more historic site for Republican and Teddy Roosevelt Progressive Party conventions in the early 1900s. And equally unappealing for basketball, which matched the team's success rate. Chicagoans still remained disinterested. The Zephyrs finished last again even with Big 10 stars Walt Bellamy and Terry Dischinger and now coached by Slick Leonard, who went from playing to coaching during the season. Even Jack Brickhouse doing the games didn't help. Chicago became known as an NBA graveyard with the Zephyrs getting permission from the NBA to move to Baltimore and become the Bullets. With so many NBA failures and little pro basketball interest in Chicago, the NBA wasn't considering Chicago for a team the rest of the 1960s.

But local Chicago businessman Dick Klein, who played at Northwestern and briefly for one of the many failed Chicago pro franchises, the American Gears, ginned up interest from the ABC-TV network. That helped persuade the NBA, albeit reluctantly, to award Klein a Chicago NBA franchise for the 1966-67 season. Klein also expected to play in the Amphitheatre, so he was fiddling around with stockyard nicknames and supposedly came up with Bulls. There have been various stories over the years. The team colors were from Klein's high school in Iowa. Klein appointed himself general manager and hired a staff of popular Illinois stars, Johnny Kerr as coach, former Illini player Jerry Colangelo for business, and famed local boxing promoter Ben Bentley (why the Bull got named Benny) for media.

But there was no one to keep score.

"The Zephyrs wanted me to go with them to Baltimore," recalled Rosenberg. "I said, 'Nah, I'm Chicago.' Then I wrote a letter to Dick Klein when the Bulls were starting and said I had two years' experience scoring with the Packers and Zephyrs. He hired me.

"And that's what I've done ever since," says Rosenberg, "until now."
And then word got around.
Rosenberg met his late wife, Linda, at a Pistons game and she became a scorer for the visiting teams. The Blackhawks asked him to come aboard in the early 1980s, the Bears in the early 1970s as he was going, anyway, since he had season tickets. So with his handy pair of binoculars it was counting the yards, the throws, the catches. "You have a good view from the press box," Rosenberg offers casually. "After awhile you get used to it and see it clearly."

But there were plenty of long days, the NFL, for example, requiring a four-page script, single spaced after every game for the official statistics. But, hey, he was now up to $50 a game.

"I just got in the habit of liking sports," Rosenberg says. "Baseball, it had to be about 70, 71 when I started. Had season tickets and Bob Beghtol asked me if I wanted to work there. So I became official scorer for the Sox. The league made me do some Cubs games, too. There were three officials scorers who rotated. Now there's four.
Though as we have heard some players have differences with the interpretations.
"Sometimes in baseball they would tell the coach or call up and ask me about a play," Rosenberg said. "No problem. If I thought I was wrong I'd change. Jack McDowell complained the most about earned runs, which should have been an error so it didn't count against him. Sometimes in hockey with the shots on goal. The goalies would complain once in a while about the shots on goal. There's a Bulls player who these days comes to the table about what's a shot or pass. I don't want to say, (Scottie) Pippen complained about steals; said we missed some. The only time Michael really complained was the (1988) All-Star game when he had a chance to tie Wilt's (Chamberlain, 42 points) record and kept asking how many points he had. The NBA guys never complained much. John Thompson did every time. He always was complaining about something.
"One time Wilt was saying we were shorting him on assists," Rosenberg said. "So the 76ers had a coach and a media member record assists for the next game. At the end, they came over to check with me and had to tell Wilt we all had the same number."

Rosenberg said he had his favorites, especially Klein, the Bulls founder. "Very nice man," Rosenberg said. "John Paxson always had something nice to say. Same with Steve Kerr and Fred Hoiberg. Officials like the late Tony Brown and Chicago's Jim Capers were favorites.

"I always loved my interactions with Rosie as a player even though he shorted me on my assists," Hoiberg joked. "As a (Bulls) coach, I enjoyed our banter. He had a unique way of putting a smile on our faces when he came into the coach's office to get the starting lineup. He's a great man and I wish him all the best in the next chapter of his life."

Rosenberg said Maywood's Doc Rivers also was a favorite. One time Rivers' mother asked if Rosenberg had any newspaper clippings of her son. Rosenberg didn't think much of it and prepared her a scrapbook. "Doc still thanks me for that every game I see him," says Rosenberg.

So it's finally official. Rosie is closing the book on what's probably been the greatest statistical tenure in the history of American team sports. Like Casey Stengel used to say, "You can look it up." And if you do, Rosie's probably written it down.
The contents of this page have not been reviewed or endorsed by the Chicago Bulls. All opinions expressed by Sam Smith are solely his own and do not reflect the opinions of the Chicago Bulls or its Basketball Operations staff, parent company, partners, or sponsors. His sources are not known to the Bulls and he has no special access to information beyond the access and privileges that go along with being an NBA accredited member of the media.