Bruce Roberts: Miami's win over Milwaukee and our heart-breaking close loss to Miami implies we are not that far away from competing with the best teams. I know Vučević has may excellent offensive skills, but his defense kills us. We need some kind of personnel change to compensate. Any suggestions?
Sam: Let's not be fooled by Miami riding in second gear much of the season, Butler and Lowry missing a combined 45 games without what seems like any significant injury. Since Lonzo Ball last played for the Bulls Jan. 14, 2022, the Bulls are 59-65 in the regular season and 2-5 in post-season games. That is not a small sample, so I wouldn't be confident that the Bulls are close enough without some changes. Getting close to being in the play-in I doubt is the goal, anyway. But now that you asked, I do have some ideas and a plan. Look, as unfortunate as it is, everything changed with Ball's surgeries, and it would be a mistake with a third recently to count on him next season. We all hope he can return at some level, but to expect the pre-surgeries level is unrealistic. So like going into the summer of 2021, the Bulls need a point guard. They were under the salary cap to pursue free agency then. Not now. A point guard good enough to run your team is exceedingly difficult to find, and you really don't want to build an offense around a point guard who is not elite. Watching these playoffs, the team, to me, the Bulls with their current roster can most resemble is the Denver Nuggets. Which isn't bad since they had the best record in the Western Conference and are still playing. It seems like it might just take a change in philosophy and the offense, which mostly has been broken since Ball was sidelined. But I believe the Bulls have most of the players on their roster. And, sorry, it starts with Vučević, who would need to be resigned. He's not Jokić, but he actually does most of those things. He's intelligent, can pass, shoot and score in the post. Everyone's always yelling what is he doing at the three-point line? As the third offensive option after DeRozan and LaVine, it's where he gets pushed for the spacing as the tertiary option. He's been the good soldier, hasn't complained and tried to adjust, and has done well as among the league leaders in double/doubles. But it seems to me the offense needs to go through him like it does with Jokić. If you watch Denver, Jokić generally starts at the free throw line with cutters coming off him. If he doesn't see anyone, he'll take that midrange shot — we can all see he's not fast or a great defender — or back himself toward the basket, all abilities Vučević has. No, Vučević is not at Jokić's level, but enough to be close. Then you don't really need a classic facilitating point guard. So Coby White (sign him, too) can be the point guard with shooting range, like Denver uses Kentavious Caldwell-Pope. Zach LaVine is a much better version of Jamal Murray with more shooting range and is a better athlete. So when Murray has a stinker like he did in Game 2 with 3-for15 and missing all nine threes, the Nuggets still can win. I'd then move Patrick Williams to small forward with his ability to space the court since he was the best percentage three-point shooter on the team last season. Now you have three good shooters surrounding Vučević, who also is a threat, and you're not asking LaVine to make so many plays. Just score, baby. Then maybe in trade you can acquire a power forward. Maybe use Derrick Jones Jr. some, though you'd like more size. Maybe the tough guy mold with someone like Jae Crowder, who is a free agent you maybe can afford. It's not so much change, but enough. And then you don't need the elusive point guard and have the shooting. Just sayin', you know.
Nicholas Hill: It seems to me that the likeliest of the Big 3 to be traded would be DeMar. I think he's a fantastic player but one better suited to be that so called "final piece." That got me thinking. What team could think themselves to be "a piece away," has players/picks the Bulls could want and could benefit from having a player like DeMar? What about the Grizzlies?
The trade:
To the Grizzlies - DeMar DeRozan
To the Bulls - Brandon Clarke, Luke Kennard, 2023 first, 2025 first
Sam: Well, it seems like you could get Dillon Brooks. Who I actually like as a player with an edge; the Bulls could use some of that; maybe some more of that in a younger form than Patrick Beverley. Though the Bulls have too many needs beyond another shooting guard, and one who doesn't shoot particularly well. Certainly that's too much for DeMar since if the Bulls were interested in moving him, the better time would have been before the last trade deadline when a team looking for that final piece would have had him for two playoff runs. Now he's a risk as a rental (one season left on his deal) who you may lose as an unrestricted free agent after one season. And though DeRozan generally stays healthy and refuses to miss games to his credit, he is turning 34. So forget all the first round picks. My centerpiece/Vooch scenario didn't account for DeRozan starting. I'd approach him and see if he is OK with being a scoring sixth man. He essentially has a form of that role now as the first substitution of the game and the half and then much of the second quarter playing with the reserves. If he's not interested, maybe you look to deal. DeRozan has been pretty open about eventually desiring to finish his career back home in Los Angeles. And LeBron James has hinted around about regretting not pursuing DeRozan instead of Russell Westbrook. The Lakers have the No. 17 pick in this draft. Maybe the Bulls can put together something to get into this draft (without a lottery miracle) and a player or two; maybe Mo Bamba, whom the Lakers don't play. I like Jarred Vanderbilt as that defensive four. It's all too complicated for now and obviously as we have seen with the Bucks everything depends on your expectations and results in the playoffs. Still, there could be some Bulls surprises and changes this summer. You know, unless there aren't.
Joseph Austin: Here's part of an off-season plan for the Bulls:
Vooch: He has to be re-signed because the Bulls gave up too much draft capital to acquire. If he leaves, it has to be for a younger, long-term player.
DeRozan: We all appreciate what D.D. has done the last 2 seasons. However, the Bulls need to start thinking about natural decline of his. Age and not being a three-point shooting threat is what works against D.D.
White: He became a legitimate sixth-man. His game has developed enough as a point guard to where he probably should be a starter next season. Ayo and DeRozan probably need to go in a sign-and-trade deal.
The bottom line is that the Bulls need some younger, more athletic players. They also need to regain some draft capital and give Zach a younger wing player that can help him while he's still in his prime.
Sam: Hey, that's what I said. Though the younger and more athletic thing I'll credit Gar Forman. I won't mention that led to signing Dwyane Wade and Rajon Rondo. Ooops, did I mention that? I do think DeMar is that elephant because he's basically been the best and most reliable player on the team the last two years. So you want to get better you move him? To quote Hall of Famer Jerry Krause, sometimes you have to pursue addition by subtraction. That was Krause's philosophy/game plan in the years after Michael Jordan was drafted. The Bulls had a lot of high draft pick talents and some valuable veterans who would have made the Bulls more competitive in Jordan's first few seasons. Krause's success even as Jordan wasn't initially a big booster was to cash in that talent for future draft picks and young players. It doesn't always work as we've seen in various rebuilds. But with Jordan to carry the water for a few years, it bought Krause time to also make some mistakes and produce a team that better fit Jordan. So, OK, the Bulls don't have a Jordan. So maybe they won't win six titles. But that's not the goal for now. Maybe top four in the conference to start. And it is as wide open an NBA as it's been in decades as these playoffs are demonstrating.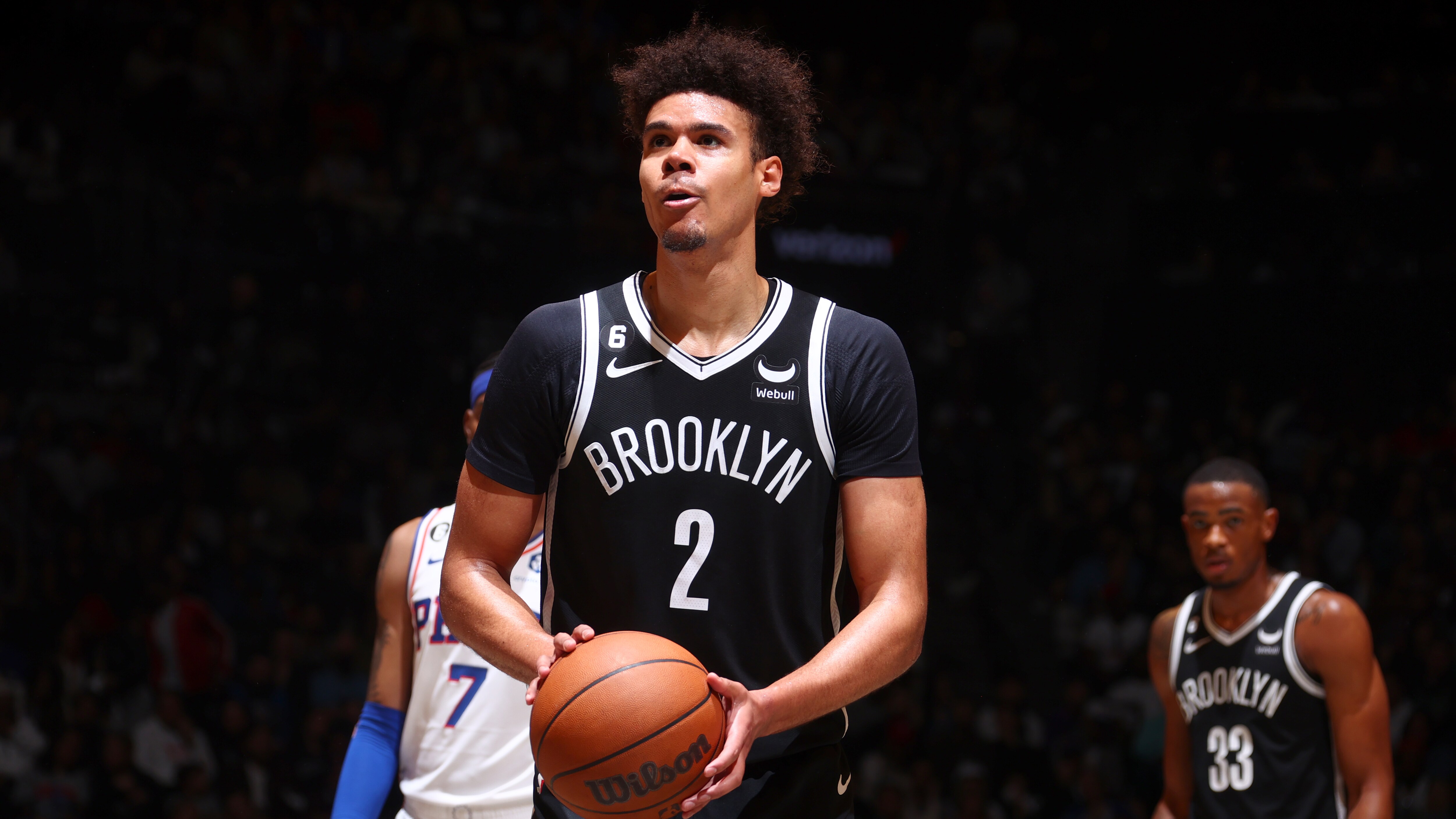 Jonathan Ingram: Why not reunite Cam & Coby in the Chi for the next couple of years? A little Carolina/Chicago connection.
Sam: Both are restricted free agents who the rumors suggest their teams will match any offers for. While Cam Johnson fits a nice profile of the kind of player the Bulls could use, so could the Nets, who acquired him (and some others) for Kevin Durant. Not seemingly someone who you can acquire with what the Bulls have other than maybe Zach LaVine. And he's way too much for Cam.
Mike Sutera: Typical Chris Paul hammy; I'd let him go. Would new Suns owner try to reunite KD with Kyrie? Can that old friendship be re-salvaged?
Sam: Everyone said Paul would get hurt in the playoffs again, and sure enough he does. And now turning 38 this weekend he's got two years left at $30 million a year supposedly with a $15 million buyout next month. New owner with gobs of money; do they try to run it back with Paul? I guess it depends on if he returns and if the Suns advance, which seems problematic now with Paul out. Kyrie and KD? Hadn't thought of that one. You'd think after finally getting away from him Durant would be relieved about the sanity. But Durant was the one who wanted Irving with him in the first place and said they'd have won when the Bucks did if Irving weren't hurt. Of course, Irving always is for some reason. But I know, you never say never in the NBA.
Brodie Larsh: How about DeRozan for Tyus Jones and Steven Adams? Money is almost identical. Would probably on be an option if Vooch leaves or is signed and traded.
Sam: What's with all the grizzly deals? Losing Grizzly Adams was huge — and ultimately costly — for them. He's changed my mind some about him. I had him in that Bismack Biyombo "What, you're putting him in the game?" category. I have to rethink that one. I like the Tyus Jones type for the Bulls, a solid playmaker who can make a shot. Though with Adams missing the last four months and the playoffs with knee problems, I'm probably looking elsewhere.
Corey Pratt: The Bulls have a lot of major decisions to make on the roster. I don't think they should bring back Vučević. He has done some good things here but in the long run we gave up two first-round draft picks to upstart Orlando Magic. I love AC but for Dalen Terry to play, AC will have to be traded. Most people would think I'm crazy but moving Zach wouldn't be that hard if you can get a four-team trade and hopefully get the right players back, hopefully draft picks. DeMar stays because of his leadership with the young players and their development. Ayo, I hope he can rebound from a tougher second season and fix his shooting problems. I would like to see him more aggressive and attack the basket. This team will need to do a slight adjustment/rebuild with the roster.
Sam: Let me see if I get your starting team, DeRozan, Williams, Drummond, Dosunmu and Terry or Beverley? DeRozan better be averaging 50 to get to 100. That's probably more than a slight adjustment. But you are correct in the sense that I think the biggest question is Vučević and whether to extend him, try a sign and trade? Or will he just walk? As I've noted, I'm for a return. The larger issue may be his use. Center use has been problematic the past few seasons since Ball got hurt as the Bulls opted to attempt to play small and fast, searching out turnovers and transition play for easy baskets; which didn't come very easily. I'd retreat from that scheme. As I've mentioned, I believe Vučević needs to have the ball more, and that's not going to occur with both LaVine and DeRozan with the team. To me, that's the biggest question in the equation of maintaining the core. It may not be rotten, but it might be time to take a bite out of it. Management seemed to indicate it wants to retain its Big Three. Maybe that's the biggest question.
Mike Worth: Bye-bye Klay? Supposedly wants max level extension with Warriors facing luxury tax payroll over $500 million.
Sam: Just hope Iguodala doesn't ask for too much. Draymond Green has a player option for about $28 million next season; Klay has one year left at $43 million. And they could win again the way this thing is breaking for them. Most seem to think they'll pass on Green if he wants to opt out, though Thompson would be a tough decision, especially if they get back to the Finals. They've been paying tens of millions to other teams for a few years now in the luxury tax, and eventually even rich guys tire of that. I can see them running it out with Thompson and seeing where they are after next season when Thompson is 34. He's been very good, but not quite the same guy game to game after all the injuries. Still, paying him $43 million next season can't be that much disrespect, can it?
Parker Lerdal: Will ex-Bull Max Strus sign for another team for next season including Boston Celtics, Utah Jazz, Detroit Pistons, Washington Wizards or Orlando Magic?
Sam: He should at least thank the Bulls for giving him that first chance before he tore his ACL, and then failing to defend him on the way to that 31 points that was the difference between Miami and the Bulls playing a Milwaukee team with no Giannis for a few games. Which turned out to be enough for the upset and already a Milwaukee coaching change. I know Miami won and the Bulls didn't, but three minutes to go, tied and Bulls shots are rimming out and others are spinning in. And then Giannis gets hurt. Oh, the humanity! Max should be in demand, and good for him. Terrific guy it seemed the time he was around the Bulls. It's difficult for those specialists to get regular starting roles because of their defense and limited athleticism, like Luke Kennard. But they are valuable in this NBA.
Ateeq Ahmed: I'm sure you're getting a lot of questions about the Jalen Green to Bulls trade rumors. It may be nothing, but I thought it was funny since we were talking about their roster and trying to pry Porter Jr. from them. Jalen Green is better by a lot. I also wouldn't mind Şengün while we're dreaming.
Sam: Vooch is better than Şengün, by the way. Actually, this was the only such question. I saw where there was some noise about Green being potentially available with Udoka the defensive guru coming in to coach. Green's talented for sure. But as such a high pick and their leading scorer (poor shooter, by the way), I don't see much in the way of making a deal besides trading Zach that might interest them. I'm not for taking that step back, if I were the Bulls. You also have to wonder what's going on if on a team of pretty out of control players who lack accountability and got the coach fired, this is the guy they may want to trade?
Mike Kung: Is Derrick Jones Jr. opting in?
Sam: I assume he will opt in given his limited role this season and a player option for $3.36 million. It's still, you know, a lot of money. He and Andre Drummond have player options for next season, though if Vučević is retained most expect Drummond to opt out to find more playing time elsewhere. Assuming Jones opts in and Drummond out and Coby White doesn't get an offer from another team and plays on his qualifying offer (lots of ifs; but it is early), the Bulls are committed to about $129 million in salary for next season not counting Vučević, Ayo Dosunmu, Javonte Green and Patrick Beverley. And no first round draft pick unless they hit lottery gold or trade. There may not be a guarantee with Marko Simonović; that's still unclear. The salary cap is estimated about $134 million, but you can exceed it to resign your own players. The issue is the luxury tax level estimated at about $162 million. This management in 2021 was creative with sign-and-trade deals, so watch this space. Who knows what's coming.
Steve Price: While Caitlin Clark is not eligible for the 2023 WNBA draft, is she eligible for the NBA draft? Would an NBA team spend a 2nd round pick on her? Is there a rule that only allows men to play in the NBA?
Sam: I assume she can go to court like Spencer Haywood did if she wanted to be in the WNBA now. It seems like she prefers college, at least for now. Wise decision. I know I said I believed she could play in the NBA given how skilled she is. But you know what a mess that would be with the zoo-like atmosphere of everyone wanting to see "the woman." More significantly, I doubt given the potential trajectory of her career that she'd want to be a peculiarity. She's on target for a great WNBA career. She'd have to declare for the NBA draft, which she didn't. Of course, the NBA doesn't discriminate. Just other elements of society.
Patrick Coblentz: So how about the in-season tournament that will debut next season. It seems an exercise in futility or just a desperate grab for more Benjamins. I think it would be a good opportunity to give the Elam system a try and see how it "feels." Any chance the NBA would consider this for the new in-season tournament?I'm not buying midseason champ merchandize.
Sam: The NBA is into trying stuff now, so anything is possible. I've been a critic of a midseason tournament since I like the regular season — and I've got a life despite that admission — but most of the players don't seem to. Lots of players not named Kawhi missing anywhere from 15 to 40 games this season without surgery or much more than "soreness." So maybe the league is right, and the NBA may have an existential problem with its players. Especially if teams advance like the Heat or Lakers whose main players took off much of the season. Then the message becomes why play 82 when 42 still gets you to the play-in and you can go from there in this league without super teams anymore. Every one of the eight teams in the semifinals seems like it is good enough to win the title. I can't recall if that ever happened. So maybe it is time to give the tournament a chance to at least see if you can artificially create some competition midway through the season when so many players are not paying attention. Though when I hear Elam all I can think about is Jack Elam, the bad guy in just about every TV show and western from the 60s through the 90s, this menacing guy with a bad eye. Sort of how I always figured NBA players would look at a tournament in December.
The contents of this page have not been reviewed or endorsed by the Chicago Bulls. All opinions expressed by Sam Smith are solely his own and do not reflect the opinions of the Chicago Bulls or its Basketball Operations staff, parent company, partners, or sponsors. His sources are not known to the Bulls and he has no special access to information beyond the access and privileges that go along with being an NBA accredited member of the media.