Len Artick: We kept hearing that the Bulls are "better than their record." At their best, they certainly are, but how about those other nights? You measure a team by consistency; not peak performance. People say, "If they could do that every game…" I say that if they could… they would! If the Bulls truly are "better than their record," there are only two questions: (1) Do the pieces fit? and (2) Does coach use them well?
Sam: Or you are what your record says you are? I don't believe they were, which is why I believe some substantial change is necessary. I agree with Karnišovas not the blow it up kind. There seem to me enough there still to be a good core. But I do believe management and the coach has to get on the same page about the way the coach wants to play. If it's more in transition, then they need some rebounding size. And if they want to stay more in the half court with someone like DeRozan, then definitely more shooting. I've suggested previously about maybe running more offense through Vučević that could allow Coby White to be a point guard in the Denver model. But if not, some who is a more natural facilitator. Because after a year and a half out and with little likelihood Lonzo Ball will at least play next season or if he were to at any similar level, it's difficult to make a case this group is better than a play-in candidate team. The appealing part as put on display in these playoffs is the Bulls with a few changes really may not be that far away given the incredible parity as play-in teams like Miami and the Lakers play for a chance to actually win the championship.
Brian Tucker: What's your take on Ayton? Obviously talented but is he worth it to have on your team? Is he really a problem child on that Suns team, or is it a case of a young talent establishing one's game in the presence of stars being a tough challenge. I feel like he could be the scapegoat again and could be available. I wonder if they'd think a professional veteran like Vooch is a missing piece for their veteran roster, which would make for a sign-and-trade opportunity. I haven't watched Ayton enough to know if that would be a good move for us, or if we'd be better off keeping Vooch or looking elsewhere for a frontcourt refresh.
Sam: It does seem like it's the end there for him and sitting out Game 6. He will be the scapegoat, and already has been among the fans in Phoenix. Remember, he got benched at the end of their also blowout closing game loss to Dallas last season and then the Suns only matched his free agency offer from the Pacers. Myles Turner deal? Then Ayton came to camp and said he never spoke with the coach about the benching. He hasn't produced in the playoffs, but they rarely run much for him with Booker and Durant dominating everything with Chris Paul out. By the way, it's obvious you can't count on Paul by playoff time with injuries. They can save $45 million on his $60 million/two years if they release him next month. Will they? I was doing some lobbying for Ayton before the trade deadline when it looked like you maybe could get him in a package that included Mikal Bridges, Cam Johnson and Jae Crowder and maybe a pick. I thought if you packaged up DeRozan and Vučević with some veterans like maybe Alex Caruso you could quickly remake your team and the Suns would be in better position for the short term to get the first title in franchise history. But they obviously were holding out for Durant. I can't blame them for that. But now they don't have much but Ayton's $32 million salary. He has potential, but he alone would be too much risk, it seems to me. I'd try to retain Vučević and build more offense through him.
Luis Rodriguez: I would like to know what your opinion is in regards to signing Nikola, I believe a combination of Brook Lopez and Kyle Kuzma or Jakob Poetl and Christian Wood or any combination of the four is a better fit for me. This would address two positions improve shooting rebounding and defense overall, without breaking the bank.
Sam: Unless the Bulls were to release Vučević and trade DeRozan into cap room (basically giving him away for nothing or draft picks) they would not be far enough under the salary cap to acquire top free agents. Plus, it seems like Lopez, Kuzma and Poeltl are committed to resigning with their teams. I believe the Bulls are at the early stages of their development for the 23-24 season, which starts with the lottery next Tuesday. If the Bulls happen to get a top-four pick and No. 1, which surely will be Victor Wembanyama, that would likely set a new direction. Which wouldn't mean going all into the draft and trading away veterans. But more so adding a young player to the current core without too many major changes. I believe Karnišovas when he said at this point he is mostly committed to the players he has. But as we saw in the summer of 2021 when he added DeRozan, Ball and Alex Caruso, he seems like the kind of executive who is flexible and willing to quickly recalibrate. I expect that to be the agenda as the trading season and free agency unfolds and players become available. You never know what is going on within a team, and rival executives don't know, either, until they get a call asking if they'd be interested. I expect changes with the Bulls, but I cannot even guess at this time what they may be.
Ed Zelnis: I find myself wondering where we'd be if the Bulls had stuck by their draft picks through thick and thin, and also had not made the bad coaching hires they did. If the current Bulls starting five consisted of Wendell Carter Jr., Lauri Markkanen, Jimmy Butler, Derrick Rose, and Coby White, with a bench of Bobby Portis, Taj Gibson, P-Will, Ayo, and maybe Dalen Terry or Doug McDermott, coached by either Billy Donovan or Tom Thibodeau, do you think such a team could still be playing in May? When I look over that list, it's hard to find fault with the front office in the draft department, but it's a scathing indictment of their coaching and player development.
Sam: There's no way to do that with injuries, contract issues (short contracts and a salary cap) and players upset with limited opportunity who want to move on. Remember, Jimmy is with his third team since the Bulls. Derrick, of course, was virtually out of the league at one point with so many injuries. Wendell and Lauri were pretty anxious to find new homes (and the community seemed to agree), and Thibs wanted his own team so he could be his own GM. That also didn't work out too well. That's why two of the greatest societal evils of recent memory are social media and fantasy sports.
Rui Dias: What's your take on Jokić and the fact that he wasn't the MVP or even in the All-NBA First Team? For a guy who average 24.5PTS , 11.8REB, 9.8AST per game. Shot 63% from the field including 38% from three-point range... was he robbed? Rules next season would exclude him from awards since he didn't play 70 games?
Sam: I would have voted for Embiid if only for when there's a tie at least give it to the guy who hasn't won before. I think Jokić deserved it more this season than last when his team finished sixth. No matter how good you are, you shouldn't win MVP with a team that can't get one round of home court advantage no matter who's missing. You don't need MVPs to finish sixth. Embiid should have won last year. So maybe the makeup call, which I'm fine with. But Embiid did average 33 points per game, the most for a center other than Wilt or Kareem (Bob McAdoo wasn't really a center; I think Gar Heard was defending a lot of the big scorers). And the 76ers had another winning season, which also is justification. If Embiiid is the MVP, then he has to be first team. Jokić was second team, so that's correct. Both would have qualified since the NBA is changing the requirement to 65 games, which both barely made. I'd rather see it at 70, but then the NBA wouldn't have many awards to give out.
John Leichenko: Is Embiid what Shaq should have been if he had developed his game? I've never known what Shaq's claim as the most dominant player of all time means. He didn't dominate like Wilt. Or Michael. He didn't have much big center competition most of his career either. If there is any super hero that Shaq most resembles it's the Hulk.
Sam: Let's not get too carried away since Embiid isn't quite Shaq yet. Sure, Embiid is more skilled with basketball requisites like shooting and ball handling. Which makes Shaq that much more impressive to have accomplished as much as he did. Imagine if he could shoot. So yes, Hulk-like, there never has been as physically an imposing a player in the NBA. And few ever got fouled more without going to the free throw line since it was so difficult to hurt Shaq — or for him to even notice a 225-pound man was hitting him — that the officials wouldn't call fouls. But Shaq was light on his feet and skilled enough around the basket to make basketball plays. Perhaps the league was fortunate that Shaq didn't really care about basketball that much. He was great fun to be around, generally the most popular player on the team who was glad to dress up as Santa and loved to entertain kids. It was the genesis of the issues between he and Kobe. Kobe was all about basketball and was offended Shaq not only was never in shape to start the season, but often took months to even try to get in shape. And then he'd be the Finals MVP every time and dominate the playoffs. It's also why his decline was so abrupt when he went to the Suns, Cavs, Heat, etc. Shaq had a more wonderful attitude for life than the legends of the game like Michael, Kobe, Russell, Kareem, West who were so much more dedicated. You'd rather have spent time with Shaq more than any of them. Perhaps that's good for the NBA and competition. Because if Shaq really did care and had developed a game it's difficult to contemplate what he could have accomplished.
Michael Wise: Who is the Bulls rep at the lottery Tuesday?
Sam: It's supposed to be Dalen Terry. I'd have asked Steve Schanwald if I were the Bulls. The then marketing director who basically created the entertainment atmosphere that the Bulls are known for was the representative when the Bulls with a 1.7% chance moved up from ninth to No. 1 and selected Derrick Rose. No one talks about it much these days, but it wasn't the slam dunk to take Rose. There was not only among some Bulls staff but in the community some sentiment for Michael Beasley because the Bulls needed shooting (see, that's not new) and Beasley was being viewed as the next Kevin Durant. Basically until he got caught hiding women and drugs at the rookie orientation camp. The Bulls this year come into the Tuesday lottery at No. 11 with a 1.8% chance for No. 1. Rose became the star of that draft as the youngest ever MVP. But with his injuries, the players who have endured from that draft are No. 4 Russell Westbrook, No. 5 Kevin Love, No. 7 Eric Gordon and No. 10 Brook Lopez. Among others more than worth their spots were Robin Lopez at No. 15, JaVale McGee at No. 18, Serge Ibaka at No. 24, Nicholas Batum No. 25, George Hill No. 26 (so much for those mock drafts) and Goran Dragić No. 45. The big busts were in the top 10, Beasley at No. 2, OJ Mayo at No. 3 and Joe Alexander at No. 8. No. 9 where the Bulls were to pick was DJ Augustin.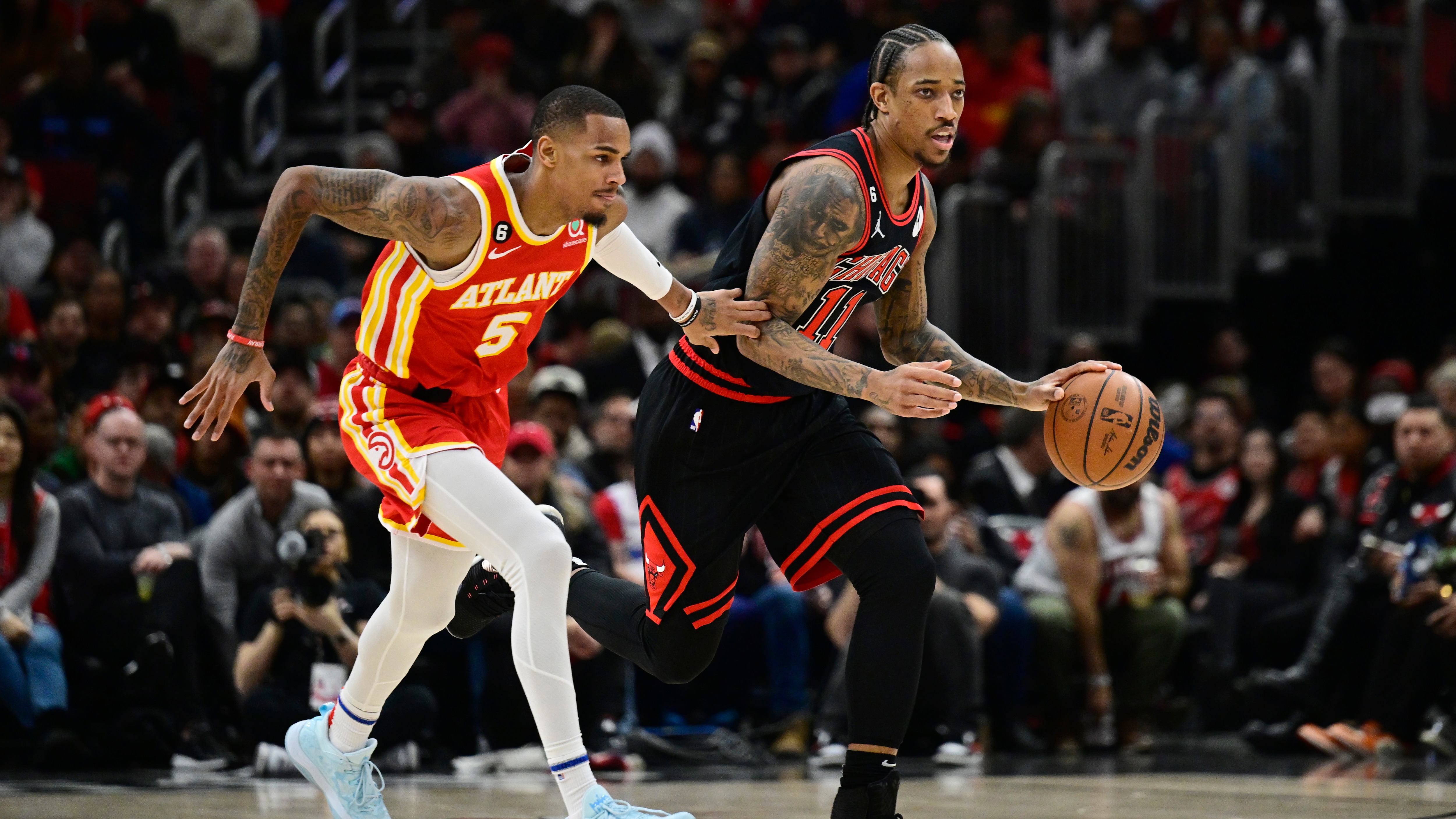 Mike Sutera: I know you wouldn't want to trade him East, but I'd give DeMar to the Knicks. They have some tempting pieces. For Grimes, Fournier, and a 2023 first?
Sam: I think that's the kind of deal you'd want to look at if they were moving DeRozan because he's basically just a one-year rental now at 34 with no guarantee he'll resign. I can see he'd make some sense for the Knicks as they need shooting and Thibs doesn't care for Fournier. And when Thibs is down on you, you are out. Fourier just has one more year left with a team option after that, and I think he's close with Vučević. So maybe a revival. And he is a career 38% on threes with several seasons at 40 or more. Grimes also can make some shots, though they don't run much for him. Maybe you can get the Knicks to throw in Toppin, who Thibs also doesn't seem to like. Maybe flip Derrick Jones Jr. Plus, the Bulls want to get into this draft if they can't get a top four pick next week in the draft lottery. I'd have to look at that because the Bulls really need to get bigger and get Patrick Williams at that starting wing position.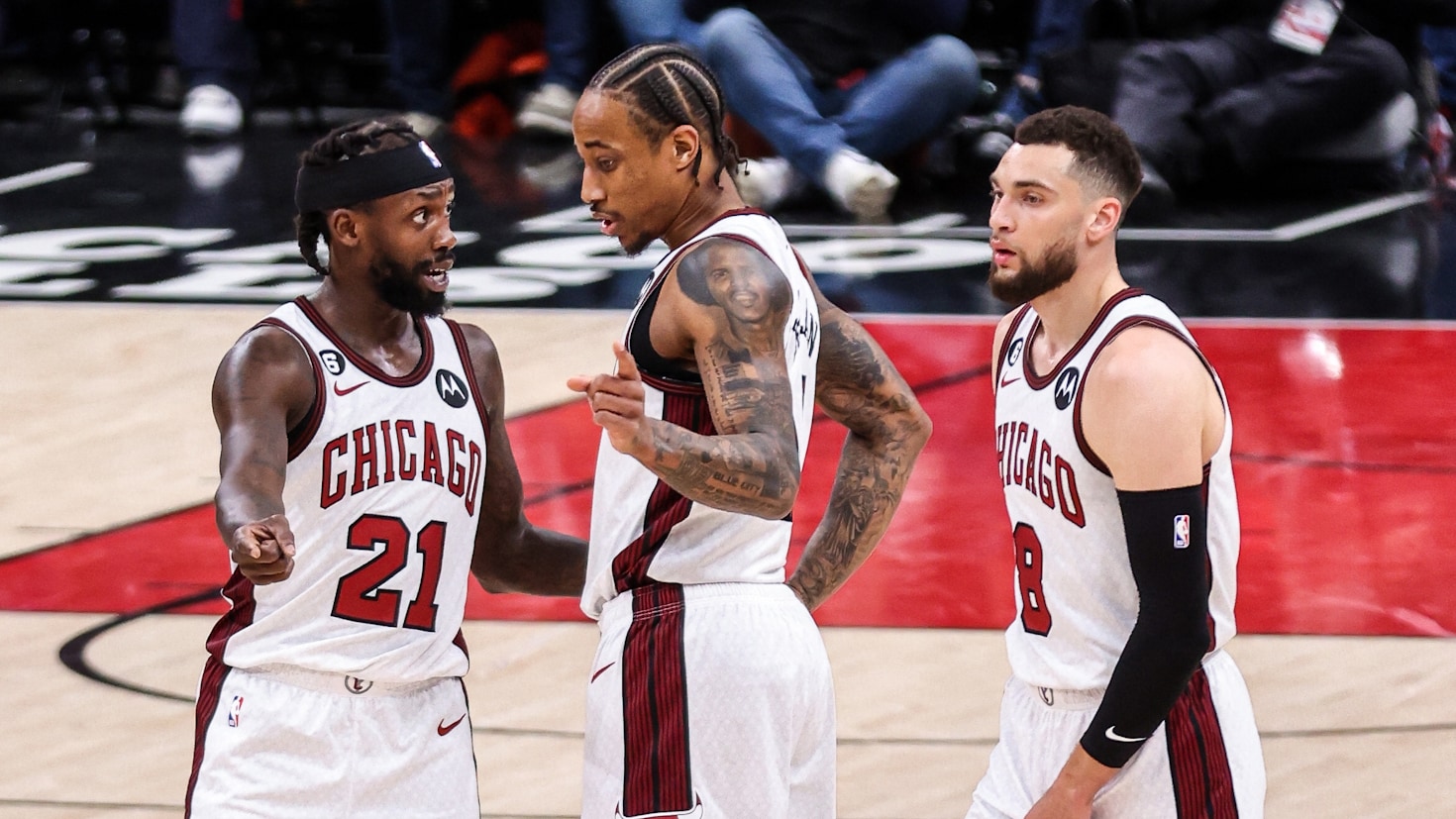 David Sinclair: Something that does not seem to be talked about after acquiring Pat Beverley and winning some games was that DeRozan had been moved to the 4 spot. A position he had played a lot in SA. Is there any positives of playing him more at the big forward spot long term?
Sam: No. I can expand on that. No way. I get it was a gimmicky kind of thing that had some success late in the season with the style Billy Donovan wanted to use in playing faster with more disruption on defense. But the Bulls shouldn't be fooled that it's sustainable. You can see in these playoffs how much rebounding turns games, and you just can't keep putting those undersized guys out there at most every position. Not only for the lack of rebounding, but it also makes them more vulnerable to injury. The Bulls have sized down enough already since DeRozan really is a shooting guard. But it worked well enough with a big point guard in Lonzo Ball. Not a six foot Beverley. You maybe noticed in the play-in it took an historic Zach LaVine game to even get the Bulls past the first one, and then Miami just wore them down at the end.
Pete Ferro: Most of us seem to agree that the Bulls need point guard help and better shooting but we don't have the budget to make this happen. Seems to me that giving Carlik Jones more of a run would make sense, at the very least as a back-up to say Coby. What am I missing?
Sam: There seems to be a stigma with being in the G League with some guys. I like Jones and believed he would have helped the Bulls because he's an actual point guard who can run a team and is a good shooter. But teams become beholden to the players they have invested in, so he wasn't going to get a chance ahead of Dosunmu and Dalen Terry. And then they brought in Patrick Beverley. A lot of life is opportunity, and if you don't get one no one really knows. His size probably is an issue with the team because he is listed at 6-foot, which usually means less. The Bulls seem determined like in the 2021 summer to prioritize a point guard, so he probably doesn't get a chance. But I wouldn't be opposed to seeing him. You know those Radford guys tend to be more than the experts believe they can be.
Ian Osorio: From what I have read Memphis isn't going to sign Dillon Brooks and I was wondering if the Bulls should get him now that he was announced as part of All NBA defensive second team. A potential lineup of Beverly, Zach, Demar, Brooks, Vooch
With a second unit of Ayo, Coby, Caruso, PWill, and Drummond
I don't know how to play it with DJJ and Javonte
Sam: Still kind of small since Brooks is about 6-foot-6. I know you can get away with smaller forwards in this NBA, but more like Draymond Green. And you saw Boston responded better going with Horford and Williams in Game 6. Little guards are cute. But if they are not Steph Curry, get some size.
Brodie Larsh: Assuming the Bulls don't get a draft pick, it seems like plan is to resign Vooch and Coby, and trade DeRozan for a PF. Have you heard a better trade than DeRozan to the Hawks for John Collins and Saddiq Bey? A sign and trade Jerami Grant for DeRozan may make sense as well with his connection to Donovan in OKC.
Sam: It might work for the Bulls since Bey was a nice addition, but I don't see how it makes much sense for Atlanta since they have the two point guards and De'Andre Hunter and want to work in AJ Griffin. They have wanted to move Collins, who doesn't ever seem to do much. But I might take a shot. Grant is a free agent looking for a big deal and really a wing player. Already with five teams, I'd be cautious about a big deal for him. I've mentioned the Lakers for DeMar since DeMar has expressed interest in playing there back home. But with two players (LeBron and Davis) making a combined $95 million the Lakers don't have much to offer. By the way, there's no Bulls plan to trade DeRozan for a power forward. That's mostly fan and media speculation for now.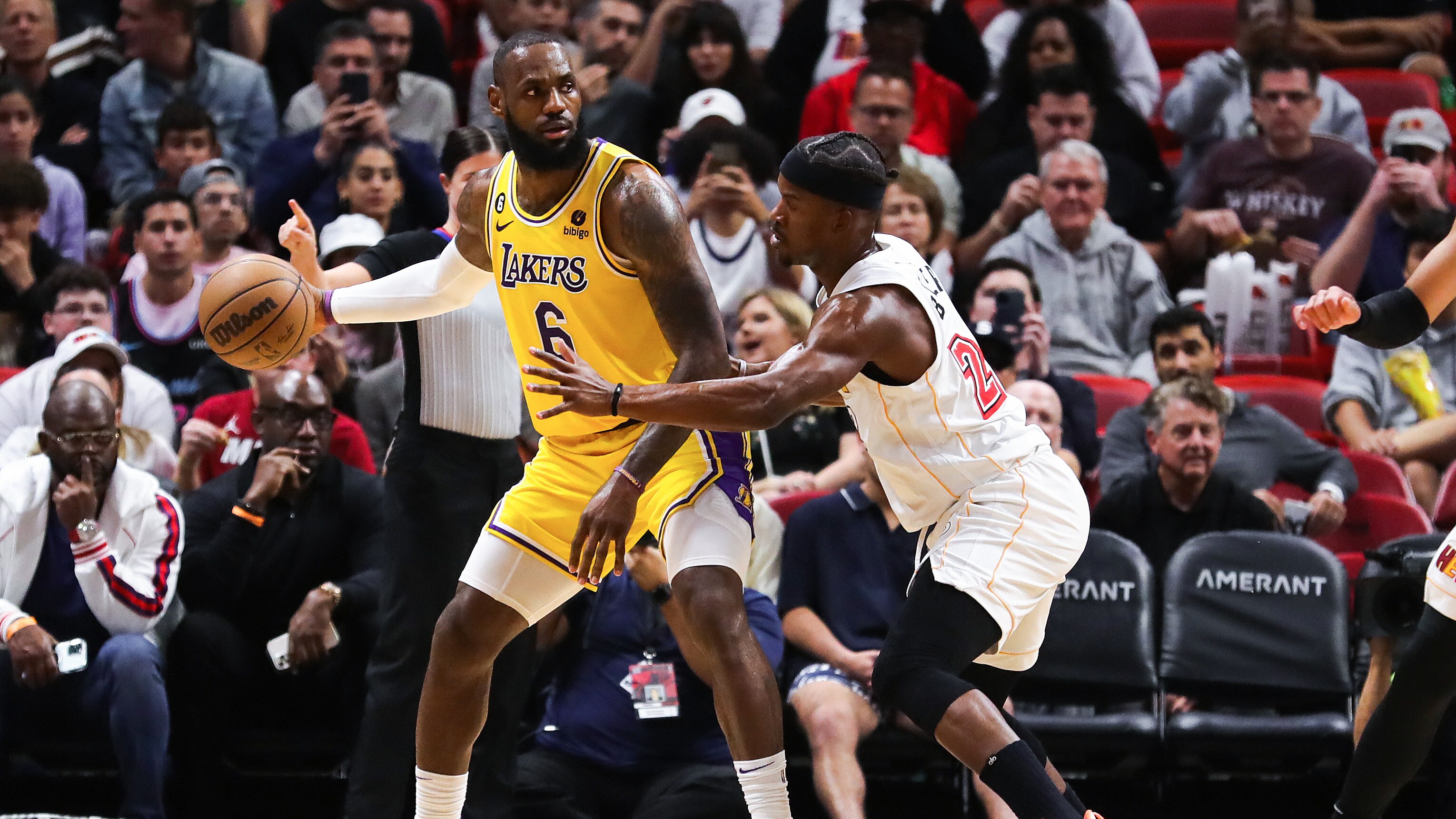 Mack Worth: Disney Rematch? Is this the NBA's worry? If 7th and 8th seed (Heat and Lakers) meet who will ever care about the regular season? Just more guys will coast and sit out and just be happy with getting 7-10 range.
Sam: Parity is welcome and makes for an exciting playoffs, which this has been. And should give more fan bases hope. You know, if those guys can get to the Finals…But it strikes me as an existential problem for the NBA. I know they're going to the 65 games thing for the awards. But those award bonuses are not much compared to their salaries. Some guys, like the Bulls three main guys, like to play and will play, so good for them. But you see, for example, with Miami Kyle Lowry obviously took the season off since all of a sudden he's playing 30 minutes every game at a high level. And, after all, if you're not an MVP candidate why worry about getting those 65 games to qualify? You know the league has to be rooting for Denver, which no one would ever say. But they were a rare top team to take at least most of the regular season seriously. You know Thibodeau teams will, but too many won't. Now just having to beat out five teams to get into the post season is an awful low bar. And it may actually work backward for the NBA with its new midseason tournament. I can see guys sitting out October and November and then playing since that's where they can make extra money in the tournament. The NBA should return to its long ago absence rules that if you want to miss a game you basically need a note from a league doctor. And if you don't get one you can lose pay for that game.
Art Alenik: Do you think think the salary cap has worked the way it was supposed to? Or even close? It probably does help with parity, so the richest teams cannot simply outbid the others and stack themselves with stars. But wasn't it also meant to curb the inflationary spiral of player salaries? It sure hasn't done that. We see now teams spending $20-40MM for a few stars and scrounging to fill out the roster without hitting the cap, or at least the luxury tax, with rookies or young players who haven't established themselves yet. It's harder and harder to build a good balanced team without some luck. The owners don't care because their profits (and franchise values) keep increasing too. They just jack up the prices. The only real losers are the average fans who can no longer afford to attend a bunch of games.
Sam: I've debated often about the owners not caring; look, the NBA has some owners who make a spectacle of themselves at games that I doubt is for the appearance fees. No one acts like that who doesn't care. The spike in franchise values was a surprise to everyone. So it became a great investment; but so was Microsoft and Nike. There's hardly anyone who got into the NBA who couldn't have made more money in other ventures. I know what fans often believe out of frustration. But when your day is filled with questions (and criticisms) about how your team did, I'm pretty sure you care more about its success than most anyone else. The salary cap, meanwhile, never was supposed to equalize salaries or create a ceiling. The players in negotiations were opposed to that. It's more what the owners preferred. But like in baseball when A-Rod one time wanted to take a lower deal to go to the Red Sox, the union overturned it on the precedent that it could suppress salaries. The player unions in most sports operate on the assumption of the rising tide floats all boats. Though with a salary cap and luxury tax penalties, the true result is creating the increasing income gaps that are familiar in society as a whole. The unions, though they'll deny it, generally operate for the benefit of the highest salaries players whose agents tend to have the largest voices with the unions. Isiah Thomas was a polarizing figure. But many of those issues surfaced when he was players' union chief and tried to fund more for the so called "middle class." That's a lot what led to his estrangement with some of the game's top stars.
Mitch Tobin: I've been watching the NBA for decades, and perhaps it's just my imagination, but it seems as if all the complaining to the officials on virtually every play has become an annoying plague. Has it always been this way, or has it gotten worse? What's particularly annoying is when players lag play going the other way while they gesticulate to the officials, as if that will make a difference.
Props to Steph Curry, though. Sacramento was playing him pretty physically, hand checking him outside the three-point line on almost every play, and he rarely complained. I thought that hand checking was not supposed to be allowed anymore.
Sam: Let me assure you players always have complained to officials, and fans always have found conspiracies in the way their teams were treated by the officials. Though it's more modern history, the Phil Jackson/Pat Riley referee debates were legendary game to game stuff in the 90s playoffs. Phil famously called hall of fame referee Dick Bavetta "Knick" Bavetta because Bavetta was from Brooklyn and grew up a Knicks fan. The league was not amused. But like with a lot of parent disciple — or lack of with the trophies for all trend — the NBA hasn't allowed its officials to, say, sternly remind Luka Doncic and LeBron they were not fouled on every single play of the season. A bit of the difference was years ago you had two officials per game who were stronger and somewhat more empowered who took some complaints and then began ejecting guys no matter their reputations. Players adjust quickly. They did then to some extent. It's really on the league to legislate, and for now it doesn't care to.
Larry Jurkens: It sure seems the officials are allowing significantly more physical play... and why do they quite often seem to wait to see if a shot went in before they call a foul? Shouldn't a foul be a foul no matter what?
Sam: Because if they called everything that the rule book states is a foul — remember it's not supposed to be a contact sport — then the games would last about eight hours with 500 free throws. I believe NBA officials despite the flaws are the best in sports. Baseball is pretty easy, though we see plenty of strikes called outside those boxes. I assume before too long AI takes care of all that officiating; though I would enjoy it if it were Allen Iverson. Football is ridiculous. The announcers who generally are former players still can't figure out what is a catch. And have you ever seen a play without at least seven guys holding? I like what the NBA officials do because they come to understand the game and want to continue the flow. So they'll sometimes let fouls go if they see the guy is scoring. If the ball doesn't go in, they'll call something to equalize the play. I'm also an advocate of the makeup call that used to be more common. The great officials want the players to decide the game; so when they make a mistake they'd often try to equalize it on the next play and then basically the statement to the players that the rest is on you. The playoffs are a bit different, but the regular season skews the game because so many of the home team announcers are whining about fouls that should have been called for their team and forget the fouls and flops of their team. If you watch just one team broadcast you tend to get caught up in what seems like bias. I'd say a greater problem than the officials missing calls is all the fakery going on among the players trying to trick the officials into making calls. How do you justify complaining about what an official misses if so many players are basically trying to cheat the game with their face flag operations? Sorry, I don't have much sympathy.
Steve Walter: I've seen this Bulls team have crazy turnovers when pressed. A ball handler as a backup/replacement for Ball makes sense. It appears the organization doesn't see Carlik in this role. Shooting a respectable % from deep must be a priority for any new acquisitions. Assuming Vooch stays, a defensive minded, quick rotating four is critical to avoid the constant layup line we saw in so many Bulls losses. It would be so cool to see Derrick Jones Jr, Pat Williams, and Javonte playing the small wing against players their own size. Bobby Weiss, Wilbur Holland, and Mickey Johnson would make this team Champs! All the best from Fantasy Island.
Sam: Wilber is deceased and Bobby and Mickey don't quite move like they once did, so it's probably not a plan for now.
The contents of this page have not been reviewed or endorsed by the Chicago Bulls. All opinions expressed by Sam Smith are solely his own and do not reflect the opinions of the Chicago Bulls or its Basketball Operations staff, parent company, partners, or sponsors. His sources are not known to the Bulls and he has no special access to information beyond the access and privileges that go along with being an NBA accredited member of the media.