Brian Tucker: DeRozan for MVP! That is all.
Sam: Let the campaign begin. Well, there was that sniff of it last season, but if Zach really has more knee issues and Lonzo, too, and the Bulls surprise, hey Jokic was MVP for a sixth place team. That's right, I'm still not over that.
Bill Kochneff: Loved the way the Bulls were able to close on the Heat. The hiring of Donovan, the additions of Dragic and Drummond, and the drafting of Dosunmu are making me think the Bulls did a pretty savvy job when they overhauled the front office. A lot of people thought that DeRozan wasn't worth a first rounder, but he's proving skeptics wrong. Just may need a little more rest as the season moves along. But there's a long way to go in the season.
Sam: C'mon, still undefeated. I do also like the offseason additions. I guess we'll see as the season progresses, but Dragic was huge in his return to Miami, which he unabashedly loved. I had favored him as my starting point guard without Ball, but Dosunmu filled that role well knowing his job was to help him get there (only Vučević and DeRozan among the starters scored in the fourth quarter). Dragic probably is best used in certain moments, but he and Alex Caruso both played just about all the fourth quarter. It's probably going to be difficult for Donovan despite his preseason talk of two units to get past his preference for a nine-player rotation. He went with nine in the opener and relied heavily on his veterans to close. And though it was DeRozan primarily with the ball late, there were some nice signs of movement and versatility and active defense though I'm still not sure what the random thing means.
Michael Queen: Nine points for the 76ers bench; Yikes.
Sam: Given it's Philly, Doc could be on the hottest by now. Traveling with the Bulls this week I haven't been able to see much of their games, but I did have the 76ers No. 1 in my preseason East rankings. Still makes sense; those starters with some big time veteran reserve additions. How are they losing? But it looks like Rivers already is coaching out of desperation. He basically played seven in the Thursday last second loss to the Bucks, and it's a bit early for that when you have Harrell, Thybulle and Niang totaling 11 minutes combined. And Tucker and Harden at 40 and Embiid over 35. Things already be getting tight there; hey, lucky the Bulls have them coming up soon, eh?
Cameron Watkins: If Ayo Dosunmu shows over the course of this season that he should definitely be a big part of the core of the Bulls going forward, can they re-sign him? As a former second round pick, he is an unrestricted free agent after this season, isn't he? Although it worked out OK for the Bulls in the end, I remember some aspect of how second round contracts worked led to the Bulls losing Omer Asik when they did not want to. I think it will be fascinating to see what level of offers Dosunmu gets after this year if he keeps this up.
Sam: This is confusing like a lot of salary cap stuff. I'm not as up on it as I was, but I believe he'll be a restricted free agent after this season, meaning the Bulls can match. But I think there's a catch that they can only offer him a limited amount of money to start. And if he gets a big offer and they match they have to make it up on the back end. Which sounds fine, but that could be so high with Zach's deal and Vučević and DeRozan lining up that it perhaps plunges them deep into the luxury tax with little ability to do anything else. So there may be some serious cap management to do, though with a new TV deal on the horizon maybe the cap and tax lines increase substantially. So it's a bit premature now. With Ayo stepping in to start at point and looking stronger and more confident than last season amidst Lonzo's uncertain status, it seems apparent he's a big part of the future. I doubt with the scoring they have he'll put up the numbers to draw such a prohibitive deal. But you never know when teams have money, and while he loves Chicago and seems to love the team and his place, hey, you have to take care of yourself because no one else will.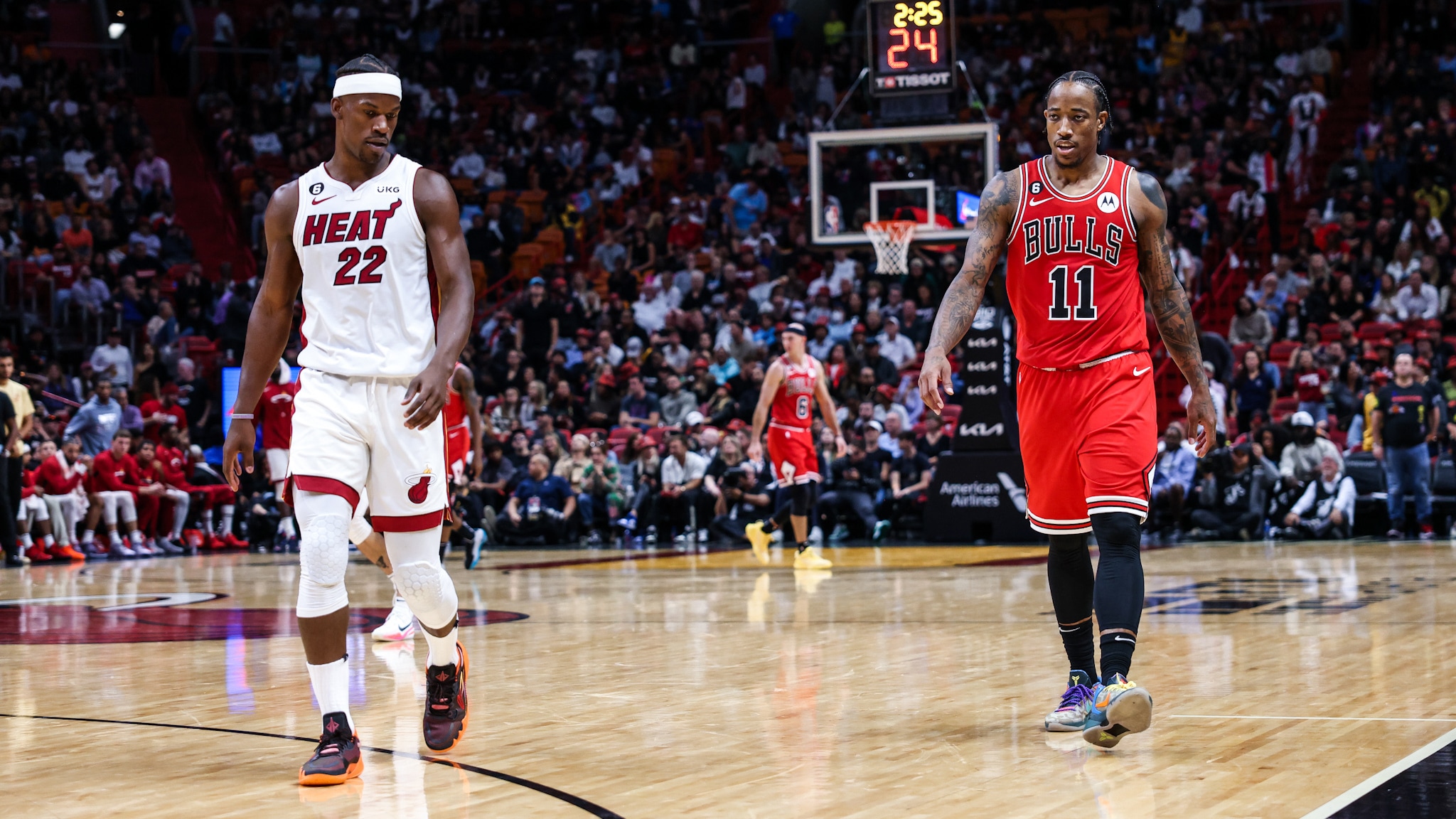 Art Alenik: Bulls played OK. Heat was cold, especially Bam & Lowry. And that was not the vaunted & feared Heat defense. The whole thing had a little bit of a n extended pre-season feel to it, like nobody is exactly in the groove yet. Oh, except DeMar DeRozan. That 19-pt. 3rd qtr. was pretty amazing. But nothing is more amazing than the way he draws fouls. I've seen other players who manage to draw fouls, but nothing compared to DeMar. Everybody in the league knows it, and he still gets them. You see guys jawing at themselves for falling for it, then two minutes later he gets them again. I don't mean to minimize his other talents. He's a great shot-maker and has a very good handle, etc. But the way he draws fouls is just uncanny. It's not brute force, like Jimmy Butler; It's that sweet subterfuge of spins and pump-fakes. Plus 6 boards & 9 assists... and now he's hitting 3's.
Sam: Yes, pretty, pretty, pretty, pretty good. Even Heat coach Spoelstra after the game said DeRozan may be the best at drawing fouls in league history. There's often hyperbole for your opponent when you lose, but he may have a point. I know I continue to shake my head watching guys defend him, and like you after they beat themselves up for it and get lectured they do it again. He really is a marvel. And about Miami, yes Adebayo was horrible, but as Spolestra said an aberration; for Lowry at 36 years old with that small, if sturdy, body, you can see the end even if he won't accept it. Tough Philly guy so he won't, but a player like DeRozan can have an extended high level run (despite the doubters, which is why he doesn't understand the questions) because he primarily plays on the ground and is clever and persistent. Lowry despite his size did it with power and will, and age takes a lot of that away. His body is beat up much more than his old teammate pal. We don't like to judge on one game—OK, sometimes we do—but Miami's mantra always has been that tough defense, multiple efforts, culture, yadda yadda; but if you're trying it with Max Strus, Tyler Herro, Gabe Vincent and Duncan Robinson good luck. Though the Bulls could get away with their guard heavy strategy against Miami, which plays even smaller basically starting four guards and Adebayo. That 8-1 fourth quarter offensive rebound edge for the Bulls was fatal for Miami and 6-1 on steals for the Bulls in the fourth. DeMar was great; it was the Bulls active/hustle/defense that made much of the difference down the stretch. Yes, Butler went right at Javonte Green when Green replaced Patrick Williams, but it wasn't nearly enough to offset a bad Bam/Kyle. And Green does help the Bulls transition game. We know it's not the ultimate, but he was plus-8 to minus-4 for Williams. I like the Bulls better and not just because of what we saw Wednesday. Now, I could be wrong by next week, but I'm good for now.
Doug Uding: So those key questions does Lonzo return some time this year, how well does Zach's knee hold up, what impact will Drummond have for the team and what about point guard? And will Patrick Williams stay about the same level as last year or will he progress further towards these comparisons for Kawhi Leonard?
Sam: Well, at least we're probably done with the really inappropriate and mostly unfair Kawhi Leonard comparisons.
Matt Chilewich: LaVine has all offseason to collect his new contract and work out and we're load managing his knee in the opening game? Have they mapped out 15 games he's strategically going to miss?
Sam: They say no. Billy Donovan told media with Zach being forced to rehab all summer and basically not scrimmaging until training camp opened unlike the rest of his teammates, he was slow starting and prone to a ramp up. Billy said there's no such plan and they'll monitor the strength of his knee and leg sort of day to day and as his knee strengthens (remember, surgery is not magical), they'll make judgments. Just for now it sounds like no back to backs, and the Bulls have four starting Friday in the next two and a half weeks.
Bruce Roberts: I do not want to take away the joy of winning the first game at Miami without two key starters. There are many positives from that game. But Houston - we have a problem. Two long-term contracts that may provide minimal or no return on the financial commitment we made. Where is the due diligence before offering long term contracts to two players that had significant problems with their knees? Where is the transparency to the media and fans about what is really wrong with Ball and LaVine? The media can be a useful vehicle for fans to better understand how we got to this place with Ball and now LaVine.
Sam: It's certainly been a surprise to us after the if not glowing but certainly upbeat reports about LaVine coming into the season. Though I suspect, as I know when I know, that there always is more to it and more complicated than we figure. There's the factor of the controversial Ball family, that both are now represented by the LeBron conglomerate, that they did their medicals and rehabilitation in California, and we don't know if any or all are an issue. But the biggest thing here may be the medical laws. There's such privacy these days that sports teams probably don't have to tell us anything; heck, in hockey guys stay out all season and they never tell you why. They don't even mention a body part when they do. Basketball tends to be the most transparent of the major team sports, and to his credit Ball was incredibly candid when he didn't have to be when he met the media by Zoom last month. Heck, do the Bulls even know the whole story? You'd assume they have to, but in this era of player empowerment and independence, who knows. It's not like teams love players risking injury for their national teams in the summer while on contract to NBA teams, but everyone just goes. It's Lonzo's second knee surgery this year, so it makes sense to be cautious. I did ask a key NBA and Pelicans guy I know and he says while they didn't want to retain him they had no hint of knee problems going forward. The Bulls are saying they are confident this is no surprise and an appropriate process for LaVine. I guess we'll have to go with that for now.
Devon Dreger: I was just here to ask the simple question of how far the Bulls will go this year and maybe the other NBA teams playoff runs as well. Do the Bulls have enough talent to be a real threat in the east? They were very good last year until injuries hit. They are not getting much respect from the experts.
Sam: Being that we're through one game I really can't make any promises. There's the, What if Lonzo comes back and when part. And what changes will they make since I wouldn't be surprised to see a trade before the February deadline. It's true the Bulls are going through the Rodney Dangerfield phase. The big prediction site, 538, which at least doesn't have a great sports record, has them for 35 wins. I take the over there, so that could help you financially. I saw the major betting service this week lowered them to 41.5 over/under from 44.5, but maybe that changes after Miami. This era of fans seems mostly caught up in will they win the title or I'm watching NCIS. What keeps me going is that it's a mini drama every game of who is up, who is down, who performed and who regressed, really the elements of a good novel with the story, characters, setting, conflict (which there always is some) and eventual resolution satisfying or not. My advice would be to enjoy the journey. It's always a good ride.
Larry Jurkens: Seeing your note about Doug McDermott made me remember; I saw him a lot in college and I thought he'd be a cinch to average 20 for a long career. I don't know if Thibs just didn't like him or what... it also seemed to affect him if he missed a couple. Seems to be a good guy.
Sam: He's a better guy than you can imagine since he actually was OK spending time with me. There are all sorts of barriers players have to hurdle in the NBA. Opportunity is one. There are a lot of players who have the talent, but end up on a team with high draft picks and guaranteed deals and just don't get the opportunity. This is not a science. Talent isn't as evident as suggested. You can tell by the draft they often don't know. I thought the Bulls handled it badly with Doug because they traded up into the lottery for him, and so expected a lot immediately, but also they needed a lot because at the time there was a big divide between Thibs and management (he was let go after Doug's rookie season), and then they overpromised with Fred Hoiberg coming in, which quickly became a mess and a rebuild. So he never really fit into a role. He certainly was as talented as Kyle Korver, who he often was compared with. But Kyle had time in obscurity to find his place. I wish Doug was a bit more selfish, but he's carved out a nice career averaging in double figures and shooting more than 40 percent the last three years as a spot up threat. The Bulls could use someone like that. Thibs, by the way, signed off on the trade because he then had asked management to get shooting.
Matt Cooney: Lonzo or LaMelo? Assuming they're both healthy – and that's a pretty big assumption – would this Bulls team be better with a healthy Lonzo or a healthy LaMelo? LaMelo maybe better overall scorer, but Lonzo running fast break and other attributes seem pretty hard to beat. But I suppose availability trumps all.
Sam: Lonzo, as you suggest, if he can play. Which he eventually will, I'm confident, albeit not immediately. Now if you don't have LaVine/DeRozan, maybe LaMelo, who is a greater talent and certainly more entertaining to watch. But he's very much ball dominant, and the Bulls have that box checked. We saw last season if ever so briefly how Lonzo was an ideal fit with the players the Bulls had with his ability to push the pace, shoot and defend. You'd like him to be able to finish more often, but with the personnel the Bulls have now he's the bouncing Ball you'd want to have.
Mitch Tobin: I'm a bit puzzled about the disparity between the recently-reported deals for Andrew Wiggins and Jordan Poole of the Warriors (Poole: four-year, $140 million extension; Wiggins: in addition to his $33.6 million salary this year a four-year extension that will give him a total of $143 million for five years). Let's put aside the recent Draymond Green/Poole dust-up, and what that might represent (Poole is apparently one of the biggest trash talkers on the Warriors). There's no doubt that Poole is a burgeoning star. He's a gifted scorer and is becoming a serviceable, if not outstanding, defender. But Wiggins, relieved of the burden of being a team's upfront superstar, has become an indispensable Swiss Army Knife of a player. The Warriors would not have won the finals last year without him. He's arguably their best defensive player, and a good scorer. Would GM Sam Smith have paid Poole more per year than Wiggins?
Sam: I understand the difficulty of being an NBA executive now. What, more than Michael Jordan made for both those guys? The other part, which I hear around the NBA these days, is given his age, Poole's contract probably is tradeable. I know, c'mon! I'm just glad for Wiggins, who I always liked some and defended a few years back as a player I'd take a chance on. And was bombarded with disdain. Of course, I get that in many places. The thing is with the Warriors there's a reckoning coming. They've been paying huge luxury taxes (which most fellow team owners appreciate for the annual distribution), and at some point the revenue from the new arena flattens out. I think that's what the Draymond Green thing was all about. There seems to be a transition coming to younger players, but as long as you have Curry you can absorb a lot of changes. They're the gold standard now in the NBA and Curry is the biggest difference maker in the league, and probably still most enjoyable to watch. But I can see some changes coming and having players under contract is considered an advantage in making transactions.
Mike Worth: Ben Gordon, wow. How do you make 86 mil career earnings and struggle to make bail? Did you like him?
Sam: It's been a tough story that continues with Ben, who I did like a lot. He was private, kind of remote, but always conversational, available and cooperative. Never saw a bit of temper from him, and he really could shoot. He'd be even more impressive now with the lack of conscience distance. You never know about a person's personal demons, which is a good life reminder that you never really know anybody until you live with them... a long time. So never assume you do. I have a special fondness for Ben not only the way he and Derrick Rose embraced one another when they started playing together, but we aligned on fashion sense since Ben wore long sleeve t-shirts and sweatshirts under golf shirts for winter wear and got me into that look. We could have been the first fashionistas.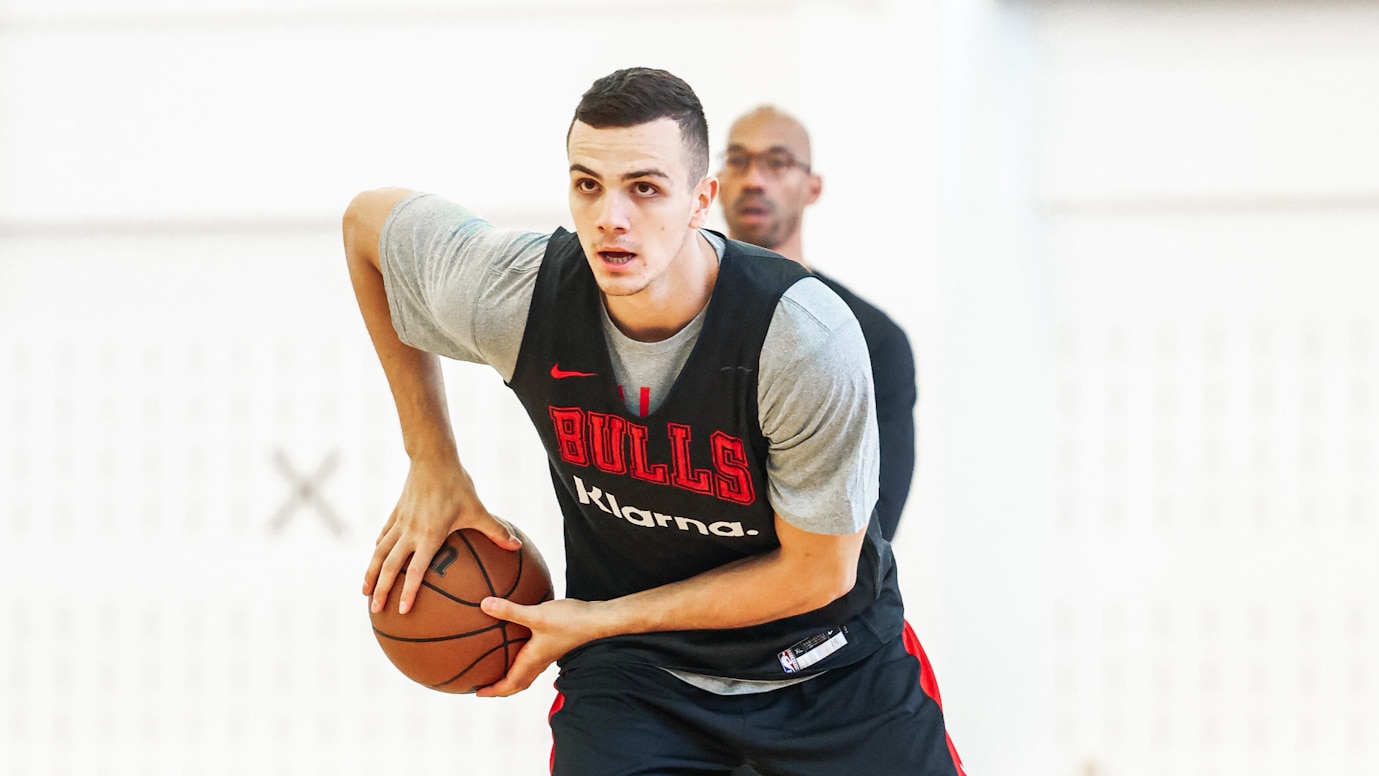 David Allen: Do you know why Coach hesitates to play Marko Simonovic? He really played well in the G-League last year, and spent the summer bulking up his muscle and playing ability. I don't understand why he's not being used.
Sam: We're never going to get an explanation about that since Donovan always is careful to promote all the players no matter how they perform or if they do. You can only go by preference and usage, which really is all you need to know. No matter what they say, all coaches are basically about the same thing, which is winning the next game. Billy obviously doesn't believe Marko can help in that quest, and based on his continuing lack of appearances even at the end of some of the preseason games I predict a G-league All-Star season. I heard they've got some great bobbleheads for promotions this season. So come see Marko!
Stanley Mazyck: I'd still bring Green off the bench. I don't think we should expect an offensive jump from last year to what he did in the preseason but I think a second unit of Caruso, Lavine, Green, acquired PF in White trade, and Drummond would work as the first substitution. I'd stagger the lineup so that at no point except the end of a decided game that Lavine or DeRozan is always on the court. I would also like to see Williams run with a secondary unit so he could be more of a focal point of offense.
Sam: Donovan staggers since he did that all last season and is a coach who more responds to matchups and runs than a standard system and rotation. He's always said he likes nine and stayed with that in the opener. I understand Green with the size deficiency is likely not sustainable, but I think his style of play fits better with the starters, and now especially with LaVine slowed. It's a relatively unathletic group that needs someone like Green, especially if Donovan is concerned about the lack of pace that developed when Ball was hurt last season.
Cory Boeckh: I don't think P Will can reach his full potential when he's the fourth option on the team currently. I understood the Vuc trade as that showed other teams and players around the league that the Bulls were serious about winning which brought in Lonzo and Caruso. However, I think AK may have jumped the gun on bringing in DeRozan though. Obviously, he over-performed and beat out everyone's expectations being named to the All-NBA second team in one of his best years in his career. I'm not discrediting what he did last year. I'm more so focused on DeRozan taking away opportunities from P Will to grow. We know what DeRozan and LaVine are going to give us every night but we don't know how good P Will can be. Plus, with the Bulls big three of DeRozan, LaVine, and Vuc none of them are above average defenders which P Will has shown he can be. Without cracking P Will's full potential, I don't think this team can really come close to contending for a championship when your best three players are mainly offensive minded.
Sam: I think that's putting too much on Williams. Just because of where he was drafted doesn't mean he has to be an elite star. I think he could become a terrific complementary player. That's OK. The DeRozan acquisition was a coup even if DeRozan has since said it wasn't his preferred destination. But it was a vital addition to not only provide additional credibility for management, but to add to the talent base. That's what winning is about. This is not a rebuilding situation, and waiting out a young Williams, to me, is not the plan. That said, there is a plateau they have to navigate now with the injuries and contract extensions coming up the next two summers for Vučević and then DeRozan. I don't think it's about Williams reaching his full potential for quite a while. At his age and with so much time missed already, he's still a project and promise for the next few seasons. His play will let us know where he'll fit.
Mike Sutera: The life of former Bulls: Stanley Johnson waived by Jazz. Alize Johnson waived by Spurs. Timothe Luwawu-Cabarrot waived by Suns. Tyler Cook waived by Jazz (going to their G-League team). David Nwaba waived by OKC.
Sam: At least we have our memories.
The contents of this page have not been reviewed or endorsed by the Chicago Bulls. All opinions expressed by Sam Smith are solely his own and do not reflect the opinions of the Chicago Bulls or its Basketball Operations staff, parent company, partners, or sponsors. His sources are not known to the Bulls and he has no special access to information beyond the access and privileges that go along with being an NBA accredited member of the media.