I'm loving all this hype surrounding Carter's performance in the summer league, but I have to ask: Should we be taking this with a grain of salt? After all, how much stock should we invest when his competition is primarily players who will struggle to land on an NBA roster in the fall?
Sam: It's only Summer League? This kid's at least a salt shaker worth; heck, maybe one of those mounds of winter road salt. Salt of the earth, too, it seems. You never do know with Summer League performances, I agree, since often the best players are rested or don't even play. I recall Derrick Rose actually being awful in Summer League and obviously better in the NBA. It's true the competition is not NBA level, but it's better than college, and true to his word, Carter is doing more now than he did in college. Its more than that. It's the you know it when you see it thing, and the way he moves, reacts, defends, bangs, shoots is NBA style. He'll have poor games, games when he won't see the ball much. He's unselfish, and a big test coming in for the team is going to be to get LaVine and Dunn, who have shot often, to move and work together and trust Markkanen and Carter, that when they give up the ball and move they will get it back. Not every time, but enough so that it becomes habit. It's the main strength of the Golden State Warriors, who weren't always that way. So it can take awhile, but Carter looks ready. Perhaps not All-Star ready, but to make an immediate impact.
The Bulls have a plethora of centers which present a problem of minutes distribution. Is Omer going to remain on the team or is he destined for trade/buy out? Is Lopez the season starter or is he going to be traded this off season or by the trade deadline? Has Felicio improved over the offseason to live up to the contract the Bulls signed him to or is he destined for a trade as well? How does Carter, the franchise future starting center, find minutes to develop with the log jam of trees the bulls appear to be in?
Will Pennix
Sam: Omer likely won't play in the Luol Deng mode as he awaits his buyout or expiring contact deal. Lopez figures to be around, but maybe playing 20-25 minutes, and he seems like he'll be fine with that. Felicio will have to earn any minutes and his play back in the rotation given the substantial step back he took last season. Carter should get plenty of time for a rookie as a backup center and power forward to start. As they keep noting, remember, he's 19.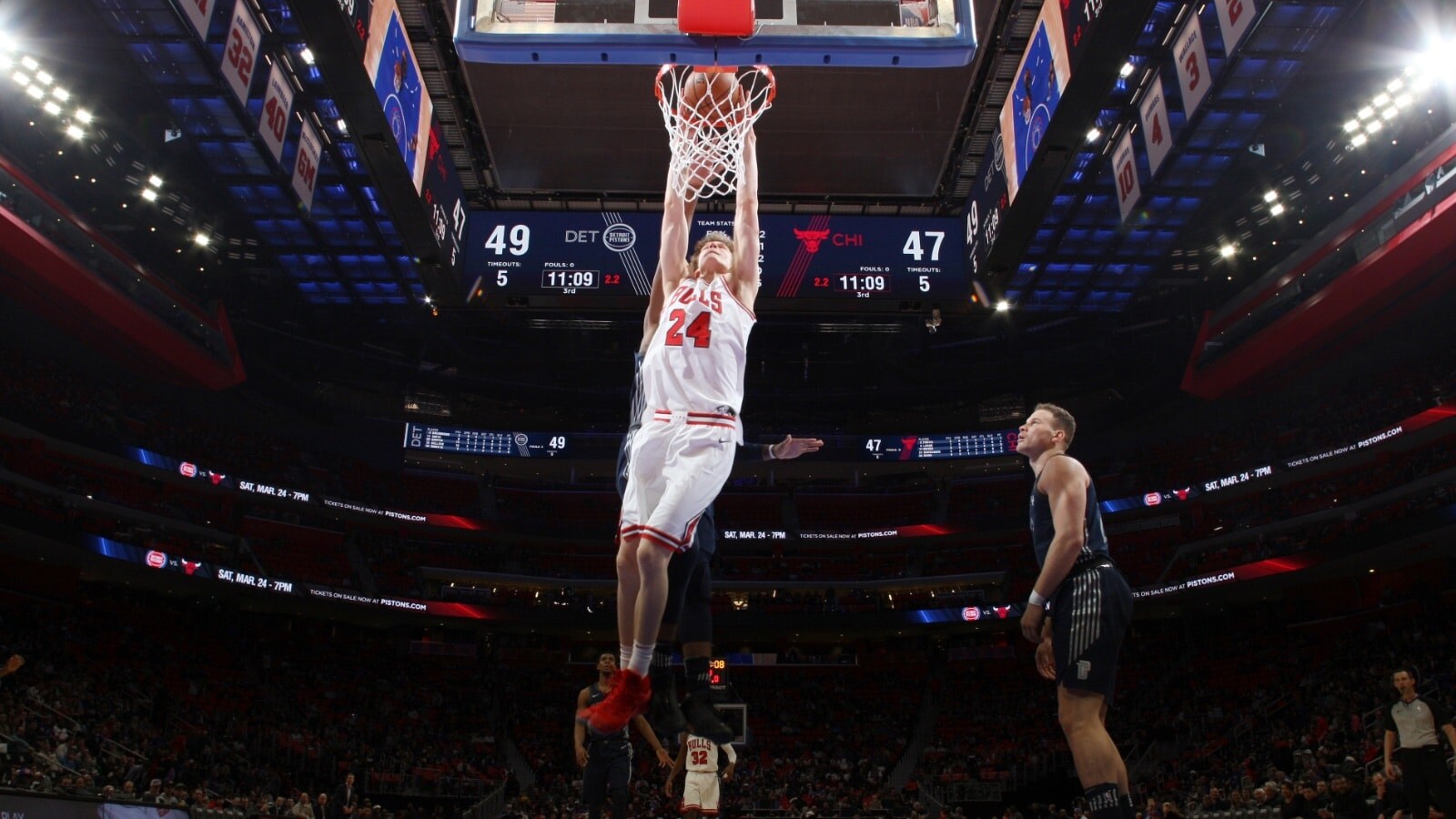 If the bulls are truly committed to the development of the young players - why not trade Lopez/Holiday and use cap space to take on salary dump for a pick or two? Wendell looks like the real deal and Hutchinson seems athletic enough along with Lavine, Dunn and All-Star Markinnen. Next draft is loaded with high upside wings, so the bulls will need a few picks to maneuver up the draft board and get one of those. The bulls should be looking forward to start deep playoff runs in 2020. Let the youngsters play!
Amin Sanaia
Sam: I believe they are going to let the kids play, and though they cannot say, I also believe they would like to do what you suggest in moves. It's just that the acquisition of draft picks has become difficult with it going the other way of teams trying to acquire even low second round picks, which was rare in recent years. A big part of the reason is the stability and length of the contract. It's sort of the tradeoff for drawing such young players, and it looks like it will soon be going back to high school to the NBA, based on what commissioner Adam Silver said in Las Vegas. The rookie contracts basically give a team a five-year window with a player and thus cost certainty for those years so they can develop the player, see him, know him, and determine if he is worth paying. As a result, draft picks are becoming more valuable in this high salary era, like in baseball where you see fewer free agents and more teams opting to stay with the players they control for so long. The Bulls, I believe, also are open to using their cap room. So you say why didn't they do that deal with the Nuggets to take on that salary for the lottery protects first. I'm not sure, though to me it suggests they want to use their cap room for a player and that they have enough young players. It doesn't look like the free agency season is over for them. As much as it's nice to say to let the kids play, they can't play 40 minutes to start; they aren't ready. Both Lopez and Holiday are in their final contract seasons. They'll be good mentors for young players, and there's no need to overplay those kids to start. Get them accustomed to the NBA. If something came along, the Bulls likely would be interested, but I don't believe they expect it and have been talking about Lopez to start and finish the season.
Is ego good or bad for basketball players? Or does it depend? As a fan, I was excited about Zach Lavine and thought he was fun to watch. But I was turned off by his tweets and public statements about himself in the contract process. And that makes me think differently about his play, ball hogging and failing on team defense. Yet when Jimmy Butler "bet on himself" in contract negotiations, it impressed me and made me think better about his leadership on the court. Obviously you can't be in the NBA without an outsized ego. Jordan, cough. Is there a line between when it helps and when it hurts?
Luther Snow
Sam: It's a vague term that seems to have both positive and negative connotations, based mostly on the success rate. Jordan's ego is good; J.R. Smith's not as much. Most successful people in every field think a lot of themselves. Perhaps call it confidence instead of ego. It doesn't always manifest itself in public statements; sort of, if you have it you don't have to tell people, you show it. Yes, the people who are telling you they are great might also be trying to convince themselves as well. So be wary. Where it hurts is when you believe you have to show everyone and need to promote yourself at the expense of teammates. It's OK so say you're the greatest in boxing or golf because it is on you. Not so much in a team game. It's also the line of selfish greatness. By that I mean you can play more selfishly if you are so good, like Jordan or Kobe or LeBron, that you can make up for it with your excellence. Carmelo Anthony, for example, is not good enough to overcome his style of play and the way he sees the game. We'll see with Zach; remember, he's just now going to have his first full season with the Bulls. I pretty much discount last season given the time he returned and him obviously not in top physical and basketball shape. Also, don't get too caught up in what professional athletes say. They are mostly kids who are asked to comment on their job constantly unlike everyone else and their words are then parsed and examined in minute detail for hidden meanings and significance when they are trained in sports and not linguistics. Judge them for who they are and how they play and not what they say.
Do you like Zach Lavine's mindset and attitude coming for next season?
Giovanni Laboy
Sam: I do, for the most part. He has heard about his lack of defense and his isolation play and seems defiant, which I hope means to become better. A friend of mine who is a longtime Bulls watcher told me Zach is Reggie Theus. He had a good point. Though Reggie, the Bulls star on some of the worst teams they ever had, was a good defender in college, he came to the NBA, made a few All-Star teams shooting and scoring and dropped the defense. Chicks dig the long ball and the, well, long ball in the NBA, too. Reggie liked to say they don't pay him for defense. And, unfortunately, you get paid for offense unless your team wins a title. That will be the challenge for Zach. Can he make the team better? We know he can be good. I like that he pointed out this is the first time in a year he's doing a full summer of workouts and will be ready to open the season at full strength. And is out to show he's worth the contract. Actually, I'd forget that if I were him. He's been paid. That's in the past. He doesn't have to score to get a big contract. He got that. Now he has to contribute to success. He says it's his goal. Again, let's see what he does and not what he says.
Why in all the holy world have the bulls decided to match the offer on first class scrub Zach Lavine?
Yousuf Shamsie
Sam: Not on board? It's been conventional wisdom these days that the Bulls had to do it because of the trade, because of how it would look, are they cheap? You don't become a team whom others believe can steal your players with Dunn and Markkanen coming up for contracts eventually, and you are not that loaded that you can let go a player who did average more points last season than anyone on your team (post Niko). But the Bulls also believe LaVine has a chance to be a top player. Plus they have to spend at least $90 million by rule and letting him go and being maybe $20 million more under now, who exactly were they spending it on? I believe they matched because they wanted to and not because they felt they had to. Dunk champs who can average 20 points don't grow on trees as much as jumping over them. The Bulls don't have enough of those folks.
The Bulls are getting killed for matching the Lavine contract but I think they played it smartly for once. The market dictated the contract and gave them an injury escape clause; 19.5M in today's nba is the going rate for a 17-20ppg scorer. His injury history and poor defense are concerns but at 23, you simply cannot lose him for nothing. Cap space is great and all but the biggest free agent the Bulls have signed close to their prime the past 20 years is Carlos Boozer. Chicago isn't landing a big fish this summer or next summer, not with the reputation the front office has built, in-house development and hoping a 23 year old turns into a generic version of Tracy McGrady is the "realistic" play. Another top 10 pick next year and by 2020, we can hope for some sustained success and one FA move.
Sundeep Shah
Sam: It's a valid point about the market—which the rules require players getting half the revenue in some form, either direct deposit to the players association or adding a player to your team—and the injury protection is that bonus. It didn't seem like the Bulls were going to push for that, so perhaps they paid a bit more, though I believe if Zach didn't get the offer sheet and held out a bit more he probably would have been in the same financial neighborhood. But it likely was worth it with the insurance clause the Kings inserted just in case the Bulls didn't match. The Kings offer didn't make much sense with multiple shooting guards on their roster and an offer which reportedly was close even to the Bulls initial offers. But they must have panicked at the last minute and wondered if the Bulls didn't match and Zach wasn't really that healthy. He appears to be, but they wanted to be safe and it probably gave the Bulls some relief. It's sounded to me like the Bulls are excited about the match.
Chances the Bulls sign Blakeney to a deal over Nwaba to become their modern-day version of Nate Robinson or Aaron Brooks?
Sam: It looks like Nwaba is on the move with reports his qualifying offer was rescinded by the Bulls. There's been talk he could return to the Lakers. Blakeney doesn't defend and play physically like Nwaba, but his scoring is just too good to pass up and I can see him signing with the varsity Bulls for next season.
The reports are the Bulls and Kings will battle it out for Rodney Hood. No thx. A guy who sulked a lot this past season as well as a guy who has missed a lot of games the past 2-3 seasons.
Mike Sutera
Sam: So you're not impressed? I might take a look. The guy can shoot and play small forward, a need. They still have perhaps $15 million to $20 million in salary cap room available. So why not add a player in free agency—guys like Marcus Smart and Jabari Parker along with Hood and a few others still are unsigned—and who knows what deals you can make and how you can combine draft picks with players to get an upgraded player. Sure, there's the possibility of free agency in 2019, but Kawhi isn't likely coming, and if you can enhance your roster now with a good deal for a player who maybe is having trouble with his team like Smart, why not? You can always use another good player. Hey, Michael Beasley still is available. So is Dwayne Wade. OK, just joking.
While fans seem to like the "team-friendly" re-injury protection in Lavine's contract, I'm worried that it could actually be the fatal flaw in the deal. So Lavine is fully guaranteed 4 years as long as he doesn't hurt that knee. Doesn't that incentive our new, shiny super athletic wing to dial it down a few notches so as not to risk his contract? Don't we need Lavine to play with explosion to get the value we need from him?
Phil Bloss
Sam: I still do not get the Zach dislike. Not exactly hate, but it's beginning to sound like some of the Rose syndrome that if he's not a superstar anymore, well, the heck with him. Zach played 24 games for the Bulls basically on one leg and still averaged almost 17 points. Won a shootout against Jimmy Butler; did stuff no one else did. Is Markkanen such a great defender? Not everyone is; OK, hardly anyone is. The guy has some amazing skills that you don't often see. I'm not sure why that's not good enough for a 27-win team and the purity of some of the fan base. You've actually got it backward. The Bulls got a wonderful insurance policy they hope never to use, and one thing about Zach is he clearly has basketball ambitions. He wants to be LeBron; not Carmelo. He went for the best deal and there's nothing wrong with that. But given that he's 23 and will be a free agent again when he'd 27 moving into the prime of his career, I'd assume he'd be even more motivated with the Bulls to become an excellent player, an All-Star, which he hasn't been. Zach's never indicated anything but going all out.
Sign this kid (Donte Ingram) to a 2-way deal. He looked good on the catch and shoot 3's vs Mav's for his 13 points. Reminds me of a mix between Donovon Mitchell and Glenn rice- he's a hidden gem. And he's not a shot hog. He's going to be a solid 3 point weapon at 40 percent clip and he can defend at 6"6 - he will be great off the bulls bench with a season in the g-league. He's a home grown Chicago kid. Don't let him go to another NBA team.
Ryan Carpel
Sam: I'm sure he'd like you as his agent. Donovan Mitchell? The Bulls could only hope. Maybe more Sam Mitchell. He's a little slow and seems limited with explosiveness. Doesn't seem to get his shot off that quickly, but I can see taking a chance with a two-way deal given his blue collar nature, local connection and utility as a player.
I do not understand how Kawhi Leonard can sit out the year and still become an unrestricted free agent next year. If he sits out he is not fullfilling his end of the contract. This shouldn't even be an option for any reason. If you sit because you no longer want to play for a team you should forfeit salary and not be credited a year served on your contract. This is about as crazy a situation as I have seen in the NBA but I have to take sides with the Spurs. How can he not play and fulfill his contract?
George Wilson
Sam: He can't, but if he says he's injured and the Spurs don't challenge that, then he doesn't have to play and will have fulfilled his contract. That's not happening. Some sort of trade seems almost certain, though the Spurs aren't likely to get much given Leonard's curious behavior, feud with Spurs and supposed intention to join LeBron with the Lakers. Maybe someone takes a risk like the Thunder did with Paul George and gets lucky. If lucky is handing out contracts like that. I'm not sure where this leads, but what you can see with Tony Parker leaving as a free agent and the Spurs apparently not matching a Kyle Anderson free agent offer is that the era for the Spurs is over. They likely won't be a playoff team next season and it wouldn't be a surprise to see Gregg Popovich leave and concentrate on the Olympic team and take a sabbatical following the death of his wife. Maybe R.C. Buford moves on as well. Interested in LaMarcus Aldridge? Maybe he comes on the market before too long, as well. Even the great Celtics dynasty didn't go more than two decades. It's been an amazing era. And so much more to how much Tom Duncan meant and how great a team player he truly was. Yes, now 10 years of annual predictions later we may be right on this being the end.
I'm in love! At least it feels like it. After watching one qtr of a SL game, I was struck by Cupid's arrow. The last time I had this love at 1st sight feeling was back in 84. Wow what a feeling! Gar/Pax has done a gr8 job with the last 2 drafts. Do you see playoffs for the Bulls in 2019?
Michael Cunningham
Sam: I know it's sport to condemn managements, but these last two drafts look pretty darned good. Not everyone hits all the time, and there have been misses. But it does look like you really can build something substantial with Markkanen and Carter. So 2019 and the East? It doesn't seem out of reach, and whether later this summer or next summer, I do expect some new, veteran faces on the roster. Thanks for not asking if they could win a championship next season.
Will we see Lauri play the 3 this year? Wondering if Robin, Lauri and Carter Jr could be on floor together with Zach and whoever is running team
John Neal
Sam: I don't see that. The summer's not over yet. We may still see another forward.
Looking from another point of view, the Jerian trade seems more like a favor to the Grant family rather than a simple salary dump. Jerian is going to a better situation for him.
William Blanco
Sam: It just was never right here for Jerian, and once the Bulls traded for Kris Dunn that was it. The Magic doesn't have a starting point guard, so he'll get a chance. He really didn't have one once the Bulls invested in that Rondo/Wade thing after he came, and then they trade for Payne and Dunn. Getting the hint? The Bulls obviously didn't believe he could be a point guard, and he is more scoring oriented. But most point guards are these days. If he toughens up a bit and exerts himself, he still could be something. He never was going to be with the Bulls. So good for him. If he does well, it's no shame for the Bulls. Often success in sports does depend on your situation and opportunity.
The Bulls are blessed with two versatile, high-IQ bigs in Wendell Carter Jr and Lauri Markkanen. It would be a real shame to play ball-dominant guards next to these two. Any chance that we could add a veteran PG who can space the floor , run the offense, and at the same time coach the two young bigs on how to read and react to the defense? I envision Mike Conley, at about half the price tag
Peter Chen
Sam: Let's give them a chance since they played, what, five games together? Everyone has something to prove after a 27-win season no matter the machinations. But it's probably more so, as you suggest, Dunn and LaVine. Dunn actually did work well with Markkanen and, if you recall, often did the bulk of his scoring late in games when needed more, at least when he wasn't working through all those freak injuries. It's not like they're not going to hear that. Let's not overlook what they can bring with Dunn's defense and clutch shot making and LaVine's attack the basket athletic ability and shooting. Remember, a lot of Mike Conley was playing with the league's best passing center. I'd still like to see what the Bulls have.
It's only four summer league games but the Bulls and fans must like Carter Jr. performance. Smart, with a high shooting percentage, solid rebounding, shot blocks, defense on the perimeter and hits a three when open. It's early but he could be a great long term addition to the Bulls and only 19. Blakeney could be a wonderful problem. Some rough edges for sure but how do you keep him off the team? He's learning and growing. Hutchinson has not shot well but appears to be a better than expected rebounder and solid defender who runs the floor. It promises to be an exciting season of development. What a difference a year makes.
John Petersen
Sam: It's called rebuilding; it's supposed to get better and be worse from the start. At least it seems to be proceeding in the right way.
It has been a long time since I last wrote in, probably 7-8 years. To be honest, the NBA turned into the WWE for me once the players started creating super teams. Couple that with the non-stop complaining on the court (I only half blame the players for that with the inconsistent officiating) and I just walked away. But I am back, and believe it or not, it's this new Bulls team that has brought me back. I know it is very early but I see a young, hardworking, exciting to watch team in it's infancy and I want in from the beginning. Titles do not matter for the next few years (Golden State will win them anyway) but growth and fun to watch team basketball does, and I feel like that is what we will get in Chicago. I eventually see a group of 5-6 really good to almost superstar players on this team, but probably not a top 10 NBA superstar talent. In your opinion, do you think a team like that is capable of winning a title in today's NBA? Only team I can think of to win a title without a top 10 player was the 2014 Pistons.
Kurt Anagnostopoulos
Sam: Like the Bulls were saying before the draft, "If this doesn't bring Kurt Anagnostopoulos back, I don't know what else we can do?" I'll forward them the good news. First, it's never title or rebuild, though the media/fan analysis these days tends to skew in that direction. There have been plenty of teams to break through without superstars, like the Golden State Warriors, who won a title with two No. 7 picks, Stephen Curry and Harrison Barnes, an 11 and a second rounder. No one believed they were superstars until they became them several years into their careers. The stars aren't only who is, but who may be. Really, if you can get to the conference finals it's like being a champion because it means you probably have a chance at some point with a tweak or two. Doesn't guarantee, but you can. The Mavs in 2011 hardly had a star as Dirk wasn't really regarded as a top 10 player, or maybe just barely, and just one. The Heat won in 2006 with a Dwyane Wade who few saw as a superstar with an old Shaq nowhere near dominant. Hakeem was great, but there wasn't another All-Star with him when the Rockets won in 1994. Sure, having those top five players gives you a better chance, but you can break through, especially with team play. The Warriors' model, at least pre-Durant, was the way they showed that.
I just got finished watching the Bulls first summer league game against the Cavs and I couldn't help but notice a similarity Hutch to, don't call me crazy, Scottie Pippen. I know it's very early in this young man's career however, all the analysis says he's a two way player, who can push the break as a ball handler, is athletic and long, same build and frame, and they both came from obscure colleges. His body language and mobility on offense and defense eerily reminded me of PIp. If the kid has the work ethic I say stick him in a room and have him breakdown game film of pip until he's mastered it. Lock him in a gym and let him have at it until he's content. I think Pax saw the same thing that's why he was so high on Hutch and considered him a steal at 22.
Amielio Williams
Sam: It's potential blasphemy, but you do see flashes of that, and there was that full court swoop you saw in Game 1 of the summer games that did look Pippenesque. Of course, it would help if Hutchison has Jordan to play with.