It was an amazing night Friday in the United Center as the still streaking Bulls leading by double digits most of the game defeated the Indiana Pacers 119-107.
A saucer like ship sat hovering over the United Center, several aliens with plasma heads peeking out to apparently marvel at the career high 32 points from Lauri Markkanen and 28 from Nikola Mirotic, the two combining for 13 three pointers. Sitting courtside was hefty, but polite Sasquatch with goggled Amelia Earhart discussing the years they spent exploring Atlantis.
Don't believe any of that?
C'mon, this Bulls run of 10 wins in the last 12 games and continued domination of top Eastern Conference teams remains just as unbelievable.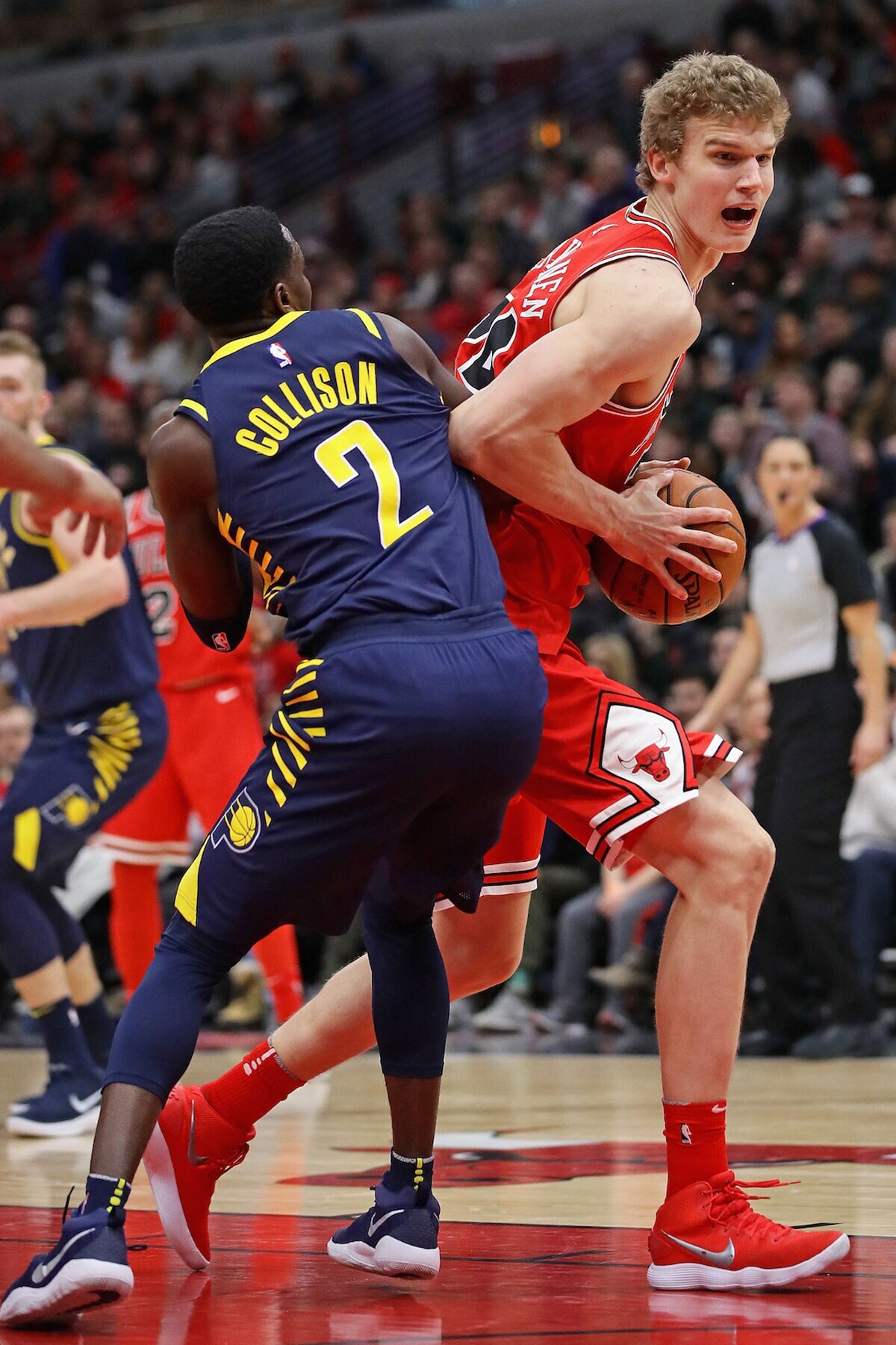 "He's been great," Bulls coach Fred Hoiberg said of Markkanen, whose arsenal included follow dunks and left and right handed drives amidst his five threes. "It was good to see him take the lid off early with some three-point shots. And when they did switch on us, I thought we had great awareness to get him the ball in the paint. He's (Mirotic) just so confident right now. I really truly believe that's rubbing off on our entire team. Just the way he's going out there and playing with confidence and swagger and fun.
"Kris Dunn's transformation and turnaround has been a big part of that as well," said Hoiberg, though Dunn was a late scratch with knee tendinitis with Jerian Grant starting. "Jerian, I really think he's turned his game around since moving into a new role. He's played key minutes for us and made big shots, made more tonight and not just the (12) assists, but the timely shots he's making (three of six threes for 11 points). The thing I've really liked about our group is everyone who steps on the floor is contributing right now in a positive way and that's a great sign."
It's in many respects the current top story in the NBA even with the 13-22 record.
This team that was dismissed as league wide fodder and playing the role well in a 3-20 start now is 10-5 in December and tied with Golden State for the best league record over the last three weeks.
That coincides with Mirotic's return from what was portrayed as the final nail team destroying altercation with Bobby Portis. Now averaging 18 points and shooting 48 percent on threes, Mirotic is if not an MVP candidate a leading contender for Most Improved and Sixth Man.
Heck, half the roster is in the running for Most Improved.
Markkanen with the bust out game after a recent shooting slump ranks in the top four among rookies in scoring and rebounding.
With Bobby Portis off the bench with 12 points (49-31 bench win) and Robin Lopez matching that, the Bulls may just have the best and most versatile big man rotation in the NBA. Right now. And not in an antiquated sense, perhaps like the Pelicans Anthony Davis and DeMarcus Cousins.
Markkanen and Mirotic were closers Friday and in the win over New York, Mirotic and Portis before that, giving the Bulls with Mirotic and Markkanen seven footers who space the court with shooting and play off one another on switches. It's the 21st century NBA. Similarly with Portis, who doesn't have quite the range of the other two, but is more physical inside. And lumbering Lopez, who got the Bulls off to that 37-27 first quarter start with 10 points in the first quarter going over the Pacers' smaller front line.
"We've got the luxury right now of four bigs and all of them have the ability to be out there in crunch time and all can do different things," noted Hoiberg. "They've all got different skill sets. Those two guys (Markkanen and Mirotic) just happened to have it going tonight. I did like the chemistry those guys showed, but Bobby has been part of that as well and we've had Robin finish games."
With seven straight home wins, it's the longest such streak for the Bulls in seven years. They matched the franchise record with 18 three pointers made and equalled the season best assists of 31 from last week. And were never much threatened in a game in which the Bulls led by 10 points after one quarter, 12 at halftime, nine after three and then four minutes into the fourth quarter by 19.
This Bulls team was supposed to be fortunate to win 19 games.
Not continue to lead teams in playoff contention by 19 points.
"We just keep playing for each other, the heart of this team," said Markkanen. "Things are not going our way, we find a way to fight through it and we do it."
It's difficult to find a more unexpected development in the NBA this season. The Celtics leading the East without Gordon Hayward is impressive. But they added Kyrie Irving to a 53-win team. The Spurs still winning? Big surprise. The Timberwolves? Sure, but they added veterans like Jimmy Butler, Jamal Crawford, Taj Gibson and Jeff Teague to a pair of No. 1 overall draft picks. Oklahoma City hanging around .500? Houston making a run, at least until late? Interesting, but nothing like what we've seen from the Bulls this month with the return of Mirotic — Hoiberg also always reminds, David Nwaba, too — basically since that devastating loss in Indianapolis Dec 6. The Bulls blew a 16-point fourth quarter lead with Victor Oladipo making the big three with 31 seconds left in that game.
It looked like what losing teams do. But on closer inspection it was the third loss in the last four games by two points or fewer. The Bulls were much closer than the record suggested.
"We knew that we owed those guys," said Mirotic.
The Pacers were without lead scorer Oladipo, but the Bulls learned just before the game Dunn could not play because of knee tendinitis. And Zach LaVine is supposed to be their best talent, due back perhaps in January.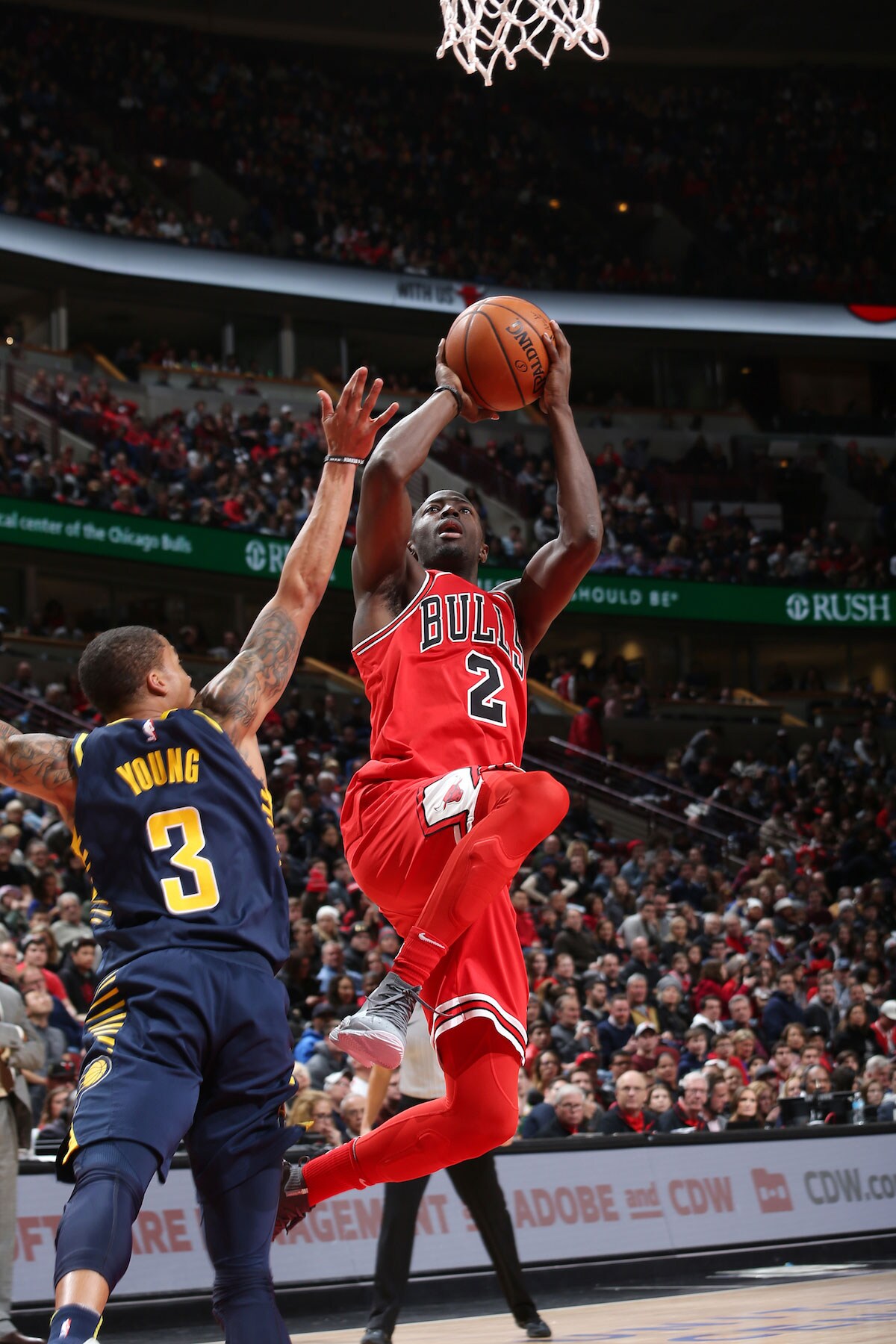 "He came in with about eight minutes on the clock in warmups and said that he couldn't go," Hoiberg related. "He didn't have full flex on his knee, and we decided it wasn't smart for him to go out there and play. So I told Jerian at about the two-minute mark that he was gonna start, and he kind of looked at me like I had three eyes. But he went out there, obviously, and responded in a big way."
These Bulls are looking like monsters.
It's also been a basketball purist's delight, the Bulls' alchemy of turning what was believed to be a leaden roster into the gold of wins and elegant play.
"The team is growing," said Mirotic. "We are all very very excited and having fun."
It started late in the first quarter with Mirotic, coming off just two of four shooting against the Knicks, raising up quickly for three consecutive three pointers to close the first quarter, a fast paced, wide open quarter of crisp, precise, exciting play and Bulls domination.
"My son actually told me before the game, 'Daddy, I want you to make five threes today,'" related Mirotic. "I told him, 'I will try. I can't promise.' But I did make eight, actually, so I'm sure he's very happy."
"Niko obviously was throwing in pretty much everything, especially in that first half," noted Hoiberg. "Even the shots Niko missed, you could tell they were just a hair short or long. It was fun to see Lauri (break out). I showed him a couple of his shots from the last game with his balance, where it was when he sticks his follow through and his landing. I thought the tempo on his shot was much better tonight as well. So it was good to see those two get it going and finish in the fourth quarter. We've been trying to play those lineups with those two guys out there at the same time, and I thought they were really good out there."
Yes, the formerly embattled Hoiberg.
Markkanen said Hoiberg, who also has served as the team's shot doctor in fixing Dunn's broken shot, sat him down to watch film of his early season shooting.
"Just how I was earlier in the season," Markkanen related. "I was a little bit tired and my shots were short. I was leaning forward a little bit. We didn't change anything, just watched films a little bit and how it was earlier and just tried to get back to that. Getting a little lower on the shot and having my balance better."
Another success for Dr. Fred.
Markkanen was a marvel shooting smoothly again, flying in for a follow dunk, driving with a left hand as powerful as the right. He said he didn't know the meaning of ambidextrous; he just does it.
This Markkanen/Mirotic pairing appears to be an incredible tandem for the Bulls, both able to shoot from 30 feet with ease and willing to play inside over smaller players. Neither is a super athlete, but both are athletic enough for this era and smart players. Alternating depending on matchups with Portis and Lopez can flummox any opponent.
The Bulls were rolling after those three Mirotic threes, starting the second quarter 5-0 for a 42-27 lead with another Mirotic three. Portis picked it up midway through the quarter with his manic intensity. And then Markkanen closed the half with a pair of threes, the second on a slick pass from Lopez.
Markkanen was transcendent with 13 third quarter points, driving hard left to finish for a three-points play, Grant diving inside and finding him on top for a three. The Pacers briefly got within nine, and then, boom, Mirotic took the handoff for a pair of early threes in the fourth and there was no catching these Bulls.
And just no telling what to make of this Mirotic, down, it seemed, but not out.
"Watching a lot of games (on tape), looking the way how I was playing before, a lot of pump fake, maybe not good decisions, not good shot selection," Mirotic acknowledged. "So right now I feel stronger in my legs and I feel more confidence when I am shooting that ball and going to the basket. When you have the confidence there is no hesitation. This was something I wanted (first coming to the NBA), to have the impact in the beginning. It was not that way. But it is never late. The most important is this moment and the future, and I'm sure my best game is about to come."
"Yes, some people in the street when you walk around, they say, 'Niko, you've been great; what's going on?'
"I am not that surprised, to be honest," Mirotic insisted. "I knew that I had that in myself and after putting that work in it was about the time to come. Good moment for me, for the team, too, when I came back and we started winning. I'm just happy and living this moment with the team. What happened past, let's keep in the past.
"How you say when something doesn't ... I know it in Spanish," Mirotic said, then pausing to ask the journalists from the Spanish media to help him translate.
"Makes you stronger what doesn't kill you."
It was first attributed to Friedrich Nietzsche, who also was courtside eating German chocolate cake. As likely as Nikola Mirotic looking like one of the best players in the NBA.