History
2001 NBA All-Star recap
Allen Iverson scores 25 points to power the East to a victory against the West.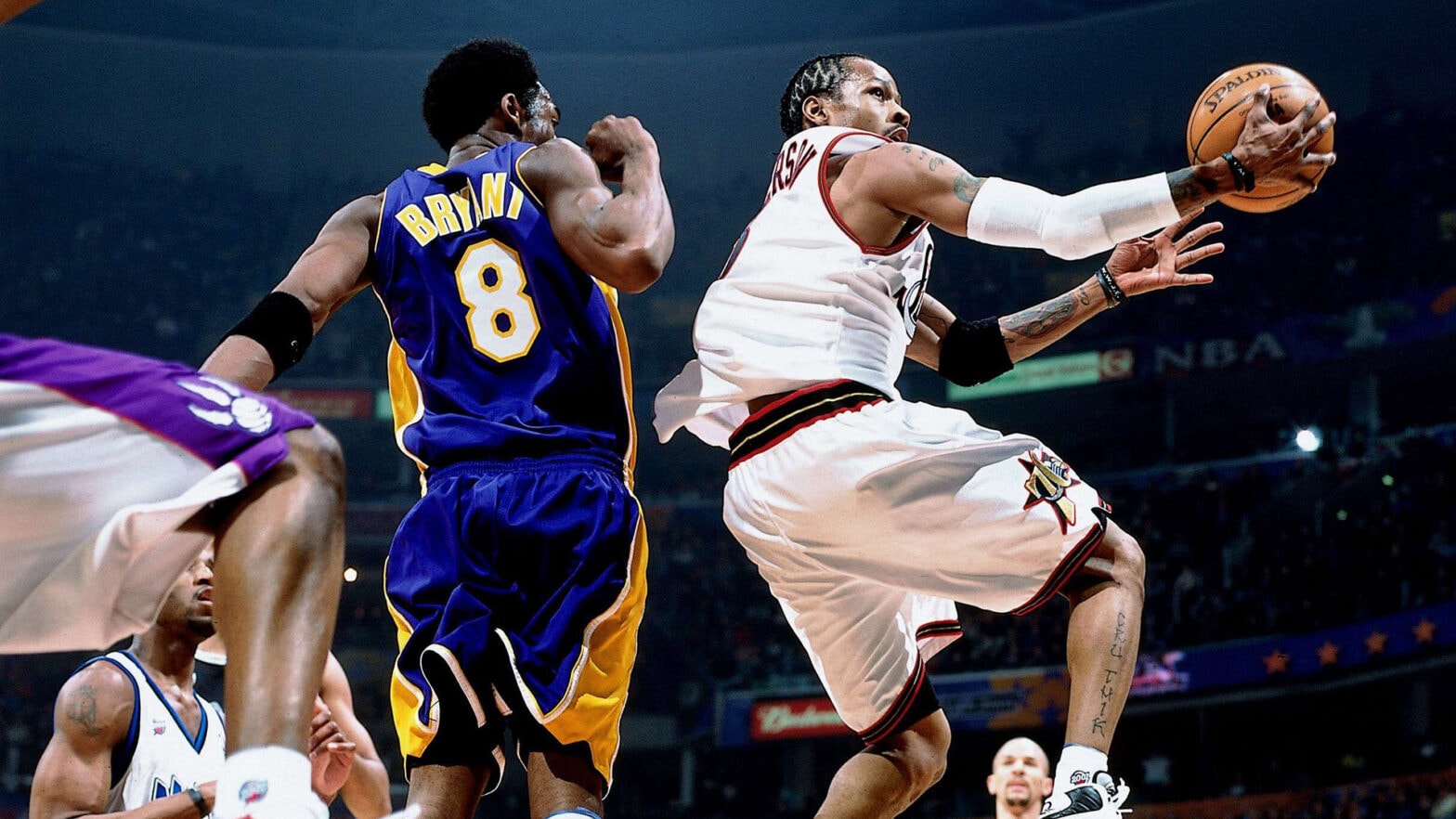 EAST 111, WEST 110, at MCI Center (Washington, D.C.)
ATTENDANCE: 20,374
MVP: Allen Iverson, Philadelphia 76ers
In one of the greatest comebacks in All-Star Game history, the Eastern Conference stormed back from a 21-point deficit to the Western Conference in the game's final nine minutes to claim a 111-110 victory. The game marked the first All-Star Game decided by a single point since 1977, when the West beat the East 125-124.
Sixers guard Allen Iverson took home MVP honors by scoring 15 of his 25 points in the fourth quarter as he weaved through the West's much larger lineup. Nets guard Stephon Marbury played a crucial role in the rally, nailing two key 3-pointers in the fourth quarter to help seal the win.
Tracy McGrady, who made seven All-Star teams in the 2000s, made his first All-Star appearance as a starter for the East. He finished with just two points. David Robinson wrapped up his All-Star career in this game, finishing with eight points and four rebounds off the West bench in 10 minutes.
Rookie Desmond Mason of the Sonics took home the Slam Dunk Contest crown with a left-handed power jam. Ray Allen of the Bucks became the first Milwaukee player to win an event at All-Star Weekend when he claimed the 3-Point Shootout title. Finally, Timberwolves sharpshooter Wally Szczerbiak had 27 points off the bench to power the Sophomores to a 121-113 win over the Rookies at the Rookie Challenge.
---
All-Star Game rosters
Eastern Conference
Allen Iverson (Philadelphia 76ers)
Tracy McGrady (Orlando Magic)
Antonio Davis (Toronto Raptors) **
Vince Carter (Toronto Raptors)
Anthony Mason (Miami Heat)
Dikembe Mutombo (Atlanta Hawks) **
Ray Allen (Milwaukee Bucks)
Glenn Robinson (Milwaukee Bucks)
Stephon Marbury (New Jersey Nets)
Latrell Sprewell (New York Knicks) **
Jerry Stackhouse (Detroit Pistons)
Allan Houston (New York Knicks)
Grant Hill (Orlando Magic) *
Alonzo Mourning (Miami Heat) *
Theo Ratliff (Philadelphia 76ers) *
Coach: Larry Brown (Philadelphia 76ers)
Western Conference
Jason Kidd (Phoenix Suns)
Kobe Bryant (Los Angeles Lakers)
Chris Webber (Sacramento Kings)
Tim Duncan (San Antonio Spurs)
Kevin Garnett (Minnesota Timberwolves)
Rasheed Wallace (Portland Trail Blazers)
Gary Payton (Seattle Sonics)
Michael Finley (Dallas Mavericks)
Antonio McDyess (Denver Nuggets
Karl Malone (Utah Jazz)
David Robinson (San Antonio Spurs)
Vlade Divac (Sacramento Kings) **
Shaquille O'Neal (Los Angeles Lakers) *
Coach: Rick Adelman (Sacramento Kings)
---
All-Star Weekend Wrap
Slam Dunk Contest: Desmond Mason, Seattle Sonics
3-Point Contest: Ray Allen, Milwaukee Bucks
Rookie Challenge: Sophomores 121, Rookies 113
Rookie Challenge MVP: Wally Szczerbiak, Minnesota Timberwolves (27 points)
NOTE: * = missed game due to injury; ** = injury replacement