The incoming rookie class may be done with college, but study time is never over. Preparing for the NBA is about more than just the work on the floor and in the weight room.
* NBA.com 2019-20 Rookie Survey
At the annual Rookie Photo Shoot in early August, NBA.com asked several rookies about watching film, whether their coaches [or trainers] want them focusing on certain players or certain aspects of the NBA game. A lot of names came up more than once, but the young guys aren't just watching current stars. In fact, you may be surprised by some of the vets that they're studying.
Here's what the rookies had to say …
* * *
Zion Williamson | New Orleans Pelicans | No. 1 overall pick
"They just want me to be myself and play … [Watches his own film] to see what kind of mistakes I made, where I could have made a better read."
R.J. Barrett | New York Knicks | No. 3 overall pick
"I like to watch LeBron [James], James Harden and Michael Jordan, because Michael Jordan is just the greatest, and I love the way that LeBron and James Harden play. They can score and pass."
De'Andre Hunter | Atlanta Hawks | No. 4 overall pick
"One of my coaches told me to watch Kawhi Leonard and focus on how he beats his defender and how he finishes at the rim … He's really strong with the ball. He doesn't do a lot of moves to get past his defender. He just does what he needs to do and once he gets to the rim, there's no games either. It's a dunk or a strong finish."
Darius Garland | Cleveland Cavaliers | No. 5 overall pick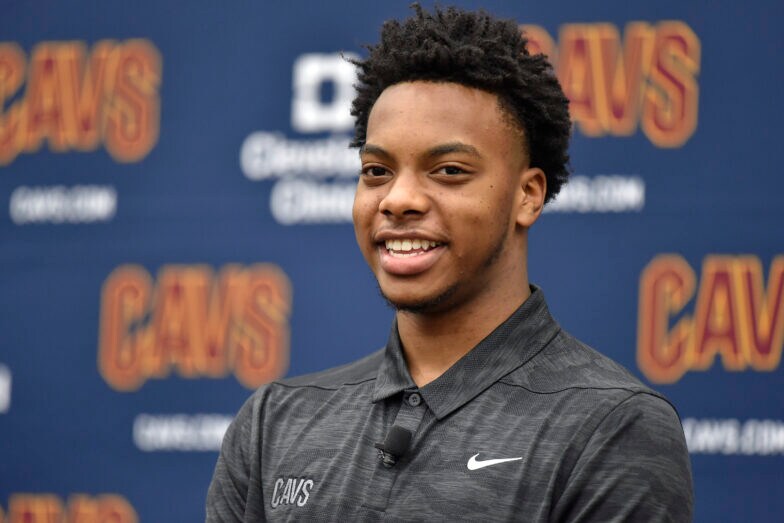 Have the coaches asked?: "Not yet."
Who do you like to watch?: "D'Angelo Russell, Kyrie [Irving], [Dame] Lillard … Just to see how they play pick-and-rolls, their reads … Coming off the pick-and-roll coming toward the middle, you always have the back-side corner, because they always sink in to help the roller … Opposite corner's always open, especially if you're going downhill like Russell Westbrook."
Jarrett Culver | Minnesota Timberwolves | No. 6 overall pick
"They talked about Scottie Pippen, players like that … He can bring the ball up, he defends well … Versatile for sure … I go back and watch the games. I'm a big Jordan fan, so I watch Scottie Pippen all the time."
Coby White | Chicago Bulls | No. 7 overall pick
"They want me studying a little bit of everybody, a little bit of Dame… The way he moves without the ball whenever C.J. [McCollum] has it … We watch Chris Paul pick-and-rolls, little things."
Cam Reddish | Atlanta Hawks | No. 10 overall pick
"Not anybody specific, but they want me watching film, definitely … Players at my position … So I watch Kevin Huerter, because he was at my position last year … Just catching up on the [Hawks'] plays."
P.J. Washington | Charlotte Hornets | No. 12 overall pick
"I'm looking at guys like Draymond Green. I feel like me and him have similar body types, similar games as well. He's been really successful, so that's one of the guys that the coaches want me to embody … Both [offense and defense] … The way he pushes the break, gets everything set up at his position is crazy. He pushes the ball and gets everybody involved."
Tyler Herro | Miami Heat | No. 13 overall pick
"They want me watching Klay Thompson, J.J. Redick, guys that run off screens … Just the footwork they have, how they run at one level coming off a screen, how quick they get off their shot, and really just how they move without the ball."
Romeo Langford | Boston Celtics | No. 14 overall pick
"Paul George and Devin Booker … How they use their bodies to create contact and create shots."
Nickeil Alexander-Walker | New Orleans Pelicans | No. 17 overall pick
"We watch a lot of Wes Matthews, mainly for defensive purposes, how he guards ball screens … The valuable things like guarding the ball Wes does really well … Being a great teammate, things that you can't really teach he wants us to look at."
On guarding screens: "It's positioning, knowing who you're going up against, knowing the scouting report, knowing the plays and when the play might happen, and what's going to happen after a pass is made, after a cut is made, stuff like that."
Goga Bitadze | Indiana Pacers | No. 18 overall pick
"I watch the bigs like Pau Gasol, Marc Gasol, most of the European bigs and try to get something … Playmaking, reading situations and making plays."
Matisse Thybulle | Philadelphia 76ers | No. 20 overall pick
"My trainers will tell me to watch [Andre] Iguodala on defense and Manu Ginobili off the ball on offense."
Brandon Clarke | Memphis Grizzlies | No. 21 overall pick
[The coaches haven't asked] "as of right now … I like to watch some old players, just to see the moves that they used, guys like Kevin Garnett, Shawn Marion, Michael Jordan, all of those dudes … [Watching Garnett] I'm watching his heart, really, how hard he's playing, how much fun he's having, stuff that I would like to mimic."
Grant Williams | Boston Celtics | No. 22 overall pick
"I love watching guys like Draymond and Kawhi Leonard, how they play on both ends of the court, whether it's Draymond's passing and versatility on the offensive end, and Kawhi playing the mid-range."
Ty Jerome | Phoenix Suns | No. 24 overall pick
"I asked [about film] and there response was just to be my best self, as far as being focused on really trying to improve my game and master our offense and our principles."
"So he sent me clips of Philly [where Suns coach Monty Williams was an assistant last season] … I'll probably be playing a lot on the ball … It's about how they move, the different reads off it, and where you can be."
Nassir Little | Portland Trail Blazers | No. 25 overall pick
"They haven't asked me that yet, but it's probably going to come up soon … I watch Kawhi Leonard, Jayson Tatum, Jaylen Brown, guys like that … I'm looking at where they get to, where they get their shots off, their different spots."
Admiral Schofield | Washington Wizards | No. 42 overall pick
"P.J. Tucker, Tony Allen, Shane Battier, Stanley Johnson, Marcus Smart, Kawhi Leonard … Just how they're able to switch on different guys, be physical, play smart and not foul … Just their motor on defense, and what they do on the offensive end as well, keeping it simple, especially my first couple of years."
* * *
John Schuhmann is a senior stats analyst for NBA.com. You can e-mail him here, find his archive here and follow him on Twitter.
The views on this page do not necessarily reflect the views of the NBA, its clubs or Turner Broadcasting.