Matchup
After a pair of high-scoring victories last weekend during the first-ever NBA India Games, the Pacers return to Indiana for their pre-season home opener against the Chicago Bulls.
Indiana topped 130 points in both of their wins over the Kings, as the team's refreshed roster appeared to have no problems finding the bottom of the net.
Much of the talk around training camp has been surrounding the play of third-year forward TJ Leaf, who appears likely to make his preseason debut in Friday's matchup with Chicago.
Leaf, who missed both games in India with a quad strain, has averaged 3.4 points and 1.9 rebounds over his first two NBA season, but has thrived when given more playing time. During games in which Leaf was given 15 or more minutes last season, he averaged 11.8 points per game on 68 percent shooting.
More opportunity could but in the cards for Leaf thanks to a series of offseason moves that created an opening at the backup power forward spot. Thaddeus Young, who joined the Bulls during free agency, has been replaced in the starting lineup by Domantas Sabonis.
While fans are surely eager to get a look at rookie Goga Bitadze, the Georgian center is still slowed by a right ankle sprain, which will keep him out of Friday's contest.
Myles Turner, who also suffered an injury during his first training camp with the Pacers, has told the Georgian forward to be patient: "I'm just telling him to keep his head up," Turner said. "It's hard to come in here in a new environment, especially in a new league. I just tell him to take his time. It's easy to want to push it, but he's going to be so valuable for the season that he needs to take his time and sit back and learn."
Projected Starters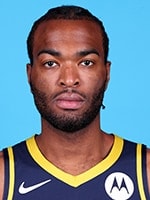 Pacers: PG - Malcolm Brogdon, SG - Jeremy Lamb, SF - T.J. Warren, PF - Domantas Sabonis, C - Myles Turner
Bulls: PG - Tomas Satoransky, SG - Zach LaVine, SF - Otto Porter Jr., PF - Lauri Markkanen, C - Cristiano Felicio
Injury Report
Pacers: TJ Leaf - questionable (right quad strain), CJ Wilcox - questionable (right quad strain), Goga Bitadze - out (sprained right ankle), Victor Oladipo - out (knee surgery rehab), Aaron Holiday - out (illness)
Bulls: Ryan Arcidiacono - probable (low back tightness), Perrion Callandret - probable (left patellar tendinitis), Luke Kornet - probable (right turf toe), Wendell Carter Jr. - questionable (tailbbone contusion), Shaquille Harrison - out (left hamstring strain), Chandler Hutchison - out (left hamstring strain)
Last Meeting
March 5, 2019: A late 3-pointer from Darren Collison helped solidify a late lead as the Pacers won 105-96 over the Bulls in a late-season matchup.
Although the Pacers led by 16 in the first half, the Bulls battled back into the game as guard Zach LaVine racked up 27 points.
A late flurry of offense by the Pacers proved enough to put things away, however, as Bojan Bogdanovic drilled a 3-pointer to cap his 27-point night.
Myles Turner was a force on defense as well, recording a career-best seven blocks in the victory.
Noteworthy
Thaddeus Young makes his first return to Bankers Life Fieldhouse since joining the Chicago Bulls over the offseason. Young played three seasons as the Pacers' starting power forward, and is fifth in franchise history for field goal percentage (51.2)
Bulls head coach Jim Boylen was an assistant coach for the Pacers from 2011-2013
Friday's game is the third of four preseason games on the Pacers' schedule
Tickets
Good seats remain for the first preseason game at Bankers Life Fieldhouse. Secure your seats today to see the new-look Pacers take on their Central Division rival Chicago Bulls. Find Tickets »
TV: None
Radio: 107.5 FM/1070 AM The Fan - Mark Boyle (play-by-play), Pat Boylan (sideline reporter/host)
Please Note: Inside Bankers Life Fieldhouse, Pacers radio broadcasts can be heard on 1080 AM instead of 1070.