Welcome back to 'Matchups,' a Nuggets.com series previewing the opponents the Denver Nuggets will face as defending champions.
The Minnesota Timberwolves are one of the most underrated teams in the Western Conference. Here's a look at how the Denver Nuggets match up with Anthony Edwards and the T-Wolves for the fourth edition of this series.
Departures: Nathan Knight, Jaylen Nowell, Taurean Prince, Austin Rivers, Matt Ryan
Re-signs: Nickeil Alexander-Walker, Naz Reid, Anthony Edwards
Additions: Troy Brown Jr., Shake Milton, and Leonard Miller
Minnesota is coming off a vastly up-and-down season.
They made one of the splashiest moves of the 2022 offseason by bringing in Rudy Gobert for multiple rotation players, the draft rights of Walker Kessler, and a boatload of future draft picks. On paper, the three-time Defensive Player of the Year would fill in the gaps with his shot-blocking and rim-running to form a supersized and supercharged frontcourt with sweet-shooting seven-footer, Karl-Anthony Towns. It appeared to be a seamless fit.
Put in practice, however, and things went a little differently for Minnesota.
Towns and Gobert's fit wasn't as congruous as some might've hoped. Minnesota had a negative net rating with both of their former All-Star big men on the floor, per PBP Stats. Minutes that Gobert played solo—without Towns—also yielded negative net rating data.
In fact, Minnesota's best lineups featured just Towns on the floor at center, the position he had played for an estimated 99 percent of his career prior to last season, per Basketball Reference. Lineups with Towns and no Gobert outscored opponents by 1.25 points per 100 possessions.
The creaky frontcourt fit prompted a shaky start to the season, and the Wolves entered the new year with just a 16-21 record. Things began to crystalize in the second half of the season thanks to Anthony Edwards' All-Star-level ascension. Minnesota eventually squeaked into the playoffs as the 8-seed after taking down the Oklahoma City Thunder in the Play-In Tournament. But much like the Suns and Lakers, their season came to an end at the hands of the Denver Nuggets.
Minnesota's offseason was fairly quiet compared to some of the other teams we've covered in this series. In fact, their biggest moves were re-signs.
They came to terms on new deals with Naz Reid and Nickeil Alexander-Walker, both of whom were important rotation players for the Wolves last season. Reid has an excellent case as the best backup center in the league and is borderline overqualified for that role. Alexander-Walker, meanwhile, emerged as a defensive stalwart in Minnesota who's perfect for containing star guards.
Shake Milton is an intriguing signing. He never found a consistent role in Philadelphia but is a vastly talented scorer who can heat up at a moment's notice. In fact, Milton thrived as a starter and averaged 18 points, 5 assists, and 2 rebounds last season as a 76er. He gives Minnesota versatility at the lead guard position alongside veteran Mike Conley.
Nikola Jokić → Rudy Gobert
Aaron Gordon → Karl-Anthony Towns
Michael Porter Jr. → Jaden McDaniels
Kentavious Caldwell-Pope → Anthony Edwards
Jamal Murray → Mike Conley
Minnesota is a dangerous matchup for Denver because of one simple reason.
The 22-year-old gave the Nuggets more trouble than any other opponent in the postseason. Minnesota shifted more and more responsibility to Edwards as the first-round series went on, and he responded by averaging 31.6 points, 5.2 assists, and 5.1 rebounds on 48.2 percent shooting and 34.9 percent from three.
Unfortunately for the Timberwolves, that change was made a little too late to make a difference; by that point, Denver had already built a 3-0 advantage in the series, which proved to be insurmountable for Minnesota.
Still, Denver had very few answers for when Minnesota went to the pick-and-roll with Edwards handling the ball, specifically when Gobert was involved as the screener. They'll need to find one this season, and they have four opportunities to do so before the postseason.
Denver is much more prepared to guard the other star on Minnesota's roster, Karl-Anthony Towns. Though undersized, Aaron Gordon held the three-time All-Star to just 37 percent shooting in the series according to NBA matchup stats. He did so by brandishing his physical frame to push 'KAT' off his spots and make him uncomfortable.
Rudy Gobert → Nikola Jokić
Karl-Anthony Towns → Aaron Gordon
Anthony Edwards → Michael Porter Jr.
Mike Conley → Kentavious Caldwell-Pope
Jaden McDaniels → Jamal Murray
In terms of one-on-one matchups, there might not be a team in the NBA better set up for defending the Nuggets than Minnesota.
Rudy Gobert and Nikola Jokić have a storied history of head-to-heads dating back to the NBA bubble, and the Frenchman held his own against the most dangerous offensive player on the planet last postseason. Jokić averaged 13 points on 51 percent from the field when defended by Gobert, the lowest shooting percentage he put up against any starting center in the 2023 postseason.
(For reference, the league's average shooting percentage was 47.5 percent... so, 51 percent is still pretty nifty stuff from The Joker.)
Minnesota stashed Towns on Gordon and used the 6'11 big man as a secondary shot blocker more and more as the first-round series went on. This was especially true when Gordon was stationed in the corners; Towns would shift over into the painted area in help to give Gobert assistance with Jokić and then would recover back to Gordon if the ball was swung his way.
Jaden McDaniels is one of the best perimeter defenders in the NBA thanks to his length, athleticism, and hip flexibility. He's likely the Wolves' best shot among its starters to defend Jamal Murray. Unfortunately for Minnesota, McDaniels—along with Naz Reid—was out for the playoffs due to a broken hand. Their absences were most certainly felt.
Behind McDaniels is Alexander-Walker, who made headlines for his work in the 2023 postseason by holding Murray to 34 total points on 37 shots.
Edwards' most frequent defensive matchup was Michael Porter Jr. last postseason, and it seems unlikely that would change. That leaves Conley guarding Kentavious Caldwell-Pope.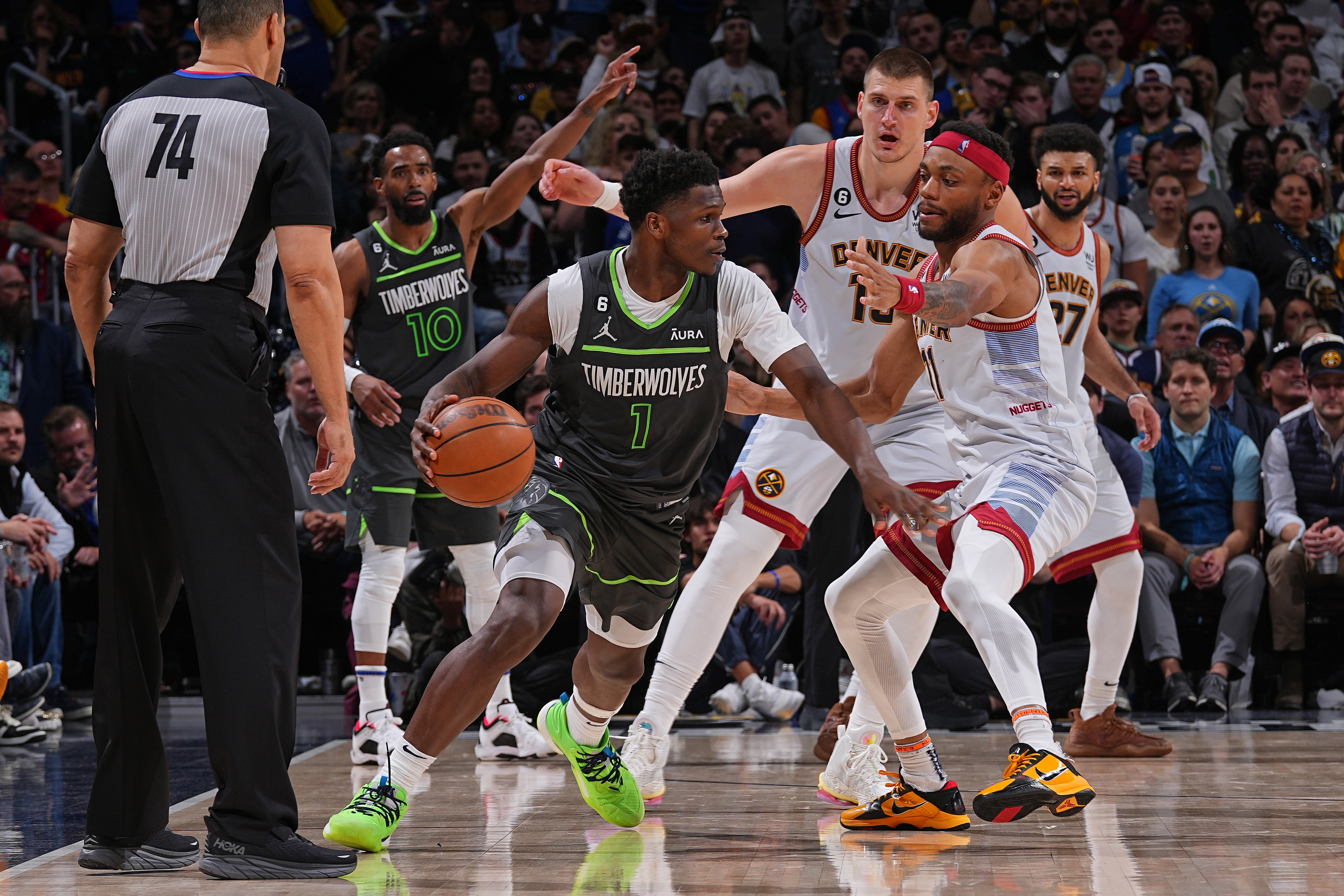 In short, Minnesota is well equipped to tangle with Denver's breathtaking offense, and they held the Nuggets to their second-lowest offensive rating in four rounds of playoff basketball. On the other end, they have one of the brightest young stars in the NBA, Edwards, who gave the Mile High squad their biggest scare all postseason thanks to his ridiculous offensive explosion.
Former Nugget, Bruce Brown, called the first round against Minnesota the "toughest series" Denver faced all playoff run.
Don't sleep on the Timberwolves. They're a dangerous matchup for Denver.
November 1, 6:00 p.m. MT: Nuggets @ Timberwolves; Target Center, Minneapolis; Altitude TV
March 19, 7:00 p.m. MT: Nuggets @ Timberwolves; Target Center, Minneapolis; NBA TV
March 29, 7:00 p.m. MT: Nuggets vs. Timberwolves; Ball Arena, Denver; Altitude TV
April 10, 8:00 p.m. MT: Nuggets vs. Timberwolves; Ball Arena, Denver; ESPN