Each week during the season, NBA.com writer John Schuhmann surveys the league to compile stats and notes for his in-depth Power Rankings. Before the next rankings drop on Monday, here are some of the storylines he's keeping an eye on this weekend.
---

1. Clippers' offense hasn't returned
Four teams received votes when the league's GMs were asked to predict the 2022-23 NBA champions. The two Eastern Conference teams that received votes – the Boston Celtics and Milwaukee Bucks – are 30-12 and 27-14, respectively. The two Western Conference teams – the Golden State Warriors and LA Clippers – are 20-21 and 22-21.
The Warriors have been unbelievably bad on the road. The Clippers, again, haven't been whole, with Paul George and Kawhi Leonard having played together in just 15 of the team's 43 games. And they're, not unexpectedly, 2-7 in games in which neither has been available.
But LA's issues go beyond that. In those 15 games in which they've had both of their stars, the Clippers have scored just 111.0 points per 100 possessions, a mark well below the league average (112.9). Their efficiency with both George and Leonard on the floor (113.5 per 100) is above average, but not by much. Overall, the Clippers, who have a league-high eight guys who shot the league average or better on at least 100 3-point attempts last season, rank 28th offensively. That's lower than they ranked when Leonard didn't play at all last season (25th), and lower than the Pistons, Magic and Spurs.
This is a team that, two seasons ago, ranked third in offensive efficiency and scored 122.5 points per 100 possessions, 10.8 more than the league average (111.7), in 1,028 minutes with George and Leonard on the floor together. But they, thus far, haven't been able to replicate the shooting success from '20-21, and they've also been turning the ball over a lot more than they did in either of the last two seasons.
Clippers' offensive efficiency and four factors, last three seasons
| Season | OffRtg | Rank | eFG% | Rank | FTA/FGA | Rank | TO% | Rank | OREB% | Rank |
| --- | --- | --- | --- | --- | --- | --- | --- | --- | --- | --- |
| 2020-21 | 116.7 | 3 | 56.4% | 4 | 0.222 | 27 | 13.5% | 14 | 27.0% | 12 |
| 2021-22 | 109.5 | 25 | 53.1% | 19 | 0.224 | 26 | 13.9% | 14 | 25.4% | 26 |
| 2022-23 | 109.9 | 28 | 53.3% | 18 | 0.280 | 13 | 15.1% | 22 | 27.6% | 17 |
OffRtg = Points scored per 100 possessions
eFG% = Effective field goal percentage = (FGM + (0.5 * 3PM)) / FGA
TO% = Turnovers per 100 possessions
OREB% = Percentage of available offensive rebounds obtained
Last season, Reggie Jackson saw a huge increase in usage rate (27.3%) and a huge drop-off in efficiency (true shooting percentage of 48.8%) from '20-21 (19.5% and 57.6%). This season, his usage rate is back down to nearly what it was two seasons ago (20.2%), but his true shooting percentage hasn't recovered nearly as much (51.8%). And it's likely that the 57.6% mark from two seasons ago was an anomaly, as this 51.8% is closer to his true shooting percentage over his previous five seasons (53.1%).
John Wall was brought in to back up Jackson, and his transition speed definitely gets the Clippers some good shots before the defense is set up. But Wall himself has the worst effective field goal percentage (45.1%) among 182 players with at least 250 field goal attempts, and overall, LA's offense has been pretty anemic (105.1 points scored per 100 possessions) with him on the floor. Opponents don't respect his jumper on the pick-and-roll and he hasn't been able to punish them for it, shooting 33% on pull-up 2-pointers and 1-for-20 on pull-up 3s.
The Clippers have been starting Terance Mann as the nominal point guard in the last two games. He's still not much of a threat from beyond the arc, but he does give them somebody who will attack the basket.
Leonard, of course, hasn't quite returned to form yet. His true shooting percentage from two seasons ago (62.2%) was also the best mark of his career, and he was even more efficient (67.9%) in averaging 30.4 points in the playoffs … before tearing his ACL. That was the highest true shooting percentage of any player who averaged at least 30 points per game in 10 or more postseason games in NBA history.
Time will tell if we ever see that Kawhi Leonard over a multi-game stretch again. We saw it for one night on Tuesday, when Leonard scored 33 points on 9-for-12 shooting from the field and 12-for-12 from the line in a win over the Mavs. Overall, it was the Clippers' fourth most efficient game of the season and just their fifth win (they're 5-11, worst among the group) against the other 13 teams that currently have winning records.
That includes an 0-2 mark against the first-place Denver Nuggets. It was just a week ago that the Clippers got clobbered in Denver so badly that George and Leonard didn't play the second half. They'll get another shot at the Nuggets in L.A. on Friday (10 p.m. ET, ESPN).
---
One potential offensive issue for the Clippers is that they're a jump-shooting team, having taken only 45% of their shots in the paint. But the Clips aren't the jump-shootingest team in the league, and some jump-shooting teams have done pretty well offensively.
Lowest percentage of FGA coming in the paint
| Team | %FGA | FTA/FGA | Rank | OffRtg | Rank |
| --- | --- | --- | --- | --- | --- |
| Golden State | 40.3% | 0.223 | 30 | 112.3 | 19 |
| Dallas | 41.5% | 0.322 | 1 | 114.8 | 7 |
| Milwaukee | 43.6% | 0.261 | 20 | 110.8 | 25 |
| Boston | 43.8% | 0.260 | 21 | 117.2 | 2 |
| Brooklyn | 44.8% | 0.244 | 26 | 115.7 | 5 |
The Warriors' rate of 40.3% would be the third lowest for any team in the last five seasons, higher only than that of the 2018-19 Warriors (39.9%) and last season's Blazers (40.2%). Those '18-19 Warriors, of course, went to the Finals, and their free throw rate (.227, 28th) wasn't much higher than that of this edition. Actually, their effective field goal percentage (56.5%, eighth highest in NBA history) wasn't too much higher than this year's mark (55.9%). The biggest difference between that offense and this one is turnovers.
The Warriors won the first five games of their eight-game homestand, but then dropped the last three, scoring just 108.1 points per 100 possessions against the Magic, Pistons and depleted Suns. Now, they head back out for a five-game trip that begins with a history-making game in the Alamo Dome on Friday (7:30 p.m. ET, ESPN).
---

3. Can Simmons and Claxton work without Durant?
Kevin Durant, who's out at least the next two weeks with an MCL sprain, makes everything better for the Brooklyn Nets. He makes their offense better. He makes their defense better. And he makes the combination of Ben Simmons and Nic Claxton better.
Claxton has had a terrific season and leads the league in field goal percentage, but has made exactly one shot from outside the paint. Simmons has shot a career-high 59.2% but has made exactly two shots from outside the paint. And in today's NBA, it's tough to play two guys who can't shoot from the perimeter … unless you have Kevin Durant and Kyrie Irving, who don't need a lot of space to score.
The Nets have outscored their opponents by 6.5 points per 100 possessions in 367 total minutes with both Simmons and Claxton on the floor. As the Nets have won 18 of their last 20 games, those numbers are plus-15.3 per 100 (with elite offense) in 200 minutes.
But 190 of those 200 minutes have come with Durant on the floor, and only a few possessions over these last 20 games have come with Simmons and Claxton on the floor without Durant or Irving.
Not only can Durant and Irving score without much space, they'll also draw enough attention from opposing defenses to allow Simmons and Claxton to operate together in the paint …
No five-man unit that includes Irving without Durant has played more than 37 minutes, but the Nets have outscored their opponents by 5.5 points per 100 possessions in 295 total minutes with Irving on the floor without Durant. Only 26 of those 295 minutes have come with both Simmons and Claxton on the floor as well.
Nets efficiency, 2022-23
| On floor | MIN | OffRtg | DefRtg | NetRtg | +/- |
| --- | --- | --- | --- | --- | --- |
| Irving + Durant | 801 | 114.8 | 110.3 | +4.5 | +82 |
| Irving, no Durant | 295 | 113.7 | 108.1 | +5.5 | +22 |
| Irving + Durant + Simmons + Claxton | 294 | 118.3 | 111.0 | +7.3 | +38 |
| Irving + Simmons + Claxton, no Durant | 26 | 100.0 | 103.5 | -3.5 | -3 |
OffRtg = Points scored per 100 possessions
DefRtg = Points allowed per 100 possessions
NetRtg = Point differential per 100 possessions
Simmons and Claxton have both started 23 of the 28 (including each of the last 17) games in which they've both been available. And their minutes haven't been totally staggered of late, with the Nets playing some minutes (mostly at the end of the first and third quarters) with neither on the floor and Durant at center. With Durant unavailable for the next few weeks, Simmons and Claxton will surely be staggered more, and the Nets will need more (minutes, consistency, etc.) from their wings.
But Simmons and Claxton will almost certainly be in the starting lineup together when the Nets host the Celtics on Thursday (7:30 p.m. ET, TNT). The schedule gets easier after that, but it will still be interesting to see if the Nets can win (or just stay even in) those Simmons-Claxton minutes without Durant's shot-making.
---

4. No nail vs. the empty corner
The Milwaukee Bucks were down 16 points late in the third quarter in New York on Monday. But a 22-5 run spanning the third and fourth turned the game around, Jrue Holiday hit a couple of huge shots down the stretch, and the Bucks got a much-needed win. The only Buck who was on the floor for the entirety of that 22-5 run was Joe Ingles, who scored a season-high 17 points and dished out five assists in what was his 10th game for his new team.
One action that worked well for the Bucks in the second half on Monday was a handoff from Giannis Antetokounmpo to Ingles coming out of the right corner. As noted in this space early last season, a handoff or pick-and-roll with the other three players on the other side of the floor can be tough to defend, because there's no help behind the roll man.
When the Bucks ran the action with a little more than two minutes left in the third quarter, Julius Randle retreated back toward Antetokounmpo's roll to the rim, allowing Ingles to drive all the way to the basket …
Also, note above that Isaiah Hartenstein (guarding Bobby Portis at the top left) didn't get all the way to "the nail" (middle of the free throw line) to keep Ingles from getting into the paint. When the Bucks ran the same action on their final possession of the period, Quentin Grimes went beyond the nail to cut off Ingles' drive. But that left Pat Connaughton open for a 3-pointer …
(Jalen Brunson probably needs to be quicker with his rotation out to Connaughton there.)
The Bucks went back to the handoff action late in the fourth quarter. But this time, the other three guys were all on the opposite baseline, so there was no "nail" defender guarding a shooter up high, allowing Ingles to get into the paint again. This time, Randle stepped up, so Ingles just lofted a lob to Antetokounmpo …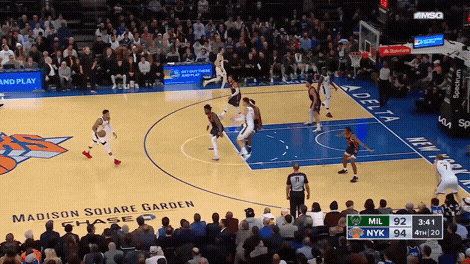 The Bucks went back to the handoff one more time. And while Immanuel Quickley didn't get to the nail, Ingles' drive was stopped by Mitchell Robinson, who switched off Antetokounmpo when Brunson was flattened by the screen. Switching is probably the easiest way to defend "empty-side" actions, but it can then create mismatches. And after the switch on Monday, Antetokounmpo posted Brunson, Robinson stayed in the paint to help, and Ingles got a wide-open 3-point attempt …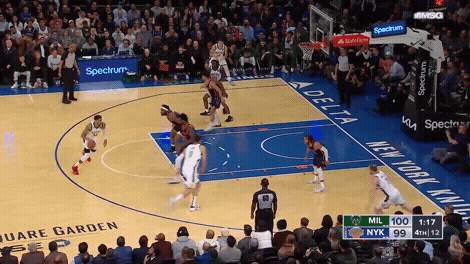 He missed, but Antetokounmpo grabbed the rebound over Brunson and the possession ultimately finished with a step-back 3 from Holiday.
The Bucks still rank just 25th offensively, having seen the league's third biggest drop in points scored per 100 possessions from last season, when they ranked third. As noted above, they're a jump-shooting team with only one guy who gets to the free-throw line, and he shoots only 65% from the stripe.
The Bucks' offense has been particularly brutal on the road, but the win in New York was their second most efficient performance in a road game this season, and they followed it up with a nearly-as-efficient victory in Atlanta on Wednesday. When Khris Middleton returns, they'll have three guys who can run those empty-side actions with Antetokounmpo.
The Bucks now head to Miami for a two-game series (their first two games) against the rising Miami Heat, who've won six of their last nine. Game 1 is the second game of a back-to-back for the Bucks on Thursday night (7:30 p.m. ET, League Pass). And it's worth noting that last week, Antetokounmpo played in both games of a back-to-back for just the second time this season (and the first time since October).
Game 2 of the Bucks-Heat set is Saturday afternoon (1 p.m. ET, ABC).
---
Last season (his first with the Wizards), Kyle Kuzma made four shots (on 10 attempts) to tie or take the lead in the final minute of the fourth quarter or overtime. And with his fadeaway 3-pointer to beat the Chicago Bulls on Wednesday, Kuzma has matched that total and joined 10 other players who've made at least four shots to tie or take the lead in the final minute this season …
KUZMA FOR THE WIN 🚨 pic.twitter.com/MYLHEF5lEq

— NBA TV (@NBATV) January 12, 2023
Most FGM to tie or take the lead in the final minute of the 4th quarter or OT
| Player | FGM | FGA | FG% | 3PM | 3PA |
| --- | --- | --- | --- | --- | --- |
| DeMar DeRozan | 7 | 17 | 41.2% | 0 | 3 |
| LeBron James | 5 | 8 | 62.5% | 0 | 1 |
| De'Aaron Fox | 5 | 9 | 55.6% | 1 | 3 |
| Tyler Herro | 5 | 9 | 55.6% | 3 | 6 |
| Trae Young | 5 | 10 | 50.0% | 1 | 3 |
| Zion Williamson | 4 | 5 | 80.0% | 0 | 0 |
| Jerami Grant | 4 | 6 | 66.7% | 1 | 2 |
| Kyle Kuzma | 4 | 6 | 66.7% | 2 | 3 |
| Kawhi Leonard | 4 | 8 | 50.0% | 0 | 2 |
| Damian Lillard | 4 | 8 | 50.0% | 2 | 3 |
| Tyrese Haliburton | 4 | 9 | 44.4% | 1 | 6 |
DeMar DeRozan's 17 shots to tie or take the lead are, amazingly, seven more than any other player has attempted. Just as amazing is that the Bulls lost the first four games in which DeRozan hit one of those shots and their first seven games that were within five points in the last five minutes. They've won the last four in which he's hit one of those last-minute buckets for a tie or the lead (his latest was a go-ahead jumper against the Bucks on Dec. 28), but still have the league's fourth-worst record (8-15) in games that were within five in the last five. And that loss to the Wizards on Wednesday put the Bulls just one clutch defeat shy of their total from last season (25-16, fourth best).
* * *
John Schuhmann is a senior stats analyst for NBA.com. You can e-mail him here, find his archive here and follow him on Twitter.
The views on this page do not necessarily reflect the views of the NBA, its clubs or Warner Bros. Discovery Sports.