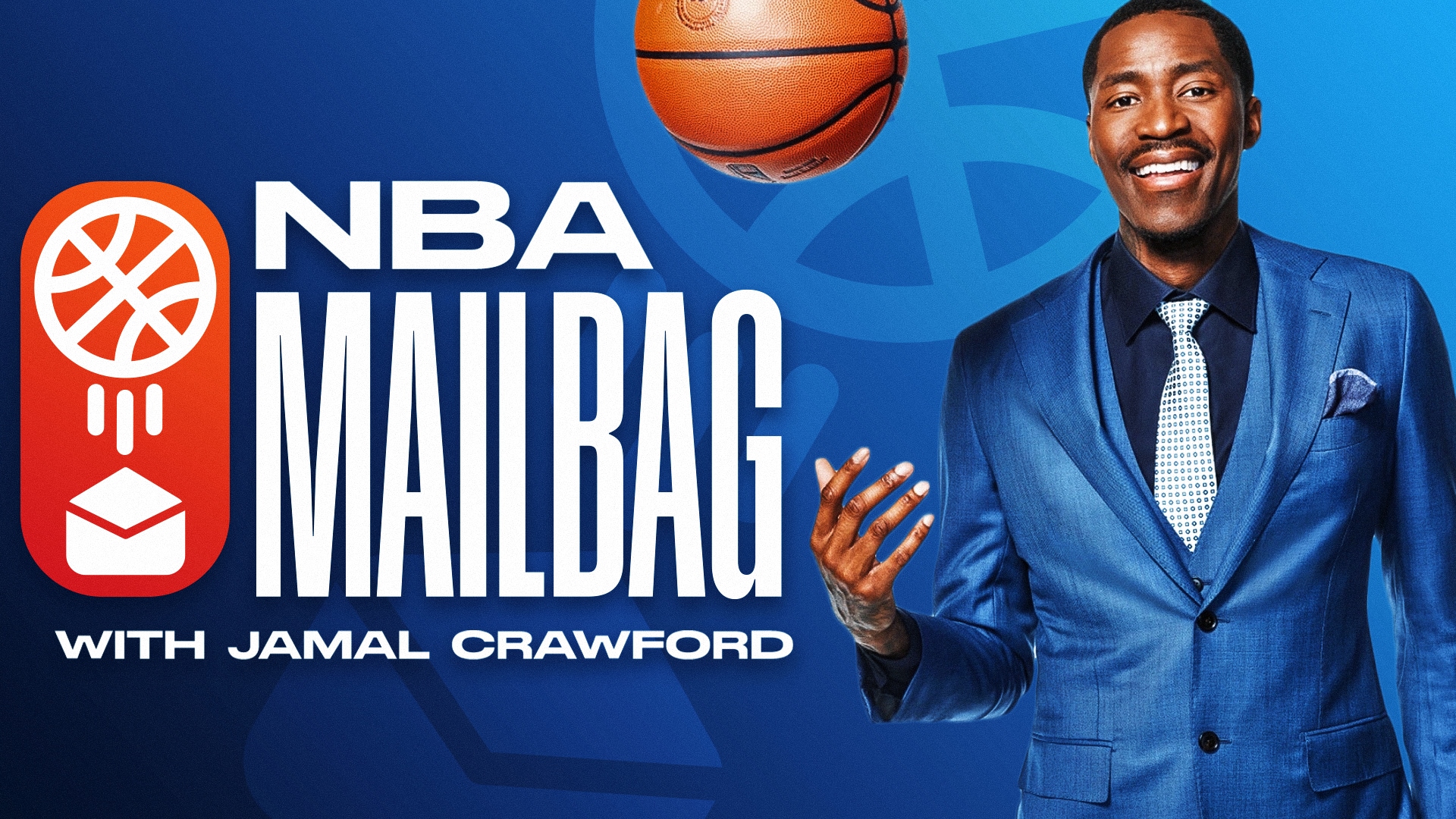 The NBA Mailbag is here to answer your questions throughout the 2023 playoffs. Have a question for Jamal? Submit it at the bottom of this edition of the NBA Mailbag.
---
Who do you think will win the West – the Lakers or Nuggets? Who do you think will win the East – the Celtics or Heat?
— from Adrian in San Juan, Puerto Rico
I've been going back and forth about this. My heart and head are not getting along right now. But my head is saying Lakers-Celtics finals. The Lakers are hitting their stride at the right time. And the Celtics are more battle-tested this year, which will play a factor against a difficult Heat team.
---
Who is Boston's biggest X-factor in the East finals?
— from Davion in Ohio
Jaylen Brown. We know Jayson Tatum is great and he can go on historic scoring runs. If Brown can be not only a secondary scorer for them but at times a main scoring option, then that would change the dynamic for Boston.
---
Do you think Jokic is gonna give AD a problem in the post or is it equal matchup?
— from Timothy in Raton, NM
They both have their strengths, but I love The Joker if it comes down to an individual matchup. He does such a good job of connecting the whole team and thinking for other guys so all they have to do is the easy part. It's going to be fun. They both have their advantages.
---
What does Denver have to do to ensure their first trip to the NBA finals?
— from Nate in Salt Lake City, UT
They have to protect home court. These first two games will be huge. If they can go up 2-0, that will put a different type of pressure on the Lakers.
---
Who do you think will emerge as MVPs of both Conference finals?
— from Blake in Georgetown, KY
Tatum and LeBron.
---
Victor Wembanyama is one of the biggest talents for a long time. Why do you think more and more stars are coming from Europe or other countries?
— from Mika in Oldenburg, Germany
They're coming because the NBA is a global game now. And they're exposed to playing against professionals earlier in their life. For me growing up, playing against pros at 16 was the best training method I could have. Luka has been a pro since he was a teenager. So when they see NBA pros, it's not as big of an awe factor because they already went through that at an earlier age.
Thanks for checking in from Germany!
---
Is the Warriors' dynasty over?
— from Brendan in Ohio
I wouldn't say it's over because the last time people said it was over they went and won another championship. But they definitely showed there are areas they need to address if they want the dynasty to continue.
---
You're one of the only people who knows what it feels like to play 20 years in the NBA. I am amazed that in Year 20, LeBron has the physical and mental stamina to play such elite playoff basketball and in particular, to put up such a dominant closeout performance against the defending champs. Can you put that performance in perspective for us mere mortals?
— from Marty in NYC
It's hard to describe what he's been able to accomplish. It's so unique and rare. Like you said, it's the mental aspect of everything that goes into the preparation, the recovery, and the love of the game. He's one of the best players to ever touch a basketball, but he's still finding ways to stay motivated and driven at that level. It's very, very rare and that's why he's a 1-of-1. The guy is still diving over scores tables to get loose balls. It's unbelievable.
---
Would LeBron winning the title this year be his greatest accomplishment to date?
— from Tyler in Michigan
I'm not sure about that, but it would be up there. From the way the Lakers started this season, I don't think anyone had them finishing like this. But coming back from 3-1 against the Warriors and winning a title for his hometown team will be tough to beat.
---
Do the fans play a big role in the playoffs?
— from Damian in Romania
They play a huge role in the playoffs. That's why home court is so important. Guys play totally different at home versus on the road. And that's what was interesting about the bubble since it made things equal on so many levels. For me, I liked playing better on the road. It felt like it was just me and the 15 guys in uniform vs. 20,000 fans. That helped me to play better and looser than when I was at home.
Thanks for tapping in from Romania!
---
Jamal, what's your take on the release of 4 prominent NBA coaches (Raptors, Bucks, Suns & Sixers)?
— from Karl in Hampton, VA
The coaching business is really tough. You can win Coach of the Year and then get fired the next year. Sometimes when you set your precedent so high – and all four of those coaches had it set at championship levels – anything short of a championship is a disappointment.
---
What is the most simple but effective offensive move you think should be used more often?
— from Harrison is Brisbane, Australia
Great question from Australia. The up fake. So many people try to take 3-pointers now, the up fake can help you keep the defense off-balance and get an easier shot.
---
How did you defend NBA players? Did you focus on their footwork or the ball, or is it just intuition and anticipation?
— from Nathaniel in Chicago
Me? Defense? Ha! I focused on the scheme. Sometimes it would be like, "Hey, by any means, do not let this guy get right." Or, "By any means, do not let him get an open shot." So if I chased him off the 3-point line and forced him to take a different shot, then I did my job. I focused on the scheme.
---
Hi Jamal, can you walk us through your nasty hesi vs. the Blazers?
— from Adio in Bosnia and Herzegovina
First off, I knew from playing with and against Wesley Matthews that he's a hard-playing guy. Since I knew that, I knew that any move I did he would react to it. So when I got the first separation, I went through the legs then a hard dribble right and a pullback. I had the feeling like a boxer timing the perfect punch. I knew he was going to run back, so when he did it, I already in my mind was ready for the counter move. Then I just needed to make the shot. That was one of my favorite moves of my career.
---
If you had to make a positionless starting five of all-time 6th Man of the Year winners, who would it be? You can include yourself of course.
— from Brandon in Hurst, TX
Detlef Schrempf
Kevin McHale
Eddie Johnson
Ricky Pierce
Toni Kukoc
With Lamar Odom as the 6th man. And I'll take the 7th man spot.
---
What is the most important lesson you learned from a veteran/mentor that you think would be valuable to new players?
— from Tyus in Alexandria, VA
That being a professional doesn't have an on-off switch. You're not just a professional when you're playing. You're a professional based on how you live. You're a professional based on how you treat the game. You're a professional when you're on time. All of those things I learned from great guys like Charles Oakley, Scottie Pippen and Rick Brunson.
---
Jamal! Were there any players back in the day that pushed you to become the player you became?
— from Nick in Oklahoma
Doug Christie. He took a special interest in me when I was 15 years old. He would tell me to get to the gym at 7 in the morning and I'd get there at 5 and then wait for him. Even if I had to take the bus to get there. I was able to learn from him, which was invaluable to my career.
---
Who was your funniest teammate?
— from Hamish in New Zealand
My funniest teammate was in high school – Nate Robinson.
---
What was the most unique music you heard other players use pregame?
— from Haldor in Mexico
It's always Jimmy Butler playing country music. I could not get into it. But it got him into the zone, you could tell. I'm sure he's playing country music throughout these playoffs.
---
What was your favorite jersey you ever wore?
— from Carter in St. Louis, MO
The blue road Knicks uniform.
---
Do you remember your first time playing basketball and where?
— from Jorge in Santa Ana, CA
I don't remember my first time playing, but I do remember the first practice I had with a team. I was eight years old and the coach had us doing layups. I'll never forget … my first layup with that team I went behind the back and did a reverse layup. The kids were looking at me like I was an alien.
---
Hey Jamal, you're one of my favorite players ever. How come you didn't include Iverson as one of your Top 5 handles?
— from Daquan in Rochester, NY
I definitely forgot to include him on my list! Here's a refreshed list:
Isiah Thomas
Kyrie Irving
Allen Iverson
Jason Williams
Mahmoud Abdul-Rauf / Nick Van Exel / Steve Francis / Rod Strickland
---
Hi Jamal, what makes a good point guard in the modern game compared to the old-school days?
— from Justice in Manchester, England
In the old-school game, a point guard was taught to set up the offense and be the coach on the floor. You were setting things up and getting teammates the ball. In today's game, the point guard position is asked to score just as much as pass. And you have the freedom to dictate what needs to be called.
---
Which team in NBA history would you most like to have played for?
— from Milan in Switzerland
The 1997-98 Chicago Bulls. The 'Last Dance' was a great look at that season, and I would have loved to be a fly on the wall with that team. I was with Chicago in 2002, so I just missed it.
Thanks for writing in from Switzerland!
---
When you're coaching your kids do you go extra hard on them? Or are you a go-with-flow coach?
— from Tim in West Palm Beach, FL
I go with the flow until they're not doing what they're supposed to … then I go hard on them. But they know it's all love.
---
What workouts did you do as a player or even now? Did you do things like push-ups and pull-ups?
— from Qasim in England
Push-ups and pull-ups are a great way to stay in shape when you don't have other fitness equipment available. So I do them, but the best way to work out is to get in the gym and play.
---
I just graduated high school and still have my hooper dreams but no one has taken a chance on me. I'm really good but have no opportunities. What should I do in my situation?
— from Antonio in Fulton, MS
Continue to work towards your goal, first and foremost, because somebody is going to see you. And when they see you, you want to make sure you're ready. I would try to join your local pro-am. That way coaches and other players will see you and you can go from there. With pro-ams, there's always somebody watching who has a connection to a connection.
---
What advice do you have for upcoming high school freshmen about the changes from middle school basketball and high school basketball? Do you have any tips or tricks on how to make the team?
— from Jose in Buenas Aires, Argentina
Do the things other guys won't do. Everybody at that level can score. So if you stand out with defense or rebounding or being a great teammate, you will increase your odds to make the team. At this point, you just want to get on the roster. Also, be the first person in the gym and the last one to leave.
Thanks for checking in from Argentina!
---
What's one thing all young hoopers should understand if they are trying to make it big?
— from Connor in Oklahoma City, OK
Understand there will be highs and lows. Understand there will be naysayers. Understand you have to love and embrace the concept of getting better.
---
Have A Question For Jamal? Submit It Below!
Check back next week for another edition of the NBA Mailbag!