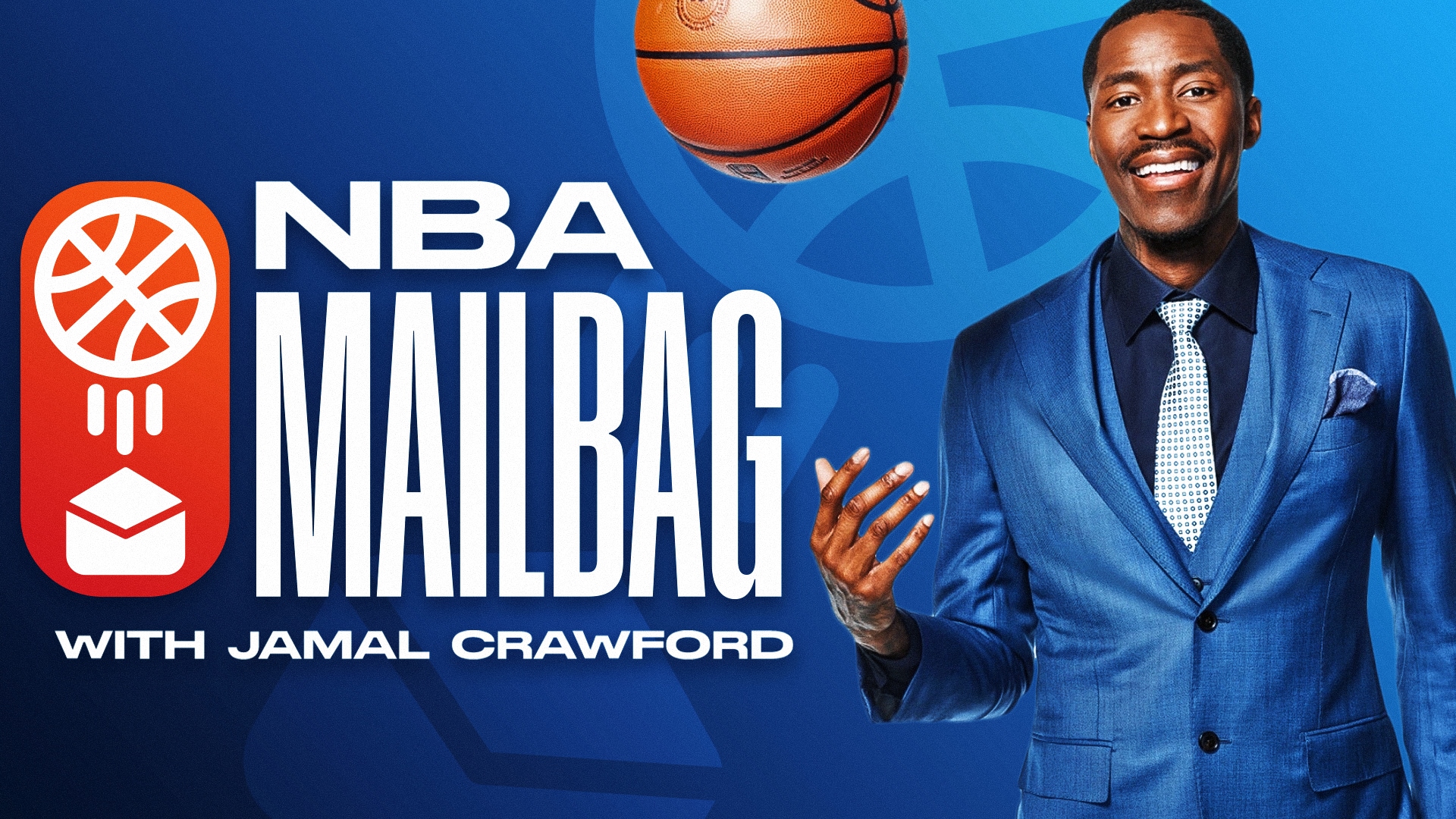 The NBA Mailbag is here to answer your questions throughout the 2023 playoffs. Have a question for Jamal? Submit it at the bottom of this edition of the NBA Mailbag.
---
What do you think was the biggest aspect of the Lakers' turnaround?
— from Daniel in Ohio
The biggest aspect of the Lakers' turnaround has been them making AD the go-to guy. Since he's usually the mismatch on the court, they can play through him and he can keep everyone else involved. So with him as the go-to guy, the Lakers have been able to take advantage of those mismatches and be successful.
---
You've always spoken highly of Devin Booker, but when you played together did you see him becoming the player he has been in this postseason?
— from Brandon in Gilbert, AZ
I absolutely saw him becoming this type of player. Funny story – we used to play 1-on-1 every day after practice. One day he beat me, but I told him, "Yeah, but we have 10 wins. And no one knows about you because we have 10 wins." And that ate him up. It bothered him so much. At that moment I said, "Oh, he's a winner. He just needs to get on the big stage." So it's been no surprise he's had this kind of success.
---
If you could join any team left in the playoffs, which one would it be and why?
— from Marjorie in Morrisville, NY
That's a great question. I would join the Knicks because Immanuel Quickley is out and I could be another guard there to help with scoring.
---
What role players do you think are making the biggest impact these playoffs?
— from Trentyn in West Virginia
They're all around the league. For New York, it's been Josh Hart. For the Lakers, it's been different guys at different moments – from Rui Hachimura to D'Angelo Russell to Austin Reaves. For Miami, it's been Duncan Robinson and Gabe Vincent. Robinson has been especially impressive since he didn't play much during the season. But he's been a big reason why they're up 3-1 on New York.
---
What do you think about the future of Austin Reaves?
— from Marcos in Zaragoza, Spain
I love his future. I love his game. He has a certain coolness to him – a certain swagger. He's a big-moment type of guy. He makes the right decision most of the time and I love watching him play. He has a fan in me for sure.
---
What are your thoughts on Gabe Vincent in these playoffs?
— from Zane in Illinois
He's competitive. He can shoot it. He knows how to play. I think any team going forward would want a guy like him on their squad.
---
What did you think of Giannis' speech on failure in sports? What are your thoughts as an NBA veteran on his statement?
— from Eli in Michigan
I think he's right. I don't think it's a failure because you didn't win a championship. There's only one team that wins every single year. But the word I would use for a team of that caliber losing in the first round is "disappointment". You can be disappointed with how the season went, but not define it as a failure.
---
Hi Jamal, do you think the Bucks have a chance next season with some possible trades and Mike Budenholzer out? Just wanting some hope after the playoffs this season. Thanks again for your input!
— from Connor in New Zealand
As long as you have Giannis, you have a chance. Thanks for tapping in from New Zealand!
I'm tired of the disrespect. I'm coming. pic.twitter.com/eMRPb6kbLJ

— Giannis Antetokounmpo (@Giannis_An34) May 9, 2023
---
What is the best line of trash talk you have ever heard?
— from Arsenio in Greece
The best lines were from Michael Jordan during pick-up games. I'm going to keep the opponent nameless. But they were like, "Yeah, Michael, I have Ferraris and stuff now, too!" Then Michael says, "Yeah? There's this one car with only four made in the world. I have two. Want to impress me? Get the other two." And I was like, "Whoa, that's pretty next level."
The other one was a player telling MJ, "Yeah, we can stop you." And he said, "Yeah? There are a thousand people trying to stop me. You've seen the movies. Michael Jordan's Playground. Michael Jordan's Airtime. Michael Jordan's Come Fly With Me." And he kept naming his movie compilations. That was funny.
---
You got one of the coldest handles I've ever seen. Who are your top 5 handles guys of all time?
— from Michael in D.C.
Out of fairness to the question, I never include myself in these arguments. So I'll take myself out. But in no order:
Isiah Thomas
Kyrie Irving
Jason Williams
Rafer Alston
Mahmoud Abdul-Rauf / Nick Van Exel / Baron Davis / Rod Strickland
---
Hello, dear Mr. Crossover! In the last edition of this mailbag, you stated you, "Stole from yourself" and watched your own highlights. So, a bit of bragging is allowed today: What was the best highlight play in your career and why? Love!
— from Simon in Hamburg, Germany
It changes day by day. Today, I would say it was the through-the-legs lob to Blake Griffin because it had never been done in a game. And I had that play in my head since I was eight years old … I just didn't have the perfect person to do it with. But we never practiced it. Prior to the season, we got together in September as a team and we talked about it then. We walked on the court and I was like, "Blake, I've got this play in my head. Can you do it?" He looked at the rim and said, "Yeah, I can do that." Fast forward to March, six months later. When I did it, I was thinking, "Blake just please catch it cause if you catch it then it's not my fault anymore." So he catches it, he windmills it, and then as he's running back he grabs his chest laughing like, "I can't believe you just did that." We had never talked about it for six months. It was so funny.
So that's probably my favorite play. But if you asked my wife, she would say when I turned the ball over against Denver, stole it back and hit the game-winning shot.
---
If you could go back and have a convo with your 18-year-old self, what would you tell him and would he believe you?
— from Russell in Brockton, MA
I'm sure he would believe me. What I would tell him is two things. Number one, you can't ever make anybody happy, so just do what you think is right. And number two, on the basketball side, stay a point guard. Do not change positions. The game is going to change. They're going to have this thing called positionless basketball, where they don't just have point, two or three. You'll be better served if you stay at the point guard position.
---
What is one basketball play from your career that you wish you can go back and play differently if you had to choose?
— from Austin in Florida
There was one in the OKC series against Westbrook, Durant and those guys. I had a switch on Kendrick Perkins and I did the right thing by driving to the basket. But then Serge Ibaka – he was "Iblocka" at this time – came over and made me take a more difficult shot than I wanted. Maybe I should have stopped and done a mid-range jumper. But I didn't see Serge coming. It was the same game where we were up seven with 44 seconds left and lost.
---
During a timeout when everyone seems down and gloomy. I want to help the team but I can never find the right things to say. Did you ever find yourself in these situations during games? If so, what did you do?
— from Nathaniel in Chicago
I just tried to come with positive energy. Sometimes it's just a quick line like, "Let's go fellas" or "We got this." But more than anything, I try to back it up with my play after I said it because words are great but your actions speak louder.
---
What were some of your go-to snacks and meals before practice and games?
— from Nathan in Glenview, IL
Go-to snacks were candy at the time, to be honest. Like I ate a lot of candy. But my diet definitely changed later in my career. It went from candy to trail mix and healthy snacks. My wife is to thank for those changes. She started tricking me because I hated drinking just water. So she started putting those little packets in it to get me to drink water. Then she really got me into whole foods and healthy eating. So she gets credit for me playing so long.
---
Do coaches draw up brand-new plays in the huddles during timeouts? If so, is it hard to memorize them that quickly?
— from Zachery
They'll draw up a new play. But it's not hard because they're putting a certain player in a certain place on the court. So you know exactly what your job is on that play. And as professionals, you kind of have to know that and pick that up pretty quickly. So yes, that does happen from time to time. But usually, they'll show us at practice the day before.
---
Assuming you're the 6th man, give us a starting five with former NBA teammates of yours.
— from Jake
OK, I'm basing this off a player's skills when I played with them. Not when they were in their prime. So let's go with this starting five:
Stephon Marbury
Chris Paul
Jimmy Butler
Blake Griffin
LaMarcus Aldridge
With Joe Johnson as 6th man. I'll be a team player and slide down to 7th man.
---
The 2003 Chicago Bulls are one of the most fascinating rosters I've ever seen on paper. How was the vibe in the locker room after Jay Williams' accident? And how did the team rally during a season that did not go according to plan?
— from LJ in Michigan
It was tough. We had expectations of growing from the "Baby Bulls" to actually being a playoff team. So when Jay's accident happened, it was devastating for everybody because he had started to hit his stride in the last 25 games or so of his rookie season. Then for the accident to happen, it kind of took the wind out of everybody's sails. That was a tough, tough, tough deal. For us, it just didn't even seem real because that was before social media so we didn't know immediately what was going on.
---
I am starting a tournament and am wondering how to deal with all of the people watching you, do you have any tips on how to not get nervous?
— from Johnny in Canada
Work ethic and preparation take away nervousness. When you do that, it becomes a habit. It's just a routine, it's a rhythm. And I understand your pain because if I actually looked out in the crowd when I was playing and there were 20,000 people there, I'd be like there's no way I'm going out here right now. But I got so locked in doing what I did every single day that the crowd wasn't there until I heard them after a good moment. So my advice? Get lost in the game.
---
In your years of play, have you experienced players with longer fingernails swiping at you? Do you feel like everyone in the league should have their nails clipped to prevent cuts or slashes?
— from Jules in Denver
Everyone should definitely have their nails clipped. There's not one person who I was like, "Hey, your nails are too long and you need to cut them." I don't remember seeing anybody in the league with nails that could slice you. But I did see that a lot in high school and pickup. I definitely had to tell people their nails were too long.
---
How was your practice routine when you started playing as a kid? Do you think following all those online tutorials helps?
— from Kenji in Hong Kong
My practice routine in the summer was definitely different from the school year because I had more time. But I was going from gym to court. And when I say court, it could be outside, it could be inside, literally all day. From like 11 in the morning to 11 at night. I was going 12 hours straight. In between I may take a break to get a snack or something quick to eat. But I was going from gym to gym. You would go to Rainier Community Center from 11 to 2, then from 2 to 5 you would go to Liberty Park. Then from 5 to 8, you would go to Rainier Beach Community Center. Then from 8 to midnight, you're doing a program we had called Late Night. So literally every single day you're playing with different groups of players. One group may be older guys, one group may be younger guys, one group may be guys who aren't so good. But you always have something to work on. So I was constantly trying to get better.
---
I'm a young hooper from Germany, I have dreams of taking my talents to the NBA. I work hard every single day and get better each time but I also don't want to overwork my body and stunt my growth. What are some tips you could give to someone like me so that I'm able to get better and stay healthy at the same time?
— from Osman in Germany
If you can avoid it, don't play on concrete. I would not recommend that. I would definitely recommend icing after you play even if you're not sore. Then stretching is so important. I make my sons stretch every single day. And then just stay hydrated. Drink a lot of water. And don't eat too much candy.
---
As a freshman point guard basketball player, what should I be focusing on as far as a skill to make it D1 and pro?
— from Zachary in Hillsboro, OR
You should be focused on the fundamentals. If you can master the fundamentals and watch film – not just highlights, but actually watching film – to see how to get better and witness what the good players do, then you'll be in great shape. Also, having a great attitude because coaches now definitely are looking at how you are off the court even more so than how you are on the court. They want to know how you can fit in with a team.
---
What is your favorite drill that best helped you improve your game?
— from Palmer
We used to play a game called 21 when I was young. It's a group of like six or seven players and anybody that touches the ball is in the game. You're basically playing 1 on 5. So the first one to 21 points wins the game, obviously. But the player with the lowest amount of points has to get burned by the ball. So that means all the other players get to throw the ball at them and get the chance to burn them. That made the games more competitive because you didn't want to get burned. That was old school.
---
What's one thing you wish people who never played in the NBA understood better about the league?
— from Zachary
That these are the best players in the world. Even the worst player on a team could walk into any gym and drop 50 because they're so good. There are only 450 players in the league. So I wish they understood and respected even the last guy on the team that you never see in the game because he is one of the best players in the world.
---
Have A Question For Jamal? Submit It Below!
Check back next week for another edition of the NBA Mailbag!