Search for Bucks' second star finds no simple answer
Giannis and Milwaukee are elite title contenders. But will lack of clear 2nd star derail them in playoffs?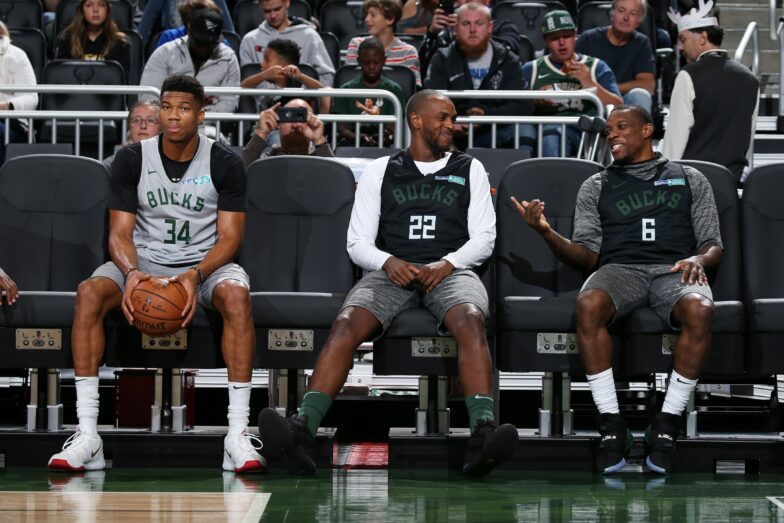 > Tonight on TNT: Lakers vs. Bucks (8 ET)
MILWAUKEE — Giannis Antetokounmpo seemed startled by the question, the answer of which seemed so obvious that the Milwaukee Bucks star smiled as he responded and many of the media folks huddled around laughed as he finished.
Why did he think the Los Angeles Lakers have been so good, so soon this season?
"They've got two of the top five players in the world, so … ," Antetokounmpo said, politely leaving unspoken the easy "duh" at the end.
LeBron James and Anthony Davis would dominate "NBA Jam," the nostalgic 2-on-2 arcade video game born in the 1990s. It cemented phrases such as "Boomshakalaka!" and "He's on FIRE!" into the hoops lexicon. And at the height of the NBA's Michael Jordan-Scottie Pippen, Karl Malone-John Stockton, Gary Payton-Shawn Kemp dominance, it helped convince a lot of basketball fans that having two stars was the ticket.
That ante got upped to three in the summer of 2007, when the Boston Celtics corralled Kevin Garnett, Ray Allen and Paul Pierce for an insta-championship the following spring. James tweaked and perfected the "Big Three" approach in Miami from 2010-14 (with Dwyane Wade and Chris Bosh). Then he contended and won some more with another pair of All-Star cohorts in Cleveland (Kyrie Irving and Kevin Love).
Part of Oklahoma City's presumed trouble in getting back to The Finals after their 2012 trip was the subtraction of three (Kevin Durant, Russell Westbrook, James Harden) down to "just" two. The Golden State Warriors of 2015-19? They were downright gluttonous, going the other direction with at least four stars (Durant, Stephen Curry, Klay Thompson, Draymond Green) capable of being most franchises' No. 1.
This past offseason, however, some drifting of talent in free agency and a rash of Warriors injuries brought a resurgence of the dynamic duo in NBA Land. So we got Kawhi Leonard and Paul George with the LA Clippers, Westbrook joining Harden in Houston and Durant and Irving — eventually — in Brooklyn. There's the vision in Philadelphia of Joel Embiid and Ben Simmons (with apologies to Tobias Harris), the enthusiasm in Dallas for Luka Doncic and Kristaps Porzingis and the make-or-break challenge in Minnesota facing Karl-Anthony Towns and Andrew Wiggins, who have been treated and paid like an elite tandem, anyway.
Then there are James and Davis, so good through the first third of 2019-20 that they might be able to win playing 2-on-5 against many Lakers foes.
"It's insane… He's an alien." 

– Giannis on @KingJames' game in Year 17. (🔊⬆️) pic.twitter.com/5nzLRKsyiZ

— NBA on TNT (@NBAonTNT) December 18, 2019
Which circles back to Antetokounmpo and the Bucks, where the concept of a No. 2, a sidekick head-and-shoulders above the others on Milwaukee's roster, remains … fuzzy.
Last season, as Antetokounmpo earned his Kia Most Valuable Player award leading his team to 60 victories and the Eastern Conference finals, the question — "Who is Milwaukee's second-best player?" — had the multiple-choice answer, "All of the above."
The leading candidates were smooth-shooting wing Khris Middleton, a "Greek Freak" teammate from the start, and point guard Eric Bledsoe, a powerful if inconsistent force offensively and a first-team All-NBA defender. Cases could be made, too, for center Brook Lopez, a 3-point hoisting rim defender and locker-room anchoring vet. Or even Malcolm Brogdon, another mature presence with a knack for jolting the Bucks' performances at both ends.
Then there were the esoteric answers, such as "the defense" or "their depth." Milwaukee did lead the NBA last season in defensive rating, opponents' field-goal percentage, defensive rebound percentage and defending without fouling (FT/FGA ratio). Its bench was heavy with proven contributors, including stalwarts such as George Hill and Ersan Ilyasova, specialists like Nikola Mirotic and Tony Snell and under-the-radar helpers Sterling Brown, Pat Connaughton and D.J. Wilson.
That gave coach Mike Budenholzer gobs of combinations and flexibility, and ways to max out Antetokounmpo's many skills via different looks. From one in, four out alignments to Giannis as point guard vs. Giannis as center (and everything in between).
🥳 @Giannis_An34 enjoys his 25th BIRTHDAY at home! #FearTheDeer pic.twitter.com/XjaE35fTd6

— NBA (@NBA) December 7, 2019
Of course, Milwaukee got on such a roll last season that — while they were 12.1 points better than the other teams with Giannis on the court — the Bucks also were 3.2 points better in the 15 minutes or so he sat each night. So far this season, those numbers are even more impressive: 15.9 with Antetokounmpo, 8.1 when he sits and two minutes less, on average, in his workload (31.2 mpg).
Which still doesn't sufficiently answer the second-best Bucks player question.
On paper, it's Middleton. He is Milwaukee's No. 2 scorer (18.1 ppg, 40 percent from the arc), he was an All-Star in February and actually is the Bucks' highest paid player thanks to the five-year, $177 million deal he signed last summer. At $30.6 million, he's being paid about $5 million more than Antetokounmpo (which will get corrected when/if the reigning MVP signs the "super-max" contract that will be offered as soon as he's eligible on July 1, 2020).
Many scouts and fans who watch the Bucks closely default to Middleton as Antetokounmpo's best available wingman. And yet Bledsoe's ability to impact games at both ends, often more noticeably than Middleton given his romps to the rim or open-court disruption, argues on many nights for him.
For instance, when Middleton was hurt for seven games in November, the point guard upped his scoring average to 18.7 ppg and the Bucks didn't miss a beat, going 7-0 by an average margin of 11 points. Still, his shaky outside shooting (career 33.6% from 3-point range) and even more so his playoff fades against Boston in 2018 and Toronto last spring keep him from upper echelon sidekick status.
Have a game, @EBled2:

29 PTS | 6 AST | 3 REB | 2 STL | 77% FG pic.twitter.com/3kZakOkrdh

— Milwaukee Bucks (@Bucks) December 12, 2019
Conventional wisdom suggests that, in a perfect Bucks world or on any legit contender, Middleton and Bledsoe would be that team's third-and fourth-best players, not overreaching as 2 and 2a.
Does it matter? Not necessarily, but probably. Over the past 30 NBA seasons, nearly every championship team has sported two or more franchise-caliber players. There are maybe five exceptions: the Rockets in 1994 and '95 with Hakeem Olajuwon, the Pistons' true ensemble in '04, the Mavericks of Dirk Nowitzki & Co. in '11, the Spurs across all but the first of their five titles and the Raptors last season.
The Bucks would be fine if they could achieve San Antonio's sum-of-the-parts results with one legendary talent in Tim Duncan and strong career-spanning support from there. Of course, Manu Ginobili and Tony Parker will be enshrined as Hall of Famers before too long. The same cannot be said at this point of Middleton, of Bledsoe or of any other Bucks players.
"We've got a long ways to go before this group becomes the 'San Antonio Spurs,'" Bucks GM Jon Horst told NBA.com last winter, "but that's our goal, to build a team that can compete over a long period of time and win championships.
"I think they can become and sustain that. Both Khris and Eric are entering their prime or in their prime. They're super-high character guys. They are very talented. And they fit."
A harsher lesson from the Lone Star State came in 2007, when Dallas won 67 games but got eliminated in the first round. No one would have blamed Nowitzki if he had vented his frustration over that into a free-agent defection at his next opportunity; only his willingness to stick gave the Mavericks their second chance four years later.
That same saga might play out for Antetokounmpo and the Bucks over the next 20 months: If they can't do better than the six-game swoon to Toronto in the East finals, will he commit well into his 30s to keep trying?
There have been other disappointing instances of cornerstone players surrounded by nice but ultimately insufficient help. Think Garnett for most of his Minnesota run (seven first-round ousters in eight years). Think Derrick Rose and a deep-and-defensive Chicago team's inability to claw past James.
The math facing the Bucks is simple. It might be on display when they meet the Lakers Thursday night at Fiserv Forum (although Bledsoe will be out with a fibula fracture), and it could be a deciding factor if both teams manage to reach The Finals in June. Either James or Davis can carry L.A. against anybody, for long stretches of games or of the schedule. No one besides Antetokounmpo can reliably do that with the Bucks.
One team has two of the top five players in the world. The other has one.
* * *
Steve Aschburner has written about the NBA since 1980. You can e-mail him here, find his archive here and follow him on Twitter.
The views on this page do not necessarily reflect the views of the NBA, its clubs or Turner Broadcasting.