CHICAGO — In the most frenzied free-agent market in history, Kawhi Leonard went back to the basics, opting to play his NBA basketball close to his roots in southern California.
Paul George, though not a free agent, felt the tug of home as well and chose to join Leonard with the LA Clippers.
Anthony Davis? He decided he wanted to play where Leonard and George grew up, too.
About 2,000 miles away from where he started on the gritty South Side of Chicago.
The mean streets of the All-Star center's Englewood neighborhood had nothing to do with Davis' decision, of course. He's long gone from that sort of high-risk, day-to-day living after earning nearly $100 million in his first seven NBA seasons. Derrick Rose grew up in Englewood, too, but most recently has had his mail delivered a few miles and a world away to a spectacular downtown condominium atop the Trump Hotel.
Nor did Davis' successful push to join LeBron James with the Lakers have anything to do with a disdain for his hometown or its commitment to the sport he loves. Just this week — in the less publicized of his two major comments about his hometown and its hoops — Davis reaffirmed his view of Chicago as "the Mecca of basketball."
"You look at the history, and all the guys we've got … that made the league and that didn't even make the league," Davis said. "They say New York but it's not even close."
Anthony Davis "Chicago is the Mecca of basketball and you can quote me on that" pic.twitter.com/NfuLAxYMMZ

— Tony Gill (@thetonygill) July 19, 2019
With which Clippers coach Doc Rivers — a native of first-ring suburb Maywood, Ill., and an NBA lifer whose much-traveled career curiously has skipped Chicago — immediately concurred. "It's not close," Rivers told reporters. "You know everybody, you play against everybody. I mean, how many kids can say – unless you grew up in Chicago — you can have a pickup game out in the park with Isiah Thomas, Terry Cumming, Maurice Cheeks, Mark Aguirre, Darrell Walker … There's not a lot of pickup basketball games like that. That's called Chicago basketball."
It is not, however, called Chicago Bulls basketball.
All that Davis avoided in relocating to L.A. in July, all that he quietly said no to when he pushed his way out of New Orleans, was on full display Tuesday night at United Center. Sure, they still play Alan Parsons intro music to conjure memories of the Michael Jordan era — which ended more than 20 years ago — and they're quick to rev up the P.A. announcer's "…from CHICAGO!" if it's a local like Rose or Dwyane Wade playing for the Bulls.
But for now, the Bulls deserve to be penned, not merely penciled, on that you-can't-go-home-again list for prospective "franchise" free agents like Davis. At 2-6 after their 118-112 loss to the Lakers, they're spinning their wheels for the third consecutive season, no more capable of winning now than they were eager to the past two years.
Bad habits and repeated mistakes abound. Zach LaVine and Lauri Markkanen are supposed to be pushing for All-Star Game spots when it comes to Chicago in February. However, they look no more ready or deserving than they were 12 months ago. Coach Jim Boylen remains unproven, still saddled by perceptions formed from extracurriculars such as "leadership councils" and time clocks players were told to punch.
The energy level of the team is nearly as low as its joy quotient — the Bulls were fortunate Tuesday to get jump-started for a dynamic quarter or so by rookie Coby White in the first half. The Bulls still were up by 18 with less than five minutes to go in the third quarter.
But momentum slipped away the rest of that period as the Bulls' 13-point lead to open the fourth quarter was whittled away as a Lakers reserve crew — led by Dwight Howard, with James and Davis on the bench — blew by the Bulls by scoring the game's next 16 points.
Here the Bulls had a chance, in an NBA TV game, to push a big, fat reset button on their disappointing start to the season. Yet it was gone in a blink. They all knew it.
"We had them yelling and cursing at each other," said second-year center Wendell Carter Jr., whose year at Duke didn't prepare him for what he's encountered as a pro. "They didn't know what was going on. We just handed the game back to them."
Said veteran Thad Young, new to these wheel-spinning ways: "It's about playing a certain type of basketball. They haven't played that [way] here in the past couple of years. We're not the team with several different superstars on our team. We have to play team basketball."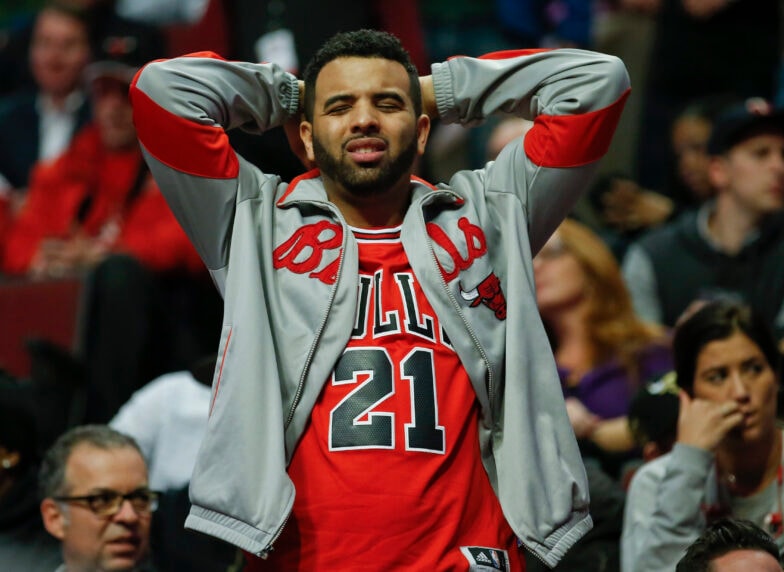 Any doubt, then, why a talent such as Davis wouldn't want to set up shop in that locker room?
The Bulls have a history of failing to attract premier free agents — Carlos Boozer in a 2010 overpay may rank as their biggest "get," followed by 34-year-old Pau Gasol in 2014. Many attribute that to the old Jordan-Phil Jackson-Jerry Krause snipings, along with agent rumblings and past snubs, that fueled a management-first image.
But this current edition is turning up noses and causing eyes to gloss over on merit. Davis, staying away from the door he regretted opening Monday, played it safe and patronizing by the end of his postgame chat with reporters.
"It's a basketball city," he said. "They're looking for their guy. They're a good young team right now."
Perhaps sensing skepticism, he repeated: "They are."
Even a classroom of little Bulls fans would understand after Tuesday's collapse why Davis or any other NBA star from the 312 (or the 773, 708 or 847) might prefer to team with LeBron, with a franchise that considers a decade between NBA titles to be about nine years too long.
Oh, and by the way, it's cold outside here.
* * *
Steve Aschburner has written about the NBA since 1980. You can e-mail him here, find his archive here and follow him on Twitter.
The views on this page do not necessarily reflect the views of the NBA, its clubs or Turner Broadcasting.