Arguing for and against each team in the 2018 NBA Draft Lottery
Superstition reigns supreme with the lottery balls in the air. Here's a little history on each team involved
* Tonight on ESPN: 2018 NBA Draft Lottery (7:30 p.m. ET)
Luck is fickle, especially in sports. It can gravitate toward one end of the universe and completely ignore the other.
On Tuesday, 14 teams will see whether they have earned its attention.
On that day, the NBA will bestow the ultimate offseason gift: the No. 1 overall pick. The odds of each team winning that prize are vastly different. We'll acknowledge that along the way, but the goal here is to delve into the less mathematical and more irrational reasons why – and why not – each franchise deserves the lottery balls bouncing its way.
Here's a look at the argument for and against each team's NBA Draft Lottery luck:
Denver Nuggets
2017-18 record: 46-36
No. 1 pick odds: 0.5 percent
Argument for: Since joining the NBA in 1976, four things have eluded the Nuggets: the No. 1 pick, a Rookie of the Year, a Most Valuable Player and a trip to the NBA Finals. That's a lot of have-nots for one of the league's older franchises.
As for the present-day team, karma should dictate a squad that tried as valiantly as the Nuggets to make the playoffs — but ultimately fell short — be rewarded in some way. And if Denver has turned recent middling picks into Nikola Jokic, Jamal Murray and Gary Harris, there's little doubt they'd make the right call with the top overall selection.
Argument against: More talent-barren teams surely need prospects like Deandre Ayton or Luka Doncic more than Denver, which already boasts Jokic and Murray at positions those rookies would likely fill. Besides, who's to say the Nuggets aren't better off just out-smarting everyone later in the Draft?
LA Clippers
2017-18 record: 42-40
No. 1 pick odds: 0.6 percent
Argument for: Is the Clippers' brief time in the sunshine over just like that? Half a decade of relevance hardly seems enough to make up for 40 years of misery. Don't they deserve a shot at a No. 1 pick that isn't injury prone or named Michael Olowokandi?
Also, can you imagine team owner Steve Ballmer winning his first No. 1 pick? The guy is a true fan, and would undoubtedly set a new level of post-win enthusiasm.
Argument against: The lottery gods must surely frown on a team just four months removed from trading a No. 1 overall pick recently signed to a long-term contract. Don't forget, it was Blake Griffin — not Chris Paul — that served as the first ray of sunshine that finally fell upon Los Angeles' "other team."
Plus, are we sure the Clippers' bad luck with top draftees' health is really gone?
Detroit Pistons
2017-18 record: 39-43
No. 1 pick odds: 0.7 percent
Argument for: Detroit's late-season trade for Griffin was designed to be a push for the playoffs. It wound up being a whimper, but shouldn't the Pistons get credit for trying to win when their season started to head south?
There is more than just earning a top pick at stake here. Detroit's selection is top-four protected. Otherwise, it goes to the Clippers as part of the Griffin deal. Catch Lady Luck's eye, and it could very well end up being the trade of the decade for the Pistons.
Argument against: Would you trust the Pistons with the No. 1 pick after they passed on Devin Booker and Donovan Mitchell in recent drafts? And no Pistons fan is about to forget who they took No. 2 overall in 2003 …
Charlotte Hornets
2017-18 record: 36-46
No. 1 pick odds: 0.8 percent
Argument for: Few teams have been as consistently and desperately in need of star power as the Hornets have over the last 15 years. Since 2002, Kemba Walker is their only Hornets Draft pick to make an All-Star team (Baron Davis was the last before Walker to do so), and Walker has struggled to find a stable mix to play alongside in Charlotte.
After the Hornets left North Carolina in 2002, Charlotte faithful had to watch as their team — then the New Orleans Hornets — drafted Chris Paul (2005) and Anthony Davis (2012). Don't the Charlotte faithful deserve some Draft fortune after seeing that happen?
Argument against: Do the lottery gods dare trust the Hornets with such a prize? Excluding Walker, here are Charlotte's lottery picks since 2004: Malik Monk, Frank Kaminsky, Noah Vonleh, Cody Zeller, Michael Kidd-Gilchrist, Gerald Henderson, D.J. Augustin, Brendan Wright, Adam Morrison, Raymond Felton, Sean May and Emeka Okafor.
Philadelphia 76ers (via Lakers)
2017-18 record: 35-47
No. 1 pick odds: 1.1 percent
Argument for 76ers: If this pick lands at the No. 2 or 3 spots, it goes to Boston. If it leaps all the way to No. 1 (or lands anywhere else), it transfers to Philadelphia.
As if losing 4-1 to the shorthanded Boston Celtics in the Eastern Conference semifinals wasn't enough, now the Sixers face the idea of Boston adding Kyrie Irving and Gordon Hayward next season. That's not fair! Philly needs this No. 1 pick to keep things fair!
Side argument for Lakers: Really, shouldn't the Lakers be rewarded for the Steve Nash trade they made in 2012? That deal is why this pick is out of their hands. Nash, who enters the Hall of Fame this summer, played just 60 games in two seasons with Los Angeles due to injury. When he joined Kobe Bryant, Dwight Howard and Pau Gasol, Nash was heralded as the last piece of an All-NBA gathering on the West Coast. Instead, that deal was the death knell for the Lakers' last era of title contention, and its cost has hung over the franchise ever since.
Now, the Lakers get to watch their two oldest rivals circle like vultures around their ping pong balls. Their most satisfying outcome would be for the pick to stay put, part ways with the No. 10 pick and wash their hands of the Nash trade once and for all.
Argument against 76ers: The lottery balls have gifted Philadelphia a top-three pick in each of the last four Drafts. Should the "Process" be rewarded even further? No team should have a lottery monopoly like this!
Argument against Lakers: Truth be told, the Lakers have avoided paying the full price for Nash for some time. This pick has been protected — and fallen under those protections — three years in a row now. How many teams manage that many strokes of luck — and land the No. 2 overall pick — three years running?
That recent run merely cements a known fact: the Lakers are already one of the luckiest and most successful teams in NBA history. Any team but Boston could win the championship for the next decade and still not have more banners than those already hanging in Staples Center. Would another turn of bad luck even put a dent in that?
New York Knicks
2017-18 record: 29-53
No. 1 pick odds: 1.7 percent
Argument for Knicks: For once in recent Knicks history, it looked like the basketball gods had finally smiled upon New York. Kristaps Porzingis, doubted by some Knicks fans after he was taken in the 2015 NBA Draft, was now "The Unicorn" and versatile All-Star every team wished they had.
Then the basketball gods ripped Porzingis away (for now) as he tore his ACL in Feburary.
The Latvian big man will likely not return until at least the middle of next season. What do Knicks fans cling to until then? What has their tortured long-suffering earned, if not the No. 1 overall pick? Ayton in The Big Apple or Doncic in Metropolis seems like a good place to start.
Overall, New York has suffered unspeakable horrors this century. It's time to move on and up, once and for all.
Argument against Knicks: Past Draft woes are only part of the problem for New York. Taking Jordan Hill over DeMar DeRozan (in 2009). Picking Nene over Amar'e Stoudemire … and then trading him to Denver for Antonio McDyess (in 2002). Taking Mike Sweetney over David West, Boris Diaw and others (in 2003).
Why have so many things that have gone right elsewhere gone so wrong in New York? Carmelo Anthony. Mike D'Antoni. Phil Jackson. McDyess. Dikembe Mutombo. Steve Francis.
The lottery gods know. And they will not forgive.
Cleveland Cavaliers (via Nets)
2017-18 record: 28-54
No. 1 pick odds: 2.8 percent
Argument for Cavs: LeBron could opt out and leave in free agency this summer. That is all. And it is everything.
Side argument for Nets: Like the Lakers, Brooklyn has watched the seismic aftershocks of its ill-advised Kevin Garnett mega-trade in 2013 continue to rattle its cupboards bare for years. Jason Terry, 40, is the only player the Nets acquired in that trade that is still in the league. Fans would love to see this pick stick at eighth overall and then move on with their lives.
Argument against Cavs: Cleveland scorch-earthed itself in order to win now with LeBron James. Including his pre-Miami Heat stint, the franchise has now enjoyed an 11-year window with the greatest player of his generation. Most teams in the league have never enjoyed such an opportunity.
That South Beach interruption was mollified by not one, not two, but three No. 1 overall picks in the four years James was gone. In a very real way, that is what made James' return to his home state possible. For Cleveland to luck out again and simultaneously increase its odds of keeping James would be unfathomably — and enviably — fortunate.
Side argument against Nets: The 2013 offseason trade for Kevin Garnett, Paul Pierce, Terry and others in the end left the Nets in dire straits. Brooklyn mortgaged four first-round picks for a failed attempt to win now/then. The last of those picks becoming No. 1 overall would serve as a reminder to the Nets (and others) to avoid making that same mistake again.
Sacramento Kings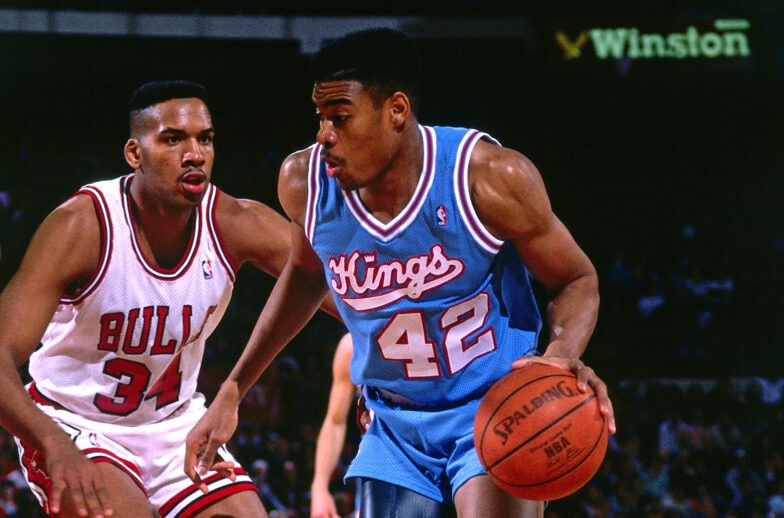 2017-18 record: 27-55
No. 1 pick odds: 5.3 percent
Argument for Kings: Despite holding the NBA's longest playoff drought (12 seasons), the Kings have been unbelievably unlucky when it comes to the ping pong balls. Sacramento's highest pick in that span was No. 4 in 2009 — the year they had the best chance in the league of landing the top overall selection.
At least their previous bad eras were compensated with No. 1 picks! Let the spirits of Hot Rod Hundley, Sid Green, Bob Boozer, Oscar Robertson and Pervis Ellison infuse the Kings with the luck they need!
Argument against Kings: It is hard to root for a team that makes luck work harder than it should. Poor Draft decisions combined with even worse in-season trades have made good fortune an underdog in this fight. We'll just address the Draft-related woes here:
Chicago Bulls
2017-18 record: 27-55
No. 1 pick odds: 5.3 percent
Argument for Bulls: For the first time in NBA history, the Draft Lottery is not being held in New York or New Jersey. Its new location: Chicago. Talk about a timely home-court advantage.
On a more serious note, Bulls fans can surely argue that the shelf-life of their last No. 1 overall pick — Derrick Rose — was far too short. After surviving his injuries and nailing the 30th overall pick in 2011 — Jimmy Butler, who was traded last summer to Minnesota for a now-promising young core — a little luck isn't too much to ask for, is it?
Argument against Bulls: The fun factor would definitely decrease for the other 13 teams if they had to watch Chicago celebrate a Draft lottery victory in its own city. Besides, isn't there a 50-year moratorium on Bulls luck after Michael Jordan fell to them at No. 3 in 1984?
Orlando Magic
2017-18 record: 25-57
No. 1 pick odds: 8.8 percent
Argument for Magic: Orlando has never truly recovered from Dwight Howard's awkward exit in 2012. Their Draft fortunes haven't helped this, either. The only time they moved up was in 2013, in what ended up being a weak Draft overall. Since then, they have either stayed pat or dropped down. The results: a jury's-out core of Aaron Gordon, Mario Hezonja and Jonathan Isaac.
With a vacuum of star talent, Orlando could use some Draft lottery magic.
Argument against Magic: Orlando did indeed move up in a weak 2013 draft — and picked a guy they gave up on entirely too soon (Pacers All-Star guard Victor Oladipo). Trading Dario Saric for Elfrid Payton in 2014 was also a flop.
Zoom out, and there's another reason for opponents to roll their eyes at the lottery balls bouncing Orlando's way: after Shaquille O'Neal and Howard, do the Magic really deserve a third crack at a dominant big man coming out of college?
Atlanta Hawks
2017-18 record: 24-58
No. 1 pick odds: 13.7 percent
Argument for Hawks: Of all the lottery teams, Atlanta might be the most talent-starved. Point guard Dennis Schroder is the team's best player, but will continue to be inefficient if he does not get help soon. Forwards Taurean Prince and John Collins are good pieces, but far from franchise saviors.
The last time Atlanta earned the No. 1 pick was in 1975 and the player they took — future Hall of Famer David Thompson — was worth it. The timing, however, was not. Thompson elected to go to the ABA, and his team in that league (Denver) was one of just four to survive the ABA-NBA merger in 1976. He never played for Atlanta, spending six of his eight NBA seasons with the Nuggets (and the other two with the Seattle SuperSonics). Some recompense for that misfortune should be forthcoming for the Hawks, right?
Argument against Hawks: It's hard to find a reason to root against Atlanta. They haven't won a championship since 1958, when they were located in St. Louis. They've made one conference finals since 1970 and their most successful era of late — highlighted by a 60-win season in 2014-15 — seemed to end in the blink of an eye.
Maybe the hold of demons past is just too strong. Atlanta traded the draft rights to Bill Russell in 1956. They traded franchise icon Dominique Wilkins at midseason in 1994 for Manning — who bolted for the Phoenix Suns in free agency months later. They traded Pau Gasol for Shareef Abdur-Rahim on Draft night 2001. They took Marvin Williams at No. 2 over future All-Stars Deron Williams and Chris Paul in 2005… then selected Shelden Williams over future All-Star Brandon Roy in 2006.
That's a lot of bad juju to shake off.
Dallas Mavericks
2017-18 record: 24-58
No. 1 pick odds: 13.8 percent
Argument for Mavs: There was a time when Dallas being in the lottery was a sure thing. Owner Mark Cuban changed all that, to the point where it is still startling to see them represented. Since purchasing a majority stake in the team, the Mavericks' highest pick was ninth – which came in 2017 when they selected Dennis Smith Jr.
The basketball gods should smile on such competitive longevity. That and the fact that Dallas has jumped into the top three picks just once during the 34-year-old lottery era.
Argument against Mavs: Isn't there some unwritten law about earning the No. 1 pick in the same decade a team wins the championship? No?
Fine, what about this: do we really want some hot-shot top pick stealing attention from what could potentially be Dirk Nowitzki's final NBA season? Seems a little off, doesn't it?
Memphis Grizzlies
2017-18 record: 22-60
No. 1 pick odds: 19.9 percent
Argument for Grizzlies: In its 23 years of existence, the Grizzlies' franchise has been a lottery team 13 times. They have never won the top overall pick.
The time they almost did was in 2003, when Memphis' pick was top-1 protected thanks to the Otis Thorpe trade of 1997.
They had the sixth-worst record, but when their envelope didn't show up at No. 6, they knew they had a one-in-three shot of keeping the pick — and drafting LeBron James. Instead, they jumped only to No. 2, a selection Detroit happily inherited while leaving Memphis high and dry.
Isn't it time, finally, for the lottery to give the Grizzlies a big bear hug?
Argument against Grizzlies: Despite not having the No. 1 pick, Memphis has had — and blown — multiple chances at making their own Draft luck. Instead, it has played a major role in their repeated undoing.
Now that Memphis is back in that high pick territory, how much will the lottery gods trust them?
Phoenix Suns
2017-18 record: 21-61
No. 1 pick odds: 25.0 percent
Argument for Suns: All that we said about the Grizzlies? Now double it. The Suns just logged their 50th season, yet somehow have never earned an NBA championship or the No. 1 pick — the oldest team in the league to own such distinctions. The bad luck behind that stat is a monolith of pain.
It started in the franchise's second offseason, when a coin flip would determine whether the Suns or Milwaukee Bucks would get the top overall pick — and a chance to Draft a guy named Lew Alcindor (later Kareem Abdul-Jabbar). The Suns picked heads. The coin showed tails and Phoenix wound up with Neal Walk.
Fast forward to 1987. Again, it was down to just Phoenix and one other team: the San Antonio Spurs. The unquestioned top pick of that year's draft was a Navy guy named David Robinson. The Suns' logo showed up on the second-to-last envelope, and they drafted Armen Gilliam instead.
As recently as last year, Phoenix had the second-best odds of landing the No. 1 pick. Instead, the Lakers and 76ers leap-frogged them, dropping the Suns to fourth.
In terms of being due blindingly good luck, Phoenix probably has the most historic case in the league.
Argument against Suns: It happened with Connie Hawkins in the 1970s. It occurred Charles Barkley in the '90s. And it happened when Nash was dealt in 2012: Whenever Phoenix has dealt its star player to a rival, the team is punished with a tumultuous transition.
Maybe the lottery gods are still offended at seeing Nash in Laker purple and gold. Maybe they'll point to 21-year-old Devin Booker and say, "You know what? You're good." Maybe Phoenix just isn't allowed to have nice things.
We'll find out on Tuesday night.