Editor's Note: The Delaware St. entrance to the Virginia Ave. Parking Garage is longer in operation due to the construction of the St. Vincent Center. To enter the Virginia Ave. Parking Garage, please use to the entrance located at the intersection of E Maryland St. and S Alabama St. You will, however, still be able to exit the parking garage using the single-lane Delaware St. exit ramp.
In addition, the south bound lane of Delaware Street from Maryland to just south of the train bridge will be closed for the duration of the construction project.
Matchup
Last Updated: March 31 at 11:22 AM
Although the loss was a gut-check to the Pacers' chase for the playoffs, Indiana (39-35) still remains in solid position to secure a berth, and face the young Magic on Thursday.
Orlando will be Indiana's sixth consecutive opponent with a sub-.500 record, a stretch of games in which the Pacers have gone 3-2 thus far.
At 31-43, Orlando has had its struggles this season, but make no mistake, the youthful Magic are far from an easy win.
After dropping six straight, the Magic have now won two straight, scoring over 111 in both wins.
Slam Dunk Competition runner-up Aaron Gordon scored 20 points on 9-of-11 shooting in the Magic's most recent game, a 139-105 rout of the Nets. Off the bench, forward Andrew Nicholson was a perfect 9-of-9, finishing the night with 24.
Indiana will need to exploit Orlando in the paint, where the Magic are thin in the absence of Nikola Vučević, who has been nursing a sore right groin.
The task of piling up points in the paint will fall to rookie Myles Turner and veteran Ian Mahinmi. And lately, scoring has been no problem for Mahinmi, who has scored 18 or more points in three consecutive games. It's been a rather remarkable stretch of play for the eighth-year pro, whose career average is just 5 points per game.
Myles Turner, conversely, has struggled over the past few games, despite a career night on his 20th birthday when he racked up 24 points and 16 rebounds.
Since that game, Turner has had two games scoring six points, and one game without a point, going a combined 5-of-20 during that stretch.
Thursday's game against Orlando is not quite a must-win, but as the season winds down, the sense of urgency to connect the dots is becoming palpable.
The Pacers will look to pick up the win before heading on a road back-to-back against the Sixers and Knicks, two of the lowest teams in the Eastern Conference standings.
Projected Starters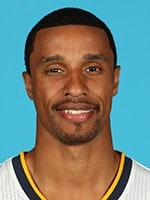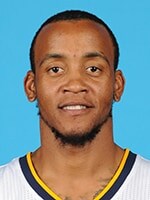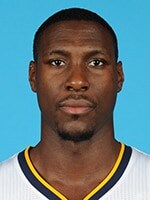 Pacers: PG - George Hill, SG - Monta Ellis, SF - Paul George, PF - Myles Turner, C - Ian Mahinmi
Magic: PG - Elfrid Payton, SG - Victor Oladipo, SF - Evan Fournier, PF - Aaron Gordon, C - Dewayne Dedmon
Injury Report
Magic: Ersan Ilyasova - out (sprained right SC joint), Nikola Vučević - questionable (strained right groin)
Last Meeting
February 21, 2016: In their second game after the All-Star break, the Pacers took care of the Magic, 105-102, at the Amway Center in Orlando.
Things were tight up until the final whistle sounded, as Victor Oladipo took what would have been a go-ahead 3-pointer in the closing seconds. Luckily for the Pacers the shot was off and Myles Turner pulled down the rebound, securing the win for Indiana.
Both of Indiana's leading offensive players, Paul George and Monta Ellis, racked up points. George finished with 21 and Ellis with 20.
The bench unit thrived as Jordan Hill and C.J. Miles combined to score 27 points.
Evan Fournier led the Magic in scoring with 23 points and Nikola Vucevic had 19 points and 13 rebounds.
Noteworthy
A win for the Pacers would secure a season sweep of the Magic. Orlando went 0-3 against the Pacers last season as well.
Head Coach Scott Skiles is a native of Plymouth, Indiana and played his first three NBA seasons with the Pacers from 1986-89.
Victor Oladipo played three seasons for IU from 2010-2013.
Dating back to the 2012-13 season, the Pacers have won 11 of their last 12 regular season games against the Magic.
TV:FOX Sports Indiana - Chris Denari (play-by-play), Quinn Buckner (analyst), Jeremiah Johnson (sideline reporter/host)
Radio: 93.5 FM/AM 1070 The Fan - Mark Boyle (play-by-play), Slick Leonard, Pat Boylan (sideline reporter/host)
Please Note: Inside Bankers Life Fieldhouse, Pacers radio broadcasts can be heard on 1080 AM instead of 1070.
Tickets
Indiana looks to better its playoff hopes on Thursday night against the Orlando Magic. Find Tickets »
Home Court Gift Shop Game Night Special
Select Pacers Hooded Sweatshirt - $25. Game Night Specials can be purchased in the Home Court Gift Shop or any of our souvenir stands located on all levels of Bankers Life Fieldhouse. The special is also available online at PacersGear.com until midnight.