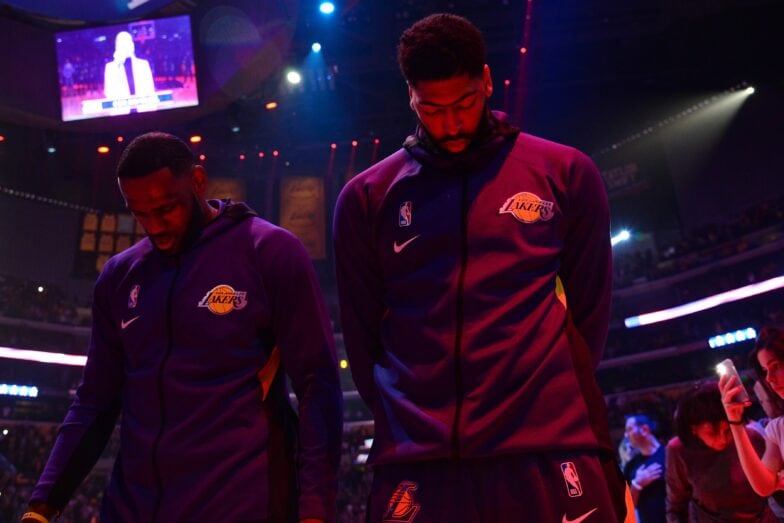 1. Lakers set to return to action
There's little that can be said about how difficult of a week this has been on Los Angeles in general and the Lakers in particular. The team gets back to work tonight, though, as it hosts the Portland Trail Blazers (10:30 ET, ESPN) in what is sure to be a highly emotional game in the wake of Kobe Bryant's recent death. LeBron James and Anthony Davis haven't said much about how this has all affected them (although they did recently get new tattoos in memory of Bryant), but perhaps they will speak up tonight. The team plans to honor Kobe in a pregame ceremony that, to be sure, may be the most moving one yet.
2. No Luka in Mavs-Rockets showdown
Dallas star guard Luka Doncic won't be suiting up tonight after suffering a right ankle sprain near the end of Thursday's practice. That takes some of the shine off a key Southwest Division showdown (7:30 ET, ESPN), a series that Dallas already leads 1-0. If you haven't been paying attention, Rockets guard Russell Westbrook is on fire this month (33.1 ppg, 8.3 apg, 4.9 rpg) … but Houston is just 4-6 in his 10 games. In the last Mavs-Rockets game, Westbrook was checked most by Tim Hardaway (2 minutes, 33 seconds) and Delon Wright (2:05), so they'll probably have that task again tonight.
3. Powerhouses meet in Milwaukee
Denver got a big win last night and a bit of a leg up in the Northwest Division chase in holding off visiting Utah. The road doesn't get any easier for the Nuggets, though, as they visit the NBA's No. 1 team (record-wise) next (9 ET, League Pass) in what should be a must-watch matchup. The Bucks have won nine in a row and are seeking their second win streak of 10 or more games this season. Denver has plenty of dependable wing defenders and one of them must keep Milwaukee's Khris Middleton under wraps. He's fresh off a 51-point game and is averaging 26.4 ppg over the last two weeks.
4. The ones who were snubbed …
The Raptors, Thunder and Pelicans might want to be careful tonight. They all take on teams who have a player who, rightfully or wrongfully, was not an All-Star reserve selection in 2020. The Pistons host the Raptors (7:30 ET, League Pass) and may get a very inspired performance from the NBA's leading rebounder (Andre Drummond) as he was not on the East reserves. Out West, the Pelicans host the Grizzlies (8 ET, League Pass) and their electric (non-All-Star) rookie guard, Ja Morant. As for the Thunder, they have perhaps the most unenviable task. OKC is visiting Phoenix (9 ET, League Pass) and the player many feel was most snubbed as an All-Star reserve: shooting guard Devin Booker. There's a very good chance he comes out looking to make a big statement tonight.
5. On this date: Harden's epic 60-pointer
The kind of scoring exploits James Harden gets into on the regular these days have become almost passe. Back on Jan. 31, 2018, though, he did something that had never been accomplished in NBA history. Harden logged the first 60-point triple-double in NBA history, finishing with 60 points, 10 rebounds, 11 assists, four steals and a block in a 114-107 win against the Orlando Magic. Additionally, Harden set the Rockets' franchise record for points in a game, besting Calvin Murphy's 57-point mark set on March 18, 1978.