Shootaround (Sept. 22) -- Should the Philadelphia 76ers sweat Joel Embiid?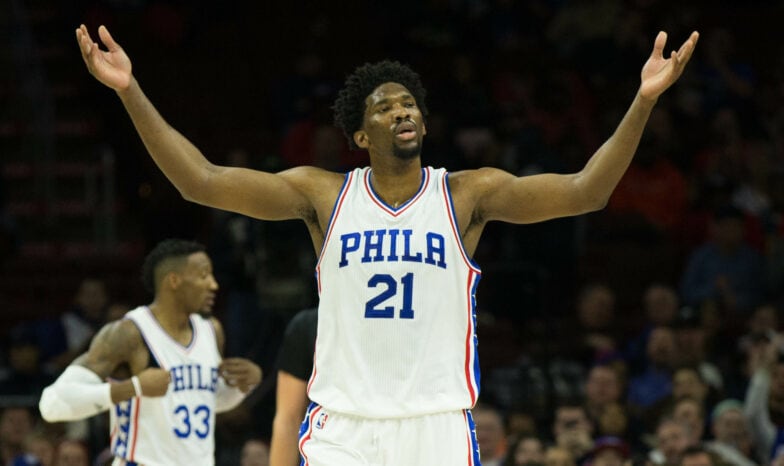 This morning's headlines:
* * *
Should the Sixers sweat Embiid? — Surely you've heard by now that Philly announced there will be no restrictions on Ben Simmons, who sat out his rookie season following surgery to repair a Jones fracture. But there was no such rosy projections on Joel Embiid, who didn't finish the season because of a meniscus tear last January. Embiid has suffered three season-ending injuries in three years and of course, there are questions. Mike Sielski of the Philadelphia Daily News took a deep dive into the subject:
The 76ers invited media members to lunch in Center City on Wednesday, and there were certain topics that general manager Bryan Colangelo and coach Brett Brown were happy to discuss in detail and at length. There was Brown's optimism about the coming season, given the measure of talent at his disposal. There was Ben Simmons' clandestine workouts at the Sixers' practice facility in Camden, where, according to Colangelo, he is "dominating the gym," which is hardly surprising, given the gym's lack of foot speed. There was the professionalism that J.J. Redick will bring, the Labrador-puppy enthusiasm of T.J. McConnell, a level of competitiveness that, both Colangelo and Brown insisted, they had never seen before among a collection of teammates.

When it came to Joel Embiid's immediate and long-term future, though, the entrée was word salad, and the Sixers served enough to feed an army. They had six months — from March, when Embiid underwent knee surgery after suffering a bone bruise and a torn meniscus, until Wednesday — to craft and refine a clear-cut explanation for and accounting of Embiid's health. They couldn't do it. In the most memorable turn-of-phrase of the afternoon, Colangelo said the Sixers and their medical experts had Embiid "on a path that is a conservative path that, hopefully, will put him in a planned progression, if you will, to have sustainable, on-court success." And yes, ma'am, I'd like the vinaigrette on the side with my euphemistic gobbledygook.

It's difficult to appreciate how evasive Colangelo and Brown actually were about Embiid without setting the scene and describing how the event unfolded, so let's do that. Once both men dispensed with opening statements welcoming everyone, the first question Brown was asked was basic: Where do things stand with Embiid?

The first thing that Brown said, interestingly enough, was that once the season begins, he "will be avoiding this. It's more not my responsibility to talk a lot about the detail or health of the players."

He lauded the franchise for its recent hire of Dr. Daniel Medina Leal as its vice president of athlete care, and he said he would be sitting down soon with Medina Leal to "get a roadmap" for Embiid.

"We just left the gym with him running around and getting shots," Brown said of Embiid. "To be able to tell you specifically what I'm expecting to be able to get out of his next week, I'm not able to do that now."

When will Embiid play 5-on-5?

"Soon, we will know," Brown said.
* * *
Bulls bullish on Wade buyout — There's a stare-down going on in Chicago, where the Bulls and Dwyane Wade know, deep in their hearts, that they're no longer meant for each other. The team is conducting a rebuild while Wade is on his last legs. So, what's the holdup? Well, money, of course. The Bulls evidently aren't willing to give Wade is full $24 million owed just to walk away, and so a negotiation is likely ongoing between the two parties. Here's KC Johnson of the Chicago Tribune on the situation:
Remember: Wade chose to pick up his $23.8 million player option on June 20, a week before his June 27 deadline. Two days later, the Bulls began a full rebuild, trading Wade's running buddy, Jimmy Butler, to the Timberwolves.

If Wade had wanted to avoid a full rebuild, he could have waited to make his option decision until after the June 22 draft, always a historically busy day of trades. Instead, he opted in early — certainly his well-deserved right to such a large payday — and playfully texted Turner Sports' David Aldridge that he had "24 million reasons" why he did.

Speaking on "The Mully and Hanley" show on WSCR-670 AM Thursday morning, Bulls executive vice president John Paxson echoed the sentiment he stated in June when he said any buyout talks would have to be "advantageous" for the franchise. Translated: Wade would have to give up a significant portion of his paycheck.

So, again, the choice is Wade's: Serve as a veteran mentor, try to replicate the solid offensive level he played at last season and be paid handsomely to do so. Or give back enough money for the Bulls possibly to acquire a draft pick by taking on an unwanted salary in a future trade, allowing Wade to team up with LeBron James in Cleveland or return to the Heat.

While the Bulls haven't spoken with Wade directly regarding a buyout, Paxson did say on The Score that general manager Gar Forman has had dialogue with Wade's representatives in recent weeks. Bulls training camp begins Monday with media day activities. It's amazing what a deadline can do, and both parties seem to have urgency to eliminate any potential distractions.

"Some dialogue is going on," Paxson said on The Score. "We understand where (Wade) is at this time of his career. We're more than willing to work with him. But as I said … we have to always do what's in our best interest. So there has to be something that is mutually agreed upon. It can't be something the player wins because that's what he wants.

"We want to work with Dwyane because we respect him very much. If he doesn't want to be here, then we want to do (the buyout). But again, the bottom line is always — and it has to be — that we have to do what's in our best interest."

To be clear: Wade has acted professionally throughout. He appreciated coach Fred Hoiberg flying to Springfield, Mass., two weeks ago when Wade received the Mannie Jackson Human Spirit Award during the Naismith Memorial Basketball Hall of Fame induction weekend.

"The only thing I'll say is right now my plan is to be in (Bulls) training camp," Wade told the Tribune at that time.

But Wade, who turns 36 in January, also said he would rather be competing for championships at this stage of his career. And he wouldn't address the Butler trade or answer whether he would be comfortable staying with the Bulls in a mentoring role.

Some "he-said, he-said" leaks have surfaced painting Wade as a victim who got blindsided by the Butler trade. This could be a matter of semantics or selective listening. Management's brief exit meeting with Wade on April 29 emphasized the unknown — that the Bulls weren't shopping Butler but didn't yet know their future direction and always would do what they believed best for the franchise.

Just shy of two months later, management and ownership determined trading Butler and starting a full rebuild was the best route. Wade can be a professional part of that — and once was for a 15-67 Heat team in 2007-08 — or try to win elsewhere.

It'll just cost him.
* * *
Heat is capped out for two years — It's rare when a team that's not a sure-fire title contender chooses to tie up its money for the near future, but the Heat and president Pat Riley went against the trend this summer when the wallet flew open. Suddenly, Miami is virtually locked into its present roster at least for the next two seasons and maybe three, barring a trade or some unforeseen circumstance. Strangely enough, Miami chose to lock in players who never have made an All-Star team and likely never will. Is there a method to this strategy? Barry Jackson of the Miami Herald writes that yes, there is:
Heat guard Josh Richardson hadn't even signed his four-year, $42 million extension last week, and the cynics already started spouting off on social media.

Oh, the criticism didn't have anything to do with Richardson specifically, but more so with the Heat's decision to use all of its 2018-19 cap space – and likely all of the following year's space, too – on players who might only be good enough to produce the fifth or sixth best team in the Eastern Conference.

"An entire roster of seventh men, making $10-14 million per year," CBS' Chris Towers wrote on Twitter, noting Miami now has "a bunch of totally decent, fine guys, locked on totally decent, fine contracts for four years. This isn't necessarily criticism. I think their roster is fine. It's mostly weird that THIS is what Pat Riley is doing, of all people."

But here's the thing: After failing to land Gordon Hayward, this approach – signing several good but not great players (Dion Waiters, James Johnson, Kelly Olynyk, Richardson) to multiyear contracts at current, albeit inflated NBA value – was the only logical strategy in the Heat's opinion.

So why not instead take the Philadelphia approach, tear down and build back up, even if not to the extremes that the Sixers took tanking?

I asked a high-ranking Heat official if that was ever considered. The answer was a resounding no, with the person noting that the Heat has a business to run and owes to its fans and sponsors that it will field the best possible team and not intentionally lose for years with the blind hope of getting lucky in the lottery.

So here's where the Heat stands: Miami has 11 players under contract for 2018-19 who are due $119 million – well over the projected $103 million cap.

What's more, that figure will swell by $2.1 million if Waiters and Olynyk reach their incentive bonuses. Waiters gets another $1.1 million this season if he plays in 70 games.

Olynyk gets another $1 million if he plays 1700 minutes. That would leave Miami just under the projected $125 million tax threshold for 2018-19, even with Chris Bosh no longer on Miami's books.

That also would leave the Heat with no cap space and no first-round draft pick next summer but three avenues to improve: trades, minimum salary contracts, and a mid-level exception.

Should it choose to pay a tax, Miami can use a $5.5 million taxpayer midlevel exception next summer or a full $8.8 million mid-level exception, depending on where the tax threshold falls and whether Miami re-signs Wayne Ellington using its Early Bird rights.

A team using the full $8.8 million non-taxpayer midlevel cannot surpass the tax apron, which is $6 million above the threshold.

So was it sensible for Miami to cap itself out for 2018 and 2019 with players who likely aren't good enough, as a group, to win a championship? A strong case could be made, for these reasons:

• Though the Heat cannot trade a first-round pick before 2022, at least it has a lot of other good (not great, but good) assets to use in a trade for a disgruntled standout player or anyone else who piques Riley's interest or in a sign-and-trade next summer.

And the Heat was not going to have cap space next summer even before the Richardson extension, so having Richardson at a reasonable salary, by today's standards, for the next five seasons benefits the Heat far more than allowing him to enter restricted free agency next summer.

"Even though we have some long-term contracts, they are assets," Riley said this summer. "If something comes along somewhere along the way, there are opportunities to do other things. I don't have plans to do that, but you need those kinds of assets."

All of the Heat's contracts are movable, with Miami likely positioned to deal any of them to a team that has the cap space and needs a big (James Johnson or Olynyk) or a guard (Goran Dragic for a big return, potentially Richardson or Waiters or even Tyler Johnson, depending on how those wings play this season).

Yes, Tyler Johnson's deal is more difficult to move than the others, with his salary spiking to $19.2 million in 2018-19 and 2019-20.
* * *
SOME RANDOM HEADLINES: Because he missed summer league, the Hornets aren't sure what they have in rookie Malik Monk as camp approaches … The Carmelo Anthony Chronicles continue, as the Blazers might-be, should-be, will-be a potential destination team … Owner Robert Sarver is warming up to the rebuilding Suns, who are still a few years away … Bam Adebayo is turning heads in Miami and the Heat have big plans for the rookie … Stanley Johnson went from lottery pick to trade bait in less than three years in Detroit … With Markieff Morris out for an undetermined period because of hernia surgery, to whom do the Wizards turn to?