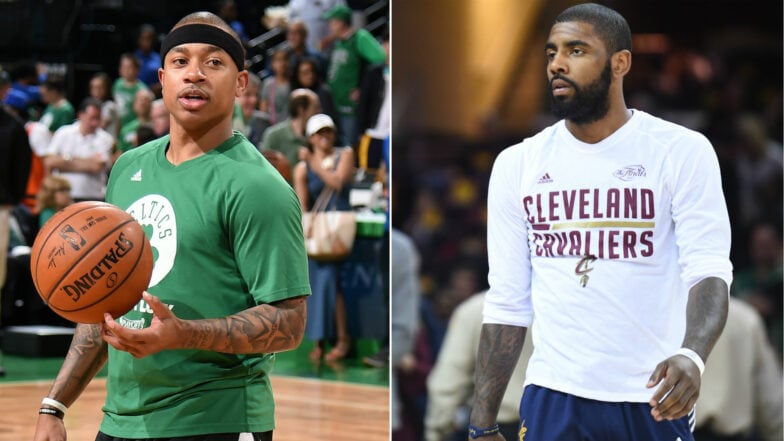 This morning's headlines:
New options afoot for Cavs on court — The Kyrie Irving-Isaiah Thomas trade is finally done and now, the Cleveland Cavaliers can start to look to their future. Just what does acquiring Isaiah Thomas do for them in 2017-18 … and beyond? ESPN.com's Dave McMenamin took a closer look at that and more:
What the Cavs accomplished late Wednesday night was officially turning the page from the Kyrie Irving era in Cleveland and gave the franchise options in both the short and long term.

"We're just really excited about the possibilities of this deal for us," a Cavs decision-maker told ESPN after the Miami pick was included to finally put the trade to bed.

As tantalizing a talent Irving is — and his 29.4 points, 4.4 assists and 4.0 rebounds on 47 FG/42 3PT/90 FT percentages in the 2017 NBA Finals is tangible evidence of just how much Cleveland was giving up — he was done with the Cavs.

…

Cleveland must now focus on what it has — how best to utilize it — and what it needs — how best to acquire it — in order to get back to the Finals for a fourth straight year and be able to beat the Golden State Warriors should it match up with The Beast from The Bay once again.

While Thomas told ESPN's Adrian Wojnarowski this week, "I'll be back, and I'll be the same player," he offered no timetable as to when that would be.

That means Cleveland had better hope Derrick Rose truly will have onlookers saying that "he can still play," as he vowed to the Associated Press this week, when he is the Cavs' presumptive starting point guard to begin the season, or else their team will have a major hole to fill.

…

Where the Cavs should be entering the season with a degree of concern is on the defensive end. Cleveland ranked just 22nd in defensive efficiency last season, allowing 108.0 points per 100 possessions. Enter Jae Crowder, a sturdy perimeter defender who will be able to play backup minutes for both James and Kevin Love and take James' spot on the eight to 10 nights when James will likely be pulled from the lineup for a DNP-Rest.

Cleveland can't have enough defenders if it has to face the four-headed monster of Kevin Durant, Stephen Curry, Klay Thompson and Draymond Green in a seven-game series again, and being able to put James, Crowder, JR Smith and some combination of Tristan Thompson, Cedi Osman and/or Iman Shumpert on the court at the same time to be able to switch screens and lock up on the perimeter at least theoretically makes for a fair matchup. (And, small sample size of course, but the Warriors had a net rating of 100.0 when Crowder was on the floor last season against them as opposed to 115.6 for the season, according to BasketballReference.com).

Having a defensive identity from the start of the season and being able to fall back on those habits when the going gets tough in a playoff series is as important as anything the Cavs could have done personnel-wise this offseason to get back to a championship level, after all.

…

Of course, the Brooklyn pick gives Cleveland a potential lottery selection — or even in the top-five range, if the Nets really struggle — next season to restart the franchise should James opt out of his contract in the summer of 2018 and bolt as a free agent. Plus, Ante Zizic and the Miami pick could bear fruit in the future (before you scoff at the value of a second-rounder, remember that both Thomas and Crowder were second-round selections). But again, that's a story for a another day.

…

Now, the only thing the Cavs should be lasered in on is how to get that second championship — this season — before things could fall apart next summer. They need only look across the table to their trade partner in Ainge and the Celtics, who thought they had a core back in 2008 that would net multiple rings, to know that one trophy doesn't guarantee another.

The question to be answered is, with Irving being so instrumental in the first one for Cleveland, does this move actually help or hurt their pursuit of the second?
Celtics' roster geared toward winning in post-Warriors era — Only four players remain from the Boston Celtics roster that finished with the best record in the East and reached the conference finals. That's all by design, of course, and the recently completed trade for Kyrie Irving only helps the Celtics get closer to their big goal: contending for titles when the Golden State Warriors (and not the Cleveland Cavaliers) falter. John Karalis of the Boston Herald has more:
When Danny Ainge talks about the Celtics' timeline, he's talking about an adjusted timeline that shifted in the wake of the Warriors. Instead of building a team to get past Cleveland and fight for a championship now, the Celtics have created a roster that will still be good, but will be better suited for when the Warriors start to fall apart.

Here's where it's important to understand some things about the Collective Bargaining Agreement when looking timelines and why Boston made this trade.

The NBA operates with a "soft cap." The team salary cap this season is $99 million but teams can go over it in certain instances to sign or re-sign players. In an effort to keep rich teams from buying all the good players, there's a luxury tax on rosters above $119 million. The rate at which a team is taxed goes up as the payroll does. On top of that, teams that have paid the luxury tax in three of the past four seasons get taxed at an even higher rate (you can dive into the minutia of all that here if you'd like).

…

Kevin Durant can opt out after this season. Klay Thompson is a free agent after next season. Draymond Green's and Andre Iguodala's contracts are up the year after that. The unbeatable Warriors won't be a super-team for much longer. Players will walk away or get traded, and it will start happening relatively soon.

The Celtics, meanwhile, will be hitting a nice stride right about when contractual dynamics start to break up the greatest NBA team ever assembled. In two years, Al Horford will be 33 and in the last year of his contract. Gordon Hayward will be 29 and smack in the middle of his prime. Irving will 27 and just entering his. Key players like Marcus Smart, Jaylen Brown, and Jayson Tatum will be 25, 22, and 21 respectively.

So the Celtics are building a team that is built to grow into a contender in a couple of years and make a serious run at the NBA title when Cleveland and Golden State theoretically start to decline.

…

In three years, Tatum, Ojeleye, Yabusele, Theis, and the unnamed 2018 or 2019 pick will all still be on their rookie deals. That means there is a good possibility of the Celtics, just like they had with Avery Bradley and Jae Crowder, could have some good young contributors making much less than they should.

This all means the timeline Ainge is talking about isn't just about the next couple of years and trying to pounce in the post-Warriors era. It involves seven years of Irving, after which he'll be turning 33 and Isaiah Thomas could be heading into retirement (or already a year or so into a TV gig).

There's no doubt Ainge paid a premium to trade for Irving. He admits the price was high, especially in summer that saw Jimmy Butler and Paul George go for much less in return. But that high price bought the Celtics a few extra years of potential greatness at the point guard position while opening minutes for Jaylen Brown and Jayson Tatum to grow into their roles. When looking at this current Celtics timeline and sliding Kyrie Irving into one of the lead roles, it's clear Ainge is making a big bet on a sustained, long-term run of very good Celtics teams.
Durant believes LeBron will stay with Cavs — Last night, the Cavs and Celtics swap of point guards got ironed out at last. Now that that's all done … what's going to happen with LeBron James come this time next year? To the reigning Finals MVP, Kevin Durant, though, the idea of James leaving Cleveland is a far-fetched one. Joe Vardon of Cleveland.com has more from Durant, who shared his thoughts on The Bill Simmons Podcast recently:
Kevin Durant thinks LeBron James will stay with the Cavs past this season.

Durant's word isn't James' bond, but that's nonetheless comforting for Cleveland fans who are waiting to see if arguably the biggest trade in Cavaliers' history grows even larger, falls apart, or is approved as is by 10 a.m. on Thursday.

That's the deadline for the Cavs and Celtics to approve the blockbuster trade from last week in which Kyrie Irving would go from three-time defending Eastern Conference champion Cleveland to Boston for Isaiah Thomas, Jae Crowder, Ante Zizic, and Brooklyn's No. 1 pick, based on the results of each player's physical.

…

Meanwhile, Durant, the Warriors' star forward who led Golden State to a 4-1 Finals win over James and the Cavs in June, said on Bill Simmons' podcast that he believes James will end his career in Cleveland.

…

James can be a free agent at the end of this season.

"I personally always said he was staying," Durant told Simmons, who argued James would leave the Cavs for Los Angeles.

"I told him this," Durant said. "That's me. I feel like he's going to end it in Cleveland. That's his crib now. He run it and he gonna turn it into something mega when he's done. He's going to do something."
Marbury reflects on winding career path — Former NBA All-Star Stephon Marbury talks often of the perspective he now has on his NBA days and those he enjoys now as a superstar player in China. That message remained true as he spoke to students at NYU this week about his winding career path and life story. Barbara Baker of Newsday caught up with Marbury, who was once again candid about his past:
There were days when Stephon Marbury wasn't sure he wanted to keep going, days so dark that he did little more than lie in bed, watch television and eat bowls of Fruity Pebbles.

He had fought with one coach too many and his basketball career looked dead. The Knicks, the franchise he grew up loving, had banned him from the team. A newspaper he had grown up reading had labeled him the "most reviled" player in New York. His shoe company had gone down the tubes when the store that carried it went out of business. And, most painfully, his father, Don, had died after suffering a heart attack at a Knicks game, and his mother had health problems.

"I was depressed. I was in a bad state," Marbury said Wednesday while talking about how his NBA career ended seven years ago. "It was a really tough time, but I think it's something I had to go through to get to where I am today."

Today, the 40-year-old Marbury is one of the most popular basketball players on the planet, having led the Beijing Ducks to three national championships. He is so popular in Beijing that he has been featured on a postage stamp, has his own statue in the city and his own museum just a few blocks away from Tiananmen Square.

…

Life at 40 is often not what you thought it would be when you were younger. Sometimes you end up taking a different path than the one you thought you would take. Marbury signed with his first Chinese team in 2010, basically because he had no other options after turning down an offer from the Celtics for the league minimum.

"I remember when I was flying over there for the first time and thinking 'Why am I flying halfway across the world to play basketball?' " Marbury said. "But when I got there and got off the plane, there were like 4,000 people at the airport to greet me. They were going crazy."

Marbury played for two Chinese teams before signing with Beijing, where he became an instant superstar. He has since been able to come to terms with everything that happened during his years in New York, and said he remains a Knicks fan.

When asked if he had empathy for what Carmelo Anthony is going through with the Knicks, considering he also was often blamed for many of the team's problems, Marbury gave a crooked smile.

"This is New York. This is what happens," he said. "It's a cycle. It's not anything new that's going on. Somebody has to take the blame. It's part of being in New York. You gotta come, you gotta ball and you gotta win. If you can't win, you gotta deal with it. Don't come to New York if you can't."
* * *
SOME RANDOM HEADLINES: Tim Duncan is chipping in to help Hurricane Harvey victims … Heat owner Micky Arison has pledged $2 million to hurricane relief efforts as well … Our David Aldridge updated his offseason rankings to reflect how the Irving-Thomas trade affects the Cavs and the Celtics … Henry Ellenson is ready to make a bigger impact for the Pistons in his second season … The Sixers picked up two players yesterday: James Michael McAdoo and James Blackmon …