Uncategorized
Cleveland Cavaliers' rehab plan for Isaiah Thomas' hip does not include surgery
Tom Withers | The Associated Press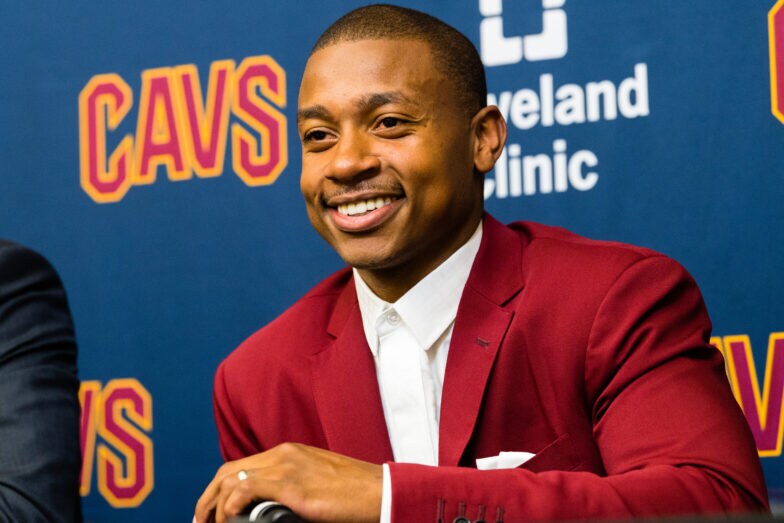 INDEPENDENCE, Ohio (AP) — Isaiah Thomas beamed as he held up his new No. 3 Cavs jersey for the first time.
There's no telling when he'll wear it in a game.
Stunned by Boston's decision to trade him to Cleveland as part of a package for Kyrie Irving, Thomas chose not to share much information Thursday about a hip injury that ended his inspirational playoff run last season and will sideline him for the start of this season – and probably a lot longer.
At his introductory news conference, Thomas quickly deferred specific questions about his hip to new Cavaliers general manager Koby Altman, who said the team has a rehab plan in place for the All-Star point guard.
"We're not going to rush it at all," said Altman, who quickly grew tired of questions about Thomas' health. "The goal is to bring him back at some point this year and be healthy and compete and get back to IT status. That's our goal and our responsibility to him. We're not going to comment on the injury and we're not going to comment on a timetable."
So one of the NBA's biggest trades in recent memory remains cloaked in some mystery.
The only glimpse about Thomas' timetable came when Cavs coach Tyronn Lue said, "Isaiah's not going to be starting the season."
While evasive on details, Altman, whose promotion to full-time GM was among the notable moves in a chaotic summer for the Cavs, did reveal that the rehab plan for Thomas does not include surgery.
"Ya'll hear that?" Thomas said to a room at the team's facility packed with media members. "Everybody wants to be doctors now."
Truth is, Thomas' hip has been a major talking point around the league for months, starting the moment the 5-foot-8 guard was forced to bow out of the Eastern Conference finals against Cleveland when the pain became intolerable and he could no longer perform at his elite level. Thomas has bravely fought to stay in the postseason despite the injury and following the tragic death of his sister, Chyna, in a car accident.
But the Cavs didn't want to discuss the injury, raising suspicion that Thomas could be sidelined for an indefinite period.
Thomas was acquired last week along with forward Jae Crowder, center Ante Zizic and an unprotected first-round draft pick in 2018 from Boston for Irving, who has gone from the East's three-time reigning titlist to the one chasing Cleveland.
When he's healthy, Thomas gives the Cavs another proven scoring option alongside LeBron James. Thomas said he has already received numerous texts from James and that he's eager to join forces with "the best player in the world."
Dressed smartly in a wine-colored sport coat for his introductory news conference, Thomas said the Celtics' decision to trade him was initially painful. The 28-year-old averaged 28.9 points last season, but his impact in Boston went way beyond his statistics. He had become a beloved fan favorite, the little man with the big heart who had overcome so much to become one of the league's best players.
"It definitely caught me off guard, but it also woke me up," Thomas said about the deal, which was delayed because the Cavs had concerns about the severity of his injury. "It made me realize that this is a business and anybody other than probably LeBron James or Kevin Durant or those type of guys can be traded. I prayed on it, I thought about it, I slept on it and I'm thankful for this opportunity.
"I'm blessed to be able to be traded to a situation where – realistically – we can win a championship next year."
Thomas said he's been receiving treatment and working out with weights. However, he's not yet running and did not say when that could begin.
"We have a plan and we're just going to attack that plan and get me back to 100 percent as soon as possible," he said.
Altman called Thomas and Crowder "the heart and soul" of the Celtics and is looking forward to transplanting their character into the Cavs.
A tough defender, Crowder gives Cleveland an edge that was missing last season. The 27-year-old may be best known to Cleveland fans for being punched by Cavs forward J.R. Smith in the 2015 playoffs. The pair has patched up any differences as Crowder said Smith's wife reached out to his to offer advice on where to buy a house in Cleveland.
Like Thomas, Crowder said being traded was difficult and made more so that when the deal was first announced on Aug. 22, he was with his ailing mother in Atlanta. She died of cancer that night.
"I was able to whisper to my mom before she passed," Crowder said. "I just told her `I'm going to Cleveland,' and five minutes later she passed. That day was tough, but it was a good day for myself, for my basketball career to move onto an organization like this, like the Cleveland Cavaliers."