* Tonight on ESPN: Timberwolves vs. Celtics (7 ET)
If Kristaps Porzingis thinks he's tired now, imagine how he'd be dragging if he played for the Minnesota Timberwolves.
Porzingis is averaging 32.3 minutes for the New York Knicks, a workload that ranks him 55th in the league. The Timberwolves, meanwhile, have five starters – Taj Gibson, Jeff Teague, Andrew Wiggins, Karl-Anthony Towns and Jimmy Butler — in the top 36 in minutes.
This is a rather historic cluster by Minnesota. Dating back to NBA expansion in the 1966-67 season, only three previous teams placed all five starters among the top 40 in minutes per game. The St. Louis Hawks did it twice (1967-68 and '69-70, after they had moved to Atlanta). And the '86-87 Boston Celtics did it en route to their fifth Finals in seven seasons.
The Wolves are on pace to become the fourth, with their starters playing a combined 177.2 minutes per game, most in the NBA by a considerable margin and not that far off that Celtics team's all-time mark of 190.0.
As a percentage of a team's available playing time, Boston's Larry Bird, Kevin McHale, Robert Parish, Dennis Johnson and Danny Ainge logged 73.2 percent of the '86-87 Celtics' regular-season playing time (14,492 of 19,805 minutes).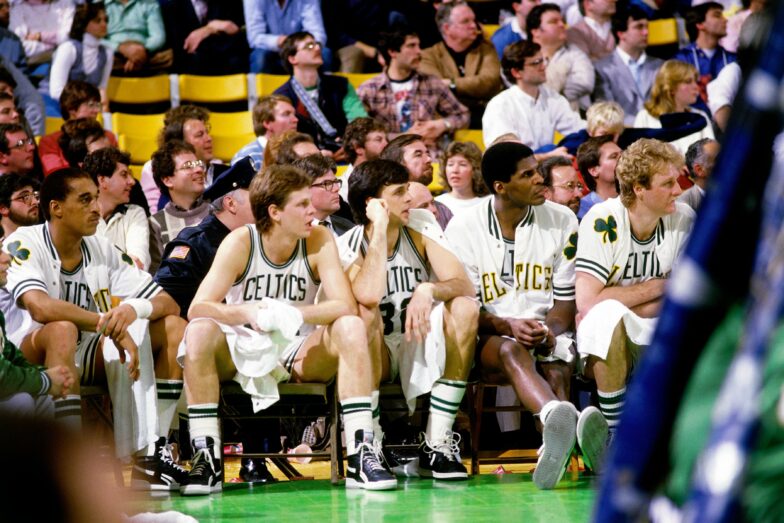 The 2017-18 Wolves? Their starters have played 69.6 percent of Minnesota's available time so far (6,563 of 9,435).
The man in the middle of all those minutes, of course, is Tom Thibodeau.
As both the Wolves' coach and their president of basketball operations, Thibodeau is charged with both the short-term success and long-term viability of that franchise, which makes his usage of players at times a source of controversy in the Twin Cities.
When the Wolves lost six of 10 games from late November to early December … when they lost in overtime to Philadelphia Dec. 12 on a night when Thibodeau used only three reserves and pushed his each of his starters to 37 minutes and beyond … when they blew a 15-point lead at home and faltered badly down the stretch against Phoenix four nights later, Wolves fans, local and national media took turns wielding the broomstick to whack at the coach-as-piñata for grinding down his starters.
"I think people sometimes get caught up in the wrong stuff. The most important thing is the winning."

Minnesota Timberwolves coach Tom Thibodeau
Thibodeau was presumed to be as guilty now as he allegedly was during his run with the Chicago Bulls (2010-15) when charged with overusing players such as Butler, Luol Deng, Joakim Noah and Derrick Rose.
Yet when the Wolves won six of their last seven games in December to reach 2018 at 23-14 — on pace for 51 victories and good for fourth place in the Western Conference standings — the grumbling all but stopped.
Hoping to make it to May for the first time after 13 playoff-starved years, the Wolves might or might not use up their best players before they get to February.
Minnesota went from a fourth-quarter mess in November, with a net rating in fourth quarters of minus-19.3 points per 100 possessions, to something dramatically better in December. Since Dec. 1, it ranks 17th with a plus-1.4 net rating in game's final quarters.
As for Butler, the Wolves' hardest working player, he ranks third in the NBA in fourth-quarter scoring since Dec. 1 (9.4 ppg). So much for grinding down, wearing out or using up anybody.
Then Minnesota drops one it should have snagged — a 98-97 loss at Brooklyn Wednesday – as the Wolves get outscored in the fourth period and, just like that, the fretting bubbles to the surface.
Sure enough, Thibodeau again faced questions about his heavy reliance on starters, his relative neglect of bench players and his thoughts on the NBA trend against big minutes in what fast is becoming a rest and recovery league. And always, his barking, growling sideline style makes it look like he's grinding on his guys even if they played just 10 minutes.
Players used to want to stay on the floor, but now they're thinking about playing more years, because the salaries are so great. They don't want to get used up."

Unnamed veteran NBA coach
"I think every team is different," Thibodeau said in an interview Wednesday afternoon on KFAN in Minneapolis. "If you have younger players, you're going to play them a little bit more. If you have guys in their mid-30s, you're probably going to pull back on it.
"Everybody's different. When you look at the minutes in Houston are playing — and they're one of the elite teams in the league — they're winning their way."
Thibodeau referenced the Rockets a couple of times, undoubtedly because veterans James Harden (36.3 minutes per game), Trevor Ariza (36.0), Eric Gordon (32.4) and Chris Paul (31.4) are playing long minutes for coach Mike D'Antoni.
While a lot of coaches are settling for the equivalent of quality starts — six innings or more, three earned runs or fewer — Thibodeau sometimes is cast as old-school Billy Martin.
"I hear people say, 'Well, this guy's playing …' Well, Karl's playing 35 minutes a game," Thibodeau said. "Wiggs is playing 36 minutes a game. Jimmy's probably up about 30 seconds more than he should be."
Thirty whole seconds? Oh no. Some critics make it seem like the only safe and acceptable approach would be 10 players getting 24 minutes each.
It's worth noting, by the way, that only four NBA players currently are averaging more than 37 minutes and none is topping 38. When the '86-87 Celtics set that record for starters' minutes, 19 players in the league averaged more than 37 minutes and eight averaged 38 or more.
The current Celtics, who play host to the Timberwolves Friday have no one averaging more than Al Horford's 32.5 mpg.
That's where baseball's revamped ethos toward complete games and long innings relates directly to the NBA's newer thoughts on playing time and days off. Like pitchers' precious arms, hoops stars' legs and bodies are valuable assets of limited resources.
"Players used to want to stay on the floor," one veteran coach said this week, "but now they're thinking about playing more years, because the salaries are so great. They don't want to get used up."
Knicks coach Jeff Hornacek, a few days before Porzingis discussed his fatigue, was asked what he considered to be too many minutes for an NBA player in 2017-18. "I think one year in Phoenix I played 39 [actually 38.0 in 1991-92], so I don't know," Hornacek said. "Nowadays it looks like it might be 33."
Said Chicago Bulls coach Fred Hoiberg: "I played with Kevin Garnett, and he played 43 minutes one night. Then on the back-to-back, he played 45. Jimmy [Butler] had the unique ability to go out and play a full half. … Certain guys are just wired that way. A lot of it's on the individual. There are certain guys you can't throw out there for too long — they'll break down."
That's the rap on Thibodeau, that he presided over some of the NBA's more unfortunate individual breakdowns and blowouts. Former Bulls forward Deng, for example, averaged 39.1, 39.4 and 38.7 minutes in his first three seasons with Thibodeau. He had a series of nagging injuries before aging seemingly overnight, and for three seasons has been the shell of the All-Star player he once was.
Noah was a two-time All-Star who won Kia Defensive Player of the Year and finished fourth in MVP balloting in 2014. He, too, embraced Thibodeau's work ethic and played through injuries until he couldn't. Noah missed 53 games in his final season with the Bulls and has appeared in only 52 of a possible 120 games since signing a four-year, $72-million deal with the Knicks.
Rose remains the poster guy for careers waylaid by injuries, most traumatically his blown left ACL in the playoff opener of 2012. The Bulls' point guard had missed 27 of the post-lockout 66-game schedule with various ailments before suffering his knee injury late in the Game 1 victory over Philadelphia, the outcome arguably no longer dependent on his services.
Like many coaches, though, Thibodeau tends to think that the 21.5 hours each day a player is not playing in a game matters more than five or six extra minutes of competition. And the days in between matter, too, with body maintenance so important and with Thibodeau — unbeknownst to many — easing off the throttle in the frequency and intensity of Minnesota's practices.
Portland Trail Blazers guard C.J. McCollum said the prep time between games allows him (36.8) and backcourt mate Damian Lillard (36.9) to log big minutes.
"I'm comfortable playing 48. That's what I prepare for in the summer," McCollum said, before correcting. "Well, obviously you're not going to play 48 through the year but you want to get into the best shape you can. To be able to play overtime and withstand back-to-backs. That's just my mentality — take care of your body and when duty calls, you show up."
At 26, McCollum doesn't sense a risk of breaking down from overuse. "I do a great job taking care of my body — whether it's taking a massage, acupuncture, hot yoga, whatever it takes to get myself ready," he said. "Overall, the nights you have to play 40, 44 balance out and if you take care of your body, you'll be able to bounce back."
Thibodeau faces an extra burden in the starters vs. bench dynamic. The Wolves' reserves must slice and dice fewer available minutes — 62.8 on a typical night — than any other group of backups. And since the coach is the same guy who built the bench, his apparent limited trust in guys other than Jamal Crawford — Gorgui Dieng, Nemanja Bjelica, Shabazz Muhammad, Tyus Jones until recently — seems to reflect directly back on him.
"But if you look in the box scores, there are a lot of teams that play guys [big minutes]," Thibodeau said. "You're going to always play your main guys more minutes.
"Now, your depth may change that. Boston is a much deeper team. When you also look at scoring margins, there's probably more blowouts for them. But in close games, if you look at minutes, your main players are probably going to be playing 35 to 37, somewhere in there."
Some coaches want to ration out their best players' exertions. Others feel that limiting court time also limits undue exposure to injuries. Then again, coaches like Gregg Popovich and Steve Kerr aren't dragging around 13 consecutive seasons in Lotteryland as the Timberwolves are.
"I think people sometimes get caught up in the wrong stuff," Thibodeau said Thursday. "The most important thing is the winning."
Steve Aschburner has written about the NBA since 1980. You can e-mail him here, find his archive here and follow him on Twitter.
The views on this page do not necessarily reflect the views of the NBA, its clubs or Turner Broadcasting.