Top Stories (archive1)
With addition of Luol Deng, Timberwolves coach Tom Thibodeau shuts off noise
Executive ignores views on team adding fourth former Bulls player on roster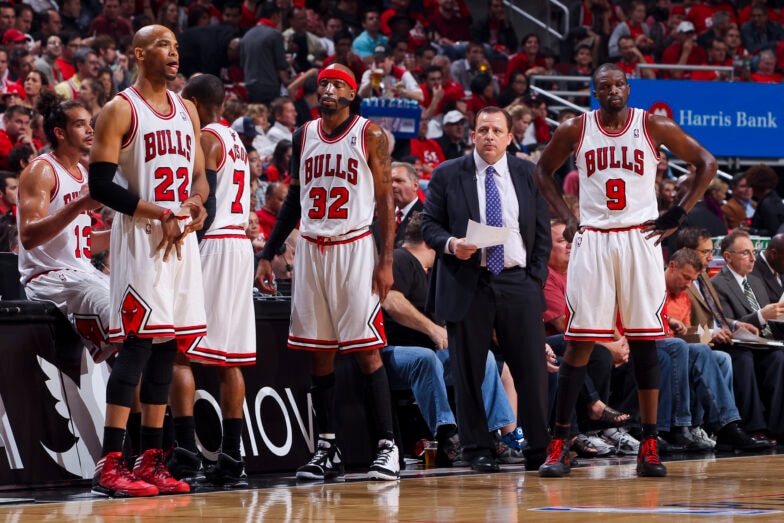 CHICAGO – Media folks and NBA fans in Chicago and Minnesota have had some fun with it lately, but when the term "TimberBulls" was dropped on coach Tom Thibodeau, he didn't smile.
Not even a little.
"People are always going to talk about different things," Thibodeau said during a break at the annual coaches meeting organized by the National Basketball Coaches Association. "But these aren't decisions that are just made on a whim."
Along with most of his peers, Thibodeau, who actually coaches the Timberwolves, was in town for a series of sessions Wednesday and Thursday with league executives, referees and representatives of the broadcast partners. His week had begun with the news that Minnesota had signed veteran forward Luol Deng, though, a move that brings to four the number of Wolves Thibodeau coached during his five seasons in Chicago: Jimmy Butler, Taj Gibson, Derrick Rose and Deng.
Hence the snarkily coined "TimberBulls."
"But to me, you look at the players who are available and you ask, 'Can they make the team better?'" said Thibodeau, who is also the team's president of basketball operations. "From Glen Taylor, the owner, to [GM] Scott Layden, we talk things over. If we feel we can improve the team, we're gonna do so. Particularly in a case like Luol, that's why we [kept a roster spot open]."
Deng, 33, played the first 9 ½ seasons of his career with the Bulls, the final 3 ½ under Thibodeau. While they were together, the two-way forward earned an all-Defensive selection in 2012 and All-Star invitations in 2012 and 2013. He also led the NBA in average minutes played those two seasons, 39.4 and 38.7, a workload that many feel led to a series of injuries.
Deng was traded in January 2014 to Miami, had his playing time shaved by about five minutes nightly and, over 146 games, put up numbers on a 36-minute basis (14.3 ppg, 6.1 rpg, 34.9 3-point percentage) close to his averages with the Bulls.
Two summers ago, in the frenzy of 2016 free agency, Deng landed a four-year, $72 million contract from the Los Angeles Lakers. But he was out of sync with the timeline of a rebuilding team. After averaging 7.6 points in 26.5 minutes in just 56 games in his first season in L.A., Deng played 13 minutes on 2017-18 Opening Night against the Clippers – then was held out of the remaining 81 games completely.
It's an unusual situation: A player who deal with a variety of alleged overuse injuries, now coping with questions related to underuse. A friend of Deng's told NBA.com this week that the 6-foot-8 product of Duke was healthy all of last season and, in fact, picked up the pace of his individual workouts while improving his nutrition and hiring a personal chef.
"He's always been [in shape]," Thibodeau said. "The nutrition part is what, I think, he added on. A lot of players are doing that and a lot of teams as well, where you have chefs in the practice facilities. He's always been great in his commitment to train, be in shape. He's always put a lot into recovery.
"I look back at this time in Chicago, he had a great impact on Jimmy when Jimmy was a rookie. He would come in every night to work on his body and to shoot, and he would bring Jimmy in with him. Those things go a long way."
Deng was available because the Lakers chose to waive and, per a provision in salary-cap rules, "stretch" his remaining salary across multiple seasons to lessen the short-term hit. That frees up money for a management team led by Magic Johnson and Rob Pelinka, who succeeded Mitch Kupchak and Jim Buss after Deng already had been signed.
During his time with Thibodeau, Deng's success was offset by the appearance that the coach's heavy reliance on him as a two-way player was wearing – and breaking – him down. But over the past two seasons combined, he has logged just 1,499 minutes, fewer than in any of his first 12 NBA seasons and only half what he played in two of them.
Some would argue that a professional athlete north of 30 years old needs to play to maintain his skills, timing, stamina and more. In other words, use it or lose it.
Others counter that Deng should be refreshed by a sabbatical from the NBA's wear and tear. His low-involvement Lakers stay, they'll contend, has left tread on his tires.
Thibodeau's take on the matter?
You're familiar with them. they're familiar with you. I'm not the only person who has ever coached Luol, coached Derrick, coached Jimmy or coached Taj. All four of those guys have had other suitors. You talk to 'em and tell 'em how they'll fit in, and then they have to make a decision as to whether they want to come or not.

Tom Thibodeau on his former Bulls players
"He's only 33," the Wolves coach said. "He takes great care of himself. He knows how to prepare for the season. For us, the fact that he can play [multiple spots] and he's a veteran, it's a long season, you like to have players like that. And he's familiar with what we want to do."
Familiarity. That's the quality Thibodeau sees in his former Bulls players, snarky nickname or not. Deng, Butler, Rose and Gibson have played a total of 1,308 games for Thibodeau, in regular season and playoffs, with Chicago and/or Minnesota.
The ballrooms used for meetings this week in a downtown Chicago luxury hotel were filled with guys who understand the value in coaching players who know their system, players they can trust.
"You're familiar with them. they're familiar with you," Thibodeau told NBA.com. "I'm not the only person who has ever coached Luol, coached Derrick, coached Jimmy or coached Taj. All four of those guys have had other suitors. You talk to 'em and tell 'em how they'll fit in, and then they have to make a decision as to whether they want to come or not.
"I think all four of those guys have added a lot to our teams. So whether a guy has played for me before or in a system where Scott had been before or maybe where one of our assistants had been, if you feel like you know a player well and he fits into your system, then why not do it?
"To me, I don't really care what other people think. I care about what we think."
OK, so Thibodeau understands, then, why the Joakim Noah jokes already have begun, anticipating the day the New York Knicks trade, buy out or "stretch" the two-time All-Star center. Noah – reportedly not drawing interest from Minnesota, per Marc Stein of the New York Times Wednesday – also was highly productive, heavily used and often injured in five seasons with Thibodeau as a Bull.
This time Thibodeau did smile, saying only, "We're all interested in good players."
Steve Aschburner has written about the NBA since 1980. You can e-mail him here, find his archive here and follow him on Twitter.
The views on this page do not necessarily reflect the views of the NBA, its clubs or Turner Broadcasting.