Since moving into starting lineup, JaVale McGee providing Warriors with energy -- and production
Big man known more for his on-court antics is all business this season in providing valuable role for defending champions
From punchline to the NBA defending champions' starting front line, JaVale McGee might not be getting a ton of respect yet. But he's worthy of it.
Branded early in his career as more of a team liability than an asset – a bundle of size, skills and potential undermined by a lack of discipline and an allegedly low basketball IQ – McGee wound up typecast as one of the league's court jesters with a recurring role in "Shaqtin' A Fool," the TNT segment that laughs at NBA players and their most jaw-dropping, knuckleheaded mishaps.
Even as McGee began demonstrating his value last season in a bit role with the Golden State Warriors – he posted career highs on a per-36 minute basis at 23.0 points, 11.9 rebounds, with a 25.2 player efficiency, while actually averaging only 9.6 minutes – it took a notorious Twitter war with Shaquille O'Neal to get the Hall of Famer's size-22 sneakers off his throat.
Now McGee has taken the next step, moving into the Warriors' starting lineup since the All-Star break and giving them much of what they need at just the right time. It goes deeper than Golden State's 7-2 mark since then, because the champs were 44-14 before McGee got this opportunity. The Warriors play host to the Los Angeles Lakers Wednesday night at Oracle Arena (10:30 p.m. ET, ESPN).
He's almost a defense unto himself just because of the shot-blocking and the length."

Wolves coach Tom Thibodeau on JaVale McGee
"Our record was good before, too," Warriors coach Steve Kerr said Sunday in Minneapolis. "The change was basically to give us a little burst early – JaVale's a burst guy, he's a high energy player. We were getting off to very slow starts. We saw some things on tape, for how teams were guarding us, and we felt that having that lob threat made some sense to start."
McGee, 30, in his 10th NBA season, has started 13 games in all, averaging 13.7 minutes, 6.4 points, 4.0 rebounds and 1.2 blocks while shooting 69.6 percent. But his impact on the Warriors overall since Kerr went to him for a transfusion is far greater.
Prior to All-Star Weekend, Golden State essentially was breaking even early in its games, posting a 111.9 offensive rating and 111.3 defensive rating in 58 contests. Since McGee got swapped into Zaza Pachulia's spot, both those numbers have improved: 123.3 offensive rating, 103.2 defensive.
"We play center by committee," Kerr said. "Zaza's going to play a role. Jordan Bell, David West, [Kevon] Looney, they've all got to contribute for us. But right now we like JaVale starting and he's playing well.
"He's gaining some confidence. He's had a tough season in the consistency of his minutes – it's harder to play, harder to perform at a high level when you don't know when you're going in. I don't know how many games I didn't even play him at all. But I'm really proud of JaVale for how he hung in there and handled himself while he was out, working hard just like Zaza's doing now."
McGee has kept a relatively low profile, taking over for Pachulia as the Warriors' lone non-All-Star starter. He quipped recently to Warriors' beat writer Connor Letourneau of the San Francisco Chronicle that his one big adjustment to this new role is simply drinking "my energy drink earlier."
This is his longest unbroken string of starts since 2011-12 in Washington. Since then, through stints with Denver, Philadephia, Dallas and Golden State, McGee started only 26 times in his next 299 appearances. Yet he brings a game at both ends not unlike center DeAndre Jordan for the Clippers.
"He's almost a defense unto himself just because of the shot-blocking and the length," Minnesota coach Tom Thibodeau said of McGee. "Pachulia is going to be a physical, body guy. McGee is length and athleticism. And then of course, if David West plays, it's veteran savvy."
McGee had one of his poorer performances Sunday at Minnesota, scoring two points with three rebounds and finishing firmly in the red at minus-15. Pachulia, by contrast, had 16 points and 11 boards off the bench. But McGee still is a plus-28 in the nine games he has started since the break.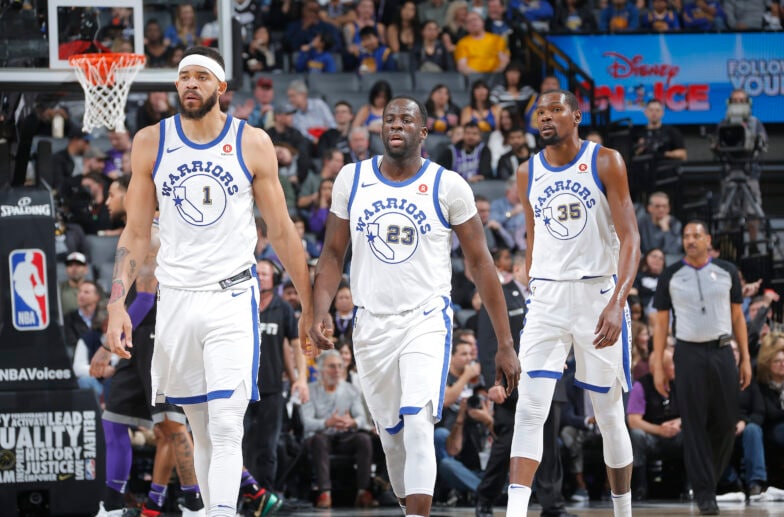 "I think he doesn't get a lot of credit that he deserves," Wolves veteran forward Taj Gibson said. "He's changed his whole game around, changed his whole mentality around, being on a winning team. He does everything the right way. You haven't heard any kind of crazy things about him in the papers, so I'm truly happy for him.
"That's what happens when you play for a playoff-bound team, a team that is trying to do something special. It kind of make everybody better. He's just an athletic big. He's one of those guys who, no matter how many years he's been in the league, he's always a lob threat. He's always a weak-side shot blocker. I've got to be on my toes to keep him off the boards."
Said Kerr: "[It is] important for our guys to understand – if they don't know me by now, I mean, I play everybody – at some point you're going to get your chance. So you have to stay ready. That's exactly what JaVale's done."
Like any NBA player, McGee still is capable of an occasional bonehead moment. But he has the Warriors laughing with him rather than at him, and that makes all the difference.
Steve Aschburner has written about the NBA since 1980. You can e-mail him here, find his archive here and follow him on Twitter.
The views on this page do not necessarily reflect the views of the NBA, its clubs or Turner Broadcasting.