2018 Playoffs | Western Conference Finals: Rockets (1) vs. Warriors (2)
When should Golden State Warriors utilize 'Hamptons 5' lineup against Houston Rockets?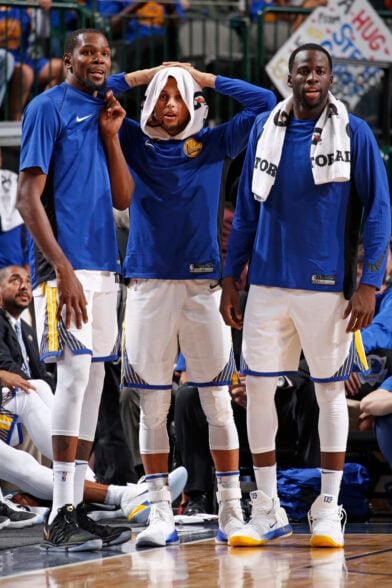 The first question to be answered in the Western Conference finals will be how the Golden State Warriors are going to start games. They've started four of their 10 playoff games thus far with Draymond Green at center, starting the "Hamptons Five" lineup in each of their last two games of the conference semifinals.
That lineup had a relatively underwhelming regular season, but outscored the New Orleans Pelicans by an incredible 54 points in 54 minutes in the last series. Warriors coach Steve Kerr certainly has reason to stick with it. But he may decide to start one of his centers (Kevon Looney, JaVale McGee or Zaza Pachulia) to match up with Houston Rockets center Clint Capela at the start of games.
At The Athletic, Tim Kawakami guesses that Kerr will start Looney and save his best lineup for later in Game 1 and later in the series:
My general point is that Kerr usually likes to make his big moves in the middle of series, when the Warriors are threatened, the run of play has been established, and a lineup change works as both a strategic fix and an adrenaline kick to the entire team. Examples: The Andrew Bogut-guards-Tony Allen thing in Game 4 of the Memphis series (and the Blues City Cafe dinner!) and the Iguodala-for-Bogut starting lineup change for Game 4 of the Finals vs. Cleveland.

Also: Going to the Hamptons 5 in Game 4 against New Orleans just eight days ago. That was one more gear to use, and Kerr used it when he felt he had to. Now: Will he and his assistants feel they have to do that from Game 1 in this series?

Marcus Thompson II makes another great point: What if the Warriors can knock out one of the first two games in Houston with Looney starting at center? Wouldn't that be a crushing blow for the Rockets, knowing that the Warriors withheld their best group and still took away home-court advantage?
Rockets coach Mike D'Antoni is ready for whatever, as Brent Zwerneman writes in the Houston Chronicle…
"They can start small and do all of the switches (defensively), that's what we do in practice every day," D'Antoni said. "Or they can start big (with a handful of options including JaVale McGee or Kevon Looney) and keep a guy back – we just came off Utah and that's what they did.

"I think we're ready for either side and we'll see which (defensive approach) is effective."