It's not often that a team reaches the Finals and then makes one of the biggest offseason additions.
Malcolm Brogdon joining the Boston Celtics isn't quite (or close to) Kevin Durant joining the Golden State Warriors in 2016. But the Celtics were the best team by a wide margin over the last three months of last season. And they've addressed a couple of weaknesses by adding a point guard – one of 13 players who've averaged at least 18 points, five rebounds and five assists in each of the last two seasons – who will get into the paint and take care of the ball.
One reason why the Celtics struggled early last season is injuries. Their starting lineup played together in just 12 of their first 47 games. And one reason why they lost the Finals was their bench; Their starting lineup outscored the Warriors by 13.3 points per 100 possessions in its 82 minutes, but all other Boston lineups were outscored by 11.5 per 100.
Of course, Brogdon played in just 36 games himself last season. And he had the worst 3-point shooting season of his career, making just 31.2% of his shots from beyond the arc.
But if he's healthy and shooting like he did a couple of seasons ago, the 29-year-old can give the Eastern Conference champs a real boost. And with three starters who will be 25 or younger on opening night, the Celtics remain a serious title contender.
Here are some notes, numbers and film on how Brogdon can help a team that doesn't need much to reach the mountaintop.
---
1. Off-the-dribble attacker
Brogdon's off-the-dribble stats from last season contradict themselves somewhat.
According to Synergy tracking, he scored 1.02 points per possession as a pick-and-roll ball-handler, the best mark of his career and the seventh-best mark among 79 players with at least 100 ball-handler possessions.
According to Second Spectrum, Brogdon's effective field goal percentage on pull-up jumpers was just 43.4%, a mark that ranked just 80th among 123 players with at least 150 pull-up attempts.
But the percentage of Brogdon's shots that were pull-up jumpers dropped from the season before. And the percentage that was "driving layups" (according to Second Spectrum) jumped from 32% to 39%. With that, he also saw a big jump in his field goal percentage on those driving layups, from 50.8% to 56.7%.
In short, Brogdon became a more frequent and better finisher at the rim, somebody the Celtics could use. Boston ranked just 23rd in the percentage of their shots that came in the paint (45%) and 22nd in free throw rate last season.
Brogdon ranked fourth with 18.3 drives per game, trailing only Shai Gilgeous-Alexander, Luka Doncic and Ja Morant. His free throw rate (30.8 attempts per 100 shots from the field) was the best mark of his career and ranked 21st among 153 guards with at least 300 field goal attempts.
Brogdon will take it to opposing big men and can throw off their timing by jumping off either foot:
And he's more than willing to finish with his left hand: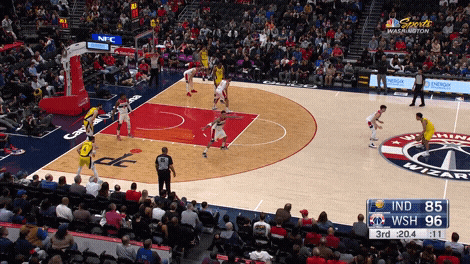 Overall, Brogdon shot 56.3% in the paint, also the best mark of his career and a mark which ranked 22nd among 97 guards with at least 200 attempts in the paint.
---
2. A little more careful
The Celtics had a turnover problem in the last two rounds of the playoffs, committing 16.8 turnovers per 100 possessions (worse than the worst rate for any team in the regular season) against the Heat and Warriors. Their turnover rate in the Finals (17.6 per 100) was the third worst rate for any team in any series in the last five years.
Brogdon had the 10th lowest turnover rate (8.6 per 100 possessions) among 49 players with a usage rate of 24% or higher last season. He also had the lowest turnover rate on drives (4.2 per 100) among 42 players who averaged at least 10 drives per game. And that's with a relatively high pass rate (he passed 48.9% of the time) on his drives.
He'll attempt the occasional jump pass, but Brogdon stays in relative control:
He likes to drive baseline, which can get the defense turned around:
An additional ball-handler in the rotation should make things easier for Jayson Tatum and Jaylen Brown, who combined for 99 (7.6 per game) of the Celtics' 208 turnovers over those last two rounds of the playoffs. Beyond the turnover issue, it could help to have those guys shooting off the catch more often.
Last season, 69% of Tatum's jump shots, the 37th highest rate among 195 players with at least 250 total jumpers, were off the dribble. And in the playoffs, he had an effective field goal percentage of just 42.4% on pull-up jumpers, a mark which ranked 19th among 30 players who attempted at least 50.
Overall, the Celtics ranked 13th in the percentage of their 3-pointers (73%) that came off the catch. Neither Tatum (38.0% vs. 33.4%) nor Brown (36.7% vs. 34.8%) had a huge difference between their catch-and-shoot 3-point percentage and their pull-up 3-point percentage, but every little bit counts.
A few more transition opportunities will help as well. Brogdon isn't a full-court speed demon, for sure. But he ranked 11th with 4.9 "pass-ahead" passes per game, according to Second Spectrum. And among the 43 players who averaged at least three, he had the fifth lowest turnover rate (0.6%) on those pass-aheads.
---
3. Off the ball
Of course, now that he's teaming with Tatum, Brown, Marcus Smart and Derrick White, Brogdon will be asked to play off the ball more than he has in the past.
That's not Brogdon's desired role. Appearing on the JJ Redick Podcast two years ago, Brogdon said that he left Milwaukee for Indiana because he preferred playing point guard.
"I was playing shooting guard with the Bucks," he said. "I enjoy playing shooting guard, but scoring is not my main thing on the court. It's actually not what I want to do. That's not my first option. I want to get guys involved. I want to win. I feel like I'm a winner above everything else and I compete on both ends.
"And Indiana brings the best out of me, when you look at what I just talked about. Putting me in the point guard position, it allows me to play in my role, in my position, and lead."
But the Pacers traded for Tyrese Haliburton last season and, to a degree, took the ball out of Brogdon's hands. In addition to missing 46 games last season, he shot just 29-for-88 (33.0%) on catch-and-shoot 3s.
But he was 189-for-427 (44.3%) on catch-and-shoot 3s over his previous three seasons. His 44.4% in 2020-21 ranked 15th among 141 players with at least 150 catch-and-shoot attempts.
He doesn't have the quickest release, and he barely leaves the floor on his jumper. So Brogdon does need some space and time to launch. But he's not somebody that can be ignored on the perimeter…
And of course, playing off the ball isn't just about catch-and-shoot 3s. As noted above, Brogdon is an attacker. And he can certainly attack close-outs when playing off the ball:
---
4. Defense
Brogdon isn't the most disruptive defender. He hasn't averaged a steal per game since his rookie season and his 1.5 deflections per 36 minutes last season ranked 211th among 272 players who played at least 1,000 minutes.
He doesn't seem to be light on his feet, a little slow to change direction on the perimeter…
He can struggle to stay in front of really quick guards or provide much resistance against bigs. But Brogdon certainly isn't a bad defender. He doesn't fall asleep or get caught out of position on that end of the floor. And over the last three seasons, opponents scored 0.83 points per possession when they isolated against him. That ranks 16th among 269 players who've defended at least 200 isolations over those three seasons, according to Second Spectrum tracking.
He can stay in front of the not-so-quick guys:
In his most recent game against the Celtics, Brogdon was the primary defender on Tatum, switching over to Brown when Tatum went to the bench. He got beat back-door by Brown at one point, but he had some moments where he held his own:
The Celtics, of course, had the league's No. 1 defense last season. Brogdon shouldn't hurt them on that end of the floor, especially if he's mostly taking minutes from 6-foot-1 Payton Pritchard. And if he can give the offense a small boost, he'll certainly be worth what the Celtics gave up for him, which wasn't much.
* * *
John Schuhmann is a senior stats analyst for NBA.com. You can e-mail him here, find his archive here and follow him on Twitter.
The views on this page do not necessarily reflect the views of the NBA, its clubs or Turner Broadcasting.