The Brooklyn Nets somehow survived the reported trade request from Kevin Durant. Now they can see what they have with an improved roster around one of the best offensive players in NBA history.
There is potential for greatness. After the All-Star break last season, the Nets won in Milwaukee, Philadelphia and Miami, doing so without Joe Harris or Ben Simmons. They got swept in the first round, but had the most efficient offense (115 points scored per 100 possessions) in the playoffs against what was the league's best defense. And that was with Durant shooting 39% and Kyrie Irving averaging just 15.3 points over the last three games.
Defense was obviously a problem. The Nets ranked 20th defensively in the regular season and the 119.2 points per 100 possessions that they allowed the Celtics to score in the first round were 8.5 more than Boston scored in any other playoff series. One primary issue was their lack of size on the perimeter. Five of the top seven players in the Nets' playoff rotation were 6-foot-4 or shorter. The primary defender on Jayson Tatum (6-foot-8) was the 6-foot-4 Bruce Brown, and the two Nets who defended 6-foot-6 Jaylen Brown the most were Kyrie Irving and Seth Curry (both 6-foot-2).
The 2022-23 Nets could be much bigger on the perimeter. Irving, Curry and 6-foot Patty Mills are still around, but 6-foot-6 Harris and 6-foot-11 Simmons are (presumably) returning from their injury issues, and Brooklyn has added 6-foot-6 Royce O'Neale and 6-foot-8 T.J. Warren at forward.
Simmons, of course, is the key. He was the centerpiece of the James Harden trade, he's owed $108 million over the next three seasons and just turned 26 years old. He can provide the Nets with a lot of what they need … if he's ready and able to play.
When Brooklyn opens the preseason on Oct. 3 against Simmons' old team, it will be more than 15 months since he last played in an NBA game, having undergone back surgery in the interim.
Here are some notes, numbers and film regarding the player that Simmons was when we last saw him in uniform:
---
1. Plus defender
With his size, athleticism and fervor for disrupting opposing offenses, Simmons can be a defensive force. The best example of that might be the three steals (one, two, three) he had in the last 15 seconds of a game against Indiana three years ago, turning a one-point deficit into a three-point win.
In 2020-21, Simmons ranked fifth in deflections per game (3.5) and eighth in deflections per 36 minutes (3.9). And opponents shot 41.7% against him, with the differential between that and their expected field goal percentage on those shots (46.2%) being the ninth best among 312 players who defended at least 300 shots.
He can terrorize opposing ball-handlers when he gets aggressive …
He can block jumpers that smaller guards can't reach. And it's nice to have somebody with that size tagging the roll man from the weak side …
Simmons' size also allows him to guard every position on the floor. Among the six guys he defended most two seasons ago are primary ball-handlers (Malcolm Brogdon and Russell Westbrook), wings and a power forward (Pascal Siakam).
---
2. Isolation and screen navigation
Simmons' defensive numbers aren't all great. Over his last two seasons, opponents scored 0.97 points per possession when they isolated against him. That ranked 82nd among 142 players who defended at least 200 isolations over those two years, according to Second Spectrum tracking.
If he stays in front of his man, he's generally a menace. But Simmons' aggressiveness can sometimes get him on the wrong side of the ball …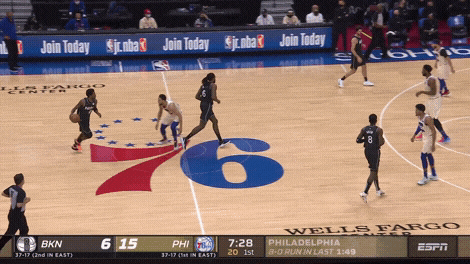 And Simmons' size can be a detriment in the pick-and-roll, because it keeps him from being able to navigate screens as well as smaller guards …
---
3. Transition and dart throwing
The good defense far outweighs the bad, though, and good defense can also be a boost to a team's offense.
Simmons scored 190 fast break points two seasons ago, accounting for 23% of his total scoring. That was the third-highest rate among 233 players who averaged at least 20 minutes per game. (Two of his teammates were also in the top five and new teammate Edmond Sumner had the highest rate — 31% — among 312 players who averaged at least 15 minutes).
He's not the most efficient transition scorer. Simmons' 1.00 points per possession in transition ranked just 108th among 134 players with at least 100 transition possessions two seasons ago. But Simmons is more apt to fuel his team's transition game with the pass. He ranked second with 6.8 pass-ahead passes per game and third with 2.2 transition assists per 36 minutes in '20-21, according to Second Spectrum tracking.
He's consistently got his head up, looking to get his teammates their own early offense. When he pushes the ball up the floor, his teammates can take advantage of a scrambled defense …
We think of Durant and Irving as half-court scorers primarily, but a few more transition opportunities per game will only make them more efficient. Though they got swept, the Nets actually led the playoffs in transition efficiency (1.31 points per possession) this year.
Whether in transition or in the half-court offense, Simmons is an elite passer, with great vision and the strength to throw pin-point darts across the floor with one hand …
---
4. Spacing issues
Beyond the passing, half-court offense can be a struggle. Simmons attempted just 55 shots (0.5 per 36 minutes) from outside the paint over his last two seasons with the Sixers. And having shot 34% from the free throw line in the '21 playoffs, he was clearly afraid to get fouled by the end of their conference semifinals loss to the Atlanta Hawks.
A guard who can't (or won't) shoot, especially when combined with a big man who's most effective inside, can be a spacing issue. When he hasn't had the ball, Simmons has often been positioned at the block instead of on the perimeter. Doing so can allow his defender to more easily help in the paint when a teammate gets beat off the dribble or by a dive to the rim …
There was one possession in Simmons' last game as a Sixer where the Hawks' Solomon Hill just ignored him after he passed the ball.
Despite the spacing and fit issues, the Sixers' starting lineup scored an efficient 121.3 points per 100 possessions over 765 total minutes two seasons ago. That included a remarkable 142.5 per 100 (332 on 233) in the playoffs before Danny Green was lost to an injury.
There are ways to combat a defense that plays off a ball-handler who can't shoot. Simmons' size makes him a good screener on a dribble-handoff, and if his defender is sitting back in the paint, he's unable to contest the receiver …
Simmons will have some pretty good DHO partners in Brooklyn. Among 138 players who've received at least 300 handoffs over the last two seasons, Irving (1.12), Durant (1.10), Curry (1.06) and Harris (1.05) rank second, third, 11th and 16th in team points per chance on those plays.
But, even with Curry registering an effective field goal percentage of 82%, the Sixers scored 102.8 points per 100 possessions as they lost three of the last four games of the '21 conference semis. Although Simmons' pass off when he seemingly had an uncontested layup wasn't the most damaging play down the stretch of Game 7 (that was Matisse Thybulle's foul in the final minute), it certainly was the most memorable.
---
5. Simmons at the five
Spacing issues can be mitigated by putting four shooters around Simmons, and there's been talk of playing him at center this season. The Nets' best offensive lineup could be Simmons, Irving, Durant, and two of the top four guys in career 3-point percentage (Harris and Curry).
Simmons played the five for only 214 (9%) of his 2,279 minutes (regular season + playoffs) in '20-21*. The Sixers were not very good in those minutes, getting outscored by 3.8 points per 100 possessions. The bigger difference between those minutes (107.5 scored per 100 possessions) and the minutes Simmons played with a center on the floor (116.0 scored per 100) was on offense.
* These are minutes without Joel Embiid, Dwight Howard, Tony Bradley or Vincent Poirier on the floor. Mike Scott could be considered the five in most of those lineups, but he primarily played on the perimeter offensively. Basically, these are lineups with Simmons and four shooters.
Of course, the Sixers' primary center was a Kia MVP candidate in Embiid. That said, the Nets can put a more potent centerless foursome around Simmons than Philly did. The Sixers (other than Simmons) that played the most in those no-center lineups were Tobias Harris (182 of the 214 minutes), Curry (171), Danny Green (162) and Scott (132).
Putting five shooters around Simmons can allow him to attack (slower defenders) in space …
… or make plays as a screen-setter and roll man …
Opponents might switch everything against a Simmons-at-the-five lineup, but that could allow Durant or Irving to feast against overmatched defenders.
We still don't know what the Nets are going to get from Simmons this season. But it's certainly fun to imagine the possibilities.
* * *
John Schuhmann is a senior stats analyst for NBA.com. You can e-mail him here, find his archive here and follow him on Twitter.
The views on this page do not necessarily reflect the views of the NBA, its clubs or Turner Broadcasting.