Uncategorized
League taking note of Donovan Mitchell's impressive rookie campaign
Utah Jazz guard has quickly has taken over franchise after Hayward's exit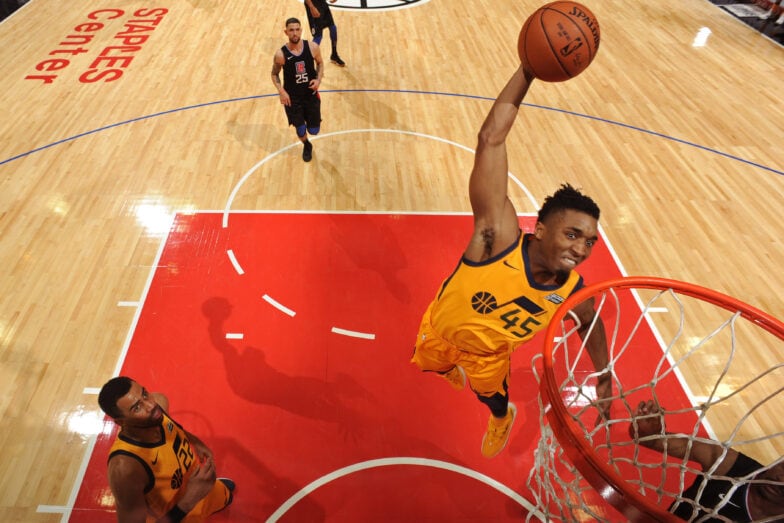 The biggest rebound in Utah Jazz history, one that's more timely than any yanked down by Hall of Famer Karl Malone, is Gordon Hayward walking out their door and Donovan Mitchell walking in.
The Jazz knew what they lost last summer when Hayward wrote his Dear John letter (aka The Players' Tribune) and fled to Boston via free agency into the open arms of his former coach at Butler, Brad Stevens. In 2016-17, he was Utah's lead singer, their leading scorer in the fourth quarter, an All-Star and someone who sent Salt Lake City kids and fans running to the barber for flip-over Hayward buzz cuts.
His leaving for Boston was made more painful when you consider Hayward was drafted and carefully developed by the Jazz, groomed for big things … and then all the hard work and patience went poof.
But that angst lasted only about three months, or roughly when the Jazz began to feel the excitement and the hope again, all of which was all generated by a rookie. His impression on Jazz fans began in the Utah and Las Vegas Summer Leagues, carried over into training camp and the start of the season. It's quite obvious now, here in January, with enough evidence already laid:
In basketball-speak, Mitchell's got next in Utah.
"You could see the tools early on," said Jazz coach Quin Snyder. "Donovan's teammates accepted him right away. We all did."
He is the unique rookie who arrives on a scene that's heavy with veteran players, yet earns respect quickly, becomes the primary option, gets the ball when the game is tense and leads the club in scoring (19.2 points per game — first among rookies). He was drafted as a two-guard, yet he also spends a fair amount of time at the point despite the presence of veteran pass-happy guard Ricky Rubio.
Everything about him is still being developed. Meanwhile, Mitchell shows enough shooting range, passing instincts and dunkaholic tendencies to hint of possible future stardom. If he keeps the pace this season, he'll be deep in the Kia Rookie of the Year conversation. From there, who knows? While the Jazz had an inkling about him in Summer League when he scored 37 points in one game and was strong throughout, the person most surprised by all this is Mitchell.
"I didn't see any of this coming," Mitchell said.
Less than two months into his NBA career he dropped 41 points on the New Orleans Pelicans, the first rookie to crack 40 since Blake Griffin in 2011. It also surpassed the 38 points Jazz legend Darrell Griffith put up in his rookie season in 1980-81. He was the Rookie of the Month for December and last week notched his 19th game of 20 or more points, one better than Malone's Jazz rookie record set in 1985-86.
But those numbers don't explain the poise and the confidence, which are far more useful signs that Utah might be onto something with Mitchell.
"He's learning how to be a leader, has a lot of confidence and is always working hard," said Jazz center Rudy Gobert. "I think he's been very good overall. He's not scared of the moment, not scared of big shots, not scared to attack. Pretty rare for a rookie."
He's not scared of the moment, not scared of big shots, not scared to attack. Pretty rare for a rookie.

Utah Jazz center Rudy Gobert on Mitchell
Mitchell was wise enough to sense an opening and after losing Hayward, the Jazz lacked a proven scorer. A veteran-laden roster like Utah's might cause the typical rookie to proceed gingerly and not disrupt chemistry or cause issues.
Rodney Hood was the presumed next man up, but he has struggled with injuries and inconsistency. While he and Mitchell take roughly the same amount of shots, Mitchell is more efficient (44.6 percent to Hood's 41.3 percent). Mitchell can also play two positions and gets his number called more often by Snyder when Utah needs a bucket.
"He's assuming a role in clutch situations, and it makes sense," Snyder said. "There's no sense in trying to pretend. He's the most capable player and so I'm not concerned if he's 19 or 25 or a rookie. There's no reason to wait. If they're capable of doing it, do it. The way he is and the kind of person he is, nobody on the team envies him."
Mitchell is unconventional by NBA standards. He grew up middle class and went to school in Greenwich, Conn., one of the wealthiest enclaves in the country, through junior high before going the prep school route partly because of athletics. Mitchell had to play AAU ball in the New York City leagues to find better competition than the Connecticut suburbs. His father is in baseball operations with the New York Mets and Mitchell played the sport before abandoning it when his basketball skills became evident.
He was coached at Louisville by Rick Pitino, a former NBA coach, and didn't leave until after his sophomore year — unlike most lottery picks.
His background made him eloquent and intelligent, which is evident when you speak to him. This maturity helped him with Jazz teammates, who rave about his composure and say he seems a lot older than he is.
Strange, but it's possible that Mitchell's development wouldn't be where it is now had Hayward re-signed with the Jazz.
"Probably not, in certain areas," said Snyder. "When you have a guy like Gordon, there's going to be times when you're running stuff for Gordon. I think Donovan would be doing some of the same things, but he wouldn't have the usage rate. That's logical. Now, in this situation without Gordon, we just wanted to give him more responsibility, and he kept taking it from there. It's like, when someone's finished eating, you put more food on his plate. Then more. He's been pretty hungry."
With heavy minutes (a team-leading 31.7 per game) and role for a rookie, Mitchell is able to play through his mistakes, learn from being in almost every game situation and get experience that's helping him now and in the future.
"One of the things we can see in Donovan that's unique is his aptitude," Snyder said. "I saw him make a good left to right spin move this summer, and later add a Euro-step, a floater, a scoop layup this season. With players at his age, it takes time. But he's been able to accelerate the learning process because of his ability.
"The biggest thing is the emphasis on the decisions. We want him to take good shots and as long as he's focused on that, he's able to draw attention and find people. He plays with a pure heart. It's unusual to have a rookie as a catalyst and when that happens, a player could take liberties with that. The responsibilities that I've given him, often times you could take it for granted. He doesn't. He tries to make the right play."
Eventually, the Jazz must decide his true position. Mitchell stands 6-foot-3 and seems like a combo guard. In a best-case scenario, he plays more off the ball and the Jazz find their point guard of the future this summer via the Draft, a trade or free agency. The wild card is Dante Exum, the former future point guard who's out for the season and hasn't played in two of the last three seasons because of injury. He will be a restricted free agent this summer, so does Utah re-sign him or look elsewhere?
Overall, though, the Jazz must be pinching themselves over Mitchell, a good get by GM Dennis Lindsey and player personnel man Walt Perrin. Losing Hayward last summer was devastating for the franchise. Utah often doesn't have it easy when it comes to acquiring talent. An A-list free agent has never chosen the Jazz as a destination, which conjures up all the old images of Utah being a tough sell for young players looking for big city lifestyle and advantages. Malone, John Stockton and Deron Williams, like Hayward, Gobert and now Mitchell, all came from the Draft. Williams played his way out of town, Gobert is signed (for now) and Hayward is gone.
The heartbreaking part about losing Hayward is the investment of time the Jazz spent developing him. While it's far too early for them to worry about that happening with Mitchell — and Gobert at least for the next three years — it is always lurking in the background for Utah.
The good news, for now: Mitchell looks special enough to be placed in that company.
"I know I've got a lot more to learn, so I'm just taking it game by game," he said. "I try to look at this as a regular situation, not to make too much of it, just go out and make the right plays. The fact they trust me is awesome but with that trust it's about making the right decisions. It's being able to find guys, not always trying to get to the basket, staying hungry, don't get comfortable.
"You know, it's a long season and hopefully a long career."
* * *
Veteran NBA writer Shaun Powell has worked for newspapers and other publications for more than 25 years. You can e-mail him here, find his archive here and follow him on Twitter.
The views on this page do not necessarily reflect the views of the NBA, its clubs or Turner Broadcasting.