The 2017-18 NBA season will tip off with a blockbuster slate of national TV games in mid-October, including an opening night TNT doubleheader that includes both the defending champion Golden State Warriors and the reigning three-time Eastern Conference champion Cleveland Cavaliers.
And the league's biggest stars will be on stage during a five-game Christmas Day showcase, which includes a Finals rematch between the Cavaliers and Warriors in Oakland.
The full 2017-18 regular-season schedule is being finalized and will be announced next week. But now we know how things will start.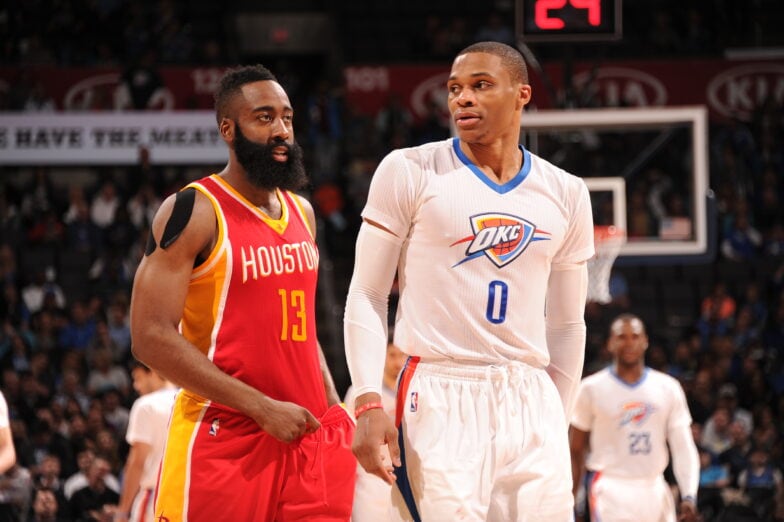 The first four days of the season (Oct. 17-20) will feature 14 different teams playing eight national television games as part of Kia NBA Tip-Off 2017, with TNT and ESPN airing two doubleheaders each.
The Cavaliers kick things off at 8 p.m. Oct. 17 on TNT, hosting the Boston Celtics in a rematch of the Eastern Conference finals. In the nightcap, the Warriors will raise their second championship banner in three years before taking on a retooled Houston Rockets team led by James Harden and Chris Paul.
ESPN follows that monster opening night with doubleheader of its own on Oct. 18 featuring two upstart teams taking on playoff powers. John Wall, Bradley Beal and the Washington Wizards will play host to Joel Embiid, Ben Simmons and No. 1 draft pick Markelle Fultz and the Philadelphia 76ers in the 7 p.m. ET opener. That game will be followed by Karl-Anthony Towns, Jimmy Butler and the Andrew Wiggins-led Minnesota Timberwolves facing Kawhi Leonard and the San Antonio Spurs.
The action shifts back to TNT on Oct. 19 when the Thursday night doubleheader pits the New York Knicks against reigning Kia MVP Russell Westbrook and the new-look (Paul George) Oklahoma City Thunder at 8 p.m. ET, followed by the city rivalry between the Los Angeles Clippers and Los Angeles Lakers, who feature rookie sensation point guard Lonzo Ball.
The Cavaliers visit the Milwaukee Bucks to kick off ESPN's Friday night doubleheader Oct. 20, with the Warriors traveling to New Orleans to face Anthony Davis, DeMarcus Cousins and the Pelicans to close out the night.
This is TNT's 22nd consecutive season with a doubleheader on opening night and Turner Sports' 34th consecutive year of NBA coverage. ESPN will begin its 16th consecutive year of NBA coverage.
The Christmas Day schedule (Monday, Dec. 25) will feature five games for the 10th consecutive year, and for the first time will include a triple-header on ABC. The holiday festivities begin with the Knicks hosting the Sixers at noon on ESPN. That much-anticipated Cavaliers-Warriors rematch — their first of two regular season meetings — follows at 3 p.m. ET on ABC. Fans can stay tuned to ABC for the Wizards and Celtics at 5:30 p.m. ET, followed by the Rockets at the Thunder at 8 p.m. ET. The Timberwolves and Lakers close out the action on Christmas Day on TNT at 10:30 p.m. ET.
National TV Games Opening Week
Date | Teams | Time (ET) | Network
Tue., Oct. 17 | Celtics at Cavaliers | 8:00 p.m. | TNT
Tue., Oct. 17 | Rockets at Warriors | 10:30 p.m. | TNT
Wed., Oct. 18 | 76ers at Wizards | 7:00 p.m. | ESPN
Wed., Oct. 18 | Timberwolves at Spurs | 9:30 p.m. | ESPN
Thu., Oct. 19 | Knicks at Thunder | 8:00 p.m. | TNT
Thu., Oct. 19 | Clippers at Lakers | 10:30 p.m. | TNT
Fri., Oct. 20 | Cavaliers at Bucks | 7:00 p.m. | ESPN
Fri., Oct. 20 | Warriors at Pelicans | 9:30 p.m. | ESPN
Christmas Day Schedule
Teams | Time (ET) | Network
76ers at Knicks | Noon | ESPN
Cavaliers at Warriors | 3:00 p.m. | ABC
Wizards at Celtics | 5:30 p.m. | ABC
Rockets at Thunder | 8:00 p.m. | ABC
Timberwolves at Lakers | 10:30 p.m. | TNT
Sekou Smith is a veteran NBA reporter and NBA TV analyst. You can e-mail him here, find his archive here and follow him on Twitter.
The views on this page do not necessarily reflect the views of the NBA, its clubs or Turner Broadcasting.