When it comes to celebrating milestone anniversaries, there is a strong connection between the NBA and the city of Cleveland. NBA All-Star is back in "The Land" for the third time after Cleveland hosted the league's midseason celebration of the game in both 1981 and '97 — the NBA's 35th and 50th anniversary seasons.
Twenty-five years later, the NBA is celebrating its 75th anniversary in Cleveland. As part of the festivities, the NBA and National Basketball Players Association (NBPA) will work alongside local community organizations to provide programming and support that focus on youth, education, health equity, food insecurity and economic inclusion.
The league will also again uplift the HBCU community as part of the weekend and empower the next generation of leaders. On Saturday, the men's basketball teams from Howard University and Morgan State University will meet in the first-ever NBA HBCU Classic presented by AT&T, which will be simulcast on TNT, ESPN2 and NBA TV, and include donations of $100,000 to each university to support the student experience.
"I applaud the NBA, for recognizing the contributions of HBCUs and their graduates to our society and by providing a platform like the one they're providing on February 19," said Kery Davis, Director of Athletics at Howard University. "It's important because many people who know nothing about the history of HBCUs, will get an opportunity to hear that story. And to see the types of individuals who have come through these halls and these institutions. That's going to be a great opportunity for us and for Morgan State and it demonstrates the character of the NBA and the responsibility that they feel in terms of making sure that these institutions are recognized."
"It's an honor and a privilege to be invited to be part of NBA All-Star weekend, and we're just truly excited for our student athletes to be part of something special and being part of the inaugural classic with Howard University, because it's something that we hope will last many, many years," added Terrence Lillie, Senior Associate Athletic Director at Morgan State University.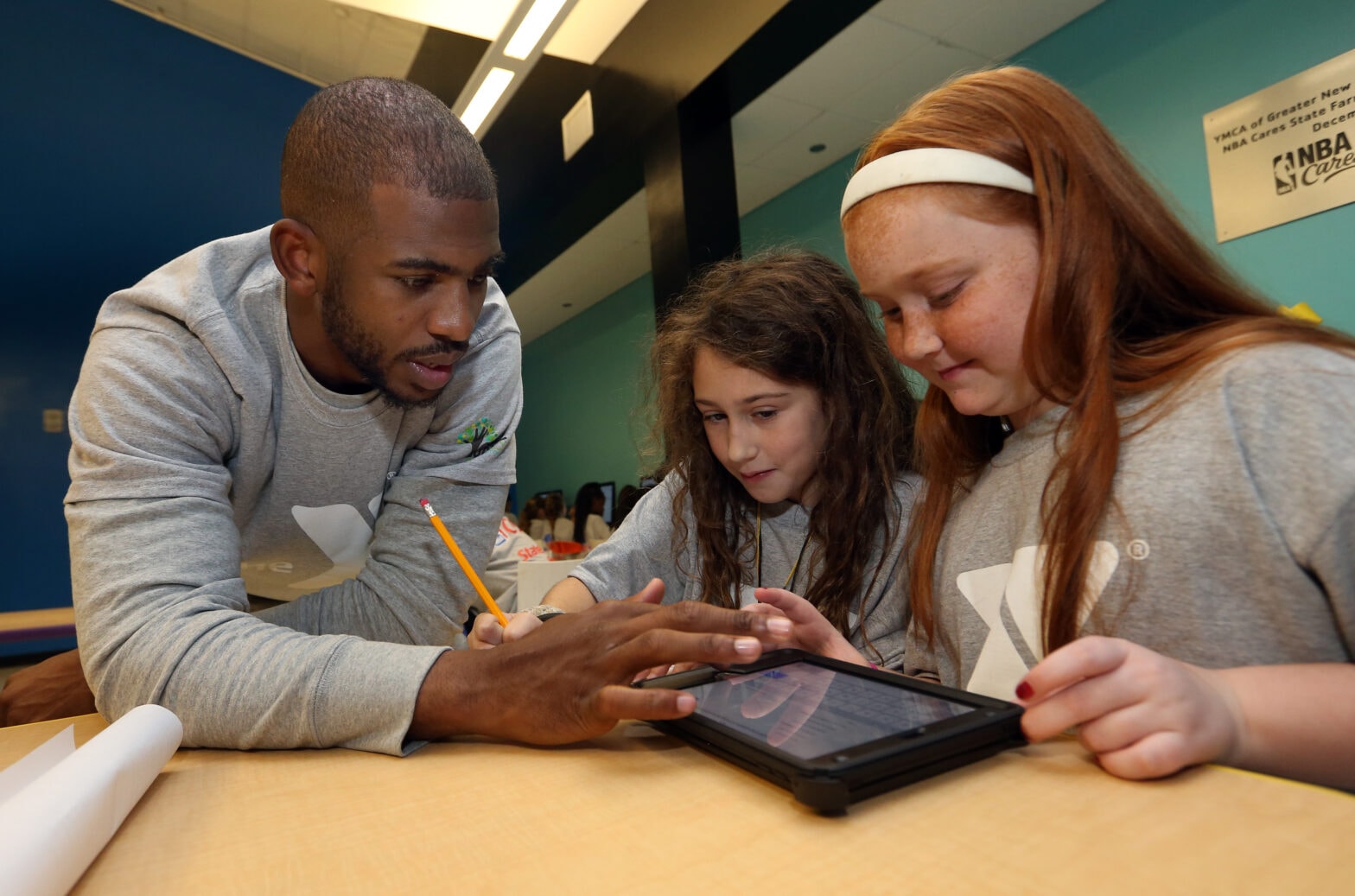 Following the HBCU Classic, both teams will meet with NBA league and team executives and participate in programming regarding professional development, networking and the impact of HBCUs on society. These types of opportunities – as well as the NBA HBCU Fellowship Program – are key components to the NBA's effort to provide career development opportunities in the business of basketball for undergraduate and graduate students from HBCUs.
When the All-Stars take the court on Sunday night for the 71st NBA All-Star Game, the highlight plays that they make – every alley-oop dunk, every 40-foot 3-pointer – will serve a higher purpose than just entertaining those in attendance and watching the action on TNT. As part of the NBA All-Star Game format, every quarter will count to support two Northeast Ohio organizations, with Team Durant playing for the Greater Cleveland Food Bank and Team LeBron playing for Kent State University I PROMISE Scholars Program.
"The mission of the Greater Cleveland Food Bank is to ensure that everyone in our communities has the nutritious food they need every day," said Kristin Warzocha, the President and CEO of the Greater Cleveland Food Bank. "Last year, we provided 53 million pounds of food to more than 1,000 program partners in a six-county service area."
The importance of the Food Bank grew exponentially during the pandemic. According to Warzocha, the Food Bank served an additional 100,000 northeast Ohioans in 2020 compared to 2019, with many of those 100,000 turning to food bank assistance for the first time.
"Our Help Center and Outreach Team connect with clients on a daily basis who come to us looking for food, and they hear stories, which are just heartbreaking," she said. "We hear stories of senior citizens who have outlived their savings and are struggling to make the most basic ends meet, including putting food on the table. We hear stories of working families where one or both parents are working, but they're working at very low wage jobs. And when an emergency comes up in the family, they simply don't have the dollars they need to pay all the bills and provide nutritious food. It's an issue that we all have to address together to make sure that access is available."
On the other side of the court, Team LeBron will be playing to improve education outcomes, specifically focused on the students from the Kent State University I PROMISE Scholars Program, which supports students from LeBron's I PROMISE school in Akron as they pursue their higher education at Kent State.
"Our students who are currently on Kent State's campus have been in our programs since the third grade," said Toni Montgomery, Director of Strategy, Culture and Operations at the I PROMISE Institute & LeBron James Family Foundation. "We've supported them through extracurricular activities, such as after school programming and summer programming. And we've worked alongside them throughout this process to not only get them to graduate from high school, but then to support them in that transition into college and then supporting them once they're in college. For our families, we really need to provide those wraparound services whilst they're in college, to help see them to and through."
For Melody Tankersly, Senior Vice President & Provost at Kent State University, the connection between I PROMISE and Kent State is a personal one as her son was chosen as one of LeBron's 330 Ambassadors – a group of 23 standout students from Akron Public Schools & St. Vincent-St. Mary High School chosen to represent LeBron on the ground in Akron and across the country.
"I got to see firsthand the impact that that work had on the families in the students of the I PROMISE program, but also how it had an impact on my son, that it gave him purpose, it gave him something that was bigger than what he could do individually and how he could make a difference," she said. "
"And they're doing this work, and they have the ways that we can work together, and we can really continue what has happened in their elementary programs, middle school, high school, we can start picking it up at the college level. This is the work that that brings us closest to our mission at Kent State."
While Sunday's game is the culmination of the weekend's festivities, it is only a small piece of the community efforts that are taking place to support the greater Cleveland community.
On Friday, the league will dedicate the 2,000th NBA Cares Live, Learn or Play Center at the Cudell Recreation Center in Cleveland during All-Star. Ron Fields, Site Manager at Cudell Recreation Center, recalls the Cavaliers refurbishing all of the city of Cleveland basketball courts back in 2018, beginning at Cudell. He said one of the most urgent needs in the community a few years later is solving the digital divide, which the All-Star legacy project will help address.
"A lot of kids don't have computers, they don't have Wi-Fi access, so with this new project with the NBA, the legacy project, we are closing that gap," Fields said. "We're going to give not just the kids, but the adults also, the opportunity to come together with the digital divide and get online, we're going to have a computer room so they can get what they need, in order to help them succeed.
"During the daytime, the kids are in school, we're going use that computer lab/tech room for any kind of resource adults may need whether it be [pursuing] career opportunities, resume building or working toward their GED. Then after school, we're going to use the computer lab as a homework club and provide tutoring."
The focus on food insecurity and education continues with the 14th NBA Cares All-Star Day of Service presented by Nike, SAP and State Farm on Feb. 18. Volunteers across the NBA family will sort and pack food donations at the Greater Cleveland Food Bank and gently used books with the Cleveland Kids' Book Bank in order to support children, seniors, families and other individuals in need.
"At the Book Bank, we strongly believe that all children should be surrounded by books that are reflective, inclusive and empowering," said Thea DeRosa Cerra, the Book Bank's Executive Director.
DeRosa Cerra said that the financial support that the Book Bank receives from NBA All-Star will be enough to purchase over 20,000 books to be distributed this spring and summer in Greater Cleveland. She hopes that the awareness from the NBA All-Star spotlight will help drive new volunteers to the Book Bank's warehouse to assist in helping the community.
This year not only marks the 75th anniversary season of the NBA, it's also the 55th anniversary of the 1967 Cleveland Summit. During this year's NBA legends celebration, the NBA family will recognize Kareem Abdul-Jabbar, Bill Russell and others who played a role in defining athlete activism, with the National Basketball Social Justice Coalition carrying that legacy forward by committing to a new historical marker on the site of the Summit at a later date.
While NBA All-Star 2022 will last only three days in Cleveland, the impact of what happens during those 72 hours will be felt for years to come, both in the Greater Cleveland community, as well as the fans and participants that come together from all parts of the world to celebrate the game they love.