The Assist is your guide to the latest products and services connected to and inspired by the game we love. The content is created by NBA Digital. When you make a purchase, we receive revenue.
---
NBA teams have officially licensed face masks made from a breathable fabric, featuring a pocket for a filter you can insert. According to the CDC, face masks need to be made with two layers of breathable material, fit comfortably over your mouth, nose, and chin, and most importantly, have no gaps around your face. Regularly clean your face masks in the washing machine, which is why buying a pack of three face masks allows you to have a rotation.
We've put together a list of the most popular NBA team face masks so you can represent your team wherever you go!
---
Charlotte Hornets 3 Pack Face Coverings – Adults
$17, was $37
---
Milwaukee Bucks 3 Pack Face Coverings – Adults

$17, was $37
---
Chicago Bulls 3 Pack Face Coverings – Adults

$17, was $37
---
Golden State Warriors 3 Pack Face Coverings – Adults

$17, was $37
---
Los Angeles Lakers 3 Pack Face Coverings – Adults

$17, was $37
---
Boston Celtics 3 Pack Face Coverings – Adults

$17, was $37
---
Phoenix Suns 3 Pack Face Coverings – Adults

$17, was $37
---
Memphis Grizzlies 3 Pack Face Coverings – Adults

$17, was $37
---
Brooklyn Nets 3 Pack Face Coverings – Adults

$17, was $37
---
New York Knicks 3 Pack Face Coverings – Adults

$17, was $37
---
San Antonio Spurs 3 Pack Face Coverings – Adults

$17, was $37
---
Miami Heat 3 Pack Face Coverings – Adults

$17, was $37
---
Minnesota Timberwolves 3 Pack Face Coverings – Adults

$17, was $37
---
Toronto Raptors 3 Pack Face Coverings – Adults

$17, was $37
---
New Orleans Pelicans 3 Pack Face Coverings – Adults

$17, was $37
---
Oklahoma City Thunder 3 Pack Face Coverings – Adults

$17, was $37
---
Portland Trail Blazers 3 Pack Face Coverings – Adults

$17, was $37
---
Washington Wizards 3 Pack Face Coverings – Adults

$17, was $37
---
Los Angeles Clippers 3 Pack Face Coverings – Adults

$17, was $37
---
Utah Jazz 3 Pack Face Coverings – Adults

$17, was $37
---
Dallas Mavericks 3 Pack Face Coverings – Adults

$17, was $37
---
Cleveland Cavaliers 3 Pack Face Coverings – Adults

$17, was $37
---
Sacramento Kings 3 Pack Face Coverings – Adults

$17, was $37

---
Denver Nuggets 3 Pack Face Coverings – Adults

$17, was $37
---
Atlanta Hawks 3 Pack Face Coverings – Adults

$17, was $37
---
Indiana Pacers 3 Pack Face Coverings – Adults

$17, was $37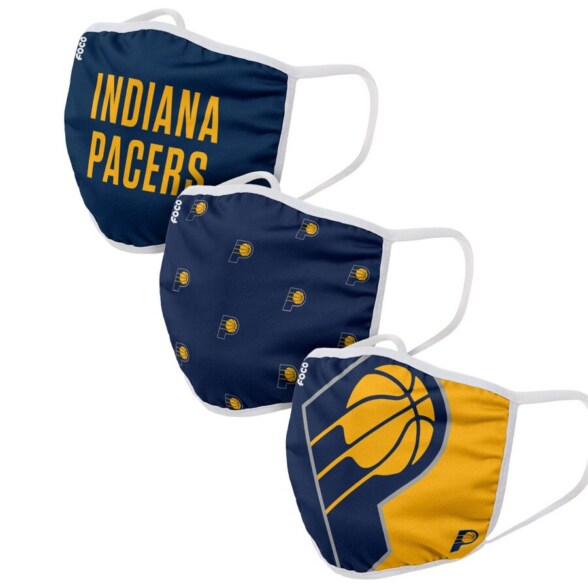 ---
Detroit Pistons 3 Pack Face Coverings – Adults

$17, was $37