More than an All-Star or Hall of Famer, Walt "Clyde" Frazier is a New York icon.
Second in Knicks franchise history in games played and points scored. First all-time in assists. The point guard for the franchise's only two championships in its 76-year history. The guy who delivered the 1970 title with one of the best performances ever. The broadcaster who continues to entertain Knicks and NBA fans to this very day. And maybe the coolest off-court persona that we've ever seen.
Basketball was lucky to have him. A star quarterback at Howard High School in Atlanta, Frazier could have played football in college. But he chose to play basketball at Southern Illinois University, where he led the Salukis to the 1965 Division II championship game and the 1967 NIT title at the old Madison Square Garden.
Frazier was selected with the fifth pick in the 1967 NBA Draft by a Knicks team that had just ended a seven-year playoff drought. They would go on to reach the postseason in their first eight seasons with Frazier, winning 11 playoff series over that stretch.
Frazier was named First-Team All-Rookie in the 1967-68 season, but he made a huge leap in his second season, averaging 17.5 points, 6.2 rebounds and 7.9 assists for a Knicks team that won 54 games. He would go on to average no fewer than 19.0 points, 6.0 rebounds and 5.0 assists over the following seven seasons, being selected an All-Star each season and first or second-team All-NBA for six straight years (1969-70 through '74-75).
Team success came with the individual numbers. After losing to the Celtics in the Eastern Division finals in Bill Russell's final season (1968-69), the Knicks finished with the league's best record (60-22) in '69-70. After outlasting their rival Baltimore in a seven-game series in the first round, they beat the Milwaukee Bucks in the Eastern finals. And in The Finals, they met a Lakers team that had Elgin Baylor, Wilt Chamberlain and Jerry West.
The Knicks took a 3-2 series lead, but, playing without Willis Reed, got blown out in Game 6 in L.A. The most lasting image from Game 7 of the 1970 Finals is Reed limping onto the court to the delight of the Madison Square Garden crowd. But make no mistake, Game 7 was Clyde's masterpiece. Against a star-studded opponent, Frazier scored 36 points (on 12-for-17 from the field and 12-for-12 from the line), grabbed seven rebounds, and dished out 19 assists.
Given the stakes, it's one of the greatest performances in NBA history.
"Willis provided the inspiration," Frazier said once. "And, in a way, I provided the devastation."
With success came fame. And "Clyde," the man and the persona, was the biggest star in the nation's biggest city. He owned New York both on and off the court, gaining a popularity that few athletes have ever had in their city.
And he was as comfortable at a kids' summer camp as he was in the club.
Before Michael Jordan and LeBron James, Frazier had his own signature shoe, the Puma "Clyde," which continue to be made today. According to Puma, he wore a different color variation for every game.
In 1975, Frazier was also the biggest star in a game full of them, earning All-Star MVP honors with 30 points and four steals.
Steals weren't counted for the first six years of Frazier's career, but he's been credited with five in that Game 7 masterpiece, and he averaged 1.9 per game over his final seven seasons. He was the Kawhi Leonard of his day, where if you were loose with your dribble in his vicinity, the ball was his. "He was an opportunistic player on defense," teammate and fellow Hall of Famer Bill Bradley said. "He took risks that often paid off."
With Frazier teaming in the backcourt with one-time rival Earl Monroe, the Knicks won a second championship in 1973. Frazier scored a game-high 25 points as the Knicks won Game 7 of the Eastern Conference finals in Boston, and he averaged 16.6 points, 6.8 rebounds and 5.2 assists in The Finals as the Knicks beat the Lakers in five games.
"He had this intense will to win," Bradley said, "and it lurked right beneath that calm surface."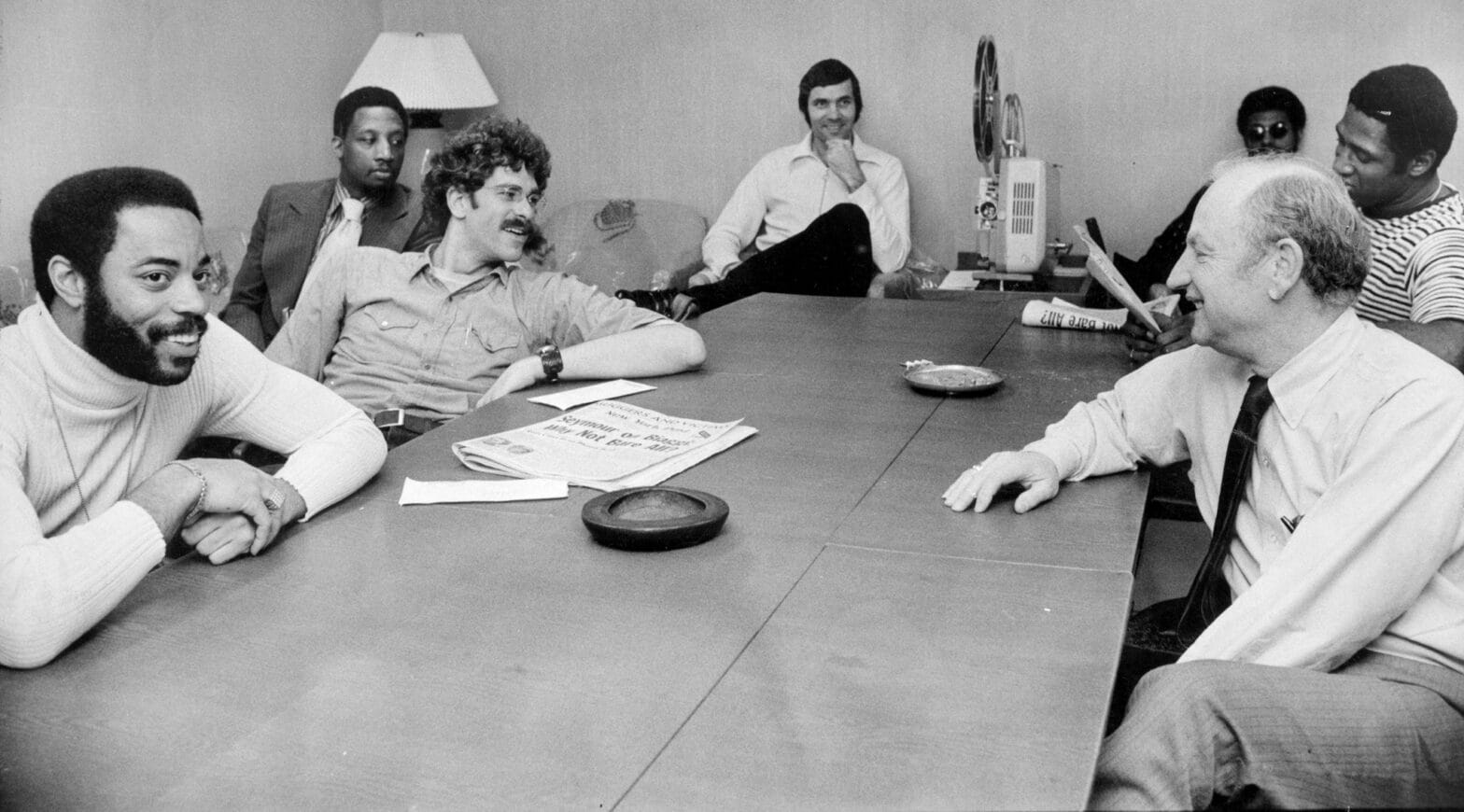 After 10 years in New York, Frazier finished his career in Cleveland. He had his jersey retired by the Knicks in 1979, was inducted into the Naismith Memorial Basketball Hall of Fame in 1987 and was named one of the NBA's 50 Greatest Players in 1996.
Clyde is both one of the best players and one of the best characters in NBA history. And he remains "omnipresent" in the lives of Knicks fans, still stylin' and profilin' as he calls games alongside Mike Breen in colorful suits and with colorful commentary.
Fifty-five years later, the city is still his.
More on Walt Frazier
+ 75th Anniversary Team player page