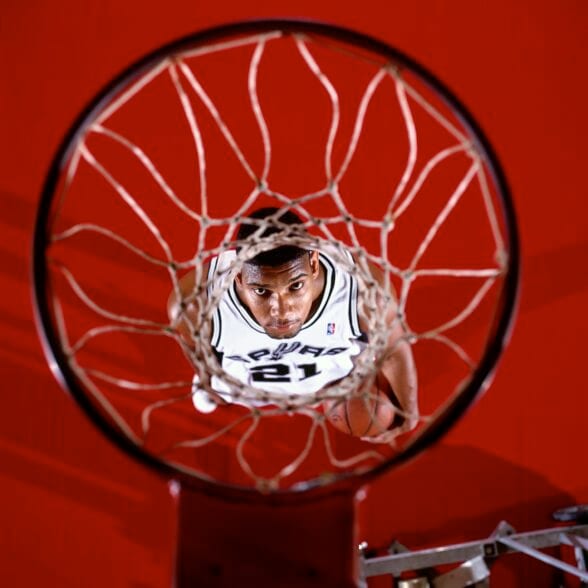 Shaquille O'Neal's nickname for Tim Duncan, "The Big Fundamental," suggests boring and uninspiring, belying the beauty of the game orchestrated by arguably the best power forward to ever lace up a pair of sneakers.
There's the off-balance shot over Shaq, the off-the-glass alley-oop to himself, and the monstrous one-handed jam over Ben Wallace — none of the plays necessarily "fundamental" by definition — but fundamentally great, nonetheless. There's Duncan snagging a rebound, dribbling coast-to-coast and breaking down LeBron James with the crossover to get to the rack. There's the power forward catching errant shots off the rim with one hand, and switching hands midair for the putback jam, or Duncan hauling in the seemingly impossible alley-oop on the inbounds play from Sean Elliot.
It's true, Duncan played one of the most fundamentally sound games of his era, but the stoic big man routinely flexed a penchant for pulling off the amazing.
That's how the No. 1 pick of the 1997 NBA Draft played for 19 years, making 19 consecutive playoff appearances in which he walked away with five titles and three NBA Finals MVP awards, not to mention two regular-season NBA MVP awards. That's how Duncan became the only player to start for an NBA championship team in three separate decades.
Tim Duncan averaged 21.1 points, 11.9 rebounds and 2.5 blocks per game in 1997-98 as a rookie on the way to unanimously winning NBA Rookie of the Year, but this performance was part of a February stretch in which the power forward averaged 28.8 points, 12.5 rebounds and three blocks in six games.
Duncan played 42 minutes in this one, hitting 13 of 18 from the floor to go with 11 rebounds, nine assists and two blocks. Not many rookies face double teams, let alone triple teams. Duncan saw both in this game. Still, he remained impervious and either knocked down a jumper or made the right pass to an open teammate.
As well as Duncan performed offensively that season (second-leading scorer behind veteran David Robinson, who averaged 21.6 points), the power forward made an immediate impact on defense, and was named to the NBA's All-Defensive second team as a rookie.
Hurricane Hugo swept through Duncan's hometown of St. Croix, Virgin Islands in 1989, erasing his dreams of becoming an Olympic swimmer because it destroyed all the local pools, eventually pushing him to the basketball courts. Having learned to swim at an early age like most kids in the Virgin Islands, Duncan loved to swim competitively, and by 13, he had clocked some of the fastest times in the United States in the 400-meter freestyle.
That all stopped when Hugo, a Category 4 storm, hit St. Croix as one of the most devastating hurricanes ever.
Like many other local swimmers, Duncan tried switching his training site to the ocean, but a fear of sharks pushed him out of the water.
Duncan wouldn't pick up a basketball until age 14. That same year, his mother, Delysia Ione, would die from breast cancer. Before her passing, she made Duncan promise he'd obtain a college degree.
Within a year of starting basketball, Duncan was already flashing potential at his high school, St. Dunstan's Episcopal. Soon, the United States — specifically Wake Forest coach Dave Odom — would find out about the lanky kid from the islands after a group of American players visited St. Croix as part of a basketball tour.
By 1993, a 17-year-old Duncan would step foot on campus at Wake Forest as the least-touted of the school's three-man recruiting class.
Duncan expected to redshirt, but his very first pick-up game on campus changed everything.
"He was already playing like he belonged," Duncan's friend and Wake Forest teammate, Marc Blucas, told NBA.com. "He was so even-keeled, and so competitive at the same time. I'll never forget looking at [teammate] Randolph Childress and saying, 'Hey, we've got to go tell [coach Dave] Odom not to redshirt this kid.' We went down there and just told him."
That kickstarted a decorated four-year college career at Wake Forest, culminating in the Spurs drafting Duncan No. 1 overall in 1997.
When Duncan arrived in San Antonio, the Spurs were already a veteran-laden team, operating in a regimented, militaristic fashion under Gregg Popovich. Spurs CEO R.C. Buford explained to NBA.com that Duncan quickly "softened" the group.
"It wasn't so regimented and rigid [anymore]," Buford said. "I think the way Pop and Tim connected it also became a very caring environment."
Popovich helped to plant those seeds with Duncan before the team even drafted him by visiting the forward for a few days in St. Croix so they could get to know one another.
This mashup featuring Boston legend Red Auerbach seems fitting here because a month after the franchise changed his title from president to vice chairman of the board, the Celtics whiffed in the Draft lottery, missing on the shot to select Tim Duncan, despite holding the best odds (36.3%) of any team in the lottery.
Nonetheless, Auerbach, a Hall of Famer and winner of 16 titles, knew a little something about the game of basketball and would've delighted in watching Duncan wreck opponents with his patented bank shot.
Popovich certainly admired it, and often lamented its gradual disappearance from the modern game.
"I guess it's just not cool," Popovich said. "People work on their 3-pointers, their dunks or their step-backs. [The] bank shot is old school. It's not tough. It's not a difficult shot. It's an easy shot. It's actually a very accurate way to shoot, and more people should use it. [Duncan] was just smart enough to do it."
No matter the intelligence of the opponent, or the fact they knew what was coming, nobody could stop Duncan's pinpoint accuracy off the glass on medium-range jumpers.
Duncan's unstoppable bank shot played an instrumental role in the power forward piling up 26,496 points (15th all-time) on 50.6% accuracy.
In the most dominating performance of the entire 2003 Western Conference semifinals, Duncan and the Spurs ended the Los Angeles Lakers' three-year championship reign with this 110-82 victory at Staples Center to close out the series 4-2.
The win would set up San Antonio's second NBA title as two-time MVP Duncan and 20-year-old Parker outdueled Shaquille O'Neal and Kobe Bryant.
Keep in mind that up to this point, Los Angeles had racked up a postseason record of 45-13 on its three-consecutive championship runs, including a 2001 sweep of the San Antonio Spurs in the Western Conference Finals, winning the last two contests of that series by a combined 68 points.
So, this Game 6 win registered as sweet revenge for the Spurs.
Popovich attributed the Game 6 triumph to San Antonio's second-half defense. But Duncan led all scorers with 37 points and 16 rebounds, as the Spurs outrebounded the Lakers 44-32. Parker chipped in 27 points.
"We've been put down by these guys the last couple of years," Duncan said after the game. "More than ending their reign, that felt a lot better, ending their season and going on."
Duncan considers San Antonio's 2014 championship the most rewarding of his five titles, and surely that can be attributed to the heartbreak suffered the year prior in falling to the Miami Heat in the NBA Finals.
With 28 seconds left in Game 6 and the team's fifth title within reach, San Antonio had blown a five-point lead down the stretch, eventually falling to LeBron James and the Miami Heat in Game 7 of the 2013 NBA Finals.
San Antonio returned that season determined to exact revenge, but most pundits doubted a team led by 38-year-old Duncan, 32-year-old Parker and 36-year-old Manu Ginobili could get the job done.
Wrong. San Antonio finally captured title No. 5 by downing Miami Heat in the 2014 finals rematch. San Antonio received a special assist from Finals MVP Kawhi Leonard, who was acquired by the Spurs in a 2011 draft night trade with Indiana.
Duncan and the Spurs had scrapped for seven years between their fourth and fifth championships.
The 15-year span between Duncan's first championship (1999) and last (2014) ranks as the second-largest gap in league history behind Kareem Abdul-Jabbar (17 years) among players participating in both NBA Finals series, according to Elias Sports Bureau.
When people discuss the "Spurs Way", they'd be remiss to leave out the contributions of players such as David Robinson, Mario Elie, Avery Johnson, Sean Elliott and Terry Porter as foundational pieces toward establishing San Antonio's culture.
But when Robinson, a Hall of Famer, retired in 2003 after winning his second championship in San Antonio, it was time for Duncan to carry the culture forward into the modern era. Duncan rode right alongside Robinson for two of the Spurs' championships, but he felt pressure to deliver more once his frontcourt mate and mentor decided to retire.
Luckily, Popovich and Buford had already provided plenty of help by drafting Parker (28th in 2001) and signing Ginobili to the roster in 2002, after the team had originally drafted him in 1999.
Duncan, Parker and Ginobili combined to reel off 126 playoff victories, the most in the NBA by any trio, and they also racked up the most regular-season wins (575) in NBA history.
During Duncan's 19 years, the Spurs owned a record of 1,072-438, good for a winning percentage of .719, which ranks as the best 19-year span in league history and No. 1 among all teams in the NBA, NFL, MLB and NHL over that span.
The franchise did it by establishing a culture of selflessness and team basketball, with players taking less individually in contracts, so the Spurs could continuously replenish the roster with strong supporting talent.
Talk to anybody within the Spurs organization, and they'll tell you that during Duncan's 19 seasons as a player, nobody in the building can remember a single instance when the power forward arrived late to practice, shootaround or a film session.
That consistent level of professionalism set a standard for everybody else in the franchise to follow.
When the organization readied itself for Duncan's Hall of Fame ceremony in 2021, several staffers found the power forward's two MVP trophies and one of his three Finals MVP awards sitting in a box near general manager Brian Wright's office.
Buford laughed at that memory, but he pointed to Duncan's example as one to mimic on every level within the organization.
Duncan, in essence, is the "Spurs way."
More on Tim Duncan
+ 75th Anniversary Team player page
+ 75 Stories: Tim Duncan