There were many truly remarkable things about John Havlicek's 16 professional seasons with the Boston Celtics. But beyond the longevity, the countless clutch moments, and being part of separate generations of Celtics success, what stands alone as Havlicek's greatest accomplishment was his adaptability.
The list of successfully completed tasks reads as follows: Reserve, starter, guard, forward, defender, scorer. Havlicek not only did each with competency, he did so at expert level. In the first minute or the last, in sickness and in health. The short list of most rounded players in league history is incomplete without John Havlicek.
Havlicek's career is best appreciated in segments. He was immediately the game's best reserve upon breaking in, settled into his undisputed peak and then transitioned to an elder statesman openly admired by his contemporaries. And that's how we will view Havlicek's career through this unique video vault — in segments. Once the tour is complete, one will understand how Havlicek used incomparable endurance as a weapon, see the highest scoring game in Celtics playoff history, and, of course, view "The Steal" from the vantage point of the man who did it.
But before doing that, watch the following and ask yourself this: How much did Boston love John Havlicek?
Two things immediately struck about Havlicek at the onset of his career: His proficiency as a sixth man, and that he was seemingly indefatigable. In just his second season he was the leading scorer on a title-winning team; by his fourth, an All-Star (the first of 13 consecutive nods). Early Havlicek was never a starter, but always a finisher. He had inherited the role from Frank Ramsey, widely considered the first great, influential sixth man. Ramsey, his career winding down, mentored the incoming Havlicek, helping ensure the Celtics retained that pivotal injection of reserve punch.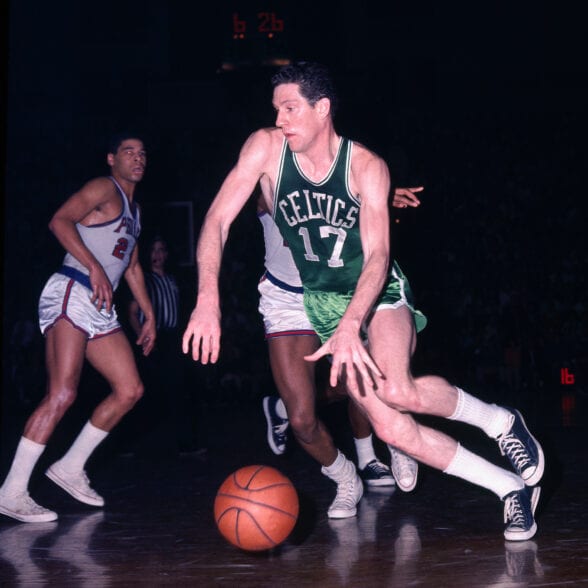 Havlicek had a remarkable ability to adapt to a game's tempo immediately upon joining it from the bench, and long after the herd tired, he remained steadfast in perpetual motion. The battle to endure was at once physical and mental, and he refused to wilt. The fascination with Havlicek's endurance came to take on mythical proportions. Did his lungs really not fit on a typical X-ray screen? Why was Harvard running studies on his exceptionally low pulse rate? Had his stamina really come from his parents' disallowance of him owning a bike in youth, and thus a necessity to simply run around town? The title of his 1977 book, "Celtic Man in Motion," served as a badge of honor.
To better understand Havlicek's early career hallmarks, we will need a VCR. First, we're going to a 1990 home video feature to see Havlicek as a sixth man extraordinaire. Second, a 1986 career retrospective from the vault gives us the low-down on that famed endurance.
Havlicek's career followed a traditional arc. His ascent as a sixth man through the middle part of the 1960s eventually gave way to a sensational prime as a full-fledged star as Boston transitioned post-Russell. Hidden away in that period was some of the finest forward play of his or any generation (26.8 ppg, 8.3 rpg and 7.3 apg from 1969-72). The first of four All-NBA first-team selections came in 1970; and 1972 brought the first of five All-Defensive first-team honors. Havlicek was never better or more complete.
It leads to today's trivia question: Which player holds the record for most points scored in a game in Celtics playoff history? Sam Jones? Great clutch player, master of the bank shot. But no, not him. How about Larry Bird? He would politely inquire about the arena record and then seek to destroy it. But it's not him either. Paul Pierce? The truth resides elsewhere.
In Game 1 of the 1973 Eastern Conference Semifinals against Atlanta, Havlicek hit 24 times from the field (tied with Wilt Chamberlain and Michael Jordan for most field goals made in a single postseason game) and finished with an incredible 54 points, a mark that has gone unsurpassed in Boston's glorious postseason lore.
On that night there were only two places to watch Havlicek make history: As one of the 11,907 in attendance in Boston Garden, or on television in Atlanta. Weren't privy to either? You're in for a treat. Presenting: John Havlicek scoring more points in a playoff game than any Celtic ever.
Few players have been exposed to more big games and critical moments than Havlicek. His irrevocable reputation as a clutch performer was firmly grounded in a singular moment, one defined by four simple, beautiful words: "Havlicek Stole the Ball!" It occurred in 1965 — Game 7 of that season's Eastern Conference finals against Philadelphia.
On the surface, a player had made an instinctive reaction and saved a game. But beneath, there were stories to be told. There was the pleading captain — Bill Russell — looking his teammates in the eye in the preceding huddle, begging that one of them make a play. There was Havlicek, his back to the inbound passer, at his most pragmatic: one thousand one, one thousand two, one thousand three, he began counting. When he finally peeked, his eyes saw what his brain assured him would be there — a floating ball awaiting its destiny. He would get a hand to it, and victory belonged to the Celtics. High above courtside, the play was immortalised by play-by-play man Johnny Most's iconic words, words that echoed far beyond his radio call on that Thursday night.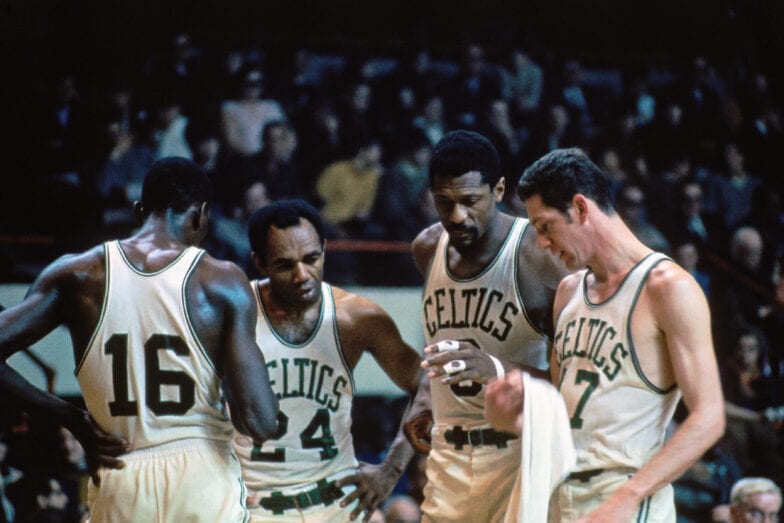 Fifty years after that most famous of plays, Havlicek provided us the only perspective that ever really mattered: His own. This incredible document will forever serve as the ultimate summation of "Havlicek Stole the Ball!" Alongside, Havlicek's clutch resume, which was far more than "The Steal," is laid bare for all to see — including his role as the key figure in two of the most memorable championship games of the 1970s.
Havlicek played his final game on April 9, 1978. Giving his followers several months' notice, he was rightfully serenaded in league cities upon his final visits, with the ultimate farewell saved for his Boston finale (you may recall the seven-minute ovation above?). Havlicek by the end had come to symbolize not only the game played the right way, but also the last of a certain kind, a treasured relic from a different era in the NBA's history.
Imagine for a moment it's springtime, 1978. You're going to follow one of the greatest players in history on the day of his final game. You'll take the car ride from his home to the Boston Garden, be seated courtside for the festivities and even wander out on to the floor as Havlicek exits for the final time — a vision not seen on live television. There are historic images and then there is this: the day of Havlicek's final game, alongside him as it unfolds.
Havlicek was admired by playing the game ideally and simply, with honesty, integrity, and unfailing effort. He was the last thread to a period of time, the leader who followed Russell, who had followed Cousy. He was the last figure in a lineage of sustained excellence the likes of which will never be equaled.
More on John Havlicek