Velvety smooth in every aspect, whether in speech, movement, or scoring prowess on the game's largest stage, George "Iceman" Gervin effortlessly gave the world "cool" without really trying to "Fonzie" up the package. Gervin captured four scoring titles and helped build the foundation for San Antonio's reputation for winning around the NBA. But Gervin didn't invent the finger roll, his trademark shot that's widely synonymous with the former Spurs star. Nope, Gervin admits to imitating former teammate Julius "Dr. J" Erving as well as Connie Hawkins and Wilt Chamberlain to develop his own unique finger roll, which captivated audiences and simultaneously frustrated opponents stretching high to block the trademark shot. When players such as Chamberlain, Bill Russell, Elgin Baylor and Jerry West exited the game, it was Gervin who was in the vanguard of the NBA's next batch of superstars. There's a reason West once told reporters in 1982 that Gervin was "the one player I would pay to see."
Unstoppable as a scorer, Gervin received the nickname "Iceman" from former Virginia Squires teammate Fatty Taylor because of his effortless style of play, composure on the court, and penchant for running roughshod over opponents while rarely even breaking a sweat. You see the majestic finger roll, the smooth jumper, the aerial acrobatics. But there was also a sneaky explosive dunking ability, speed, athleticism, and basketball IQ that enabled Gervin to become the first guard to win three consecutive NBA scoring titles during a career in which he ran off a streak of 407 straight games scoring in double figures. But few understood the work Gervin put in to make it all look so easy.
That all started at Martin Luther King High School in his hometown of Detroit. As a sophomore, Gervin quickly realized the need to improve his shot when he unsuccessfully tried out for the varsity basketball team. But the allotted practice time wasn't sufficient for Gervin to ascend to the level he craved. So he eventually struck up a friendship with the school janitor, who allowed Gervin to stay in the gym for hours working on his game — after everyone else was gone — as long as he made sure to sweep up before leaving. Gervin would finish his senior year at Martin Luther King averaging 31 points and 20 rebounds.
But as a pro Gervin's game would need even more refinement, leading the guard to change his shot. He went from a straight-ahead motion to a more unusual stroke coming off near the top of his right ear. The change enabled him to better shoot over taller defenders.
The American Basketball Association's Dallas Chaparrals moved to San Antonio in 1973, and the same day Gervin played in his first ABA All-Star Game, his contract was sold by the Virginia Squires to the newly named San Antonio Spurs for $225,000 cash. See, the team's primary owners at that time — Red McCombs and Angelo Drossos — understood not only Gervin's star power, but the importance of the team having a star, period, in what McCombs called "an entertainment business." So Gervin joined the Spurs in mid-January of the 1973-74 season, becoming the franchise's first superstar.
Spurs fans immediately embraced their new superstar and the run-and-gun style of the ABA game, which Gervin was intimately familiar with. The old-timers in San Antonio still speak with reverence about Gervin and the early days of the Spurs at HemisFair Arena. Every game night served up a South Texas party at the arena, where you could purchase what they called "obstructed view tickets" for just $5. Before the ABA and NBA merged in 1976, San Antonio actually had to raise the roof at HemisFair to increase seating capacity to meet the NBA's specs. That only meant more fans would enjoy the spectacle of Gervin, a self-described entertainer, and the party atmosphere at HemisFair.
When the Spurs finally joined the NBA, many questioned whether Gervin could maintain his standard of excellence. Well, "Ice" responded with four scoring titles in five seasons, in addition to earning five selections to the All-NBA First Team and trips to nine consecutive NBA All-Star Games. By the way, the Spurs maintained their run-and-gun ABA style of play, too.
Gervin's coach, Doug Moe, wanted the fastest offense in basketball, which the coach believed equated to a minimum of 100 shots per game. "Ice" fit like a glove. In just San Antonio's second season in the NBA (1977-78), the Spurs won the Central Division, finishing with the league's third-best record (52-30). The next season, Gervin repeated as scoring champion and finished as runner-up in MVP voting for the second straight year as the Spurs narrowly missed the NBA Finals after squandering a 3-1 lead over the Washington Bullets in the Eastern Conference finals. That's the closest Gervin would come to a shot at the NBA's ultimate prize.
And how quickly did the ABA stars become big names in the NBA?  This 1980s NBA promo is pure, solid gold!
The smooth, gliding finger-roller could also jam home a dunk with ease. Sure, Michael Jordan's iconic 1987 dunk from the free-throw line deserves plenty of recognition. But let's not forget that Gervin, and his former Squires teammate, Erving, had already taken flight from the foul line at least a decade earlier. Erving did it during the first-ever Slam Dunk Contest at the 1976 ABA All-Star Game (Gervin was the only guard entered into the contest that year), and Gervin nailed that Holy Grail of a dunk the very next year in the CBS Slam Dunk Contest.
The last day of 1977-78 season blessed fans with an exciting finale to the closest scoring race in NBA history, when Gervin scored 63 points against the New Orleans Jazz to push his scoring average to 27.22 points per game, edging out Denver Nuggets star David Thompson (27.15 points per game), who had just scored 73 points earlier that same afternoon.
Thompson's 73-point afternoon stirred up the drama. But luckily, both teams were already locked into postseason spots facing non-playoff teams, thus allowing both the Nuggets and the Spurs the opportunity to make sure their stars pushed for the scoring title.
After Thompson ripped the Detroit Pistons for 73 points, which registered as the third-highest total in NBA history, his scoring average ticked up to 27.15 as Gervin's sat at 26.8 with one game left for him to play that night.
Moe knew his star needed 59 points to move past Thompson and acted accordingly.
Moe instructed the rest of the Spurs to make sure Gervin took every shot until he reached the points needed to pass Thompson. But there was one problem: Gervin felt uneasy about the plan, which likely contributed to the Spurs' star missing his first six shots on the night. Gervin called for a timeout and told teammates to abort Moe's mission. But Moe refused, and the team continued to follow the coach's instructions.
After the slow start, Gervin would light up the Jazz for 33 points in the second quarter on the way to his title-clinching 63 points. Gervin's 33 points in one quarter registered as an NBA record at the time.
Here's a classic video recap of that high-scoring final day of the season, narrated by none other than Bill Walton.
Before showing the world his "Smitty" move, Steve Smith — a 2003 NBA champion and 1998 All-Star — idolized Gervin as a kid growing up in Detroit. Hanging on Smith's bedroom wall in Detroit of course was the iconic 1982 Nike poster that featured the city's native son sitting on a throne of ice wearing a silver sweat suit, holding two basketballs with the caption "Iceman" scrolled across the bottom. Nike even produced a special edition of that poster locally for Ice's Hispanic fans in San Antonio that read: "El Hombre de Hielo" or, translated, "The Man of Ice."
"Never knew that this poster was gonna be as iconic as it was," Gervin recently told NBA.com. "Never even suspected it. Never even dreamed of it becoming what it became."
Gervin likely was also unaware of the influence his smooth, effortless style would have on so many NBA fans around the world, especially young kids in Detroit like Smith, who dreamed of competing on the world's largest stage. Smith will tell you there aren't many Gervin stories he doesn't already know. Smith even attended the 1979 NBA All-Star game near Detroit to watch Gervin and was later able to purchase in an auction the actual shoes "Ice" wore in that game.
Fast-forward 24 years, and Smith himself was wearing the Spurs' Silver and Black like his idol Gervin. But Smith further advanced the dream instilled by his idol by winning an NBA championship in 2003 as a member of the Spurs. Although the franchise has presented Gervin with each of its five championship rings, he never won one as a player like Smith.
Interestingly, the Spurs are missing only one of the game balls from their five championships. That ball resides in Smith's home, and he's not giving it up for anybody. Talk about "Ice" cold.
This Spurs 171-166 triple-overtime victory over the Milwaukee Bucks encapsulates everything and then some about what made Gervin special. The man played 56 minutes and scored 50 points on 67.7% from the field in this thriller, while drilling all eight of his free-throw attempts. Yet you never see Ice sweating or laboring through his extensive arsenal of offensive weaponry.
Gervin's jumper is butter, and he slithers around and through double teams for runners, hook shots, and his patented finger roll with both hands, scoring in the post or on the perimeter with relative ease.
That's just the way Gervin made it look. But don't get it twisted. Prolific production like this is no easy feat.
Gervin owns the three highest single-season scoring averages in San Antonio Spurs history: 33.1 in 1979-80, 29.6 in 1981-82, and 29.6 in 1978-79. What's more impressive is Gervin ranked in the league's top 10 in scoring in eight seasons and connected on 51.1% from the field throughout his NBA career, which is almost absurd for a perimeter player. Gervin made most of his shots count.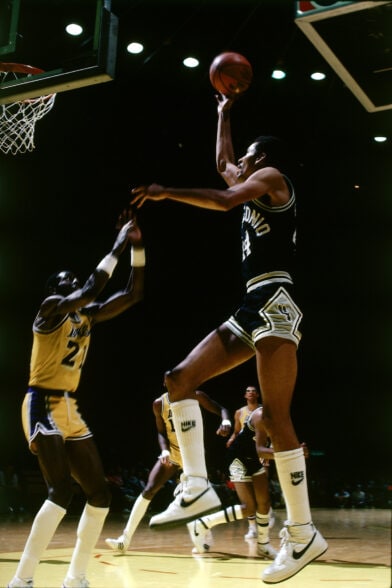 Yet another factor often overlooked with Ice is his incredible durability. More than 10 NBA seasons without today's advances in rest and recovery, Gervin played his fewest games (72) during the 1984-85 season — when he was 33 years old — and he averaged 33.5 minutes, while taking the floor for at least 78 of 82 games in eight of those seasons.  Gervin also contributed heavily as a defender, despite his reputation as an unstoppable scorer. A guard, "Ice" blocked 214 shots in San Antonio's first two seasons after the merger, and 91 in the club's third NBA season.
When the Spurs traded Gervin to the Chicago Bulls just a week before the start of the 1985-86 season, he had already scored 23,602 points in addition to racking up more than 60 franchise records.
That's how Gervin became the first San Antonio Spur elected to the Naismith Memorial Basketball Hall of Fame in 1996. San Antonio retired Gervin's jersey in 1987.
"Nobody had to tell me that I could play," Gervin told NBA.com. "I wasn't caught up in somebody saying, 'You're this' or 'you're that.' You look at my work, you look at my stats. I know a couple of years I was the most efficient player in the league. I shot 51% in my career, getting 26,000-something points (26,595). Most of them guys that's up there in that same category, they shot 30 times to get 30 points. I prepared myself to be able to try to handle whatever defense was thrown at me. I think that made a difference for me in my career. I worked at my craft. I just loved the game. So, that gives you confidence and builds up your self-esteem. Then mentally, it makes you ready for whatever comes at you."
More on George Gervin
> 75th Anniversary team player page