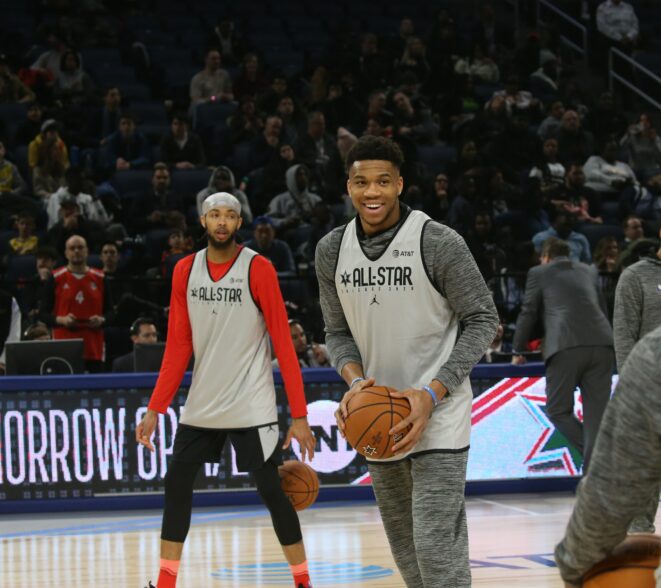 CHICAGO — Eric Paschall discussed his team channeling its "Mamba Mentality" ahead of Friday's NBA Rising Stars game at the United Center, and a day later at Wintrust Arena the mindset hadn't changed among the players hitting the floor at NBA All-Star Media Day.
"For us to be able to honor Kobe Bryant and his legacy, it's a beautiful time," LeBron James said. "Even in a loss, it's a beautiful time. We know that he's watching over us."
The uniforms for the NBA All-Star game will honor Bryant, his 13-year-old daughter, Gianna, and the seven victims that died in a helicopter accident on Jan. 26. In fact, James' entire team will wear No. 2 in honor of Gianna Bryant, while Giannis Antetokounmpo's team will wear No. 24 as a tribute to Kobe.
The players made it clear that the play on the floor will also honor Bryant's memory.
"The format is amazing," Antetokounmpo said. "It makes you want to play hard and compete against one another. Each quarter you have the opportunity to win, and it makes it way more competitive. But wearing 24 and LeBron wearing number two, it's a big honor. I wouldn't want it any other way representing Kobe and Gigi in tomorrow night's game."
In the past, NBA All-Star Weekends embodied fun and lightheartedness, which was certainly in abundance Saturday when the players from Team Giannis and Team LeBron met with the media. But a whole month hasn't yet passed since Bryant's death. So the rawness of emotion still manifested itself at times, as players shared memories of a player that Antetokounmpo described as "the Michael Jordan of our generation."
"A guy that mentored me in the last few years of my career, a guy that was always there for me," Antetokounmpo said. "In the regular season, the playoffs, a guy that told me that whenever I need something, I could just reach out to him, and he was literally always there. If I needed something, he would text me back, call me. Growing up, he was my idol. Not just my idol, probably the whole generation, a lot of people my age's idol. He was one of those guys that gave back to the game so much, gave back to the players. A lot of people when they're so great, they don't do that. There was a quote that said that talent is worthless if you're not willing to share it, right? And he was one of those guys that was sharing his talent with us, and he's going to be definitely missed."
An 18-time NBA All-Star and four-time NBA All-Star Game MVP, Bryant mentored an entire generation of players, sometimes unwittingly. Toronto Raptors forward Pascal Siakam, representing Team Giannis, said he didn't even know Bryant personally. But Bryant once broke down Siakam's game on the ESPN series "Detail".
"It was something that I really watched," Siakam said. "All the little pointers that he gave me about my game is something I'm going to take. It's definitely going to stay with me for the rest of my life. Just his impact and everything that he's done for the game of basketball is incredible. He's a legend. We continue to keep our thoughts and prayers with the families involved. We can just continue to honor him on the court."
Boston Celtics guard Kemba Walker anticipates Sunday's All-Star Game will be "very emotional," and not just because of the death of Bryant. David Stern, the league's commissioner during its most successful period, died in January at 77.
"With the tragic death of Kobe and Gigi and the rest of the families on the plane," Walker said. "David Stern, it's definitely going to be a very emotional weekend, and we're going to celebrate those guys and everyone else as best as we can. They meant so much to our game. They grew the game so much. We all just have a lot of respect for them."
Former Kia MVP James Harden once played with Bryant in an exhibition game in the Philippines and called him "a worldwide legend."
"We shared so many moments," Harden said. "After that, I went back to the Philippines several times, and those fans are amazing there. They showed me mad love."
With the NBA All-Star Game's new format, which honor's Bryant's jersey number over his final 10 seasons, most of the players on hand for media day anticipated a competitive fourth quarter, reminiscent of the player they all admired.
"He was a very, very hard worker," Walker recalled. "And you could tell. Fourth quarter came, and I feel like everybody is always tired. Kobe wasn't, you feel me? Yeah, he was a special guy."
* * *
Michael C. Wright is a senior writer for NBA.com. You can e-mail him here , find his archive here and follow him on Twitter .
The views on this page do not necessarily reflect the views of the NBA, its clubs or Turner Broadcasting.