OAKLAND, Calif. – The two teams that have pitched tents on the NBA Finals for the past four years share a bunch of attributes. Star power, 3-point marksmanship, continuity at least at some minimal level, crafty and dedicated coaching staff, and a know-how that has grown with each subsequent championship showdown.
There's one other thing, though, that should not be overlooked.
The Golden State Warriors and the Cleveland Cavaliers rank Nos. 1 and 2 in team payroll, each spending a few exotic motor cars north of $137 million on the players competing in the 2018 Finals.
Warriors guard Steph Curry ($34.7 million) and Cleveland forward LeBron James ($33.3 million) are the league's two highest paid stars this season, and they have a combined total of seven teammates each being paid more than $15 million in 2017-18.
It's no coincidence, then, that in terms of on-court success, the Golden State and Cleveland owners are getting what they paid for. Or, perhaps inversely, paying for what they get.
This bang-for-the-big-bucks aspect came up Thursday in NBA commissioner Adam Silver's annual pre-Finals news conference. Silver was talking about the oddity of the same two teams meeting in the championship round for the fourth consecutive time – unprecedented across the four major U.S. pro team sports. The fact is, beyond talent and strategies, being able and willing to spend top dollar undeniably is a major factor.
That goes right to the heart of the league's economic model.
What gives? The salary cap gives, that's what.
Unlike the "hard" cap system used by the NFL, the NBA has a "soft" cap that makes it painful and pricey, but not impossible, for a team owner to exorbitantly overpay for success. The official cap figure this season was $99 million, with a $119.2 million luxury-tax threshold. Both the Warriors and the Cavaliers payouts dwarf those numbers.
The difference between hard and soft is one reason the NFL is known for its parity while the NBA is dealing these days with two dominant franchises and 28 wannabes.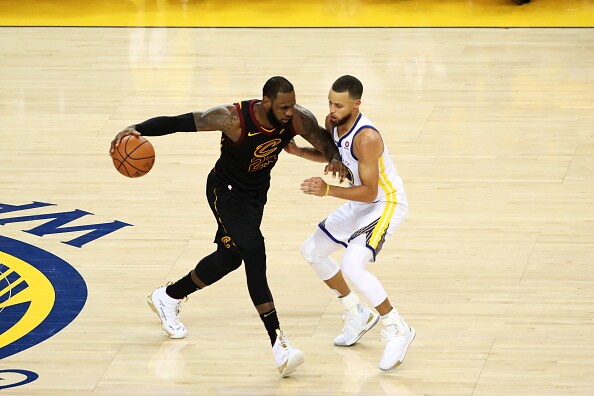 "You still have two teams that are significantly above, not just the cap, but the tax," Silver said. "Now [the hard cap is] something that we'll continue to look at. There are pros and cons to doing it. Historically, one of the issues in our league was we didn't necessarily want to break up teams. There is a different sense in the NBA than the NFL, and the chemistry and dynamic that comes together with a group of players."
Any changes in the cap system would need to be collectively bargained, of course, with the National Basketball Players Association.
"You could do more to achieve parity, but you also don't want parity of mediocrity either," Silver said.
The NBA wants its Larry O'Brien Trophy to still celebrate excellence, not participation. And excellence isn't only a function of finance.
"Not to take anything away from strong coaching and general managing and ownership," Silver said, "but you have certain players in our league that are so transcendent that their team is always probably going to be in the hunt."
Take this for data, from the commissioner via a story on TheRinger.com.
"I looked this up: LeBron, now over the course of the last eight Finals, has played with 59 different players," Silver said. "It means that presumably the team LeBron is on is going to be a dominant team."
So to get back to the original question: Is it a good thing for the NBA to have the same two teams in the Finals four years in a row?
"The greater the competition you can create, the greater their interests will be," Silver said at one point. "At the same time, I don't think it's inconsistent to celebrate greatness and to say, my God, look what these two teams are doing."
As usual, Silver fielded questions on a variety of topics, including:
— Regarding the furor in Philadelphia in which chief basketball exec Bryan Colangelo is accused of using multiple cloaked Twitter accounts to anonymously take on critics, defend his reputation and even question players' performances and off-court activities, Silver deferred to an independent investigation undertaken by the Sixers. "Here we are, Game 1 of The Finals, it's not necessarily something we want to be talking about," the commissioner said, "but it's the reality of this league. So I have no information beyond that other than that investigation is underway."
— As the league embraces the looming prospect of legalized sports betting, one issue is the NBA's expectation of a royalty or "integrity fee'' – 1 percent of all bets made is an estimate floated by some – to compensate the league for its intellectual property and/or the costs of keeping competition on the up-and-up. Some gaming enterprises already have balked at the idea.
"Their view is we're not entitled to that integrity fee," Silver said. "And my response to those gaming organizations is, 'If that's your view, then we will negotiate with you directly.' Because I think many of them desire to get official data feeds from the league. They desire to use our trademarks for placing bets."
— One-and-done might not be around much longer. That eligibility rule for players to enter the Draft could give way to the league's development league (G League), nearly a 30-to-30 affiliate system now, and its use of two-way contracts to move players up and down as needed.
A wrinkle in the debate pertains to a study chaired by former Secretary of State Condoleezza Rice that asserted one-and-done prospects might be more trouble – in the form of recruiting and eligibility infractions – than they're worth.
Said Silver: "Their view that players at 18 who are of NBA caliber … should not be in college and they should be playing either directly in the NBA or in our development league. And I will say that if you have, in essence, college saying, 'We don't want these players, it would be hard for us not to respond."
— A recurring cry to reduce the NBA's regular season from 82 games, allegedly to cut down on injuries, got no traction with the commissioner. He noted that some of this season's most debilitating injuries – such as season-enders suffered by San Antonio's Kawhi Leonard and New York's Kristaps Porzingis – came after those players had appeared in very few games.
"If we had any data, hard data suggesting that a season that was 75 games or 72 games instead of 82 games would reduce injuries other than just playing fewer games," Silver said, "we'd be taking a hard look at shortening our season. We just don't have that data right now."
* * *
Steve Aschburner has written about the NBA since 1980. You can e-mail him here, find his archive here and follow him on Twitter.
The views on this page do not necessarily reflect the views of the NBA, its clubs or Turner Broadcasting.