Five 1-on-1 matchups to watch this week: Anthony Davis vs. LaMarcus Aldridge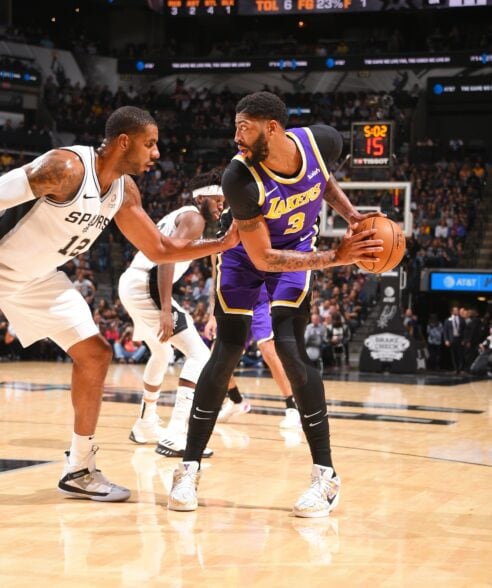 While families gather to prepare for Thanksgiving festivities, NBA fans get to feast early Wednesday on three of the most compelling one-on-one matchups taking place, highlighted by a clash between James Harden and Miami's Jimmy Butler in Houston.
The night before, Kawhi Leonard faces Luka Doncic on NBA TV as one of just two games set to be played around the league.
Here, we take a look at five of this week's most intriguing head-to-head battles:
1. Anthony Davis vs. LaMarcus Aldridge
Last regular season meeting: Nov. 3, 2019
The struggling San Antonio Spurs desperately need a boost in production from Aldridge, who has shown at times over the years a penchant for carrying his team when it sputters. The Lakers capped last week with their seventh consecutive victory, while the Spurs snapped their longest losing skid (eight games) of the Gregg Popovich era behind a 23-point effort from Aldridge.
For the majority of the season, Aldridge, like the rest of the Spurs, has been wildly inconsistent. Aldridge's team has fallen in each of its last two matchups with Davis. Davis lit up the Spurs for 25 points, 11 rebounds and four blocks the last time he faced Aldridge, who managed just eight points on 2-of-9 shooting in 30 minutes on Nov. 3. While Aldridge owns a 13-10 record in this series, Davis served as a member of the New Orleans Pelicans for the first 22 matchups. Davis now plays with a much more potent supporting cast and the Lakers enter the week 6-1 on the road. Meanwhile, Aldridge and the Spurs continue to tinker with different lineups to find the right mix. Defense remains a major flaw for San Antonio as it is 26th in Defensive Rating while L.A. is 5th in that category.
Head-to-head stats below are via Basketball Reference.
| Player | W | L | PPG | RPG | APG |
| --- | --- | --- | --- | --- | --- |
| Anthony Davis | 10 | 13 | 21.0 | 10.4 | 1.9 |
| LaMarcus Aldridge | 13 | 10 | 18.7 | 8.3 | 1.7 |
2. Kawhi Leonard vs. Luka Doncic
Last regular season meeting: Jan. 27, 2019
It's early, but Doncic has more games (seven) with 30-plus points and 10-plus assists than anybody else in the league this season. Additionally, Doncic has eight games of 20-plus points and 10-plus assists, trailing only LeBron James (10 games) in that category. Still, Leonard clearly plays on a more loaded team. We saw evidence of that Friday night when Leonard and the Clippers handed Houston its second-straight loss after the Rockets had won eight straight. The Clippers feature not one or two, but three legitimate game closers in Leonard, Paul George and Lou Williams. Conversely, the Mavericks rely on Doncic and Kristaps Porzingis for the majority of their heavy lifting.
Leonard and Doncic have faced off twice with the former winning both those games, averaging 27 points, 9.5 rebounds and four assists per game. But Doncic's statistics in these games (28.5 ppg, 8.5 rpg, 7.0 apg) have been superior, despite Leonard playing on a more talented team (Toronto) in these meetings. Nothing changes this time around with Leonard's new team. LA can throw Leonard, George or Patrick Beverley at Doncic, while the Mavs feature few options capable of limiting Leonard's production. This is one of just two games on the NBA schedule for the night, so it's definitely a much-watch.
Head-to-head stats below are via Basketball Reference.
| Player | W | L | PPG | RPG | APG |
| --- | --- | --- | --- | --- | --- |
| Kawhi Leonard | 2 | 0 | 27.0 | 9.5 | 4.0 |
| Luka Doncic | 0 | 2 | 28.5 | 8.5 | 7.0 |
3. Jimmy Butler vs. James Harden
Editor's note: Jimmy Butler was ruled out due to illness.
Last regular season meeting: Nov. 3, 2019
Last summer, reports surfaced that Houston was eyeing Butler as a potential addition. But the transaction never panned out, and Butler joined the Heat to play a role in administering arguably the Rockets' most embarrassing loss of 2019-20 (a 129-100 Miami romp on Nov. 3).
The Heat entered the week having won five of their last six, while Houston reeled off eight wins in a row before dropping its next three (to the Denver Nuggets, LA Clippers and Dallas Mavericks) to close out last week. Harden averages 23.5 ppg and 6.3 apg in matchups against Butler, but those numbers pale in comparison to what he's done as of late. Entering Sunday, Harden had 613 points through 16 games. That ranked as the sixth-most in NBA history over that span — just behind Michael Jordan (615 points), Rick Barry (618) and Wilt Chamberlain, who owns the next three highest totals (861, 764, and 642). Houston undoubtedly will be out for revenge at home after its embarrassing loss to Miami three weeks ago.
Head-to-head stats below are via Basketball Reference.
| Player | W | L | PPG | RPG | APG |
| --- | --- | --- | --- | --- | --- |
| Jimmy Butler | 5 | 10 | 16.1 | 5.5 | 3.1 |
| James Harden | 10 | 5 | 23.5 | 4.1 | 6.3 |
4. Bradley Beal vs. Devin Booker
Last regular season meeting: March 27, 2019
Five NBA seasons and five coaches for Booker, who might finally be on the verge of securing some stability under new coach Monty Williams. Booker and Co. ended their three-game skid on Saturday against the Minnesota Timberwolves and, to date, Booker is averaging 24.8 ppg, 3.7 rpg and 6.1 apg. He's also trending toward career highs in shooting percentage (51.8%) from the field and from 3-point range (42.9%). But Booker and the Suns haven't experienced much success against Beal and the Wizards. Beal is 6-1 in battles with Booker, averaging 33.1 ppg, 5.0 rpg and 4.6 apg.
Booker has lost his last two matchups with Beal, despite dropping 50 points and 10 rebounds the last time the teams met. Beal had five straight games with 30 or more points working until that came to an end in Sunday's loss to the Sacramento Kings (Beal had 20 points). Phoenix's injury situation adds uncertainty to what should be a high-scoring affair and could put the Suns at a slight disadvantage, given it's still unknown whether strong supporting cast members such as Ricky Rubio (back) and Aron Baynes (hip) will be available for the Suns to help Booker.
Head-to-head stats below are via Basketball Reference.
| Player | W | L | PPG | RPG | APG |
| --- | --- | --- | --- | --- | --- |
| Bradley Beal | 6 | 1 | 33.1 | 5.0 | 4.6 |
| Devin Booker | 1 | 6 | 26.0 | 3.7 | 4.4 |
5. Chris Paul vs. Damian Lillard
Last regular season meeting: Oct. 30, 2019
Don't let the losing streaks these teams are suffering turn you away from this matchup. The Thunder enter the week having dropped three in a row, while the Trail Blazers head into Monday in the midst of their second four-game skid of the season. But the current losing situations for both teams lend themselves to hunger, and these squads are led by two of the NBA's most competitive point guards. Beef between the two dates back to Paul's time as a Houston Rocket, but we might experience an added level of awkwardness now that Carmelo Anthony — a good friend of Paul's — is now a teammate of Lillard's.
Paul owns a lopsided advantage in this series, having won 16 of the 21 head-to-head clashes. The guards have already met once this season, with Lillard coming out victorious in an outing in which they combined for 44 points on 12-of-29 shooting. Oklahoma City entered the week in 13th place in the West, with Portland lurking right behind at No. 14. These teams appear to be heading into what they'd consider must-win territory. Also worth noting? The Thunder entered the week 0-4 in games decided by three points or less.
Head-to-head stats below are via Basketball Reference.
| Player | W | L | PPG | RPG | APG |
| --- | --- | --- | --- | --- | --- |
| Chris Paul | 16 | 5 | 22.5 | 4.8 | 10.0 |
| Damian Lillard | 5 | 16 | 20.1 | 4.7 | 6.0 |
Underrated matchup of the week
Trae Young vs. Russell Westbrook
Last regular season meeting: Oct. 30, 2019
Interestingly, Young grew up a Thunder fan because his family became season ticket holders when the team moved from Seattle to Oklahoma City before the start of the 2008-09 season (which was Westbrook's rookie season). Young has known Westbrook dating all the way back to the Hawks star's high school days as a phenom in Norman, Okla. In fact, Young even expressed some disappointment about Westbrook being traded by Oklahoma City over the summer. While Oklahoma holds a special place in the heart of both players, this showdown takes place in Texas with the guards averaging a double-double against one another in two previous matchups.
Young's squad walked away victorious the last time these players met during his rookie season. He had 24 points and 11 assists while Westbrook lit up the Hawks for 31 points and 11 assists in the loss. Westbrook finished that game with five steals in that game, and Young had seven turnovers. Look for Westbrook to try to impose his strength and quickness to see if he can force Young into turnovers that will allow Houston to get out in transition. Westbrook has also averaged three steals in these head-to-head battles.
Head-to-head stats below are via Basketball Reference.
| Player | W | L | PPG | RPG | APG |
| --- | --- | --- | --- | --- | --- |
| Trae Young | 1 | 1 | 16.5 | 5.0 | 9.5 |
| Russell Westbrook | 1 | 1 | 27.0 | 7.5 | 10.5 |
* * *
Michael C. Wright is a senior writer for NBA.com. You can e-mail him here , find his archive here and follow him on Twitter .
The views on this page do not necessarily reflect the views of the NBA, its clubs or Turner Broadcasting.