We've got childhood friends, longtime bitter rivals and former championship teammates headlining another week of interesting 1-on-1 matchups.
Here, we take a look at five of the pending head-to-head battles:
1. Luka Doncic vs. Kemba Walker
An almost nine-year age difference exists between these two, but Walker is at the top of his game with a new team, where he heads into the week averaging 24.5 points, while connecting on 41.1 percent from deep. Doncic, meanwhile, enters the week averaging 27.7 points, 10.8 rebounds and 9.1 assists.
Interestingly, Walker hasn't yet logged a victory against Doncic in two meetings. But when they played those two games last season, Walker was still a member of the Charlotte Hornets. In those contests, the guards produced similarly statistically, with Walker coming out slightly ahead as a scorer while Doncic averaged a double-double. The difference this time is Doncic seems to be on another level and is displaying strong chemistry with Kristaps Porzingis. Walker, however, is excelling with the change of scenery to Boston with the Celtics riding a 7-game winning streak. He'll be carrying a bigger load now that Gordon Hayward is out with a broken hand.
Head-to-head stats below are via Basketball Reference.
| Player | W | L | PPG | RPG | APG |
| --- | --- | --- | --- | --- | --- |
| Luka Doncic | 2 | 0 | 18.5 | 10.0 | 7.5 |
| Kemba Walker | 0 | 2 | 20.5 | 7.0 | 5.5 |
2. Kawhi Leonard vs. Pascal Siakam
The former Toronto Raptors teammates matched up only once previously, and you can't take much from the data produced in that game. At the time, Siakam was a 22-year-old rookie fighting for minutes, while Leonard was in the midst of Kia MVP candidacy. Siakam played 25 minutes in that meeting with Leonard, then a San Antonio Spur, and the reigning Kia Most Improved Player produced just two points on 1-for-4 shooting.
But since then, things have changed with Siakam taking over as Toronto's leading scorer in the wake of Leonard's departure to the LA Clippers. Initially bummed by Leonard's decision to leave, Siakam saw new opportunity. "The door is open," he told The Undefeated's Marc J. Spears. "I'm definitely up for the challenge, just like everyone else on the team is up for the challenge." Let's all hope Leonard's "load management" situation doesn't spoil the finale of what should be an exciting NBA TV Monday night doubleheader.
Head-to-head stats below are via Basketball Reference.
| Player | W | L | PPG | RPG | APG |
| --- | --- | --- | --- | --- | --- |
| Pascal Siakam | 0 | 1 | 2.0 | 2.0 | 0 |
| Kawhi Leonard | 1 | 0 | 25.0 | 4.0 | 2.0 |
3. Ja Morant vs. Dejounte Murray
A pair of young, similar-framed guards square off as the San Antonio Spurs celebrate the past after this game by retiring the jersey of Tony Parker, the best point guard in franchise history. But don't expect full exposure to what should be a competitive matchup for years to come, as Murray has been playing on a minutes-restriction as part of his recovery from the torn ACL suffered last October. Spurs coach Gregg Popovich has said he wants the Spurs to reach the 10-game mark before the staff re-evaluates whether to increase Murray's minutes. This outing counts as game No. 9 for San Antonio.
Murray has established himself as one of the league's best defensive guards, while Morant averaged 20.4 points over his first seven games to earn recognition as one of the favorites to capture Kia Rookie of the Year. Expect to see plenty of speed in this one. Last season, the Spurs ranked 22nd in pace with 98.89 possessions per game with Murray sidelined all season. They entered the weekend at nearly 103 possessions despite Murray playing restricted minutes. Memphis, meanwhile, finished last in pace (97.15 possessions) last season, but entered the weekend at No. 5 (107.05 possessions).
4. Patrick Beverley vs. Russell Westbrook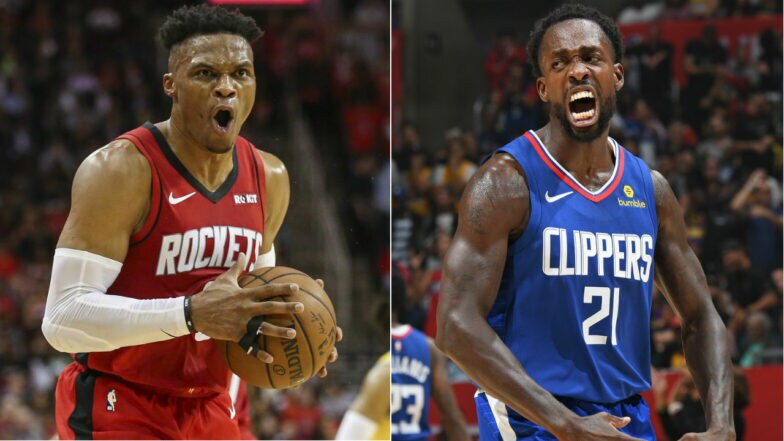 Everyone knows the history here, and this game marks the first time Russell Westbrook faces Patrick Beverley as a member of Beverley's former team, the Houston Rockets. The last time Westbrook's and Beverley's teams played one another, the latter drew the responsibility of guarding Paul George while Westbrook dropped 32 points in a 118-110 Oklahoma City loss to the Clippers. That night, Beverley finished scoreless, but held George to 15 points, which was well below the swingman's 28.6-point average that season.
With Leonard now in the fold as LA's top defensive stopper, he'll likely guard James Harden, which might just rekindle the 1-on-1 duel between Beverley and Westbrook. The beef between these two seems to have started back in the 2013 playoffs when the two collided on a play that resulted in Westbrook tearing the meniscus in his right knee. Since then, we've seen back-and-forth interactions like this and this. Who could forget this one from last season? These two have faced off on 13 occasions, with Westbrook winning the statistical matchup and Beverley walking away with the victory on most nights. So, buckle up for this one. It should be fun.
Head-to-head stats below are via Basketball Reference.
| Player | W | L | PPG | RPG | APG |
| --- | --- | --- | --- | --- | --- |
| Patrick Beverley | 8 | 5 | 6.5 | 4.5 | 3.2 |
| Russell Westbrook | 5 | 8 | 27.3 | 8.8 | 9.8 |
5. LaMarcus Aldridge vs. Karl-Anthony Towns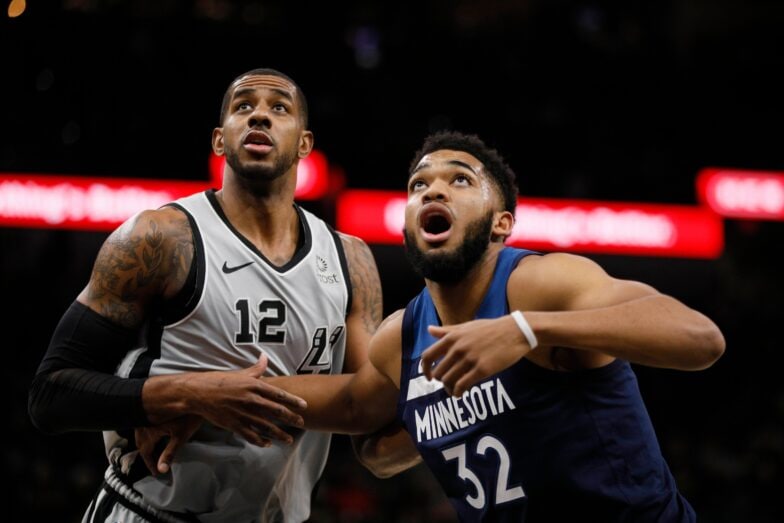 In 14 games between these two, Aldridge and the Spurs own a whopping 12-2 mark, including victories in three of the last four contests. Karl-Anthony Towns returned from a two-game suspension Wednesday and put up 25 points to go with 13 rebounds in a 137-121 loss to the Memphis Grizzlies. Aldridge, meanwhile, shook off a slow start to the season on Thursday to lead San Antonio with a season-high 39 points in a win over the Oklahoma City Thunder.
Aldridge, admittedly, is still trying to find a rhythm; an effort somewhat hampered by trying to adjust to Murray working his way back into the starting lineup. But the Aldridge-Murray chemistry is gradually improving. On the other side, Towns has added an element to his game that could potentially cause Aldridge fits in this matchup. Like Aldridge, Towns can easily hit the mid-range jumper. He also entered the weekend averaging nine attempts from deep per game, and he's hitting 45.1% of those shots. Scary, right? The last time these two met, Towns didn't get on the board until the 8:05 mark in the second quarter. Expect a quicker start from Towns in this one.
Head-to-head stats below are via Basketball Reference.
| Player | W | L | PPG | RPG | APG |
| --- | --- | --- | --- | --- | --- |
| LaMarcus Aldridge | 12 | 2 | 19.4 | 8.4 | 2.4 |
| Karl-Anthony Towns | 2 | 12 | 18.1 | 11.5 | 1.9 |
Underrated matchup of the week
Bradley Beal vs. Jayson Tatum
The series between these long-time friends who attended the same high school in St. Louis — five years apart — is tied at 3-3, with Tatum coming out on top in the last two meetings. In fact, Beal congratulated Tatum back in 2017, when the Celtics selected him No. 3 overall. When Beal signed his $72 million extension last month, Tatum jokingly asked for a loan only to be told by big brother that his big payday is on the horizon. But you know how it is in competition: friendships fall to the wayside for at least the 48 minutes they're on the floor.
The Celtics (7-1) have the East's best record, while Washington is second-to-worst in the conference at 2-6. Throughout these matchups, Beal has averaged more than 10 points per game better than Tatum. The last time these friends faced one another, Beal registered a double-double (29 points, 11 rebounds) in a 107-96 loss to the Celtics.
Head-to-head stats below are via Basketball Reference.
| Player | W | L | PPG | RPG | APG |
| --- | --- | --- | --- | --- | --- |
| Bradley Beal | 3 | 3 | 24.5 | 7.0 | 5.7 |
| Jayson Tatum | 3 | 3 | 14.0 | 5.5 | 2.0 |
* * *
Michael C. Wright is a senior writer for NBA.com. You can e-mail him here , find his archive here and follow him on Twitter .
The views on this page do not necessarily reflect the views of the NBA, its clubs or Turner Broadcasting.