On Wednesday morning and afternoon, the Lakers introduced three new players, and two former Lakers, one of whom they drafted in 2017, the other having played eight games in Purple and Gold in 2020-21.
Troy Brown, Jr., Lonnie Walker, Damian Jones, Juan Toscano-Anderson and Thomas Bryant each took their turn in front of assembled reporters; below is a look at each player and a summary of their individual presser:
TROY BROWN, JR.
Brown, Jr. was the 15th overall pick in 2018 after one year at Oregon. Now, after three seasons with the Wizards, plus last year in Chicago, Brown is still only 22 (July 28 birthday). He had a pre-draft workout with the Lakers, and had some good conversations with them, but went several picks before L.A.'s No. 25 spot.
Though he does have some playmaking and isolation scoring ability, Brown said that in Chicago, he was asked to focus more on the 3 and D elements. As a "team guy" who "wants to win," Brown embraced that role. Brown thinks of himself as being able to compliment players like LeBron James and Anthony Davis.
"For me the two biggest things are just being able to be reliable on defense, and being able to knock down shots, especially in the corners with guys being able to create so much and being able to get to the basket whenever they want," he said.
Brown has yet to get big minutes in this still-early part of his career, most recently playing 16 minutes per game off the bench for the Bulls. Half of his 3.9 shot attempts were from three, and he converted 35.3 percent on the season. Encouragingly, Brown shot the ball very well after the All-Star break (18 games), hitting 43.3 percent, compared with 33.0 percent before the break (48).

"I definitely think it's a good fit for me in general," said Brown of choosing the Lakers. "Being able to come in here and get some length on the defensive side of things, and I'm at the point of my career where I'm shooting the ball a little better. Just being able to be complimentary and being able to do the dirty work for certain guys and being able to take some pressure off some guys will definitely help."
He's had a few conversations with his new coach, Darvin Ham, already.
"Me and coach have definitely had some talks, about using my length and my size for what's best for the team," said Brown. "Talking about pace, being able to get out and play faster even on the defensive end, kind of speed up offense for other teams. Being able to put pressure on guys where we can close out and then get out and run in transition."
LONNIE WALKER IV
Like Brown Jr., Lonnie Walker IV is also still in the early part of his career, at age 23 heading into his fifth season, and his first outside of San Antonio. Walker IV was drafted three picks after Brown, at 18, in 2018.
Walking around his new office, Walker said he paused when he got to the championship trophies, and started sweating, before getting into his expected role.
"I'm very excited for this opportunity," he explained. "I'm just here to play my part ... I'm adaptable. If it's coming off the bench and that's the best fit, so be it. I'd love to be a starter but that's not up to me. I'm here to win.
"Walker was a consistent part of San Antonio's rotation in 25.4 minutes per game in 2020-21, and 23.0 per game last season, when he averaged 12.1 points on 40.7 percent from the field and 31.4 percent from three.
"I see my skillset fitting perfectly," he said. "I'm here to do whatever I can to help the team win. I'm coming here to play defense. Offensively I know I can provide a lot. Defensively, whoever you want me to guard, that's what I'm here for."
The Reading, Penn. native struggled to hit shots early last season, shooting just 29.4 percent on 4.7 attempts per game, but he found his range after the break, converting 36.7 percent on 6.1 attempts. Asked about his overall down shooting season, he responded: "I kid you not, leave me open, you're going to see what happens."
When he did have a rough shooting night, Walker said he went right to the gym: "I stayed with it. I knew sooner or later it was going to turn."
Walker, at 6'4'', is more used to defending guards, and hasn't necessarily sized up as much as Brown, Jr., or Juan Toscano-Anderson might. But Walker IV said he's comfortable with positions one through three, and that he's added some weight (215 pounds) in case he needs to hold up against bigger players.
JUAN TOSCANO-ANDERSON
Whereas Brown and Walker each got their NBA starts well before they were 20 years old, Juan Toscano-Anderson took a different path. The Oakland, Calif. native played for four years at Marquette before going undrafted in 2015, and then spent the next three seasons playing professionally in Mexico (where he was a two-time champion, and the 2018 MVP) before going to the G League with Golden State's Santa Cruz affiliate for two seasons.
JTA got called up to the big squad in 2019-20 for 13 games, and then played 20.9 minutes per game in 2020-21, averaging 5.7 points with 4.4 boards and 2.8 assists. His playing time lessoned last season as the Warriors got Klay Thompson back from injury, down to 13.6 mpg in 73 games with six starts.
But when the 29-year-old was on the floor, he could always be counted on to play hard, to do the little things, and to be focused on winning.
"I'm from East Oakland, that's just who I am," he said when asked about his mentality. "That's why I was able to grind my way (to the NBA). I wake up to compete, to play hard. I know what it looks like to be on the outside looking in. And when I say outside, I mean outside the NBA. I'm extremely grateful to have a job in this league … I don't want nobody to take my job from me. I'm going to wake up and get after it every day. I'm going to compete every day and go out there and try to win every game."
Toscano-Anderson shot 48.9 percent from the field but just 32.2 percent from three on 1.2 attempts per game, an area where he looks to develop further. But he'll remain focused defensively regardless.
"It's one of the bigger things for sure," he said. "Coach Ham really emphasizes how we're going to play basketball, how we're going to be after it."
At L.A.'s second summer league game in San Francisco over the weekend, JTA walked in wearing a No. 8. Kobe jersey.
"I'm a Kobe fan, that's my favorite player ever," he said. "It's really cool. This is somebody I've admired and wanted to be like. I was one of those kids who my teacher was yelling to sit down because I was rolling papers and yelling 'Kobe!' This is a small victory for me, even being able to put on a Lakers jersey."
JTA sees his role as one of support for stars like Kobe. He did that for Steph Curry in Golden State, and now plans to alongside LeBron James and Anthony Davis in L.A.
"The unicorns are going to be the unicorns," he explained. "LeBron is going to be LeBron, AD is going to be AD … the rest of us (need to support them)."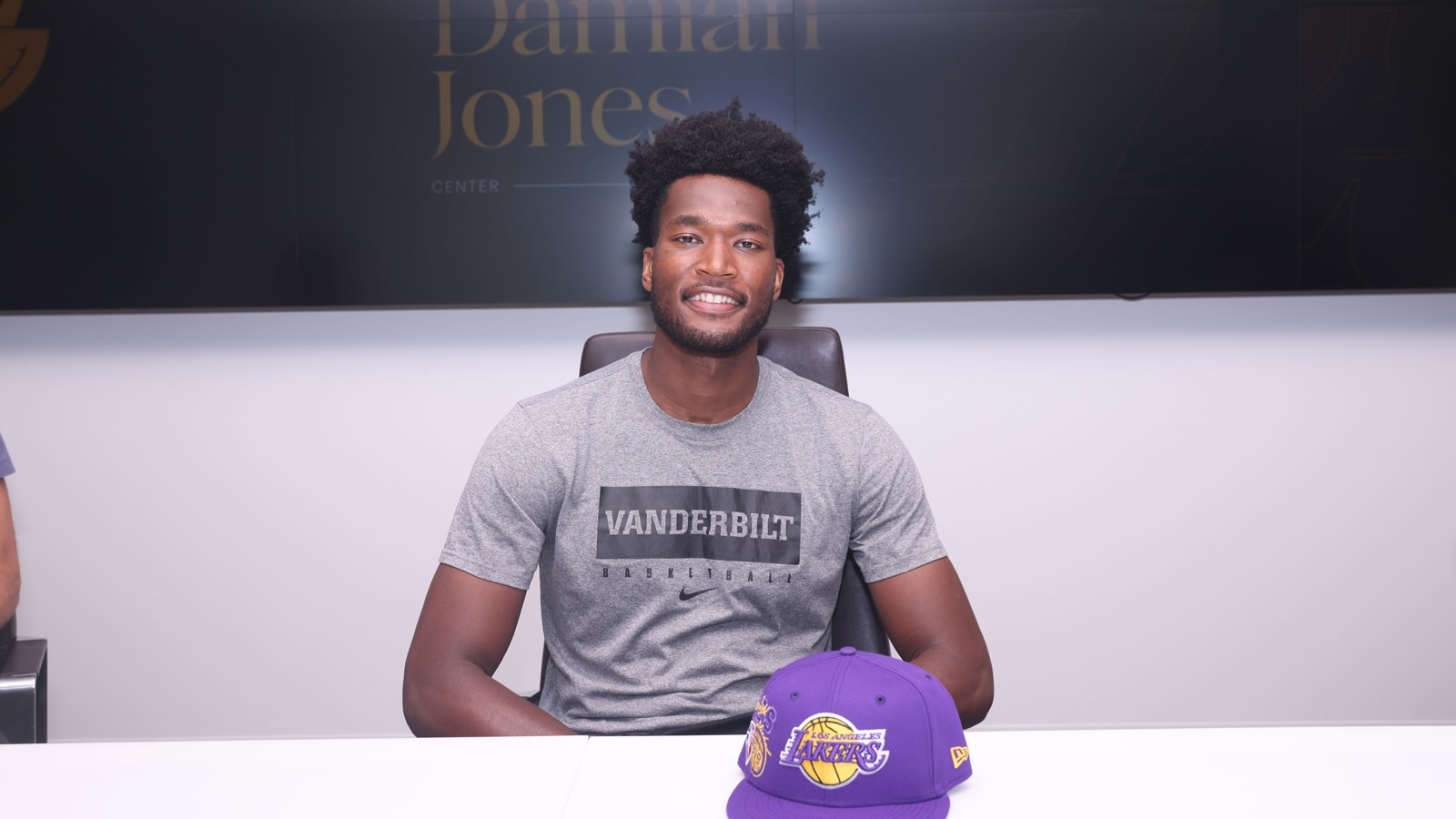 DAMIAN JONES
Jones was the player who saw two weeks with the squad last season, and who impressed enough to not only stay on the radar, but ultimately be a priority at the center spot in free agency.
In eight games with L.A., Jones made 16 of his 17 shots (94.1 percent) and averaged 5.4 points, 3.3 boards and 0.9 blocks in 14 minutes per game, which translates to 13.8 points, 8.4 boards and 2.3 blocks per 36 minutes.
He said on Wednesday that he expects to fulfill the type of role that JaVale McGee and Dwight Howard were able to when the Lakers won the title in 2019-20.
Bouncy at the rim on both ends, the 27-year-old also has a nice touch to his shot, as he made 71.8 percent of his free throws last season in Sacramento, and 10 of the 29 3's he attempted (34.5 percent). Though Jones is a typically effective roll man, he may have some real potential in pick-and-pop actions if L.A. want to leave the lane vacant for drives at times.
"I'm feeling pretty comfortable there … it's there if needed," said Jones, revealing that how much he rolls or pops will come down to the coaching staff.
THOMAS BRYANT
In 2017, the Lakers made one of the better picks of the second round when they chose young Thomas Bryant at No. 42 overall. Five years later, he's back.
"It's super surreal for me to be back," said Bryant, who's now 24. "For the Lakers organization to want me back, does a lot for my confidence."
Though he played only 15 games as a 20-year-old with the Lakers, Bryant impressed with the South Bay Lakers in the G League, and after the Lakers released him, Washington snatched him up. Bryant played 72 games the next season there, and progressed to starting 36 games of 46 games in 2019-20.
He averaged 13.2 points with 7.2 boards and 1.1 blocks plus 40.7 percent 3-point shooting that season, and finished well at the rim as well, to the tune of 58.1 percent from the field overall.
Unfortunately, Bryant suffered a torn ACL in January of 2020 that allowed him only 10 games the next season. He returned to play 27 more games in 2021-22 as the rehabilitation process continued.
Asked about his knee today, Bryant said he feels "100 percent great … not good … great!"
"I knew I was 100 percent back when I didn't think about it," he continued. "When I just let the game of basketball take me. I got a couple of dunks … that's how I knew I was 100 percent. That was during last season, probably the month after I returned to game play (February of 2022)."
"I picked L.A. because there was a certain need and want that I felt from the guys and the coaches," he concluded. "That was the settling point right there."