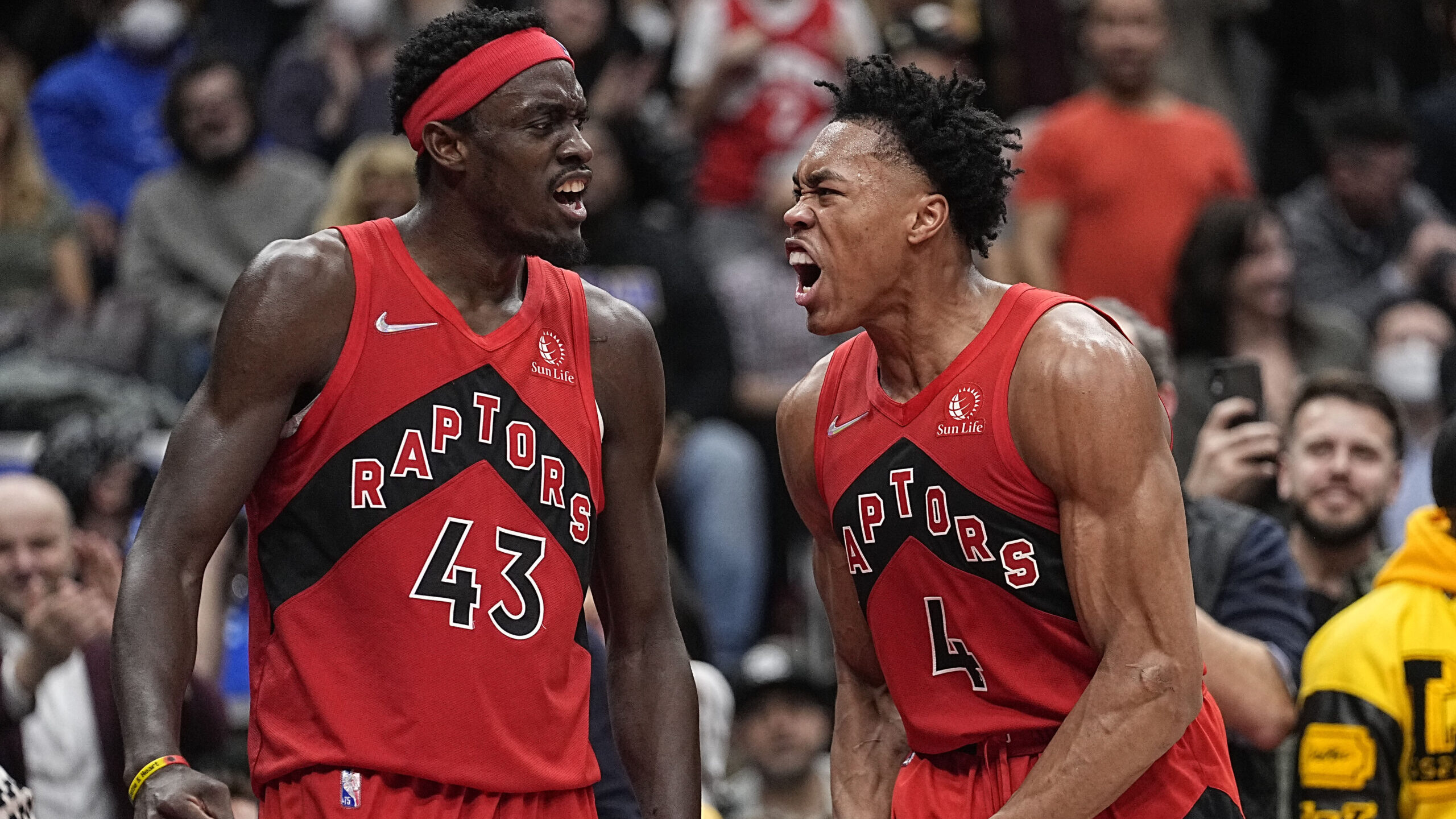 Pre-Draft Outlook 
After a year in the Lottery (and Tampa), the Raptors climbed back into the top five in the Eastern Conference. They did it with a mid-sized rotation, one that included just one player under 6-foot-5 and nobody taller than 6-foot-9. The Raptors won the possession battle, forcing a ton of turnovers and grabbing a ton of offensive rebounds. But poor shooting hurt them offensively and their lack of size was an issue on the other end of the floor. The foundation is the three players – Fred VanVleet, OG Anunoby and Pascal Siakam – from the 2019 championship rotation, but Kia Rookie of the Year Scottie Barnes may soon be this team's best player.
---
A Stat That Matters 
3.4 — The Raptors committed 3.4 fewer turnovers per game than their opponents. That was tied for the best turnover differential of the past 14 seasons.
---
The Way To Go 
The Raptors only have the 33rd pick in this year's Draft, but they have a terrific player-development system that has turned Siakam (No. 27 in 2016) and VanVleet (undrafted the same year) into All-Stars. Barnes is next, but the Raps have more 25-and-under contributors beyond him, and this will be a big summer for that group. As he goes free-agent shopping with the full mid-level and a few smaller exceptions, team president Masai Ujiri could add some size (as fun as the everybody-6-8 approach has been) and more off-the-dribble creation.
---
Under Contract 
G: Armoni Brooks
G: Malachi Flynn
G: Fred VanVleet
G/F: Gary Trent Jr.
F: Precious Achiuwa
F: OG Anunoby
F: Dalano Banton
F: Scottie Barnes
F: Pascal Siakam
C: Khem Birch
---
Free Agents 
G: Isaac Bonga (unrestricted)
G: David Johnson (two-way)
G/F: Justin Champagnie (two-way)
G/F: Svi Mykhailiuk (player option)
G/F: Yuta Watanabe (unrestricted)
F: Thaddeus Young (unrestricted)
F/C: Chris Boucher (unrestricted)
> 2022 Free Agent Tracker
---
Last Year's Draft 
2021: Scottie Barnes (4), Dalano Banton (46), David Johnson (47)
— John Schuhmann