As a way to say thanks to the men and women and their families in all branches of the United States military following Veterans Day last week, the Cleveland Cavaliers will host their annual Salute to Service presented by Ohio CAT at Rocket Mortgage FieldHouse­­ tomorrow, Friday, November 18th at 7:30 p.m. vs. the Charlotte Hornets.
A very special halftime will honor three families associated with the Tragedy Assistance Program for Survivors (TAPS), a national organization that offers compassionate care for those grieving the death of a military loved one. Those that will be honored include:
Airman First Class Thomas C. McGee Jr., affectionately known as "Mister", was a Benedictine High School graduate and an All-American athlete excelling in football, basketball, track & field and wrestling. Following graduation, he was offered an athletic scholarship from an out-of-state university. His life's journey took a turn and instead of accepting the full athletic scholarship, his interest drew him to enlist in the Air Force, where he served admirably for the last three years of his life. On December 27, 2020 A1C Thomas McGee was driving in Albuquerque, NM when he was killed in a motor vehicle accident. He was 21 years old.
Ohio Army National Guard Captain Brian A. Stillman, born in Norton, Ohio was a 1992 graduate of Norton High School. During his military career, he deployed to numerous countries and served in several major conflicts including the Kosovo Campaign and the Iraq Campaign. CPT Stillman was a 14A ADA officer with the Bravo Battery 2nd Battalion 174th Air Defense Artillery Regiment. In his civilian life, he worked for the Department of Veteran Affairs, as helping veterans and fellow soldiers was an honor for him. Brian passed away at age 43 on March 10, 2017, while training on active duty at Camp Atterbury, Indiana.
Private Heath D. Warner, from Canton, Ohio was a 2005 graduate of McKinley Senior High School. After graduation, Heath attended Parris Island Training Depot and Camp Geier, NC, where he became a gunner with the U.S. Marine Corps. Heath received additional training for SOI (School of Infantry) at Camp Lejeune in North Carolina. After successfully completing training, PVT Warner was stationed at Kaneohe Bay, Hawaii where he prepared for his deployment to Iraq. He deployed with the 2nd Battalion, 3rd Marine Regiment, 3rd Marine Division, III Marine Expeditionary Force, out of Kaneohe Bay on September 11, 2006. On November 22, 2006, PVT Heath Warner was killed in action when his vehicle was struck by a roadside bomb. He was 19 years old.
Past and present service members representing all branches of the U.S. Military will be recognized at Friday night's game:
A special pre-game ceremony will present participating service members with a commemorative challenge coin. This is an American military tradition meant to instill unit pride, improve esprit de corps and reward hard work.
Members of the Ohio National Guard will present the color guard.
As the newest partner of the United States of America Vietnam War Commemoration, the team will honor Vietnam Veterans in a pre-game ceremony and during the first timeout of the game.
An empty chair placed courtside will represent those brave individuals who were lost in the line of duty. A U.S. flag folded into a triangle and a red rose will be placed on the chair to signify the blood that many veterans have shed to ensure freedom. A service member will sit in the chair next to it to symbolize the commitment to never forget their fallen brothers and sisters.
50/50 raffle proceeds will benefit the Veterans Affairs Northeast Ohio Healthcare System.
Tim Hauser – Jif DIFF Maker of the Game
This past August, the PACT Act was signed into law expanding the VA's ability to deliver health benefits and healthcare for millions of veterans, their families and survivors exposed to toxins during their service. The PACT Act was championed by veterans and advocates across the country, including the organization Burn Pits 360. Leading the charge here in Cleveland and Washington D.C. was Desert Storm Veteran US Air Force Staff Sergeant Tim Hauser, who organized rallies in Cleveland and traveled countless times to D.C. to advocate for himself and his brothers and sisters. Tim is currently mailing PACT Act information packets to homeless shelters across Ohio, doing a speaking tour at Ohio colleges to talk with veteran students about the Act and sharing more information for families on a podcast called "The Gulf War Advocate."
­­Team Shop Item of the Game
The Cavs Team Shop Item of the Game will be a $40 Camo Crew Sweatshirt (regular price $60) with a portion of proceeds benefitting RID-ALL Green Partnership's Victory Garden program. Fans can purchase the exclusive hoodie at the Cavs Team Shop pop-up locations around Rocket Mortgage FieldHouse and online at Cavs.com/Shop.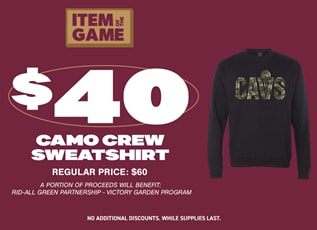 The Cavs Team Shop offers a year-round military discount of 10% for active service and members and veterans. Learn how to redeem here.
Cavs Receive Employer Support of the Guard and Reserve Accolades
This year, the Cavaliers were recognized as finalists for the Employer Support of the Guard and Reserve (ESGR) Secretary of Defense's Freedom Award, an award given to employers for their outstanding support of employees serving in the Guard and Reserve forces. Additionally, ESGR also recognized the Cavs with the Extraordinary Employer Support Award and, for the second time, the Pro Patria Award, both presented to organizations who have demonstrated the greatest support to Guard and Reserve employees through their leadership and practices, including adopting personnel policies that make it easier for employees to participate in the National Guard and Reserve.
Cavs fans can lock-in seats for their favorite games all season long at Cavs.com/promo where tickets to Cavs games are always available. The Cavs 2022-23 promotional schedule features a full lineup of fan-favorite giveaways and memorable theme nights for all ages to enjoy.