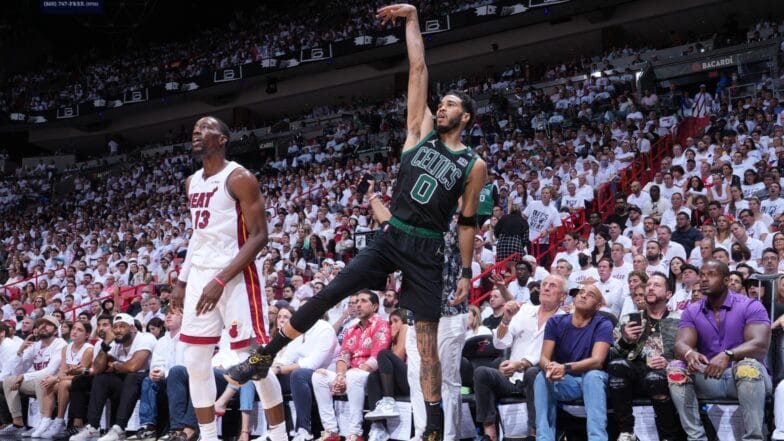 The Boston Celtics look to close out the East Finals in Game 6.
Despite the 13-point margin, Game 5 felt like a competitive game. Miami and Boston stayed close through the opening three quarters, but Boston pulled away with a 26-8 run spanning between the third and fourth quarters. The Heat's offense couldn't get anything going against the best defense in the NBA, and they now trail this series, 3-2. That's an uphill battle headed back to Boston, but it'll be fun to see how they respond in this do-or-die Game 6.
Create the optimal lineup using our NBA DFS lineup optimizer >>
Injury Report
Find the best fantasy matchups each day using our Defense vs. Position Tool >>
Core Plays
Jayson Tatum (SF/PF – BOS): $40
Tatum has been the best player in this series, with Butler fading away. The All-Star struggled with his shot in the Game 5 win but still collected 22 points, 12 rebounds and nine assists. That shows how much his game has developed, scoring at least 40 fantasy points in eight of his last nine games. He's also flirting with a 50-point average in that span, running this Celtics offense at ease. Just get JT into your lineup and then build the rest from there.
Cash Game Considerations
Jimmy Butler (SF/PF – MIA): $40
It's sad that Jimmy suffered that knee injury earlier in this series because he hasn't been the same guy since. With that said, Miami will give him the ball and let him run the offense. Even if you include his recent duds, Butler is averaging 47 Yahoo points per game across his last 14 outings. That's the highest total in this series, and we have to believe he will get closer to that than the duds we saw recently. The usage and playing time is still there for him to succeed, and as long as that's the case, he needs to be trusted on a single-game slate.
GPP Targets
Bam has been Miami's best player in two of the last three games. The big man had 18 points and 10 rebounds in the Game 5 defeat after dropping nearly 60 Yahoo points in Game 3. He has mixed in some duds along the way, and that's the only reason he's in the GPP section. The matchup against this Boston defense has slowed this offense to a crawl, but Bam is one of the few guys who can produce through hustle and defense.
Smart struggled his way through Game 5 like most players, but he still had five points, five rebounds and four assists across 23 minutes. Those stat-stuffing ways are what make him so valuable, with Marcus maintaining a 38-point average across his previous five fixtures. The Kia Defensive Player of the Year is that sort of player that will go off when given the minutes, and we have to believe he'll get closer to his usual 30-35 here. If that's the case, Smart is just too cheap, barely breaking $20.
Value Plays
It might be time for Miami to make a change. Vincent has outplayed Kyle Lowry throughout this series, and Erik Spoelstra is certainly smart enough to see that. Lowry actually finished with negative fantasy points in the Game 5 disaster, with Gabe providing 15 points, two rebounds and two assists off the bench. That's the guy we've seen throughout this series, scoring at least 21 Yahoo points in four of his last five games. That's all you can hope for from a near minimum-priced player, and if you hear that Gabe gets the start, he should be in every lineup out there!
Tucker has been playing injured, but this dude continues to leave it on the line. The defensive stud had seven points, 11 rebounds and two assists in Game 5, scoring at least 25 Y! points in four of his last seven games. The hustle alone should get him to 20 fantasy points, and that's all you need from such an affordable player. Look for P.J. to play his usual 30-35 minutes, making him an excellent pairing with guys like Tatum and Butler.
* * *
Joel Bartilotta is a featured writer at FantasyPros. For more from Joel, check out his archive and follow him @Bartilottajoel.